Homemade Advent calendar for foodies
One gift a day keeps the melancholy away. Or, at least, it can help to get you into the festive spirit: the tradition of the Advent calendar comes from the German Protestants, who began to mark the days by burning a candle each day until Christmas Eve. The very first handmade Advent calendar was created in 1851 and it was made of wood, but the calendar as we know it today was born thanks to Gerhard Lang in the 20's, who made the first printed version. Many people all over the world keep this tradition alive nowadays: the Christmas countdown, in fact, can be fun and exciting both for children and adults. There are many commercial products to choose from: chocolates and sweets are always a good idea, but you can also find makeup and beauty, craft beer or even jewellery Advent calendars. But if you really want to surprise your friends and family, you can make one yourself, filling each box with a special and customized gift. Here are a few ideas for all food lovers.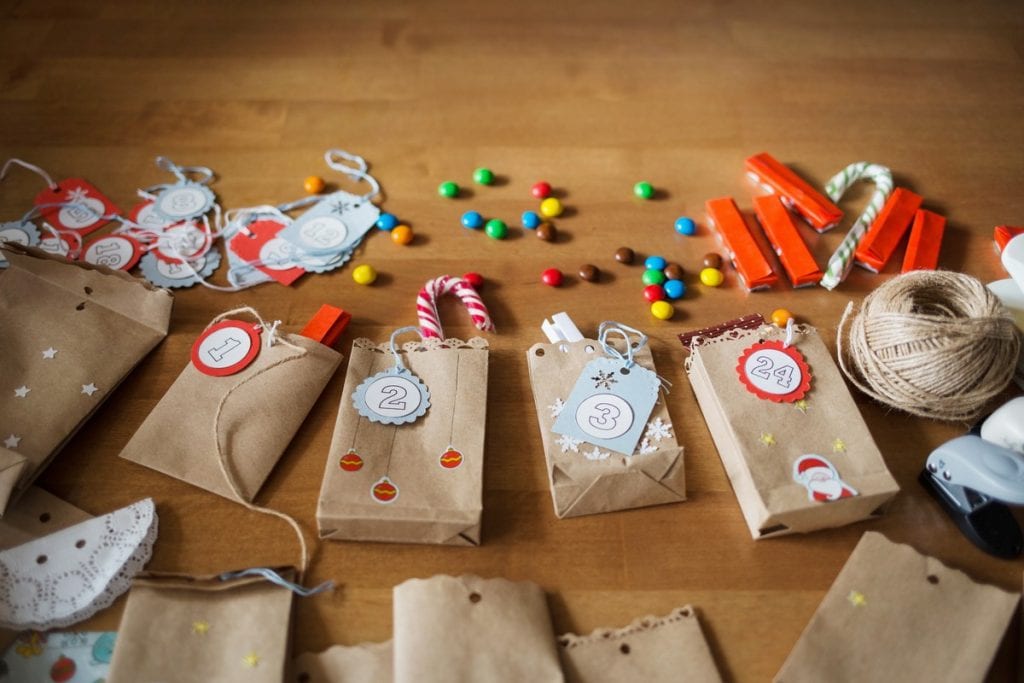 Tea Advent calendar
It's always time for a nice cup of tea. So why not using a different teabag for each day? You can buy cinnamon tea, Earl Grey, apple spice and all the flavored teas perfect to warm up winter days. Otherwise, you can go for loose tea, and maybe add all the accessories such as filter bags, strainers and teaspoons for a perfect afternoon tea. Besides, you can write down some recipes for biscuits and scones to enjoy while sipping tea.
Homemade mixes and seasonings
What's better than a hot chocolate in cold days? If you want to surprise your loved ones, you can prepare an easy hot chocolate mix: put together some sugar, cocoa powder and powdered milk, then place the ingredients in a jar and pack it nicely, without forgetting to add a message with the instructions. If your friends have a sweet tooth, you can also prepare a few baking mixes to make brownies, cupcakes, cakes, cookies and so on.
Recipes Advent calendar
If you're giving your homemade Advent calendar to a good cook or baker, you can simply write down different recipes for a very original and low budget gift. Traditional ones, of course, but also recipes from other countries, both savoury and sweet, with all your cooking tips.
Craft beer Advent calendar
The number of breweries and beer lovers has been growing dramatically over the last ten years. Finding the finest products from all over the world is easier than you think, as there are so many e-commerce stores that sell different types of beer. Choose one for each day, and let your loved ones enjoy their holidays with a fresh pint.
Sweet Christmas
What would the Christmas holiday season be without chocolate and candy? There are so many options to choose from: try some Italian torrone (trust us, you won't be disappointed) or classic gingerbread men. Don't forget some chocolate: ever heard of Italian boeri? They are dark chocolate pralines with a filling of cherry liqueur and pitted cherries in alcohol. Another perfect and seasonal treat is marrons glacé: chestnuts harvested in autumn, candied and iced, simply delicious.