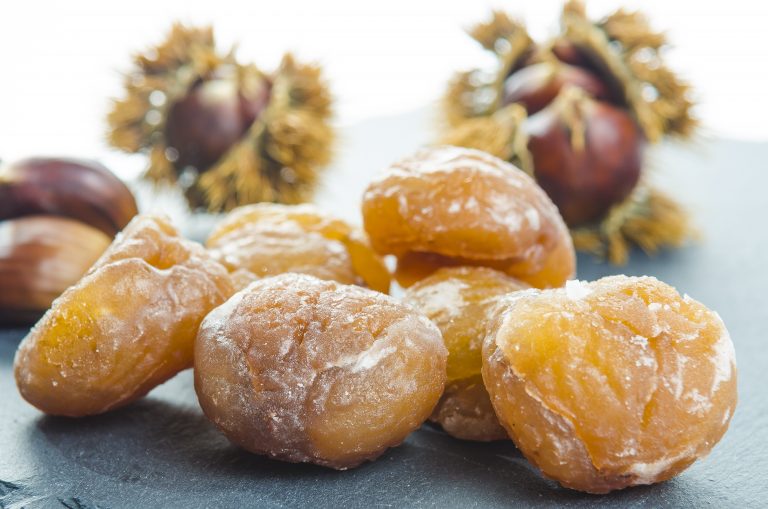 Delectably vintage, marrons glacés were a hit at aristocratic banquets in the 18th century. But who invented them? Who makes them today? Here are some interesting facts about the product.
The origins of marrons glacés
Italy or France? This is the great dilemma when it comes to marrons glacés, probably the most delicious chestnut recipe. Harvested in autumn, candied and iced, perfect to bring to a dinner or afternoon tea party. Marrons glacés always make a good impression, although many people think they are too sweet: if well made in an artisanal way, they can be very satisfying. The frosting on the surface should be thin and melting, almost imperceptible, leaving the chestnut flavour its starring role. Their paternity has always been disputed between the Piedmontese and the French, but what is certain is that the first written traces date back to the 16th century. It was not until the end of the 19th century that the engineer Clément Faugier started the first industrial production of candied chestnuts, guaranteeing a greater number in a shorter time.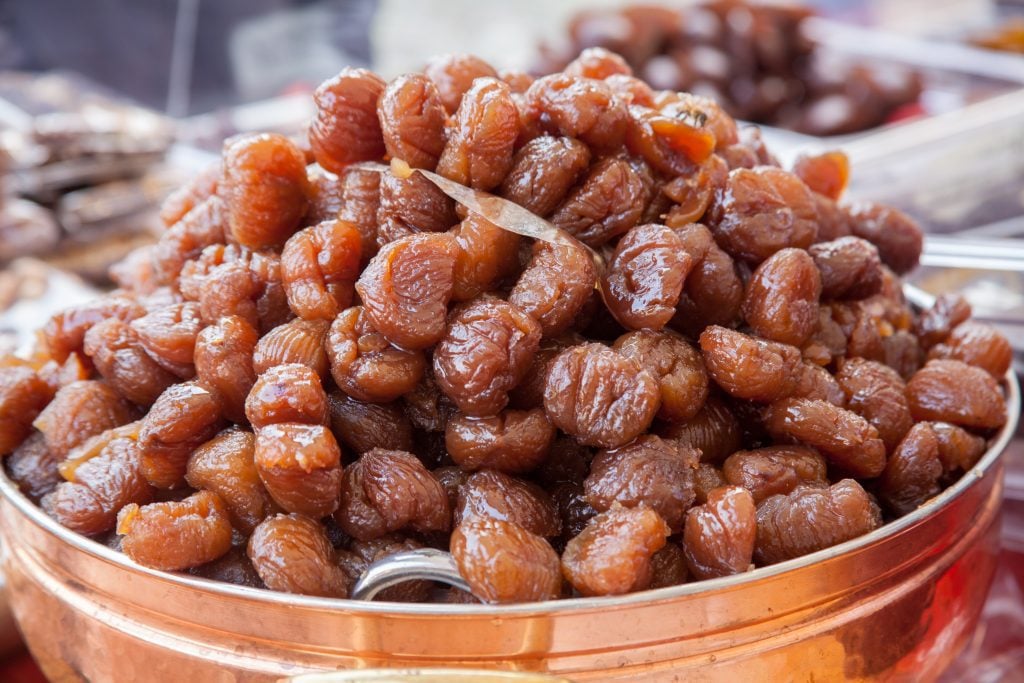 Marrons glacés in France and Piedmont
The French claim credit for the recipe's origins, maintaining that François Pierre La Varenne, one of the most important chefs of the 17th century, contributed to opening the doors to modern gastronomy. One point in favour of the transalpine cousins is his book 'Le Parfait Confiturier' in 1664, a great success at the time that explained various techniques, including the chestnut candying. Another theory, again not accredited: according to some historians, the confection may be the creation of confectioners from Lyon in the 16th century, while others claim that the roots can be traced in the Cuneo area, famous for chestnuts. They were probably prepared in the first half of the 17th century for the court of Charles Emmanuel I, Duke of Savoy. Further written evidence comes from Piedmont with the treatise 'Confetturiere Piemontese', printed in Turin in 1790, which mentions the various ways of 'candying fruits', including chestnuts. It is no coincidence that in France they are also called marron de Turin…
Agrimontana and the chestnut production
After all, chestnut is Cuneo's most representative tree, "here we call it the bread tree, because in the past in the mountain areas people mainly ate its fruit", eaten as is or processed for preparing  a rustic and tasty flour. A product that is now expensive but was once popular and cheap, as Lisa Lombardo, Agrimontana's marketing manager, told us. The company was founded in 1972 by Cesare Bardini, who wanted to set up a small candied fruit factory in Roccavicione, then moved to its current headquarters in Borgo San Dalmazzo. It was born as 'Eurocanditi', because it immediately put all its eggs in marrons glacés, soon joined by orange cubes: the company's name has changed, but the quality and craftsmanship have remained the same, representing today a landmark above all for industry professionals, from pastry chefs to ice cream makers. "Our main business is with professionals who choose to use our candied chestnuts or create a customised product with their own branding". The company also works on behalf of third parties, without forgetting home consumption, "mostly important at Christmastime thanks to gift boxes".

Chestnut processing
But let's go back to the protagonists. Local chestnuts, "which we choose specifically to enhance the area, support local farmers and work towards sustainability". Direct contact with the producers is of paramount importance, "our strength", as is attention to marks of origin, "we choose marrons from Valle di Susa GPI". Compared to chestnuts, marrons from the Cuneo valleys are larger, with a sweet and distinctive flavour, a soft and compact pulp and a rather smooth and homogeneous red skin with light streaks. In addition to the raw materials, what makes the difference here is the careful, artisanal processing, "still based on manual operations. They are hand selected and then opened to undergo the novena or curatura process", a nine-day phase during which the fruit is kept in the water to soften the skin and better ripen the aromatic notes. Then there is the steam peeling process, a method used to reduce the risk of damage and maintain the product characteristics.
Candying chestnuts
Old-fashioned methods are used for candying: the chestnuts are steeped in a hot water and sugar solution, so that they lose their liquid and soak up the sugar, then arranged on racks and sprinkled with icing sugar. They are placed in the oven to finish them off and finally wrapped in a modified atmosphere to ensure their optimum preservation without the addition of additives or preservatives. Lots of whole chestnuts, as well as small pieces to make the delicious spread, for a total of around 200 tonnes of peeled chestnuts per year. Today, chestnuts are still the Piedmontese company's flagship, despite being a little 'vintage'.  In recent years, consumers have been rejecting very sweet products, partly due to increased food awareness. "It is true that marrons are getting a little old, but they are still appreciated because of their high quality, regardless of personal taste". The company has therefore organised tastings throughout Italy, "at our buyers' confectionery shops, where we want to bring the product back into the limelight".  After all, "what's wrong with indulging in one more treat at Christmastime?".
Agrimontana – Borgo San Dalmazzo (CN) – via Camillo Benso Conte di Cavour, 185 – agrimontana.it/
by Michela Becchi