Egg whites recipes
If you like baking, you'll probably end up with extra egg whites at some point. These leftovers are very useful in the kitchen: you can make egg white wraps or tortillas, you can use them for a light egg wash for your pies or to make soft and fluffy desserts such as Angel Cake. Here are 3 recipes to try if you have leftover egg whites.
Lingue di gatto
Cat's tongue: here's the meaning of Italian lingue di gatto, a biscuit widespread throughout Italy and some European countries, probably born in Paris in Roaring Twenties thanks to a fan of Charles Perrault, the author of the Puss in Boots fairy-tale (hence the name).
Ingredients
60 g flour
60 g butter
60 g icing sugar
2 egg whites, room temperature
1 teaspoon of vanilla extract
Preheat the oven at 200°C. whisk the butter with the icing sugar and the vanilla extract untili it becomes fluffy. Lightly beat the egg whites (not stiff) and add them to the buttery mixture. Add the flour, then line a tray with baking paper. Put the mixture in a pastry bag and create the biscuits. Cook the biscuits for about 8 minutes and remove them with a spatula to let them cool.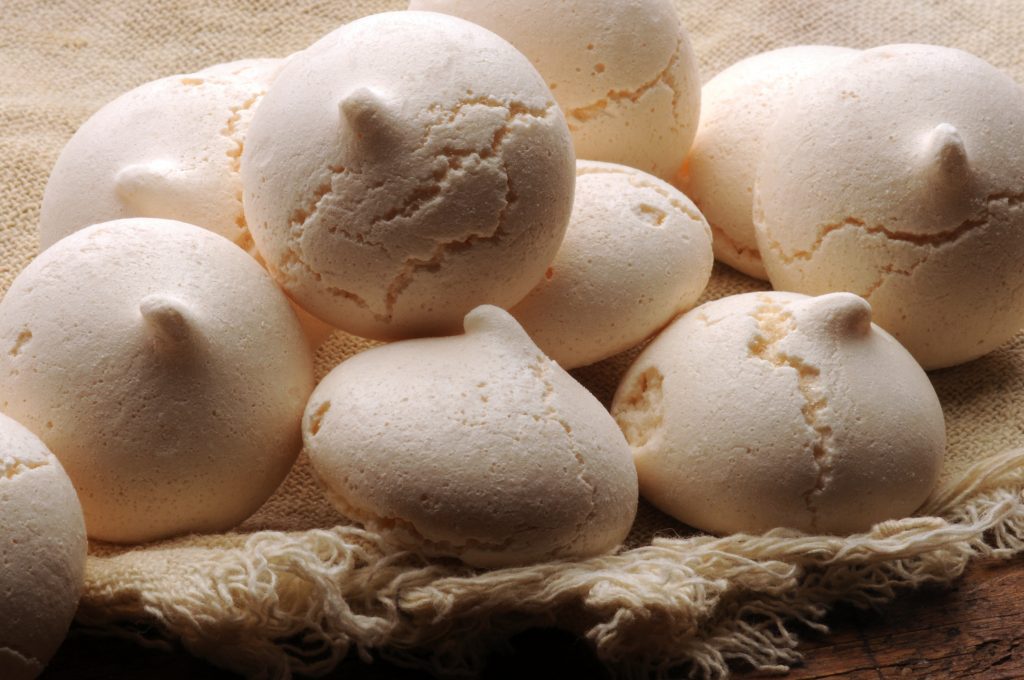 Meringue
Foamy and snow-white, meringue is a fundamental preparation in pastry art, and by no means obvious: making perfect meringue requires patience and precision, but the result will be worth the effort.
Ingredients
4 egg whites
100 g sugar
100 g icing sugar
1 teaspoon of lemon juice
1 pinch of salt
Butter
Flour
Sift the icing sugar. Add a pinch of salt to the egg whites and start beating them. Add the sugar while beating until stiff. Keep whisking the egg whites and add the icing sugar, one teaspoon at a time. Put the egg mixture in a pastry bag and create the meringues. Cook them at 90/100°C for 3 to 4 hours. Serve them with some whipped cream.
Brutti ma buoni
The name literally means "ugly but good": in fact, these crunchy biscuits do not look so well but they are, indeed, very tasty. The origin of the recipe is from Piedmont and in particular, the bakers of the royal House of Savoy.
Ingredients
150 g hazelnuts
150 g sugar
50 g egg whites
1 teaspoon of vanilla extract
Toast the hazelnuts in a pan, then add them in a mixer with sugar and vanilla. Beat the egg whites with a pinch of salt, then add them to the other ingredients. Pour the mixture in a hot pan until it becomes light brown. Place the biscuits in a baking tray and cook at 165°C for about 15 minutes.
by Michela Becchi