Matteo Fontana, born in1990, is at the guide of the kitchen brigade at Le Cirque in Abu Dhabi, the restaurant of the Maccioni family, owners of the New York flagship icon since 1974.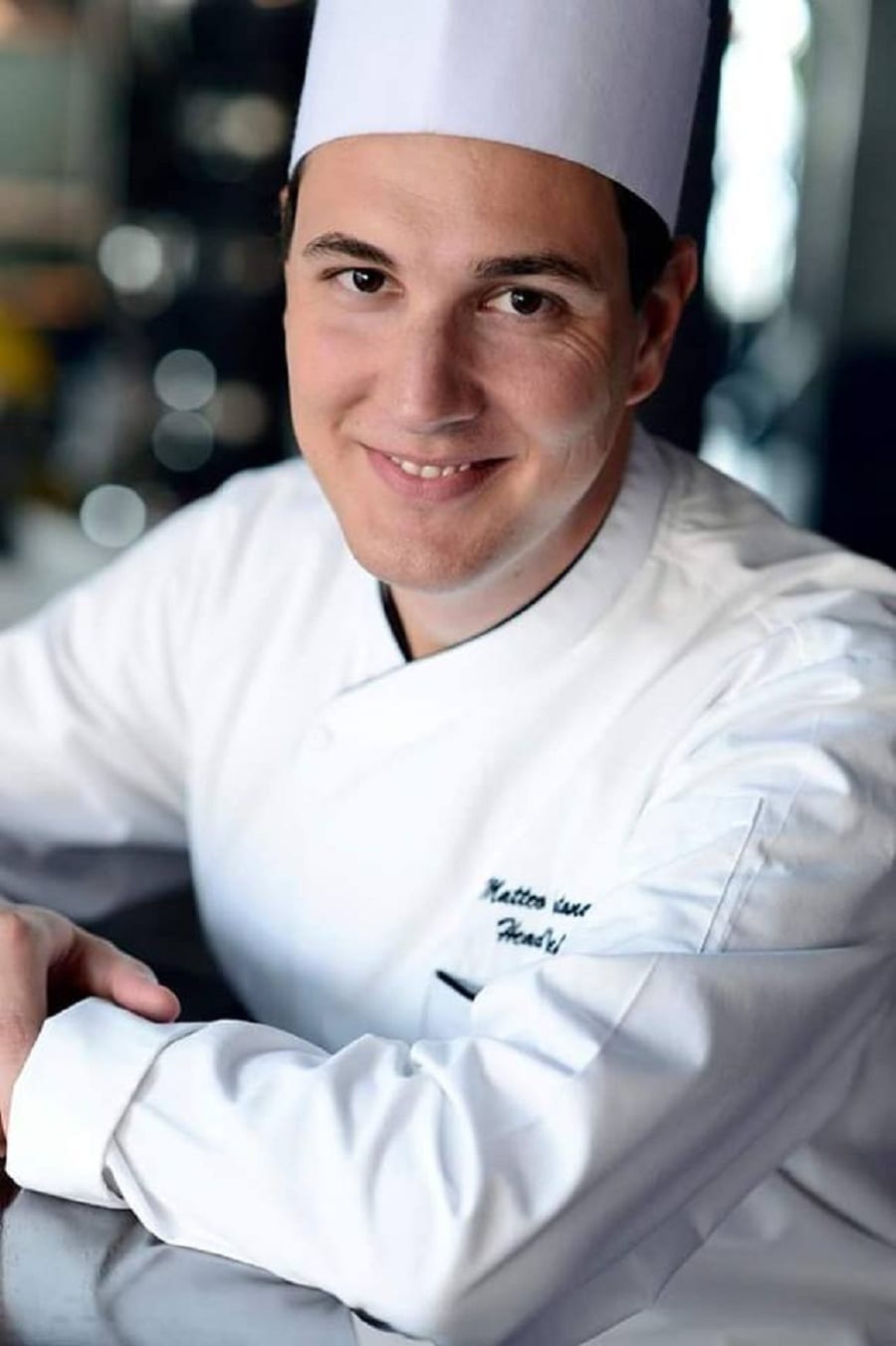 Matteo Fontana
After attending hotel management school, Fontana trained 4 years in the kitchen of Ragusa's own Ciccio Sultano: "That's where I fully understood what prime quality ingredients meant: fish arriving still alive at the restaurant and vegetables pulled that day from the farmland. Fantastic settings," he exclaims. After this, he matured in other Italian kitchens, such as Aimo e Nadia in Milan. Then the leap to the Middle East: 7 days at Hotel InterContinental in Abu Dhabi with Sultano for an event. "The executive chef of the hotel, Lebanese Danny Kattar, noticed me," says Matteo "and told me that there would probably be a new opening, an Italian restaurant within the InterContinental, and that I could work there". Months pass, Matteo continues to gain experience in Milan. "The none day Kattar calls me and asks me to travel down: Le Cirque is opening in Abu Dhabi. How could I refuse? I was there for a year as sous chef with Luca Banfi and when he left, Kattar gave me the keys to the kitchen".
Matteo's story is exemplary. It perfectly portrays the passion, depth and culture of the new generation of Italian chefs abroad. They are knowledgeable of Italy and its various areas, they are aware of the society where they live and work, they are proficient in speaking various languages and portray authentic Italian cuisine, both in its traditional aspects as well as in new forms, putting ingredients at the centre and applying novel cookery techniques. He shared with us what it means to work aboard, how Italian wine and cuisine are perceived, and the inner workings of Italian product export.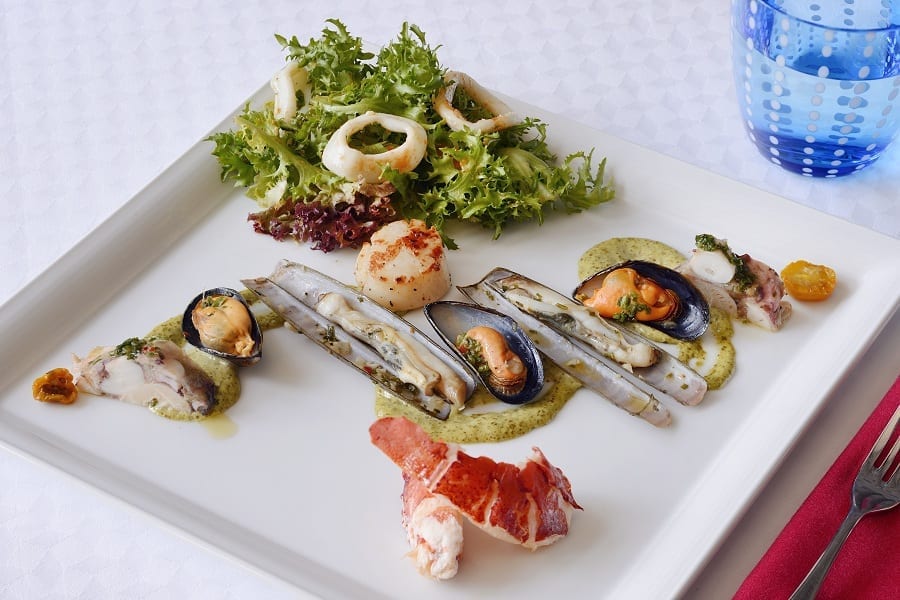 Seafood salad
Le Cirque is located in a famed hotel. How many clients at your restaurant are hotel guests and how many are not?
The clientele at the InterContinental represents 60% of my customers. We work a lot with the in-house hotel guests.
What do Arabs appreciate most in our cuisine?
Mostly they know Italian cuisine as pasta and pizza. However, when they try something authentically Italian, such as ossobuco or risotto, they return every 2 weeks with new friends to eat those dishes again. Customers here need to be gracefully educated because they are used to false Italian models available in shopping centres, things like fettuccine with cream sauce and chicken and potatoes. They come away thinking this is Italian cuisine. Even when they come to a restaurant like ours, that uses true Italian products, they don't even open the menu, they simply sit and order what they are familiar with.
What is the ratio of your Arab to international customers?

International customers constitute 70%, while the remaining 30% is made up of locals.
Regarding Italian products, how much authentic ingredients do you find in Abu Dhabi?

Here we find everything. There are distribution channels and Italian suppliers for any product I may need, from white truffles down to fresh basil, by way of mozzarella and burrata. There are also a number of Italian brands produced locally, for example burrata. Many Italian chefs here use these products and often add them in their excessively costly menus, as if they were actually hailing from Italy. They can't obviously be originally Italian since they come from Raisin Oman. My prices are transparent because I know where my burrata comes from: Puglia.
Your wine list features fine Italian wines. Italian food and cuisine urge customers to pair with Italian wines? Or are the two still separate universes?
Our clients normally order more Italian wine than American or French. We don't have too much on our list because Italian wineries imported here are limited. Only the big names manage, the customs taxes on alcoholic beverages in a Muslim country like the UAE are very high. We work with brands like Sassicaia, Gaja, Castellare and Banfi, which also supply our extra virgin olive oil. Small producers rarely make it over here.
Are the importers the same for Dubai (whose regime includes dual privileges) or are they different?
There are several, the market is slightly more open now.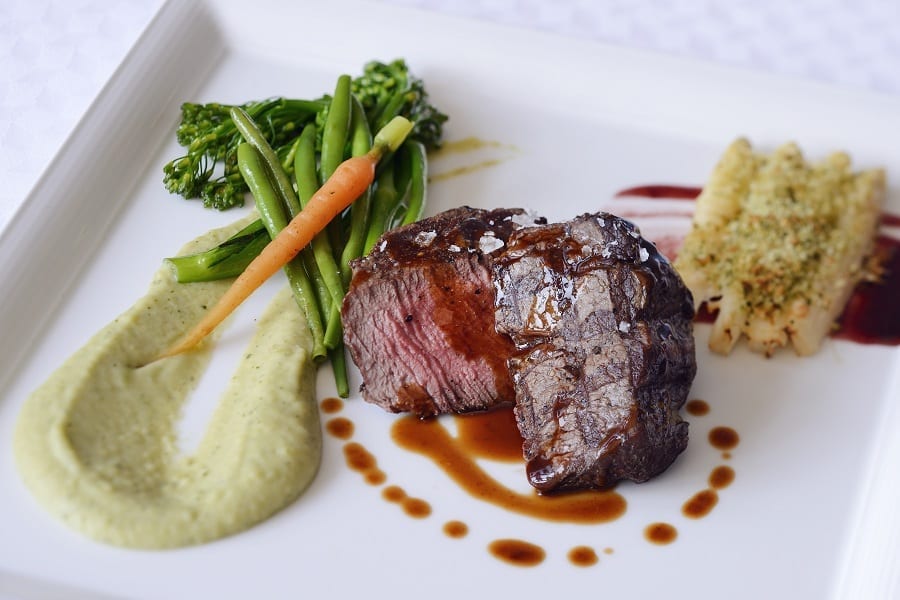 Beef fillet
Italian cuisine has grown in recent years. Do you agree?
Definitely, yes. The problem is that there's much to defend: too many restaurants are Italian sounding, but are in actual fact not Italian at all.
What do Arabs prefer between French and Italian cuisine?
Locals love Italian cuisine. They are not too interested in French cuisine… but as I said, they need to be educated.
Big hotels are starting to employ Italian chefs…
Yes, indeed. Chefs in big hotel Italian restaurants tend to be of Italian origin. It's hardly ever unlike that.
Do all hotels serve Italian cuisine?
90% of hotels serve Italian cuisine. We are looking at fierce competition. All hotels, including newly opened ones always include an Italian restaurant. This undoubtedly helps the rise of the Made in Italy culture, and offers huge support to Italian cuisine.
What's in Matteo's future after Abu Dhabi?
I'd like to see Asia: it's a more open environment. I trained in Michelin star kitchens and on my menu I have dishes that go beyond traditional cuisine but that are hardly accepted here. Asia is more receptive, there's a deeper food culture and there are many high level restaurants.
What part of Asia?
I would like to explore China or Singapore, areas where people know how to eat and knows how to select dining destinations. In the United Arab Emirates haute cuisine is possible, but the tier must be standardized: not too much experimenting, and some more contemporary dishes are not easily understood. For example, using duck poses an immediate problem, for the local public there is only chicken.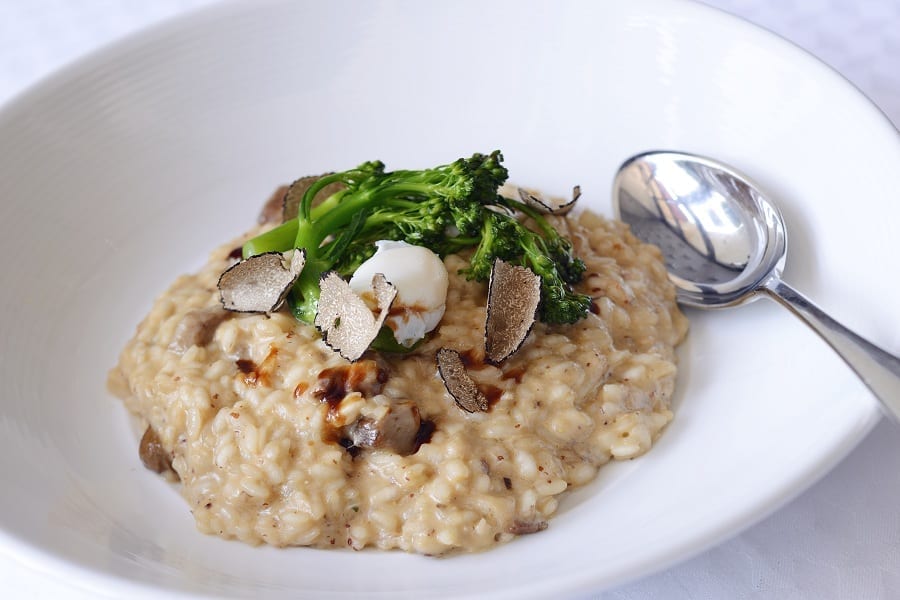 Specifically, is your Risotto with braised quail and porcini mushrooms with black truffle and quail egg appreciated?
I made this risotto on Fox TV too. I have clients coming from Dubai to eat it. I use fine Vialone Nano rice, and I cream it with real Parmigiano Reggiano and butter. But it's not easy… I successfully make spaghetti with sardines with a butter and anchovy sauce with a bread crumble. I don't use much dry but the Cavalier Cocco brand is quite successful, it cooks well and tastes exceptional.
Ending on a sweet note...
I always suggest ordering the Tiramisu; I make it in a different version. It won Abu Dhabi's Best Dish in 2015 and it continues to be very successful.
Le Cirque | United Arab Emirates | Abu Dhabi | Hotel InterContinental | King Abdullah Bin Abdulaziz Al Saud St, PO BOX 4171| | www.dining-intercontinental-ad.ae/restaurants/circo-abu-dhabi
by Paolo Cuccia
translated by Eleonora Baldwin