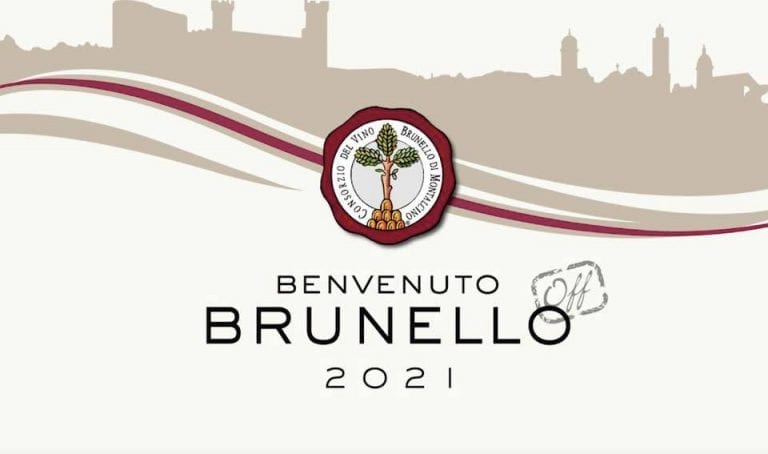 Benvenuto Brunello Off, the first preview of the year, carried out in person and in safety, will allow us to taste Brunello di Montalcino 2016, Brunello Riserva 2015 and Rosso di Montalcino 2019.
A Benvenuto Brunello that will surely remain in the memory of this event. Not only for the pairing of two excellent vintages (2015 and 2016) which respectively expressed a Brunello Riserva and a vintage Brunello, of great depth and elegance as has not happened for some time, but also because, thanks to the tenacity of the Consortium and the municipal administration, the event was able to take place in-person and in safety. As such will continue for all weekends in March, following the evolution of the pandemic situation.
In this regard, Consorzio del Vino Brunello di Montalcino specifies that with the passage to "code orange zone" of the province of Siena, they will be able to access the Benvenuto Brunello Off 2021 tasting on 14-21-27-28-29 March and the sessions from 4pm to 6pm on 13-15-20 March, only trade specialists and not wine lovers as initially expected can attend, at least until there is a new change of "colour."
"The pandemic has undermined all opportunities for aggregation and socializing," the President of the Consortium Fabrizio Bindocci declared, "in which our sector has always found its fulcrum. And this has forced us to reinvent the ways of relating. Benvenuto Brunello Off as well as being an event for the presentation of new vintages, wants to give a signal of the restart."
Tasting Brunello 2016, safely
The condition for the participants––25 journalists residing in Italy––is to be tested no later than 24 hours before the start of the event, a condition also valid for all AIS sommeliers who ensure the service, the employees of the Consortium, the Museum and anyone else who enters the Cloister of Sant'Agostino where the tasting will take place.
At the entrance will be a space for contact tracing procedures (registration of presence, delivery of self-certifications, temperature check, etc.), while for any eventuality an additional space activated for last minute rapid swabs, at Palazzo Pieri, will be in front of the Museum entrance.
Stations for only 4 tasters, well spaced apart, organised with a service tablet. Each sommelier, in addition to wearing a mask, will be equipped with a face visor. It will also be possible to have lunch without leaving the structure: everyone will have a pouch with disposable wooden cutlery, containers with hot soup, meat, a side dish and dessert. Also in this case, guests will be seated at a long table with widely spaced seats. The wines of 140 companies will be tasted.
Remembering the 2015 vintage
The season began with a scarcely rainy winter and continued with substantially average temperatures and low rainfall, which brought the plants in excellent vegetative balance until summer, without the occurrence of any critical issues from a phytosanitary point of view. In July, the rise in average temperatures brought forward the veraison phase, but the situation was re-established with the rains at the end of the month, and then moved on to an August characterised by excellent temperature fluctuations between night and day. Finally, September and October brought limited rainfall and good ventilation which favoured the last stages of ripening of the bunches up to harvest. From the harvest we have obtained wines with notes of ripe fruit and soft, balanced tannins, with excellent structure and long persistence.
Brunello 2016. Looking at the vintage
The rains, after a poorly rainy December, were distributed regularly until the beginning of spring. Flowering and fruit set took place in conditions that did not create particular issues from a phytopathological point of view. The central rains of July created the typical conditions for a great vintage, providing an adequate water resource to balance the high temperatures of July and August. The temperatures in this month recorded an important temperature range, with a max 26°-28°C, with peaks of 32°C during the day and minimum 15°-16°C at night, in some cases even 12°C. The maturation was therefore long, of great importance both for the aromas and for the quality of the tannins, creating the conditions for a great vintage. In September, the first harvesting operations were recorded around the middle of the month, in the south-west area. The closure of the harvest operations coincided with the middle of the month, benefiting from long, dry and well-ventilated periods. The wine has characteristic aromas of fresh red fruit. In the mouth a great tannic structure and excellent acidity; and also excellent and long aromatic persistence both on the nose and in the mouth, with marked elegance.
10 Brunello di Montalcino 2016
What follows is a small, personal selection of wines outside the circle of the best known labels. These are old and new wineries. It is an invitation to explore Montalcino in a different way: with one premise, however: with the 2016 Brunello we are truly spoiled for choice.
Brunello di Montalcino La Fiorita
A truly balanced, pleasant wine, boasting great richness both on the nose and in the mouth. Ripe red fruits, morello cherry but also spices; softness in the mouth but also powerful structure. Long and tense persistence.
Brunello di Montalcino Col di Lamo
A full wine but at the same time it has a freshness that makes it quite fascinating. To increase this sensation is a flavour that's unexpected. A nose of well ripened, fine and elegant fruit; smooth in the mouth but with all parameters (alcohol, tannin, etc.) calibrated to measure..
Brunello di Montalcino Poggio Cerrino Tiezzi
A beautiful wine that combines freshness, structure, great pleasure. As in all old style wines, balance is the pivot around which everything revolves. Spicy notes and long persistence with a savoury finish.
Brunello di Montalcino Castello Tricerchi
A wine with a complex character, lightly fruity and with a delicate spiciness on the nose. Pleasant and structured, it has smooth tannins. Fresh and savoury with a light licorice finish on the bottom. Elegant.
Brunello di Montalcino Collosorbo
Ripe red fruit but also a hint of dark cherries in alcohol and a spicy finish. The mouth perceives important structure, pleasantly juicy, soft tannins, and a long finish with a backlash of red fruit. Full and balanced wine.
Brunello di Montalcino Solaria
Harmonious, elegant, truly fascinating. Sangiovese, not only in this wine, seems to be in a state of absolute grace because in this vintage it manages to express finesse and intensity, balance and power. It's a true pleasure.
Brunello di Montalcino La Fortuna
Rich, complex aromas of small red fruits on a balsamic backdrop. Beautiful structure with balanced and ripe tannins. Pleasantness and immediacy for a persistent wine with a touch of austerity.
Brunello di Montalcino Giodo
A complex wine, definitely fascinating. A fine, elegant nose of delicate red fruit with a slight hint of oak; in the mouth are perfectly silky tannins with acidity that glues the structure, highlighting the sensation of freshness. Great vintage, this 2016.
Brunello di Montalcino Casisano
An overall elegant wine. Red fruit, hints of currant, slight spiciness; structure in the mouth with well-blended tannins, full body and freshness in the foreground. A long aging wine.
by Andrea Gabbrielli