Grand openings, special events and glamour food happenings in Milan outside of the great Furniture Fair have gotten you hungry. We can't blame you. How about if you're looking for a quick bite to eat but wish to escape the obligation of 'see and be seen'? And what if it's not nearly dinner time but your stomach is already growling? No fear: here's an annotated guide to informal, after hours dining in the Fuorisalone areas, minus the Fuorisalone gastronomic events. You'll have to check out our daily recommendations for those.
Triennale
Let's start from the Triennale and its restaurant, Osteria con Vista which occupies the Terrazza. The cuisine by Stefano Cerveni (we met him at Due Colombe in Borgonato near Brescia) is now embellished by a killer view. From the Castello Sforzesco to the Unicredit tower, your gaze can span the entire Milan skyline. It's worth your while walking in the transparent structure even for just an afternoon slice of cake or for one of Luis Hidalgo's signature cocktails, snacking on small plates. Milan's Chinatown is not too far off, only a 15 minute walk to discover how the city's Asian quarter is changing, allowing for an interesting immersion in gentrification and metropolitan integration. An example of this is the Ravioleria on via Sarpi, a paradigm clash of two communities and their relative traditions and gastronomic excellencies: Asian take-out dumplings cooked express with quality Italian meats, purchased at the nearby Sirtori butcher. There are another two worthy of mention locations on via Sarpi: Otto, airy multi-purpose space with vintage chairs and a small vertical garden where patrons can eat, drink a cocktail or read a book. Mostly this a place where it's possible to take a breather from Design Week madness. On the menu lots of vegetables and bread squares dressed with various condiments, and paired with cocktails. Walking only a few more steps the ambiance changes in the new boutique branch of Martesana with Davide Comaschi (awarded with Three Cakes by the Gambero Rosso 'Pasticceri&Pasticcerie' guide). Arranged on two floors, the space allows patrons to either purchase dessert to be enjoyed on the go – like the famous coffee or citrus flavored Martesanotti – or staying for coffee on the upper level.
Terrazza Triennale Osteria con Vista | Milano | via Emilio Alemagna, 6 | tel. 02 36644340 www.triennale.org/caffe-e-ristorante/
La Ravioleria Sarpi | Milano | via Paolo Sarpi, 27 | tel. 331 8870596
Otto | Milano | via Paolo Sarpi 10 | www.sarpiotto.com
Martesana | Milano | via Paolo Sarpi, 62 | tel. 02 66986634 | www.martesanamilano.com
Brera
Let's move towards Brera, the area of Milan which once again confirms its artistic vocation. For the past seven years Brera has hosted BDD – Brera Design District – a network of local commercial and cultural businesses. During this time the neighborhood is home to many activities and initiatives, there are lots of things to see and do and spaces to visit. And what about for a break? Tartufotto is a few minutes walk and combines the concept of small shop with kitchen with the theme of truffles. Here you can shop, or just sit for a bite to eat after hours. Assaggino di Refettorio is the laid-back version of Refettorio Simplicitas located only a few steps away, and guarantees a relaxing break away from the chaos and whirlwind of Design Week. Minimalistic setting, quiet and relaxing ambiance, simple light and good quality fare. Open from morning to 5pm and located on via della Moscova, this place also does take-out.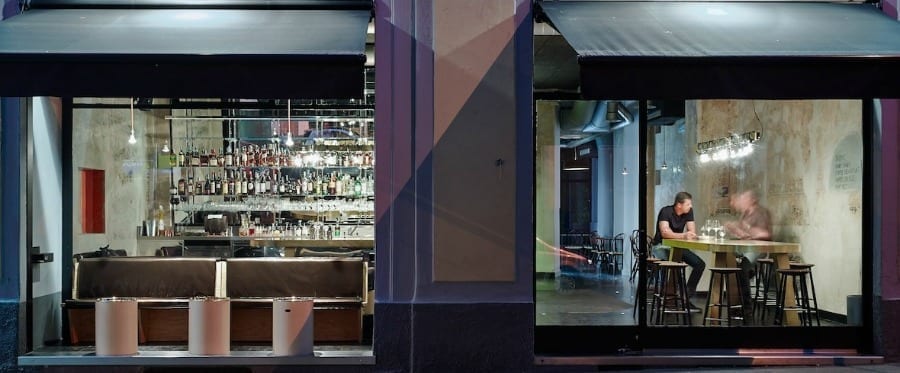 Via Solferino is always a safe bet, because everything is within close distance and can cater to the most miscellaneous clientele, without forcing the umpteenth marathon. Just think of the triad offered by Dry, Pisacco, and, on the parallel road, Bab. The first offers pizza and cocktails (with the chance to eat until midnight). The second is a contemporary bistro (open both lunch and dinner and from 7pm also serving small plates to pique your appetite). The third is Korean fusion, the best place for that much needed revitalizing Asian soup. Speaking of ethnic food: Milan boasts one of the best Peruvian restaurants in the world. The name is Pacifico: it's a flurry of excessive decor (no, you won't find anything minimalistic here, thanks to Marsica Fossati's talent), ceviche served in many ways, pisco bar for theme cocktails and Peruvian dim sum. If you keep walking only a dozen more meters, our suggestion is stopping for a stylish meal at Mandarin Oriental. This time not for dinner proper created by the able hands of Antonio Guida (we're not suggesting otherwise, just focusing this list on quick ideas), rather for grabbing a very good cocktail.
Tartufotto | Milano | via Cusani, 8 | tel. 02 39663690
Assaggino di Refettorio | Milano | via della Moscova, 24 | tel. 02 89070650 | www.refettoriomilano.it/assaggino/
Dry | Milano | via Solferino, 33 | tel. 02 63793414| www.drymilano.it/
Pisacco | Milano | via Solferino, 48 | tel.02 91765472 | www.pisacco.it/
Bab | Milano | via San Marco, 34 | tel. 02 8342 2356 | www.facebook.com/pages/bab-%EB%B0%A5/348476288555489
Pacifico | Milano | via della Moscova, 29 | tel. 02 87244737 | www.wearepacifico.it
Mandarin Oriental | Milano | Via Andegari, 9 | tel. 02 8731 8898 | www.mandarinoriental.it/milan/fine-dining/
5 Vie
The centrally located '5 vie' includes the area surrounding the Basilica of Sant'Ambrogio. The church is our starting point that will take us to the Parisian-inspired dishes created at Pascal Caffet: macarons, éclairs and chocolates hailing directly from the French pastry chef's kitchen. Leaping from From France to the Far East we land at Ryukishin – from the corners of Rho comes a brand new restaurant not far from Sant'Ambrogio – where Tatsuji Matsubara offers his popular Japanese cuisine: no sushi and sashimi, rather ramen of all sorts to be chosen from the handsome counter, plus gyoza, curried rice, tori kaarage (Japanese style fried chicken) and so forth.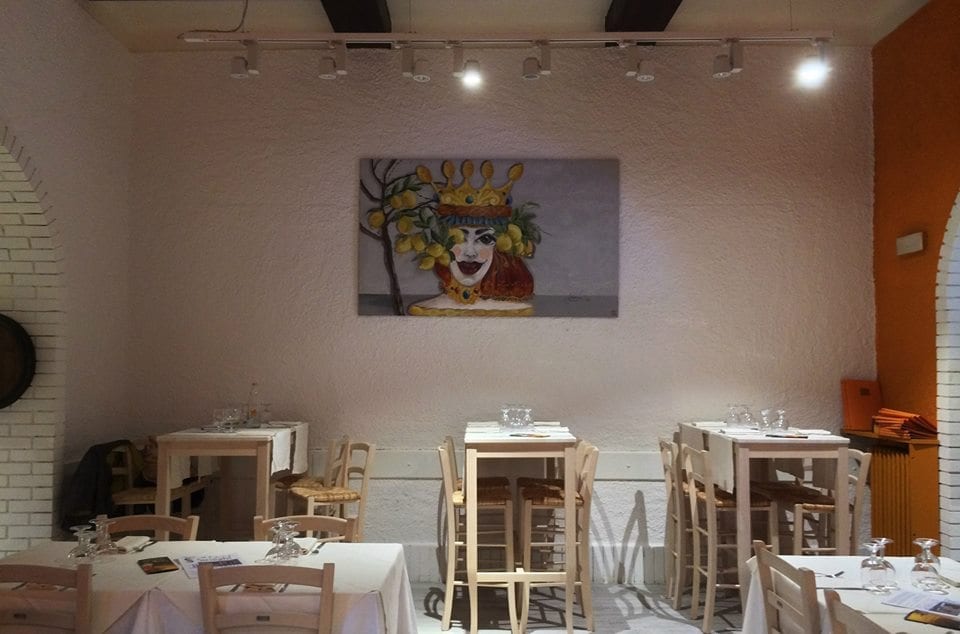 For those looking for flavors closer to home, but have had enough of Milanese food and glam locations, Siciliah comes to the rescue. This rustic restaurant with annexed shop selling Sicilian specialties is part of the Gal Elimos consortium which gathers together 14 districts of the Trapani province. Kebab, obviously, but of high quality and made with select ingredients are served at Babek. The meat comes from controlled livestock breeders, sauces are all homemade and seasonal specials add value to the place's Mediterranean cuisine. In order to please everyone including those with eating restrictions, we recommend the Out of gluten bistro, new location of the famous store of via San Michele al Carso. This 'gastronomia', a famous delicatessen, is known for its gluten-free goods, prepared in the open kitchen. The governing philosophy is the same in both places: care for details and wholesome products, tasty and not self-denying. There's cooked dishes, gourmet sandwiches, as well as pasta, pizza and desserts all entirely sans gluten and all crafted by Luca Musitelli and Luca Donadoni.
Pascal Caffet | Milano | via San Vittore, 3 | tel. 02 36563999 | www.pascal-caffet.com
Ryukishin | Milano | via Ariberto, 1 | tel. 02 89408866 | www.ryukishin.it
Siciliah | Milano | via Terraggio 14 | tel. 02 86451590 | www.facebook.com/siciliahmilano?fref=ts
BabeK | Milano | via del Torchio, 3 | tel. 02 72095714 | www.babekmilano.it
Out of Gluten Bistrot | Mlano | Corso Magenta, 9 | www.outofgluten.it
Tortona
Always busy in any time of year, via Tortona and surroundings during Design Week is full to the rafters. It's the charm of Fuorisalone, after all. Let's start from the heart of this area, that is Mudec, The Museum of Cultures, where Enrico Bartolini – after ending his positive residency at Devero – now guides the third floor restaurant and streetside bistro. Speaking of multi-cultural spaces: Base, a coworking space of creative aptitude, organized in several rooms and event areas, also boasts a bar that's open to all.
Our next appointment is at the Navigli for a drink in one of the most loved cocktail bars in Milan: Rita. From here we move only a few steps away. Despite the change in the kitchen, the formula is still valid and fun at Rebelot del Pont with Matteo Monti, which is a more informal place than the elder branch Al Pont de Ferr where Vittorio Fusari now officiates. Minimalistic and original decor, unpolished materials and a creative whimsical cuisine are what make 28 posti stand out. For a good cocktail there's also La Segheria di Carlo e Camilla, while Tokuyoshi is the gourmet Italo-Japanese reference that's increasingly finding its focus. It's not a place for a quick meal, but a good choice if you're looking to experiment some fusion cuisine.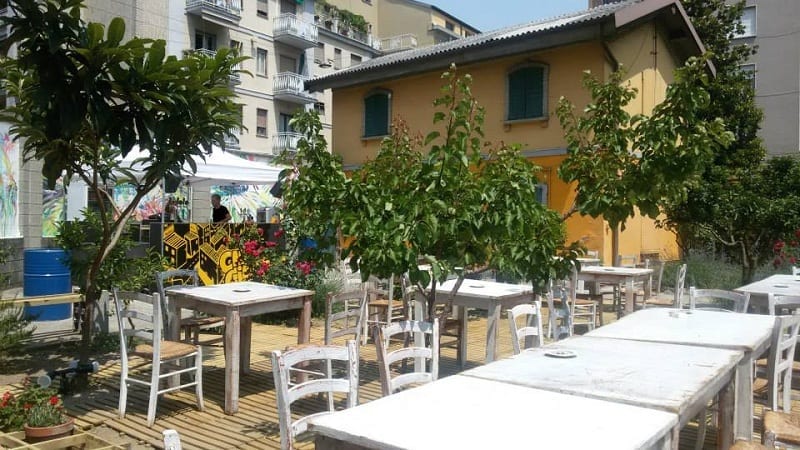 Located in a secret garden overlooking the defunct train tracks of Porta Genova is Casello Giallo. The space is relaxing and has its own urban garden. The menu is informal and varied: paired with cocktails and beers are dishes coming from hamburger and soup joint Hambistro, Japanese street food from Maido!, cured meats and tasty products by Millino, burgers by Sir Simon, and all other success stories from via Savona, which we implicitly also suggest. On via Savona there are furthermore the worthy hamburgers of Burgez (German meats): exempt from gourmet obsessions, myriad variations and complex recipes. Here you find genuinely good burgers, period. And the fries are equally good. There's also Langosteria which has a less exacting bistro located in the quiet via privata Bobbio, not too far off. In via Vigevano there's the shop-bistro Taglio: a handful of dishes on the menu and a deli counter selling cheese and cured meats for a quickly assembled sandwich. If you have time, be sure to order a coffee, specifically a V60.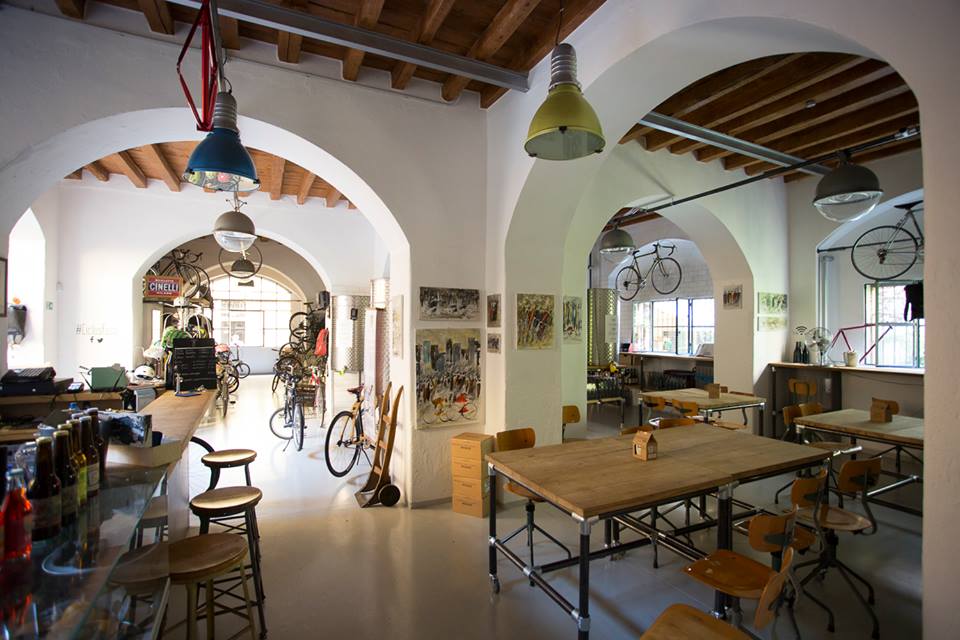 On the same via Vigevano another address will please the many who have traveled with a Brompton bike: at Ciclo Sfuso a glass of wine with a basket of tigelle and other bready snacks will do the job while you give your bicycle a tune-up. Speaking again of multi-purpose locales: at Potafiori it feels like being in a garden surrounded by flowers, because the co-stars alongside dishes are floral compositions: buttercups, freesias, daisies and spiny roots constitute the scenery and complement the look of the bistro that's open from early morning.
Walking back towards Navigli you'll bump into the Darsena market: it's impossible not to notice it and the surrounding area that's been entirely renovated and returned to the city after a period of neglect. In line with the current marketplace trends this mercato allows visitors to buy food as well as dine at places like Macelleria Popolare owned by Giuseppe Zen of Mangiari di Strada,or at Spontini which stays open until 4am, plus at others. In the same old harbor, on the side that faces viale Gabriele D'Annunzio, is the recently inaugurated Vista Darsena, the brainchild of Stefano Cerveni, which opens its doors from early morning to 2am. This is a place where you can relax with a book, surf the web (precious asset at this time of year), eat a quick bite or drink a glass of wine paired with a plate of food. The house specials revolve around the rotisserie kitchen, which manages to reinvent classic Italian dishes like saffron risotto 'alla milanese'. On the other hand, the recently opened two-storey restaurant owned by Francesco Passalacqua, chef of Pane e Acqua restaurant is Esco bistrò mediterraneo which offers local cuisine with Piedmont accents and quality mixology. As far as ethnic cuisine in this area, the 4 types of ramen at Mi-ramen bistrò, which seats only 20 and offers very few dishes is our best bet.
Mudec | Milano | viaTortona, 56 | tel. 02 02 84293701 | www.mudec.it/
Base | Milano | via Bergognone 34 | base.milano.it/
Rita | Milano |Via Angelo Fumagalli, 1 | tel. 0202 837 2865 | www.facebook.com/RitaCocktails/
Rebelot del Ponte | Milano |Ripa di Porta Ticinese, 55 | tel. 02 84194720 | www.rebelotdelpont.com/
28 posti | Milano | via Corsico 1 | tel. 02 8392377 | www.28posti.org/
Casello Giallo | Milano | via Savona 5/A | sempre aperto | www.casellogiallo.com
Burgez | Milano | via Savona, 15 | www.burgez.com/
Langosteria | Milano |Via Privata Bobbio, 2 | tel. 02 58107802
Taglio | Milano | via Vigevano, 10 | tel. 02 36534294 | www.taglio.me/
Ciclo Sfuso | Milano |Via Sartirana, 5 | tel. 02 58109640 | www.ciclosfuso.com
Potafiori | Milano | via Salasco 17 | tel.02 8706 5930 | www.potafiori.com/
Macelleria Popolare Mangiari di Strada | Milano | P.zza XXIV Maggio | tel. 02 3946836 | www.mangiaridistrada.com
Spontini Darsena | Milano | Via Vigevano, 1 | 02 25 06 13 51| www.pizzeriaspontini.it/pizzeria/milano-darsena
Vista Darsena | Milano | vialeGabriele D'Annunzio, 20|[email protected]
Esco bistrò mediterraneo | Milano | via Tortona, 26 | tel. 02 8358144 | http://www.escobistromediterraneo.it/pag/home.html
Mi-ramen bistrò | Milano | viale Col di Lana, 15 | tel. 339 2322656 | www.mi-ramenbistro.it
Porta Venezia
As you approach that area of Milan which, with its Art Nouveau decorations, designs the city's most curvy and spellbinding profile, do take the time to stop at Pavè for a creamy cappuccino and a flaky pastry. Buy some biscuits and cookies to snack on while you visit the Nicoletta Murialdo project for Fuorisalone, which allows visitors and citizens to discover an otherwise unexplored side of the city. To sustain you in the long passeggiatas and increasing heat, opt for "crudo", the raw offer at V3 Raw, the new raw organic concept eatery that serves juices, smoothies, soups, chemex coffee and custom designed salads that appeal even to non-raw organic aficionados.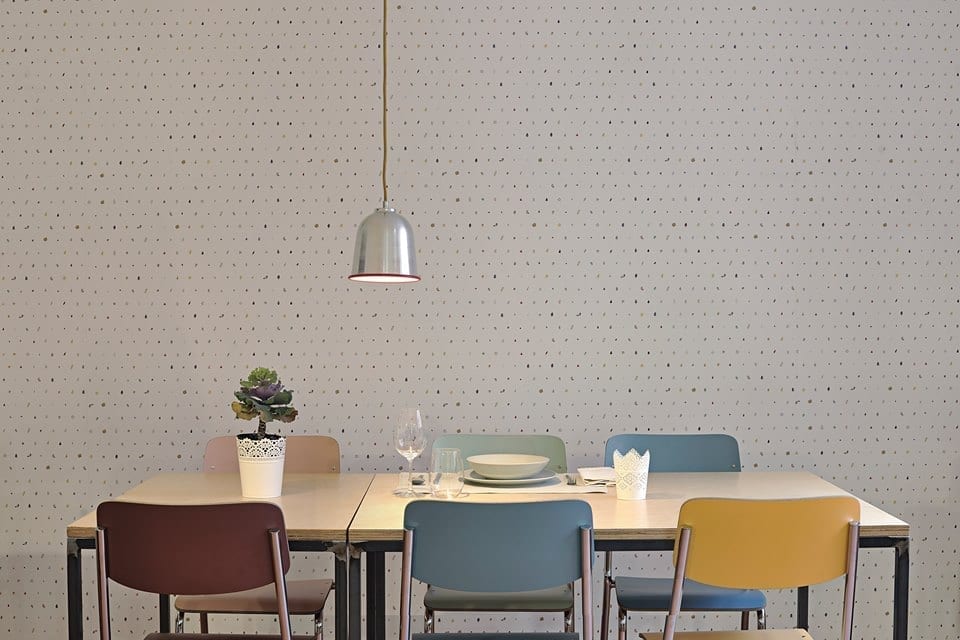 The same genre is found at Manta Raw Vegan, unpolished wood and metal finishes and a cuisine whose cooking temperatures never exceed 45° Celsius. The result is interesting and exotic enough to convince even the most uninterested. In the adjoining market you can stock up on their famous detox juices to take some of that well-being to go. Dim Sum is instead dedicated to offering rolls, dumplings, wraps and meatballs, as well as Asian soups paired with either tea or bubbly. The unexpected exotic the nordic one offered by Bjork: Swedish-style locale equipped with a counter and small reserved rooms where patrons can enjoy canapés, herring served in various ways, mussels poached in beer, fish stewed with hops. The flexible opening hours allow for a restorative stop any time of day. On the same street at number 24 you can walk into Bìcerin: there are around 600 labels from all over – not just Italy – and graze from a small choice of dishes sitting in plush chairs for a relaxing break. Cocktail buffs shouldn't miss out on spending some time at Nottingham Forest, a Milan must for high quality ingredients, great technique and creativity. Furthermore, from 7 to 9pm, both at the counter or at tables, there's stellar finger food. On the start line is Trattoria Trombetta by Giancarlo Morelli, of Pomiroeu di Seregno. It's due to open in largo Bellantani, we'll keep you posted on exact dates. The formula is simple: genuine, down-to-earth cuisine, immediate dishes and cocktails, informal ambiance and a large table at the entrance and a counter play starring roles: this is where barmen and cooks can be admired. Stay Tuned!
Pavé | Milano | via Felice Casati 27, Milano | tel. 02 94392259 | www.pavemilano.com
V3 Raw | Milano | via Spallanzani angolo viale Regina Giovanna | tel. 02 29514295 | www.v3raw.com
Mantra Raw Vegan | Milano | via P. Castaldi, 21 | tel. 89058575 | www.mantrarawvegan.com
Dim Sum | Milano | via N. Bixio, 29 | tel. 02 29522821 | www.dim-sum.it
Bjork | Milano | via P. Castaldi, 20 | tel. 02 02 49457424 | bjork.it/bjork-milano/
Bicerìn | Milano | Via Panfilo Castaldi 24 | tel. 02 8425 8410 | www.bicerinmilano.com/
Nottingham Forest | Milano | Piave, 1 | tel. 02 798311 | www.nottingham-forest.com
Trattoria Trombetta by Giancarlo Morelli | Milano | largo Bellantani, 1
Lambrate
If you've pushed east to visit the 7th installment of Ventura Lambrate with its 159 stands hailing from 29 countries you may have already planned your eating intermissions. We will only add a few suggestions then – none too easy to reach – but good to sustain you in case of unexpected hunger bouts and the need to slow down. Start from Trattoria La Cappelletta which operates with a slightly more flexible timetable beyond established lunch and dinner service, offering slices of pizza, or a quick gnocco fritto (fried dough) served with cured meats and a drink. This is one of the Lambrate district's historic eating destinations. The warm, friendly atmosphere confirms this. In the same area, featuring a nice outdoor patio, large coworking space and an area dedicated to hosting events, is Santeria Paladini 8. A handful of daily specials, burgers, breakfast menus and a few cocktails. If the weather is nice, take a table outside. With rising temperatures the best solution is however a nice cold beer, best if pulled directly by the brewer.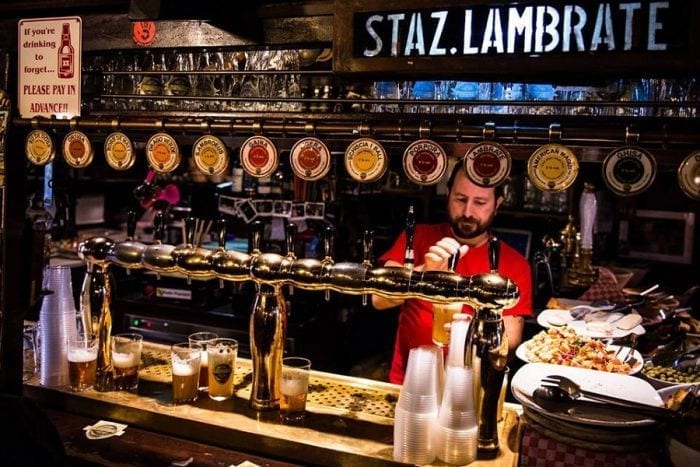 In Lambrate there's a craft micro-brewery, one of the best known and consolidated in the area, which this year celebrates its 20th anniversary. The very first experiments in the '90s – with 150-liter capacity machinery – helped yield the current production of 28 labels on the beer list and open a pub with kitchen on via Golgi, only a few blocks away, while via Adelchi is the location of the historic brewpub.
Trattoria La Cappelletta | Milano | via Carlo Bertolazzi, 26 | tel. 02 2151456 | www.trattorialacappelletta.it
Santeria Paladini 8 | Milano |via Ettore Paladini 8 | tel. 02 36 79 81 21 | www.santeriamilano.it/
Birrificio Lambrate | Milano | via Adelchi, 5| tel. 02 70638678 |www.birrificiolambrate.com
Birrificio Lambrate | via Camillo Golgi, 60 | tel. 02 84961890 | www.birrificiolambrate.com
by Antonella De Santis
translated by Eleonora Baldwin