"If I tell you how we met... it looks like a scene out of a movie" says Mariangela Castellana. "We were at a wedding, Cecilia has a dog named Barolo, I am passionate about wine, and so we started talking about her project in Rome". At that time, Mariangela was still working as a lawyer, but her passion for good wine was already great. Courses after courses, she attended tastings, discussion, a food and wine management course and even food law at college, but she had never worked in a restaurant. "Like many people, during lockdown I started wondering what would have happened if I had pursued my other passion, wine." It seems pretty easy, but it took a while for Cecilia Moro to convince her to take the leap. "She said no, but I knew it was a yes, of course. She was holding back because she had a career in Parma, but her passion was evident. I realized that we shared the same vision, even though she had no experience." That was over a year and a half ago, and since then there have been meetings, thinking and travel, many travels to find the right producers. "We sampled, for example, more than 20 different types of prosciutto".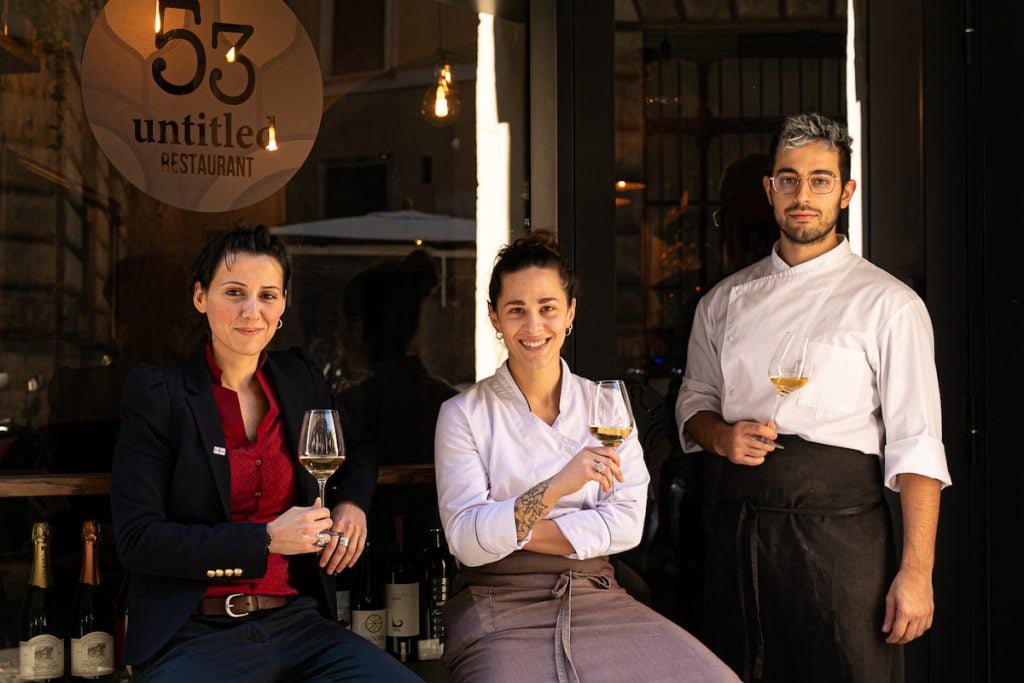 The restaurant has now opened and Mariangela can assert that "we carried out the project together". The transition from client to insider went hand in hand with the project realization, and her previous work experience has been helpful: "I know it seems irrelevant, but actually they are two intertwined worlds, and then of course there is the ability to manage, curiosity, relying on those who know more". Mariella and Guido of the Locanda Mariella in Fragno have been her mentors, creators of an outstanding example of contemporary osteria, a place where product quality, wine and cuisine go hand in hand with human values. "They've taken us under their wing, creating a close bond. They've already come to visit us, and maybe they could help us in the future." In the meantime, they're working on the restaurant that opened a few weeks ago, just after Christmas.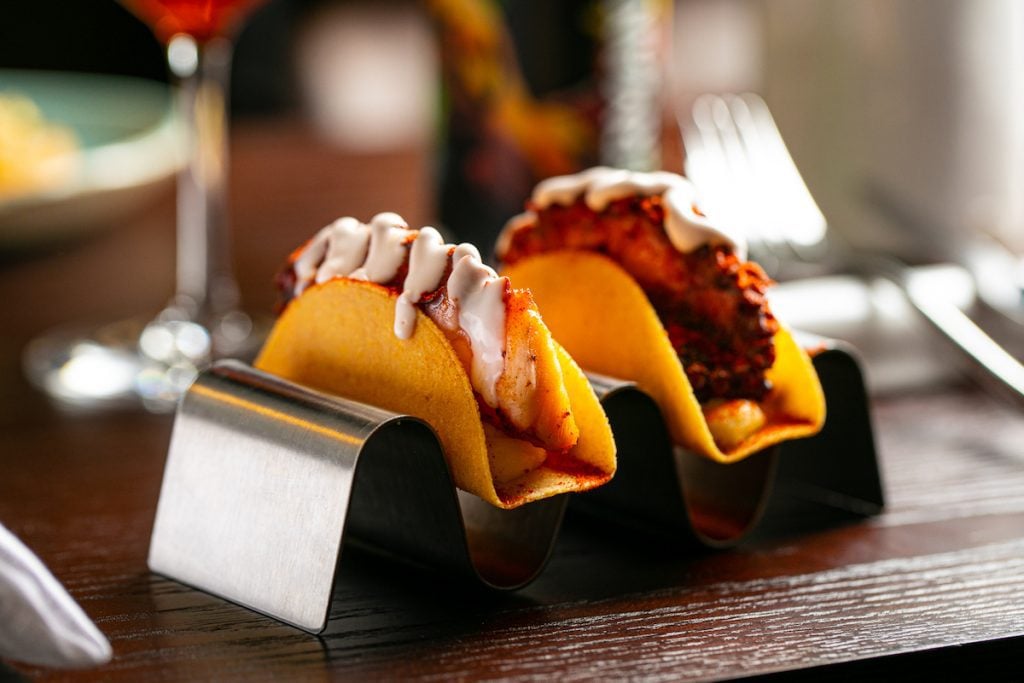 Italian-style tapas
Located in the very city center, just a stone's throw from Campo de Fiori, Untitled 53, Bites & Wines is a small and intimate restaurant: 20-24 seats, 4 of which at the counter, a table downstairs for small dinners or tastings among bottles, and soon an alfresco dining area with 10-15 seats. The concept is to create a relaxed space, where you can stop by at any time of the day to enjoy a comfortable and original cuisine, tailored to suit different tastes and appetites: "We have divided our menu into small bites, bites, drinking buddies, pastas and desserts. I came up with the idea while touring the historic tapas restaurants in Valencia. I told myself that one day I would have done something similar in Rome," explained Cecilia, going from chef to restaurant owner, building on her French experience at Chévre D'Or in Èze, where she managed a group of 15 people. "Although, as employee, there are some things you can't even imagine."
Sharing small plates is restaurant's concept, even though the classic division into courses is still possible. In a nutshell: from one bite to accompany a glass of wine to pastas, from single portions to tasting experiences (four-course menu at 35 euros, five-course one at 50 euros). A modular offer available during the kitchen opening times in a welcoming atmosphere: "it may seem trivial but, in this period of unrest, we would like people to feel relaxed. We would like that this passion flows back to the restaurant in terms of empathy."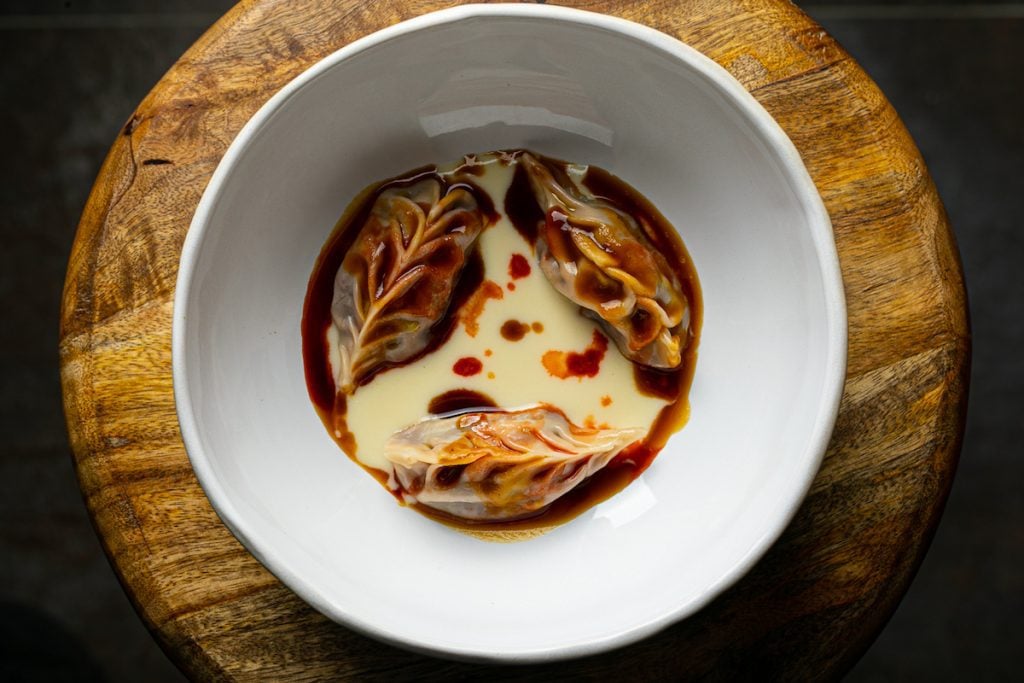 What to eat
"I put myself, what I like and my life path into my dishes," explains Cecilia. The Asian hints, for example, derive from her origins: "my great-grandmother was Chinese and my grandmother had lived in China for part of her life. I got to know Chinese cuisine with her and then I've studied it together with other Asians". What about fish? That comes from her work experience alongside Gianfranco Pascucci and Viviana Varese, where she met her sous-chef, Andrea Riva: "they taught me how to cook fish, thus developing my food personality". From Ugo Alciati she inherited the plin al tovagliolo with amatriciana filling that immediately builds a bridge with her city, following an approach that tells about travel, meetings, cross-fertilization. Here fusion cuisine is not a gastronomic label but the natural consequence of this attitude towards the other. "The concept is to express our past and future travels in our dishes," adds Mariangela.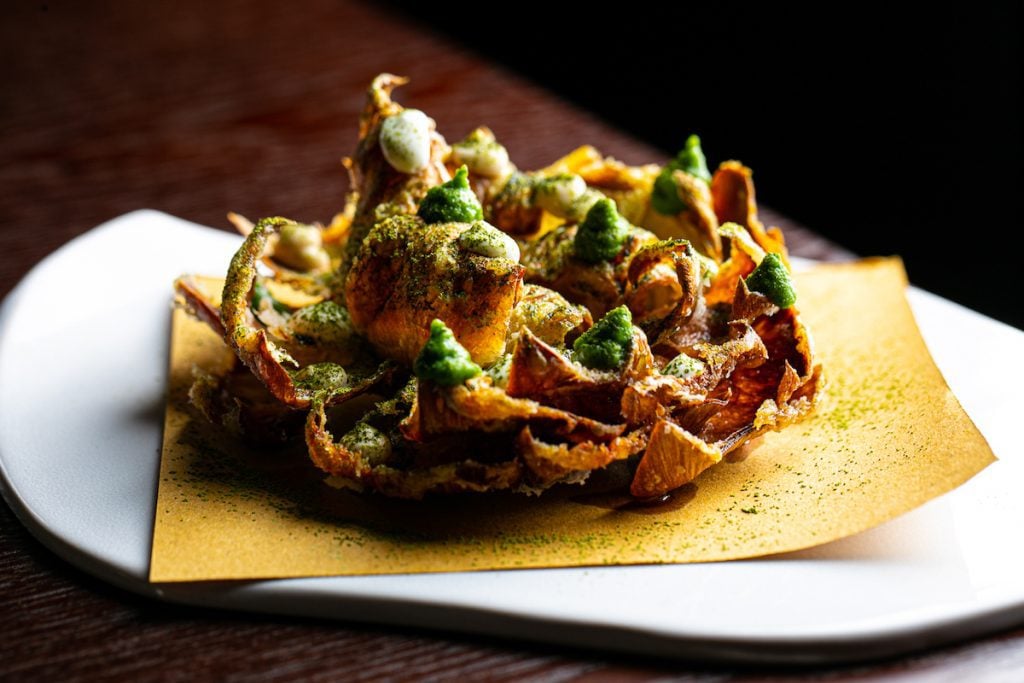 There are plenty of Roman elements on the menu, either cooked according to tradition, such as Benedetto Cavalieri's spaghettone alla carbonara, or with a twist, such as the cacio e pepe with iodine and smoked eel stock, bottarga and lemon zest, or the coda alla vaccinara dumpling that expresses the link between Rome and China. The carciofo alla giudia with matcha, anchovies and aioli stops off even more between Italy's capital, Japan and Spain, which is also well represented with its patatas bravas and the Galician-style octopus taco. "There is a mix of several things" she summarizes, pushing forward new ideas: the passion for fish – raw, marinated, but also cooked as in the upstream teriyaki salmon flambé, red turnip, Granny Smith apple and kefir – as well as hints of sour that lend contemporary variation and oriental suggestions. An affordable culinary proposal that is the result of explorations and reflections, "we want everyone to be able to come and have fun according to needs and possibilities, while maintaining a high standard". Among the most appreciated in the city, top-notch meat supplier Annibale and fish supplier Galluzzi act as a guarantee.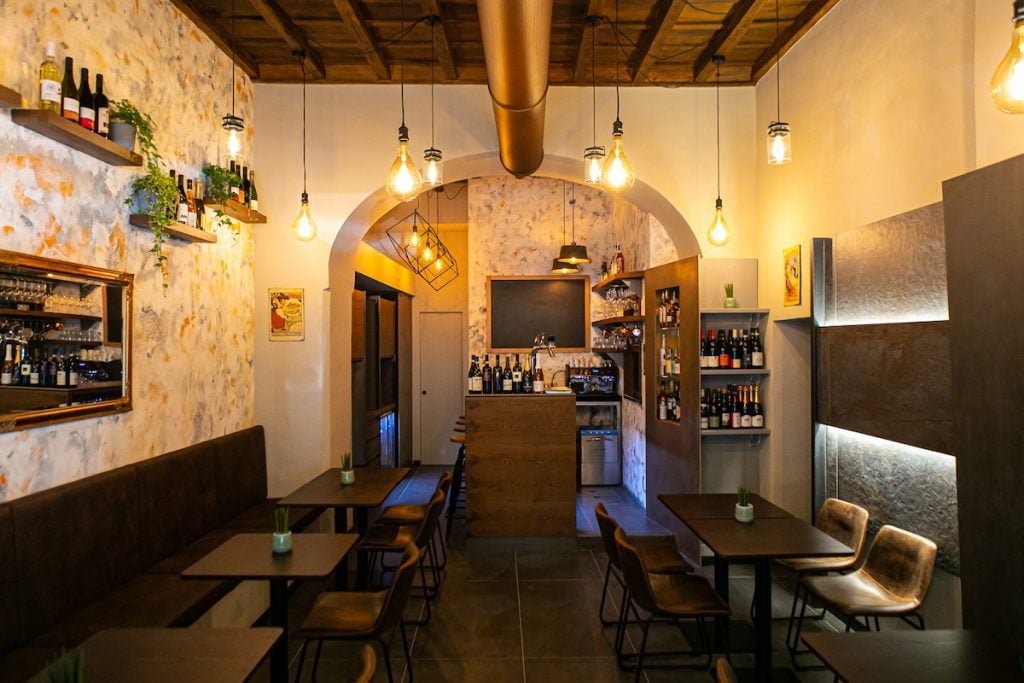 What to drink
About eighty labels, featuring lot of Champagne and Cremant –here the influence of the Locanda Mariella – selections from all Italian regions, and in the future even something non-European. "They are mainly small vignerons, who work respecting nature wherever possible, but I don't support natural wines at all costs, particularly when the flaws outweigh the strengths". Labels and certifications are therefore not a requirement: "several organic wines do not bear the organic certification, since for many producers this is the only proper way of doing it". Quality, balance, and the right way of working in harmony. Whether it's wine or beer, "the beers come from Italian craft breweries, then we'll order some sour beers from Belgium. We also have a small gin selection." The kitchen is open from mid-afternoon during the week and from 12:30 to 9:30 p.m. on Sundays. Closed on Mondays and Tuesdays: "there is much talk of sustainability and ethics, but never of workers in this sector. The raw material here is taking care of people".
Wednesday and Thursday from 6 to 10:30 p.m.
Friday and Saturday from 5 to 11 p.m.
Sunday from 12:30 to 9:30 p.m.
Untitled 53 Bites & Wines – via del Monte della farina 53, Rome
06 87 93 08 60 – 375 71 50155
by Antonella de Santis