Desserts made with extra virgin olive oil: peasant heritage
There are those who use it. to replace butter, for reasons of intolerance or food choice, or to reinvent classic recipes making them lighter, not to mention the many vegan versions of all the traditional desserts. In order to find fine quality extra-virgin olive oil cookies, there's no need to search among specialised websites and magazines: just look to the past, at the recipes of a time when olive oil was the absolute protagonist. Especially in biscuits and dry sweets typical of the peasant culture of Central and Southern Italy: in fact, a precious ingredient such as extra virgin olive oil was never wasted, and to save the last drops families worked with alternative preparations.
Substituting butter with olive oil
Not a substitute, then, but rather a main ingredient, and the key to a tasty, fluffy cake and above capable of keeping longer than those with butter, which lose their softness more quickly. Replacing butter with green gold in recipes is still possible, but also changing quantities, considering about 20% less: for 100 grams of butter, therefore, think 80 grams of extra virgin olive oil. But let's go back to traditional specialties: in all likelihood, the olive oil of our grandparents was not the best in terms of quality, but today we know how to recognise a fine extra virgin, and there are many excellent ones in Italy.
The New York Times' olive oil cake
Before discovering Italian olive oil desserts, here's a curiosity from abroad: in February 2020 the New York Times published a recipe for extra virgin olive oil cake, a rather unusual fact for a country that has in butter and frostings one of its gastronomic symbols in the world. After Samantha Seneviratne's recipe, other similar ones were published, including reinterpretations of classic US recipes, such as Melissa Clark's brownies with extra virgin olive oil, or Bundt Cake with olive oil and beetroots.
Traditional cakes made with extra virgin olive oil
Cavallucci and beccute marchigiane
Typical of the towns in the province of Macerata, in particular Cingoli and Apiro, cavallucci are biscuits originally prepared by the local vergare (Marche housewives) for the Christmas holidays, which are now available all year round. The filling is made with local sapa (grape syrup obtained from the must), walnuts, hazelnuts, almonds, sugar, breadcrumbs, bitter cocoa, Marsala, white wine, coffee, lemon zest and orange, while the pasta is made with flour, sugar, white wine, olive oil and grated cinnamon. The beccute, instead, is a recipe that has become famous as one of Giacomo Leopardi's favourites, so much so that in some areas they are called "le beccute di Leopardi" (Leopardi's beccute). They are sweets that are born to reuse the leftover corn after the preparation of polenta, and which are made of corn flour, extra virgin olive oil, sugar, anise or mistrà (typical Marche liqueur flavoured with anise), and nuts.
Mostaccioli and stuffed celli abruzzesi
There are many variations of the mostaccioli in Italy, cookies that are typical from Abruzzo to Calabria, passing through Campania, Molise, Basilicata and Puglia, without forgetting the Lombard version of the mostazzit. They were originally prepared for the harvest with bread dough, honey, almonds and grape must. Over the years, the recipe changed a bit and today mainly involves the use of flour, sugar, honey, oil, powdered cacao, cooked must, chopped almonds, water and baking soda, with the necessary regional variations. The stuffed celli (so called because of the shape, which resembles a crouching bird) are shells of flour, white wine and olive oil, stuffed with scrunched - a typical Abruzzese grape jam - toasted almonds, bitter cacao, cinnamon and lemon zest.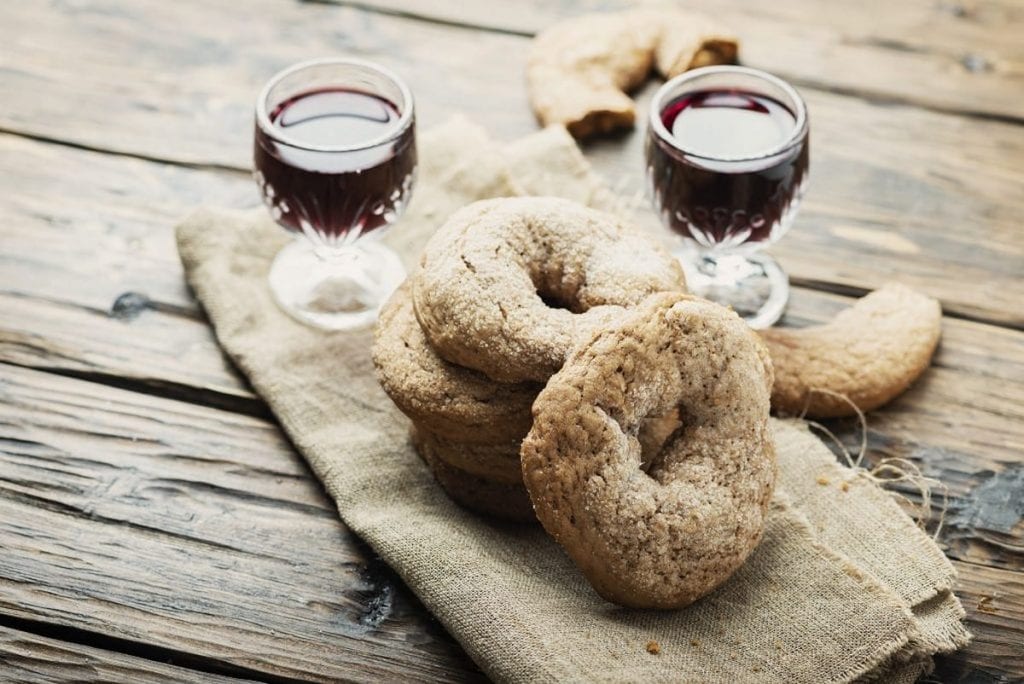 Ciambelline al vino
Ring shaped cookie with wine that's common to many regions of central Italy, in particular Lazio (especially the area of the Castelli Romani, where they are called 'mbriachelle ie, tipsy), Abruzzo and Umbria. They are homemade flavoured donuts, always on the table at the end of the meal in traditional taverns and fraschette, accompanied by a glass of red wine. The ingredients are few, only four: flour, sugar, olive oil, wine.
Ciambelle from Lazio: with grape must, "of the newlyweds", and from Terracina
In addition to those with wine, there are several types of ring shaped cookies throughout Lazio, all prepared with olive oil. Those made with grape must, for example, prepared during harvest time in the Castelli Romani area, with grape must, sugar, olive oil, flour and raisins, particularly linked to the municipality of Marino. And then the ones "of the newlyweds" of Rocca di Papa, in the Castelli too, with lemon zest and covered with sugar sprinkles, so called because of the ancient custom of binding the wedding announcements to a bag filled with biscuits in a precise number depending on the degree of relationship. Finally, the ones from Terracina with muscat wine, which differ in the ingredients for the use of local wine.
Pupazza frascatana
Another specialty of Lazio (moreover, it is Central Italy that uses extra virgin olive oil for desserts, even more than the deep South, where lard is often used): a female figure made from a simple pastry dough of flour, olive oil, honey and orange essence. The pupazza represents the "mammana", a midwife who once devoted herself to the care of children in country houses while mothers were engaged in the harvest. According to an ancient folk tale, the mammana was able to calm any tantrum by feeding the infants Frascati wine from a fake breast: the biscuit is in fact prepared with three breasts (two for milk, and one for wine).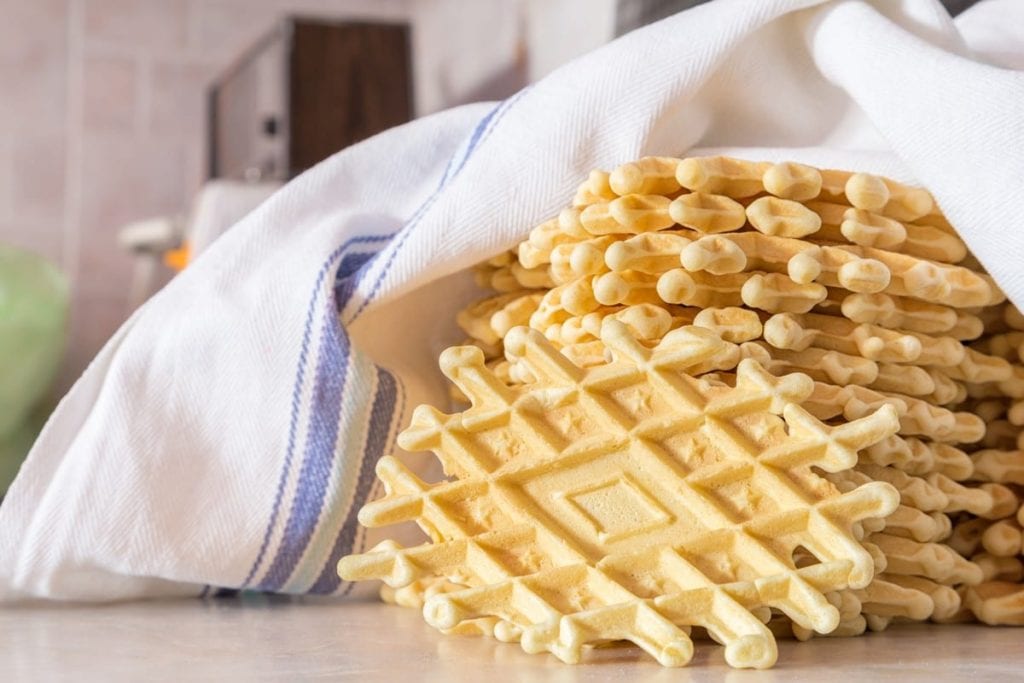 Ferratelle (or neole, pizzelle, cancellate)
Widespread in both Molise and Abruzzo, these sweets are prepared with flour, eggs, olive oil, sugar, lemon zest and a pinch of salt. For cooking, a special mould is needed: similar to a waffle pan, usually in steel or cast iron is heated and which gives the unmistakable shape to the treats. Put the mould on the stove (the first time it needs to be brushed with olive oil), pour a spoonful of dough into the centre and close it by pressing for a few seconds. Once cooked, ferratelle can be slathered with jams, spreads or honey.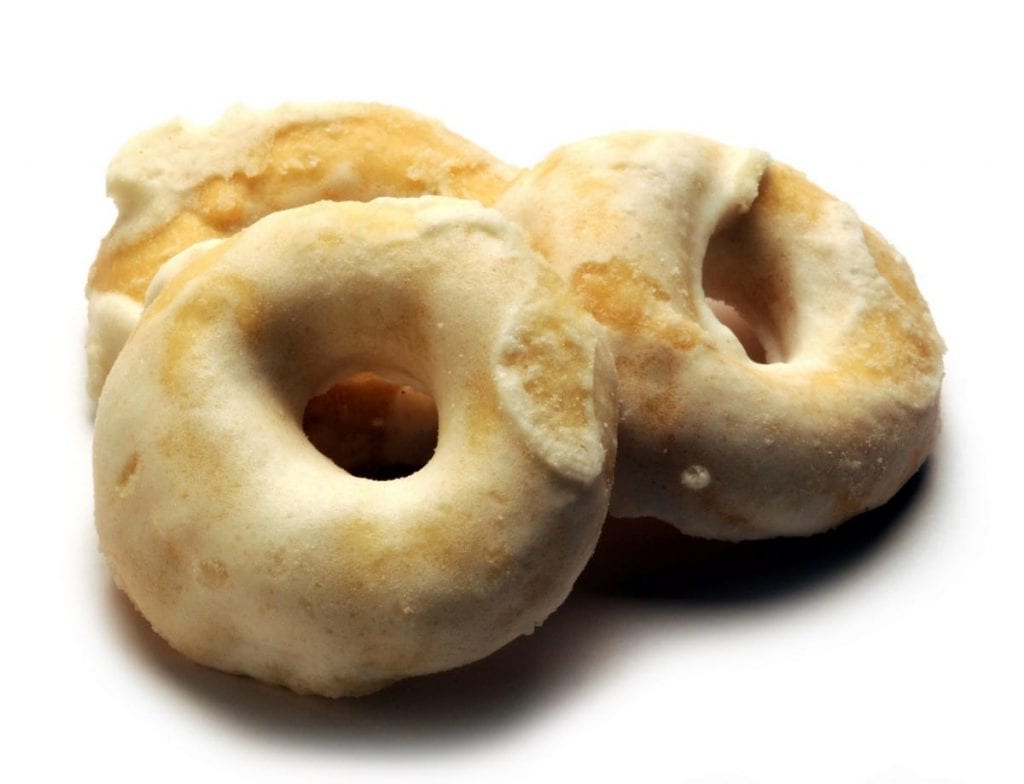 Taralli glassati from Lucania
These donut shaped cookies have an irregular shape, they're crumbly, light and covered with icing, originally offered at the end of wedding banquets of the wealthiest families: the same preparation was a key ritual in the wedding, which provided that all the women in the family get together to knead the biscuits under the advice and attentive gaze of the mstazzulara, the oldest and most experienced female pastry chef. To make them, you need sugar, eggs, olive oil, aniseed in seeds or aniseed liqueur, yeast and a pinch of salt. Once cooked, the glaze prepared with sugar and water is brushed on the surface.
Cartellate and eyes of Santa Lucia
Cartellate are an inevitable holiday specialty in Puglia. They are nests of fried dough with an ancient past (one of the first depictions was found near Bari and dates back to the 6th century BC), made with a mixture of flour, olive oil and white wine. The sweets require a long and laborious procedure, enriched with fig vincotto. The eyes of Santa Lucia, on the other hand, are prepared for December 13 with flour, dry white wine, extra virgin olive oil and water. Simple ingredients that create neutral-flavoured taralli covered with a sugar glaze.
Tuscan berlingozzo
Ciambellone is one of the typical Italian breakfast cakes, prepared all over Italy with different ingredients and methods, generally following family recipes. A tall and fluffy version also widespread in Umbria but particularly linked to the city of Lamporecchio, in the province of Pistoia, is the berlingozzo, a typical Carnevale dessert. In the past it was prepared for Fat Thursday (the day which in the area is called, in fact, berlingaccio): today it's eaten during the whole festival period and is prepared with eggs, extra virgin olive oil, flour, sugar, yeast and lemon zest.
Stroscia di Pietrabruna
Crispy cake typical of the province of Imperia, characterised by the use of extra virgin olive oil, but also lemon scent. In particular, tradition requires the use of a taggiasca monocultivar oil, typical and most representative variety of the area. Like for Sbrisolona from Mantua, stroscia should never be cut rather broken with your hands (hence the name of the cake, the verb strosciare in Ligurian means "to break"). The basic ingredients are flour, extra virgin olive oil, sugar, Marsala or vermouth, yeast and lemon zest.
The New York Times recipe for extra virgin olive oil cake
The author's advice: "This simple lemon-scented cake is a small refined pleasure to be enjoyed alone or accompanied by whipped cream, fruit or ice cream. The extra virgin olive oil helps accentuate the aroma of the dessert, as well as keeping it moist much longer than butter does. Make sure that the oil very good quality: if you would not drizzle it on salad, then it's not suitable for the cake."
Ingredients
240 ml fine quality extra virgin olive oil (plus more for greasing the baking dish)
255 gr flour (plus more for the baking dish)
1 tsp salt
1 tsp baking powder
¼ tsp baking soda
300 gr caster sugar (plus 2 tsp for garnish)
3 eggs, at room temperature
1 tbsp lemon zest + 2 tbsp lemon juice
295 ml whole milk, at room temperature
Preheat oven at 190°C. grease a baking dish measuring 22 cm with the extra virgin and line the bottom with parchment paper. Grease the parchment paper and dust the whole baking dish with flour, removing any excess.
In a large bowl add flour, salt, baking powder and baking soda.
Separately, mix the sugar, eggs and lemon zest, mixing with a stand mixer for approximately 5 minutes, until the mixture is fluffy. Add the olive oil and mix for an additional 2 minutes. Lower the speed (whether you're using a stand mixer, hand mixer or manually with a wire whisk), add the milk and the lemon juice. Add the dry ingredients a little at a time until well blended. Transfer to the baking dish, even the surface with a spatula and dust the surface with the reserved 2 tbsp of sugar.
Bake for approximately 40/45 minutes, testing the centre with a dry toothpick: once it comes out clean the cake is done. Transfer to a wire rack to cool for 20 minutes, then pass a knife along the edges to remove the sides of the cake from the pan. Turn the cake upside down on a plate and then turn it over and place it on the wire rack until completely cooled. Store any leftovers in an airtight container at room temperature for up to a week.
by Michela Becchi