Opening a coffee bar in Rome: the courage to change
The specialty coffee bar opening streak is on a roll in Italy – long gone are the days of ancient and traditional models. Rome is perhaps the most complicated turf for aspiring avant garde baristas: on one hand tourism is a positive, on the other the average consumer is the typical Roman, who is accustomed to a totally inaccurate concept of coffee bar. The issues Eternal City coffee bars have to face are many: bean quality and hardware upkeep, personnel training, ingredient mileage and turnaround and, last but not least, excessively low and non-competitive prices.
Despite the less than promising premise there are however individuals who have decided to take a bet with the city and its immense potential. In order to do this baristas have started from scratch, investing everything on training.

Latest openings: Pergamino Caffè in the Prati neighborhood, and Roscioli Caffè near Campo de' Fiori
Let's examine the latest opening, Pergamino Caffè, brainchild of Luigi Parise (mastermind behind the Morrison's pub) and Massimo Bonini of the Lady Cafè roaster. The latter brought in the raw material and initial training. Then Davide Cobelli, education manager at Scae Italia, stepped in to teach the bar staff techniques and tricks of the trade. There's a long way to go still and the new training period is laborious, but the coffee bar seems to be doing well: "Our customers. especially in the younger demographic, is fascinated by the product. We have clients that come from distant Rome areas just to taste our coffee".
Dario Fociani and Salvatore Cerasuolo are two thirty-something entrepreneurs who started a new concept in the historic center of Rome. Their burning passion for all things coffee was embraced and supported by the Roscioli family. The available specialty coffees include Ditta Artigianale, Gardelli Specialty Coffees, Edo Quarta Specialty Coffee and Lelli Caffè, all extracted with v60, aeropress and obviously espresso. The two entrepreneurs have infected the entire team with their enthusiasm and in only a short time were able to train attentive and skilled baristas.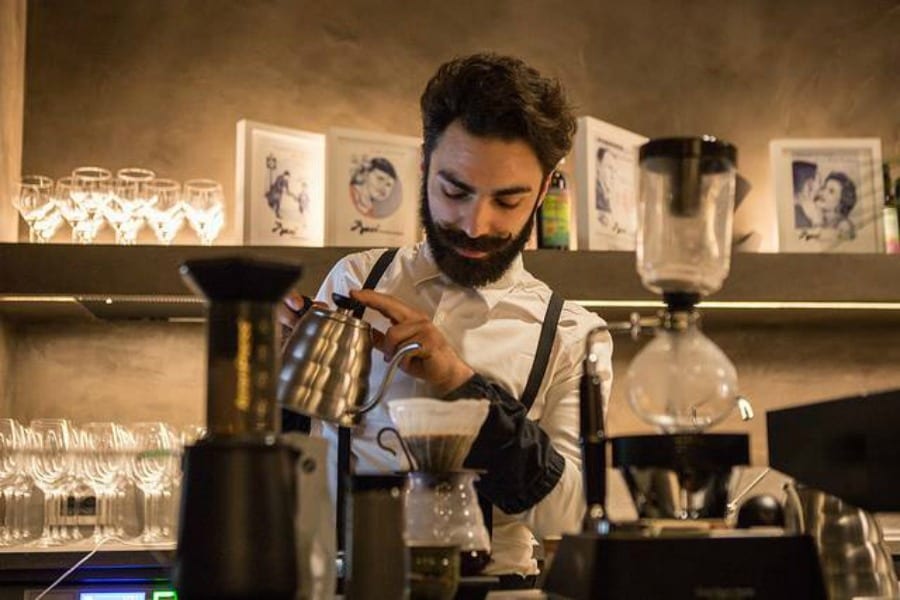 Artistic breakfasts: Nero Vaniglia in the Garbatella neighborhood, and Bompiani in Tor Marancia
For classic Italian breakfast of "brioche and cappuccino" there are two great places for lovers of this kind of morning ritual. The newest of the two has recently opened in the Garbatella neighborhood. Nero Vaniglia is a traditional bakery located at a stone's throw from the neighborhood farmer's market, and it has recently started a research journey in specialty coffee thanks to the assistance of Giovanni Roitero, trainer at Scae and consultant for Oro Caffè the roaster used by the bakery for its espresso. The choice of beans used for its filtered coffee is scelta Ditta Artigianale and Edo Quarta Specialty Coffee, available in v60, French press and cold brew. "We took a brewing master class with Giovanni and we immediately fell in love with the whole idea. We're still moving along slowly, but we're always on the lookout for novel ways of involving customers by allowing them to taste different extractions".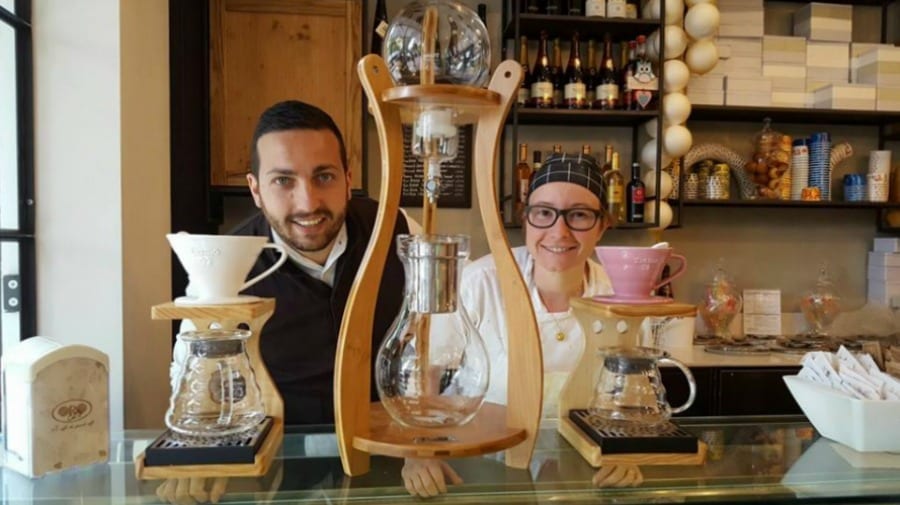 In contrast with this young enterprise there is on the other hand a more historic one which has recently remodeled both its place and its offer. In the Bompiani bakery, the tasty selection of delights offered by Walter Musco can be paired with an 80% arabica and 20% robusta blend by Mondi Caffè for espresso, or single variety coffees for a fine filtered brew. The person responsible for all things caffè here is Luca di Lorenzo who has been hard at work attending barista training courses. "I always invite my clients to try new coffees and extraction methods. This week I made an average of 4 filters a day, but it's hard to determine a general number". Offering filter coffee in Rome is not easy, "I believe that in time this will change". In order to hasten the process, he is also scheduling tastings and degustations in partnership with Mondi starting in October.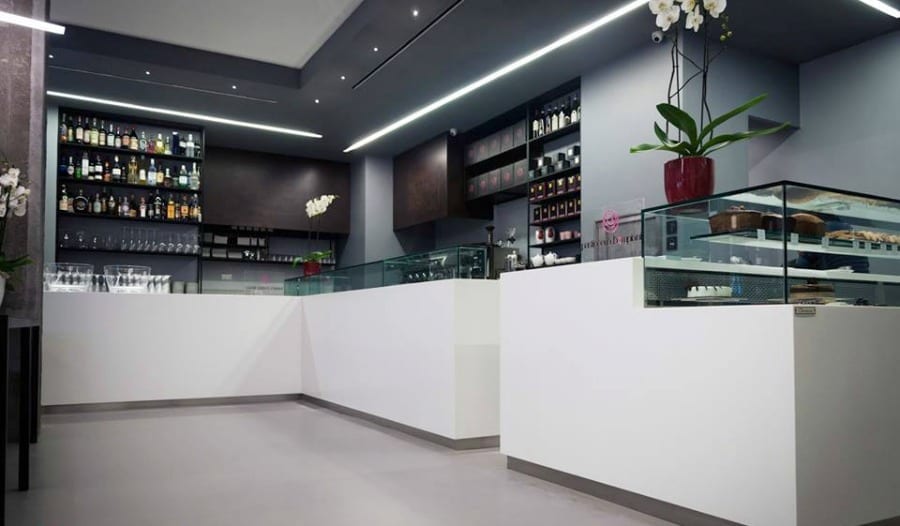 Making room for the new generations: Mileto Caffè in Capannelle
This is an old school type local that in recent years has completely changed, thanks to the young Federica Federico, the way the Capannelle neighborhood is approaching coffee. Mileto Caffè has been in Federica's family since the year 2000. After her diploma, the young barista embarked on a journey in the world of coffee thanks to classes and courses held at iniziato il suo percorso nel Aicaf and Umami Area. Her goal? "Reach a professional level for the various modules of Coffee Diploma System and eventually graduate to Scae trainer". For her filter she uses a rotation of different specialty coffees, from Ditta Artigianale to HQ Specialty Coffee, extracted in v60, aeropress or French press. She's got big plans to bring change and improve via interesting projects, for example imminent guided tastings. For traditional coffee lovers, there will be no shortage of espresso and cappuccinos, enhanced by Federica's skill in Latte Art.
Appio Latino: Caffè Cantù and Trattoria Epiro
In the Appio Latino area, Caffè Cantù has been a long time favorite of even the most demanding clients. Especially since 2010, when Francesca Surano has taken on management of the place. Supporting her is Andrea Matarangolo, trainer Scae and barista of the Umami group, "initially I worked behind the counter, currently I am supervising the coffee aspect both for quality control and for personnel training". The coffee of choice is by Mondi, available in 100% arabica or on occasion in some single varieties. No shortage of filter coffees (they were among the first in Rome) – v60, aeropress and chemex – in addition to classic espresso and cappuccinos.
One sore spot in all this is the coffee served in restaurants. Fortunately there are chefs who are starting to focus attention on this aspect of the meal. Trattoria Epiro, located in the eponymous piazza, for example, is an example for gourmet food lovers in Rome (Awarded 1 "Forchetta" in the Ristoranti d'Italia 2016 guide). The roasters of choice here are Gardelli Specialty Coffees and Micro Coffee Roasters, and regarding extraction methods, balancing between tradition and innovation, filter coffee extracted with an American style coffee machine, cold brew and the homestyle "napoletana" pot. "Our clientele is varied", the owner says, "hence tourists ask for filtered coffee, while locals stay true to the homestyle pot". Espresso or filtered, what counts is the quality of the coffee and extraction method.
Tram Depot and Casale dei Cedrati
Lady Cafè is present in 2 more places that are focusing on specialty coffee: Tram Depot in Testaccio and Casale dei Cedrati in Monteverde. The former opened in the summer of 2013 as an offshoot of Lanificio 159 in Pietralata and conceived with the team behind L-Ektrica. Tram Depot offers a wide choice of extraction methods, like espresso, v60 and the recently introduced syphon.
Within the Villa Pamphili park, Casale dei Cedrati (due to reopen soon) promotes artisanal coffee. The place is a coffee/book shop that opened in December 2015 as a project that brings together citizens, co-ops and associations: a municipal competition announced by Roma Capitale in 2013 for the reclaiming of an unused casale(farmhouse) located in the city park. In this case also, filtered coffee and espresso are well-executed selecting among different single origin coffees roasted by Bonini of Lady Cafe.
White collar coffee: Otbred in EUR
A busy area like EUR cannot be missing a high quality coffee bar. Alessandro Pau and his Otbred took care of that. The small coffee bar on viale Beethoven opened in 2013 as a sandwich shop. Yet Alessandro's passion for coffee (attended Aicaf courses and roasting modules at Umami) urged him to widen the offer adding a space for espresso and coffee brewing. "I offer approximately 4/5 filter coffees a day, rough numbers and in constant fluctuation, of course". The real payback is first-time filter consuming client feedback: "Many are hesitant at the beginning, but once they taste it nobody is disappointed. Three clients even purchased the v60 home kit". The coffee is sourced in various micro-roasters, even though the plan is one day self-roasting small quantities of beans for coffee and retail.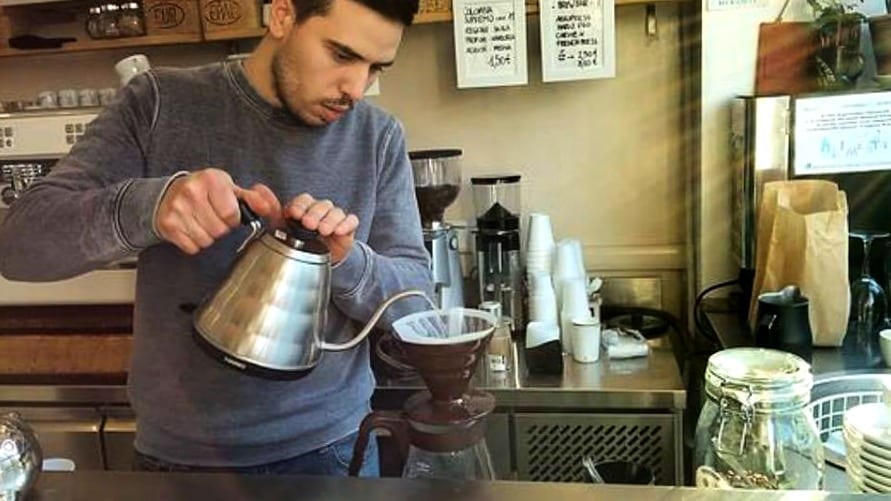 Bar and roaster: Mondi Caffè
We could not avoid mentioning the historical quality roaster in the Prenestino neighborhood that services many coffee bars in the city. Mondi Caffè is a Scae and CSC (Caffè Speciali Certificati) associate and offers periodic certified training courses. These range from base coffee house modules and brewing, to cupping tastings and Latte Art techniques, with 360 degree barista dos and don'ts lent by skilled trainer Andrea Matarangolo. The coffee selection is scrupulous and so vast among blends and single origin, that it constitutes a veritable coffee list. In addition to this, there is no shortage of events intended to bring the average consumer in contact with quality coffee.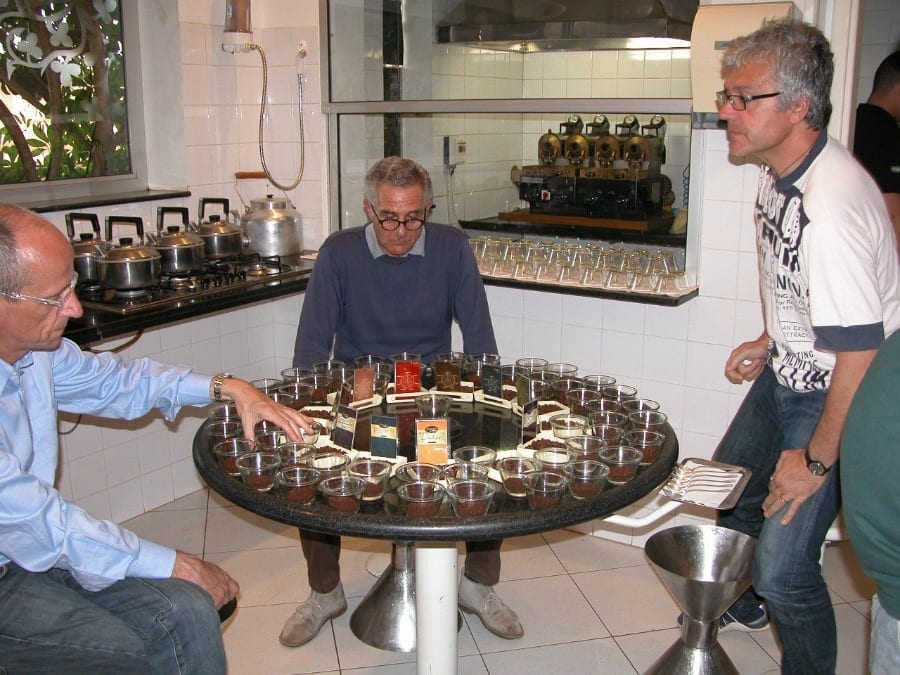 Beyond the GRA city limit: Caffè Conti
Located on one of the largest throughways just outside the GRA ring road that circles the city, Gran Caffè Conti opened 11 years ago. Today it is a coffee bar, tobacconist and newsstand under one roof. It's only been since January however that Fabio Conti has decided to change his offer: "The roaster I was using had as Scae trainer Andrea Antonelli. It was thanks to him that I approached artisanal coffee". Equally fundamental was meeting Andrea Matarangolo, "thanks to whom I understood that I wanted to start this journey, so I attended courses at Umami, graduating to intermediate level". That same passion drove him in a mere 5 months to start roasting in a small room located not far from his coffee bar. "I'm currently roasting a blend of 80% arabica and 20% robusta but my goal is eventually roasting specialty coffees". He adds: "We're at the beginning of a journey, and despite Via Tuscolana being a very busy traffic boulevard, it does have lots of pedestrian traffic. The issue is that filtered coffee is not an easy concept to get across, but gradually palates will change and it will be more widely accepted".
Addresses
Bompiani | Rome | argo Benedetto Bompiani, 8 | tel. 06 5124103 | www.facebook.com/pasticceriabompiani
Caffè Cantù | Rome | piazza Cesare Cantù, 10 | tel. 06 97618350 | www.facebook.com/caffecantu
Caffè Conti | Rome | Via Tuscolana, 1677 | tel. 06 7200087 | www.facebook.com/caffetteriaconti
Casale dei Cedrati | Rome | via Aurelia Antica, 219 | tel. 06 62278986 | www.facebook.com/casalecedrati
Mileto Caffè | Rome | piazza Mileto, 4/5 | tel. 06 45665179 | www.facebook.com/Mileto-Caff
Mondi Caffè | Rome | via della Serenissima, 10 | tel. 06 2593194 |www.mondicoffeetrade.com/
Nero Vaniglia | Rome | circonvallazione Ostiense, 201 | tel. 06 5780306 | www.facebook.com/Nero-Vaniglia-814247182024418/?fref=ts
Otbred | Rome | viale Beethoven, 43 | 06 64651014 | www.facebook.com/otbred/?fref=ts
Pergamino Caffè | Rome | piazza del Risorgimento, 7 | tel. 06 89533745 | www.facebook.com/Pergamino-Caff%
Roscioli Caffè | Rome | piazza Benedetto Cairoli, 16 | tel. 06 89165330 | www.facebook.com/Rosciolicaffe
Tram Depot | Rome | via Marmorata, 13 | tel. 06 5754406 | www.facebook.com/tramdepotroma
Trattoria Epiro | Rome | piazza Epiro, 26 | tel. 06 69317603 | www.facebook.com/trattoriaepiro
by Michela Becchi
translated by Eleonora Baldwin