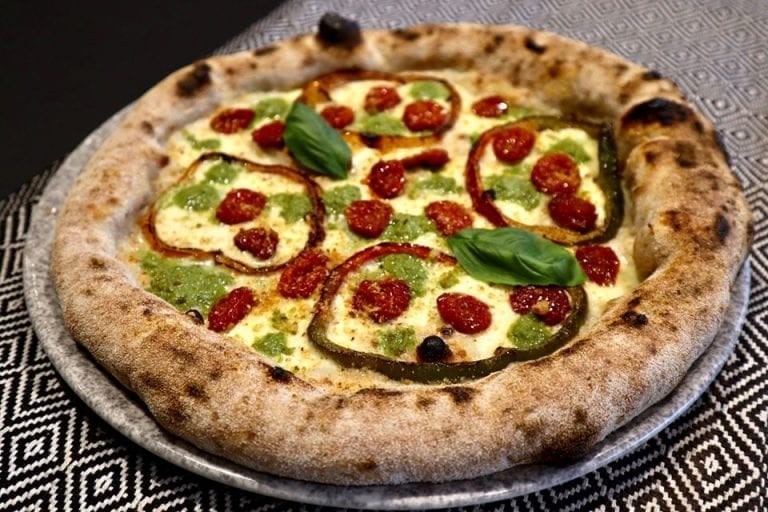 Soft and digestible pies, local ingredients, pairings with local wines: these are the best outdoor pizzerias in Catania.
The winning connection between the hinterland and the waters of the Ionian Sea has allowed Catania to flourish into gastronomic traditions rich in cultural influences, despite the simplicity of a cuisine that knows how to exalt itself with the use of poor ingredients: fried or grilled blue fish for pasta courses, grilled horse meat, arancini and cartocciate. And there is no shortage of fine pizza: here's where to find the best with outdoor seating.
Pizzerias with outdoor seating in Catania
Locanda Cerami
Soft and tasty, the Locanda's dough is increasingly a guarantee: characteristic combination of "00" flour and soy flour, extra virgin olive oil and brewer's yeast, or for the wholemeal variant made with a mix of ancient Sicilian grains, guaranteed ease of digestibility. After resting for at least 24 hours, the base goes into the oven (at 300°C) for a maximum of three minutes and arrives at the table topped with balanced condiments. Like the "Gusto Inferno" (a Margherita with Calabrian 'nduja sausage, bottarga, caramelized Tropea red onions and saffron-scented pecorino) or the "Borgia" with tomato, mozzarella, oil packed tuna, olives and onion.
Locanda Cerami – via Crociferi, 69 – facebook.com/locandacerami/
Corte dei Medici
Experimentation, continuous search for non-obvious combinations and great technique: the base is well digestible, thanks to the 72-hour leavening of the dough composed of white flour, wholemeal semolina stone double-milled and tumminia flour. Slow cooking in the wood oven does the rest, defining the crispness and thick crust. Try the original "Celso" with creamed and whole artichoke hearts, Ragusa provola cheese and licorice flakes; or the "Apollonio" topped with smoked salmon, mint, buffalo mozzarella, stracchino and mesclun salad.
Corte dei Medici – via Umberto I, 105 – facebook.com/lacortedeimedici/
Cutilisci
A light and well baked pizza, leavened for a long time from 24 to 48 hours, available in four different crusts: basic with stone-ground organic flour and liquid sourdough yeast; the five cereals; tumminia and evolutionary, made with a large mix of soft island wheats. Don't miss the "Cuti Crunch", a very light crispy focaccia seasoned raw, and also the "Li Cuti" pie topped with marinated salmon, buffalo milk stracciatella, mesclun, lemon zest and basil oil. The desserts are also excellent.
Cutilisci – via San Giovanni Li Cuti, 69 – facebook.com/cutilisci.catania/
Fud
New York atmosphere, Neapolitan-style pizza dough with thick crust and just right softness. The irony and ingredients of the menu are however Sicilian through and through. At Fud, a well-known address of the island's street food and a guarantee of selected, tasty and tantalizing ingredients, and great pies to boot topped with unusual flavors. Think "Marinara" which here becomes even more vigorous, thanks to the Nubia red garlic and Sicilian dried oregano, which can turn into "Campagnola" with the addition of mozzarella, black olives, Nebrodi Black pork sausage and sauteed vegetables.
Fud – via Santa Filomena, 35 – fud.it/
Squib Pizza & More
Squib was the gamble of four partners, Alfio Giarlotta, Paolo Pelligra, Mario Catania and Orazio Anfuso, none in the restaurant business until now. The restaurant is decorated as contemporary, well-kept and with an attractive design. The pies are Neapolitan in style, soft and with a thick crust, with 48 hours of leavening and the use of sourdough starter, but there's also Roman style pinsa and a version baked in a small pan. The fried "montanara" is also worth a taste. Friendly and attentive service.
Squib Pizza&More – Largo Paisiello, 9/12 – facebook.com/squibpizzeria/
Al Vicolo Pizza & Vino
Curious food hub that brings together a deli, a wine shop and even a pizzeria, which offers pies baked in a wood-stoked oven, extra-large sizes (40 cm diameters) with classic crust that il left to proof for at least 48 hours. Crusts can be made with hemp or tumminia flour; you can also ask for the stuffed rim with grape tomato, cream cheese and pistachio. On the menu there are about 70 pizzas divided between tomato-based or plain, but also calzones and baguettes and "pizza-salads" composed upon request, without forgetting the fried pizzas. Other branches in Nicolosi.
Al Vicolo Pizza&Vino – via del Colosseo, 5/7 – facebook.com/AlVicologroup/
by Michela Becchi