A pizzaiolo in Paris
Gennaro landed in Paris a little over two years ago after travelling through the US and Europe to broaden his views. Naples – a city that was growing too small on him – is very present in much of his cuisine, from top-notch ingredients, artisan approach and the sacred passion for hospitality, which he honors daily in his boulevard de Menilmontant pizzeria. In Paris Gennaro Nasti has found a well-disposed audience willing to understand his vision noticing "an energy stemming from a culture that's open to change, and curiosity in regards to novelty". We asked what it's like for a pizzaiolo to be working in Paris. His answer was direct, "Beautiful, so much better than in Naples". This bittersweet awareness matured hundreds of miles from his home in Secondigliano is motivated by the desire to affirm his individuality, mature as a pizzaiolo and as chef, considering how the one profession does not outdo the other.
He is homesick, of course. His ties with the homeland is solid and strong. Proof of this is the network of Italian suppliers Gennaro has personally selected to assure the best products for his Paris tables. These hail first and foremost from Campania. Paris is a place where dreams can come true, and brings out the talent in dreamers.

Photo Michele Amoruso
Gennaro Nasti, pizzaiolo and chef
Fortunately talent goes a long way. "unfortunately those of us working abroad are seldom written up in local Italian press. But giving our work the credit it deserves would be a great opportunity to broadcast Italian products abroad". Contrary to what commonly imagines, French are willing to learn, "They appreciate my work and my creative wishes, they love discovering where products come from, and they embrace the cause. I have repeat clients that dine at Popine twice or three times a week". The initial months at Popine confirm this: The Belleville pizzeria – Gennaro's first solo flight – opened last spring. In the first 4 months the wood-fired oven worked at full throttle, baking 8,000 pies, "then we just stopped counting". meaning that in this Neapolitan pizzeria, there is no shortage of modern concept clientèle.
The pizza at Popine
Merit of this goes to how Gennaro conducts work in his pizzeria, as well as the original Neapolitan-style dough made with whole grain flour (Petra 9) and long rising time, plus enriched with ingredients the likes of corbarino tomatoes, local fiordilatte and provolone del Monaco cheese, to friarielli greens and Italian EVOO. His goal? An ambitious one: bringing Neapolitan pizza to a high level of quality, "pizza can be conceived like a dish, express innovation, gather ideas from the kitchen – just like a simple plate of spaghetti can be a challenge for great chefs". While the current trend in Paris right now is seeing large chains of poor quality pizza joints, Gennaro stays true to his vision, which will soon be added with a new venue. Less than a year from the opening of Popine, he is pushing on the gas pedal and going beyond the classic pizza-making style and traditional toppings, opening to opening tapas like vegetarian pizza sushi.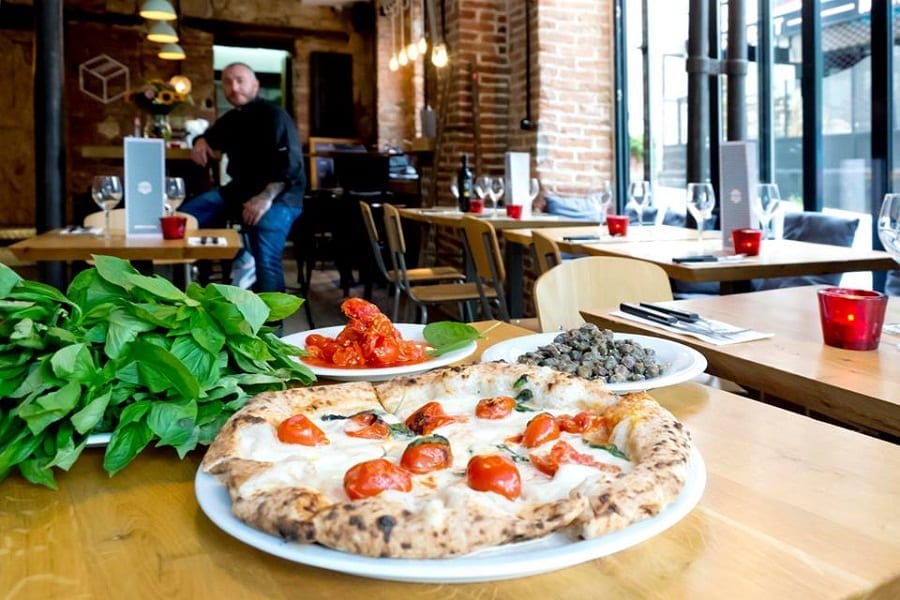 Bijou's gourmet pizza
On the wave of success this seemed like the perfect time to double the offer: at the end of October, on rue Dancourt number 10 (in the Montmartre-Pigalle neighborhood) will be the grand opening of Bijou, Gennaro Nasti's new digs. Thirty-six seats, wood-stoked oven, laid back vibe and vintage/modern design. The mise en place is elegant and original for this high end pizzeria. On the menu are only 5 pizzas as a tasting menu, two basics and three on weekly rotation. The dough, made with 100% organic whole grain flour, will be left to rise in a manner employing the principle of aerodynamics. Being a pizzaiolo also means being open to experimentation. Toppings reap from the best products: tuna belly, stracciatella of burrata, Parma ham, bufala, baccalà, escargot, oysters, foie gras. Think the pizza Stracciatella & prosciutto or Ragù antico (made with Corbara tomatoes slow-cooked for 4 hours and smoked on an open flame) with provolone del monaco. In the first rotation there will also be a pie topped with Friarielli, tuna belly and oysters with citrus stracciatella.
The circle of illuminated Italians in Paris
"I want to make diners dream in synergy with the kitchen. I will be aided by a team of young talented chefs". Gennaro is open to conversation with his fellow Italian citizens working in Paris, Simone Tondo, Giovanni Passerini, Denny Imbroisi: "We often talk and help each other. It's a beautiful creative exchange". Nothing is left to chance, including the wine list, with bubbly, wines and cocktail pizza pairings. Drinks can also be just for aperitivo, paired with small plates and bite-sized montanare in 4 kinds, like the one topped with dehydrated friarielli and local pork sausage.
Open 7 days a week for lunch and dinner, Bijou boasts all the elements to be able to mimic the success of Popine. Will Gennaro be coming back to Italy? "I was asked several times to go to Milan but if I have to fight a war I would rather fight it on my own turf". For the time being the Neapolitan shores are still a long way away. Our advice is booking a flight to Paris.
Popine | Paris | boulevard de Menilmontant, 108 | www.popine.paris
Bijou | Paris | rue Dancourt, 10 | opens at the end of October
by Livia Montagnoli
translated by Eleonora Baldwin