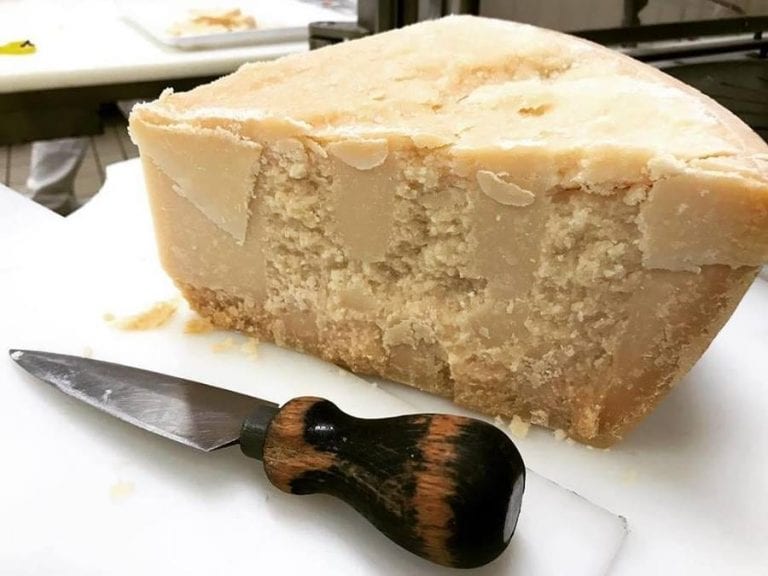 In the Regional Park of the Boschi di Carrega, Montecoppe farm represents the heart of Parmigiano Reggiano PDO. Here is the story.
Montecoppe
Living in the city, one may have a hard time imagining what is behind and inside a wheel of cheese. But it's sufficient to take the road from Sala Baganza to Collecchio, just outside Parma, for an image to take shape. Here––in the heart of the Parmigiano Reggiano PDO––the Montecoppe farm is the absolute protagonist of a supply chain process that focuses on cheese and the people who make it, from cow breeding to cheese making and aging. All this can be visited thanks to a walkway that crosses the entire property. "Because learning first hand about the production process and the environment in which it's carried out is essential for those who choose our products", explain the folks at Montecoppe. Here everything can be visited, from the stables surrounded by more than 100 hectares of meadows and fodder, to the boilers in the factory, to the farm shop. What the cows eat is visible to all: fresh fodder and hay (no silage or fermented foods) supplemented with a mix of cereals. "Production in the supply chain is the characteristic of the Montecoppe Parmigiano Reggiano and that's why control is a fundamental aspect of our daily life".
The territory
Montecoppe is a green oasis of over 200 hectares within the 1,270 hectares of the Regional Park of the Boschi di Carrega and just a few kilometres from the Taro River Park. This is home to 570 cows, 90% of which Frisona breed and 10% of Bruna Alpina breed: "A choice made a couple of years ago––explain the dairy farm technicians––because the milk of the Bruna Alpina cow, more fat and richer in protein compared to that of the Frisona's, lends greater softness, creaminess and palability to the cheese, as well as allowing the full achievement of long and extended aging". Here at Montecoppe aging is the last but essential step that leads to Parmigiano Reggiano of minimum allowed 12 months, to the stravecchio of over 72 months, matured on wooden planks at controlled temperature and humidity.
Aging
A 72-month Parmigiano is not easy to find. "The most common aging is 12, 24 and 36 months – as explained in the evocative dairy salespoint – For this reason too we chose to create our e-commerce site where different aged cheeses are found in differently sized: 450 gram wedges, 700 gram tips, 1 kg, 1.5 kg and 2 kg". In the company store as well as online, Montecoppe also offers cured meats and other local products (wines, chutneys and pickled mushrooms). Select products from other regions complete the range. There are several restaurateurs, cooks and gourmet shops that source goods directly in the creamery, others place orders online. A risotto made with 6-year-old Parmigiano Reggiano has no competition! Try a chunk with two drops of balsamic vinegar aged about twenty years in small barrels…
Montecoppe in numbers
220 hectares
of farmstead surface area
over 100 hectares
of forage and stable meadows
production:
16 wheels a day
5.800 wheels la year
38-40 Kg
the weight of a wheel
8 different agings:
12-18-24-30-36-50-
60 monthsand beyond 66 months