"In 1925, deciding to bottle one's own wine and sell it labeled was not an obvious choice. In fact, if you weren't in the Veneto or in Piedmont, but instead, in Italy's deepest south, it was revolutionary. My grandfather Anselmo – born in 1896 – was a man of character. He could read the signs of the time and look ahead". Vito Paternoster told us the story of the estate that he heads today.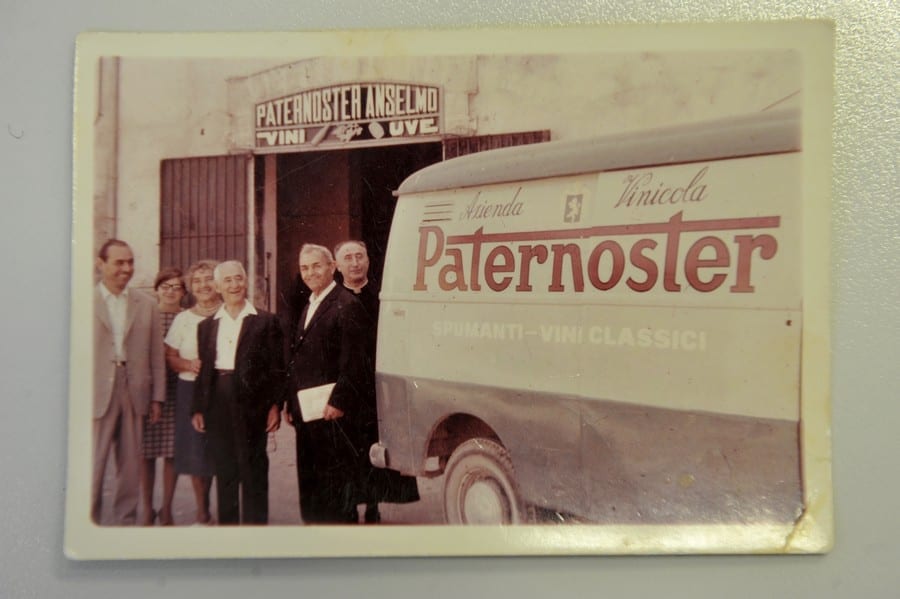 The origin of Paternoster
"It wasn't an easy period. My grandfather had just returned from the First World War, the Great War, we called it. Italy was going through a difficult time, but he could see the possibilities. So he moved into town and built our original cellar. But above all, he had the idea of selling wine under his own name. He created a brand". Anselmo began to select grapes from the best vineyards around Monte Vulture, the extinct volcano that gives its name to the zone. In his cellar in Barile he vinified Aglianico, but above all, with this grape, he produced successful spumanti, in both dry and semi-sweet (amabile) versions. "It's strange for us today to think that the most popular wine of this territory was a red spumante", Vito went on. "But at that time, that's how it was. My grandfather spent years working hard and opening up markets way beyond just the local ones where he had been selling the wine from his own vineyards".
Paternoster wines between the two wars
The period between the two wars was important for the Paternoster family. Anselmo's son Giuseppe (known as Pino to everyone), born in 1919, went to study enology in Conegliano, a town in the north, in the Veneto. The winery grew and prospered. Paternoster wines and spumanti sold well in the northern regions of Italy, as well as in North and South America ("Espumante de Vulture", exclaimed a Venezuelan ad of the time), favored by massive Italian emigration to both continents.
Even the Second World War didn't halt Paternoster. The country was divided. Pino was a soldier in the north, Anselmo, who was always anti-Fascist and a socialist, was a partisan in the south. The family united after the war, and Pino, who had completed his studies, brought his technical knowledge to Barile. While he was in Conegliano he had seen that the path for Aglianico del Vulture led to a great age-worthy red. Thanks to the oak barrels built for Pino by a friend from school, Giobatta Garbellotto, the family abandoned the traditional large chestnut casks, and Aglianico del Vulture entered a new phase. It was an imposing red, tannic and structured, but also elegant and very long-lived. Aglianico became the principal wine of the estate, in two versions, annata, or vintage year, and Riserva. Prizes and recognition soon followed and the market expanded.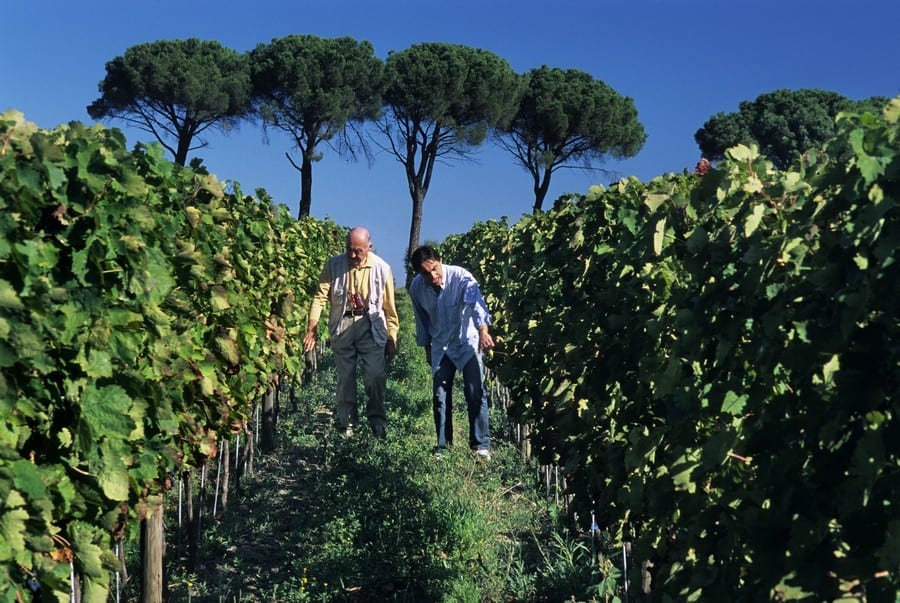 The renaissance of Italian wine
The family bought other vineyards until they reached the 20 hectares they own today, which in any case supply only a part of what is required. The Paternoster family have always been selectors, buyers, and they know their territory vineyard by vineyard. They have long-term relationships with growers, nurtured over the decades. The grapes come mostly from two areas of Barile, the Valle del Titolo and Macarico, but also from other premium crus such as Gelosia, Pian di Carro and Maschito. In 1971, after efforts made by Pino Paternoster and a group of producers, the DOC Aglianico del Vulture was finally established.
"In 1985, during the renaissance of Italian wine", Vito said, "when my brothers and I had begun to take part in various ways in the business, we made Don Anselmo as a southern response to the Supertuscans. Today that label is 30 years old, but it is still 100% Aglianico, aged in large casks and barriques for over 20 months". The grapes are the result of a selection from a dozen old and very old vineyards which vary over the years. "and if the harvest doesn't measure up, we prefer not to produce that label. That has happened five times in its lifetime".
The Rotondo project
In 1997, the labels underwent a restyling, and the Aglianico del Vulture at the heart of the production became Synthesis. The most ambitious project of the winery followed: Aglianico from a single cru, Rotondo. The vineyard of the same name is at the foot of Barile, in the Valle del Titolo. Aging is only in small barrels, at least a third of which are new, for at least a year and a half on fine lees. The results, as for Don Anselmo, are excellent. It is a wine of great concentration and extraordinary character. This, too, was a wine that both critics and consumers liked.
With the new century, after six years of work, a new, modern winemaking facility was inaugurated on the Villa Rotondo property. It is surrounded by vineyards, while the original one in the town itself is still used for storage and aging. The fourth generation of Paternoster is entering the winery now. Fabio Mecca, an enologist, like his grandfather Pino, studied at the Scuola Enologica di Conegliano Veneto. The new DOCG labels will be out soon, and it will be the excellent 2012 vintage year that will be released during 2016. "We worked for the DOCG for years. We are sure it will mark a new phase for Paternoster and for the whole territory." We asked what projects for the future were in the wings. "We will grow little by little with the market. We are structured to do that. And we've even begun preparations to celebrate our 100thanniversary. Meanwhile, we dedicate this event to those who came before us while we continue to work for the future."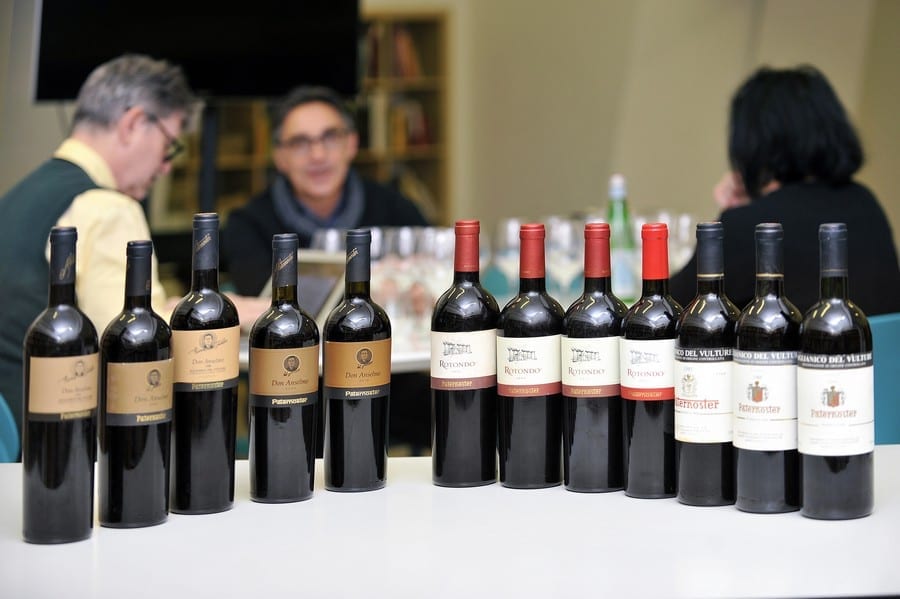 The Vertical Tasting
Ten years of Aglianico del Vulture, including the basic line, Don Anselmo and Rotondo, give us glasses that express the sumptuousness and the power of a wine that finds its ideal habitat in the Vulture zone. In its oldest vintages, Aglianico expresses itself with great character and complexity, showing off its natural elegance.
Aglianico del Vulture
1990 |93
A wine that surprises us with its complexity and lively scents of ripe red fruit. Its olfactory profile is complex and elegant: dark cherry, dried plum, then delicate vegetal nuances arise in the glass. Sweet fruitiness is well balanced by acidity, rendering this red mobile and fresh, energetic and indelible on the palate. Structure is characterized by austerity and softness. Full flavor emerges with smooth tannins and warmth that fills the mouth and invites the next sip. And this is only the simplest wine of the house…
1985 | 88
Garnet red and a nose halted a bit by reduction. The 1985 is a wine that on the first impact seems done, but little by little it opens onto more articulated sensations. Aromas become more intense, and scents of red fruit, such as cherries, alternate in a balanced way with notes of pepper and coffee. Great tasting sensations and acidic tension that is amazing despite its age. This was a particularly favorable year for Aglianico del Vulture. It's no accident that it was also the first vintage year for Don Anselmo.
Aglianico del Vulture Rotondo
2011 |89
The name of the wine comes from the vineyards in Contrada Rotondo, in the municipality of Barile. The 2011 displays an intense and impenetrable ruby red. On the nose, scents of blackberry and black mulberry, along with aromas of aromatic herbs and the spiciness of black pepper. Dark notes of forest floor allow fruity character to appear also on the palate, where elegance translates into a long, savory trace and vibrant tannin of great finesse. Still behind in its evolution, but of notable typicity.
2000 |90
Red ruby color still tightly woven and hints of black cherry, medicinal herbs and notes of carob on the nose. With time, toasted wood appears, with coffee, cinnamon, licorice and tobacco coming to the fore. Opulent and warm in the mouth, with ripe fruit dominating the palate. The wine is in a mature phase, but could still evolve. A savory, long-lasting finish.
1998 |94
A memorable year for Paternoster. In 2002, the firm won a Tre Bicchieri award for Aglianico Rotondo. On the nose, an array of Mediterranean aromas and fragrances of plum and cherry jam. It preserves its dark and lively ruby color. Time has not tempered its vitality but instead, lent it finesse, harmony, and a dense, silky tannic weave. A favorable vintage gave the wine freshness that is still active and exuberant. Great tasting profile and allure that calls for the next sip.
Aglianico del Vulture Don Anselmo
2010 |92
The grapes chosen for Don Anselmo, the label dedicated to the memory of the winery's founder, come from small, historic vineyards, about half a century old, located around the municipality of Barile. The 2010 is a fairly intense ruby red color, framed by a pleasant fruitiness of sour cherry and blueberry, followed by floral shadings, spicy aromas of vanilla and an ethereal note enlivened by toasty coffee and chocolate. In the mouth, lively acidity leads to fruity and balsamic aromas, then leaves space for mouth-filling, silky tannins and a wonderfully fresh finish. Tension renders it quite youthful.
2009 |91
Dark, almost somber ruby red hue. Intense fragrances of blackberry and ripe marasca cherry then shade into aromas of spices, balsamic notes and tones of coffee that appear at the end. Soft mouth, blessed with the right freshness and an important savory vein. Tannins are well integrated and wood has been masterfully used. An assertive and rhythmic palate.
1997 |95
A great vintage year for Aglianico that in this version amazes for the quality of the fruit and the harmony of each mouthful. Maturity has not diminished it, whereas assertiveness and depth are the foundation of this red. Floral hints are followed by shades of red fruit, carob and notes of black pepper. This juice-laden wine closes fresh and long with smooth tannins that give it extreme elegance.
1990 |92
Acidic tension is the common denominator in the various vintages of Paternoster's Aglianico. They are all notable for their freshness and mineral character, for their volcanic energy and the concentration typical of wines from this land. Slightly veiled, a dark ruby red, the 1990 is part of the first release of numbered bottles produced by the winery. It is limpid, with ripe fruit that shows perfect evolution. The palate is juicy and savory, wonderfully balanced and fresh. It closes on oaky and balsamic notes.
1988 |86
The ruby red color that characterizes younger vintages in this version is shading towards garnet red, with orange notes due to its age. The nose also shows signs of time passing. The oxidation perceived on first impact moves towards sensations of dried fruit, hints of toast, tobacco and chocolate. Lively tannin loses some tone here, while good acidity sustains the mouthfeel.
Paternoster | c.da Valle del Titolo | Barile [PZ] | tel. 0972 770 224 | www.paternostervini.it | annual production: 150.000 bottles | hectares of vineyard: 20 | viticulture: certified organic
by Marco Sabellico and Stefania Annese