Home to the first Italian Pasta Guild, the region of Liguria is considered one of the founding areas for the success of Italian pasta. italiana. So many shapes were born here - trofie, pansoti, corzetti – as well as the flours used: not only durum wheat but also corn and chestnut flours too. In addition to these, also the fillings, which include fish, local vegetables as well as lean meat cuts. Today we travel to Genova to scout out 8 fresh pasta shops.
Assirelli
Founded in 1967 by Francesco Assirelli in the Sampierdarena district. Nowadays his daughter Caterina runs the shop. She has enriched the production with original shapes in addition to the classics. Here you can buy trofie, other regional stuffed pasta like agnolotti del plin and tortelli, as well as region-specific castagnette, pansoti and corzetti del levante, ravioli di magro and ravioli alla genovese (stuffed with ground veal, mortadella, grana padano, milk-soaked bread and marjoram). At Assirelli you can also purchase pasta condiments and sauces, like with mushroom, wild boar or mussels, in addition to classic pesto sauce. For those who don't wish to cook at all there is a selection of ready-made dishes that only need to be heated before serving: lasagne and parmigiana di melanzane. Fresh pasta prices range between 7,50 Euro/Kg for gnocchi and tagliatelle, to 24 Euro/Kg for ravioli alla genovese.
Pasta Fresca Assirelli | Genova | Via C. Rolando, 27/r | tel. 010 414363 | www.pastafrescaassirelli.com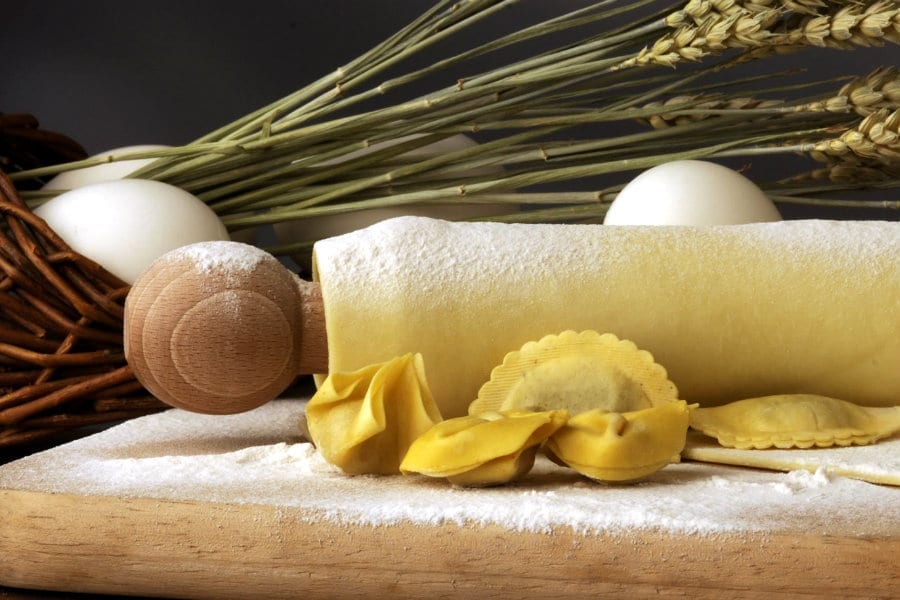 Tortelli and mezzelune at pastificio Assirelli
Battaglino
This place specialises in pansoti di magro, as well as pizza, stuffed rolls and traditional focaccia. Located in the San Fruttuoso neighbourhood, next door to the Terralba market, this pastificio is always crowded and working at full throttle. This is the place for filled pasta pockets, so besides the above mentioned pansoti there's also tortellini di salume, campagnoli, raviolini di magro. Equally popular are the chestnut flour or spinach-flavoured trofie, small basil-flavoured gnocchi, three-colour potato chicche, plus several classic pasta shapes like gnocchi, tagliatelle and lasagne.
During the weekend production increases, adding on extra-regional pastas, like ravioli filled with speck and radicchio, others filled with fish or pumpkin puree, or meat-filled agnolotti. Prices range from 6,50 Euro/Kg for gnocchi, to 25 Euro/Kg for ravioli.
Battaglino - Il pastaio di Terralba | Genova | piazza Terralba 7/r | tel 010 505266 | www.pastafresca.genova.it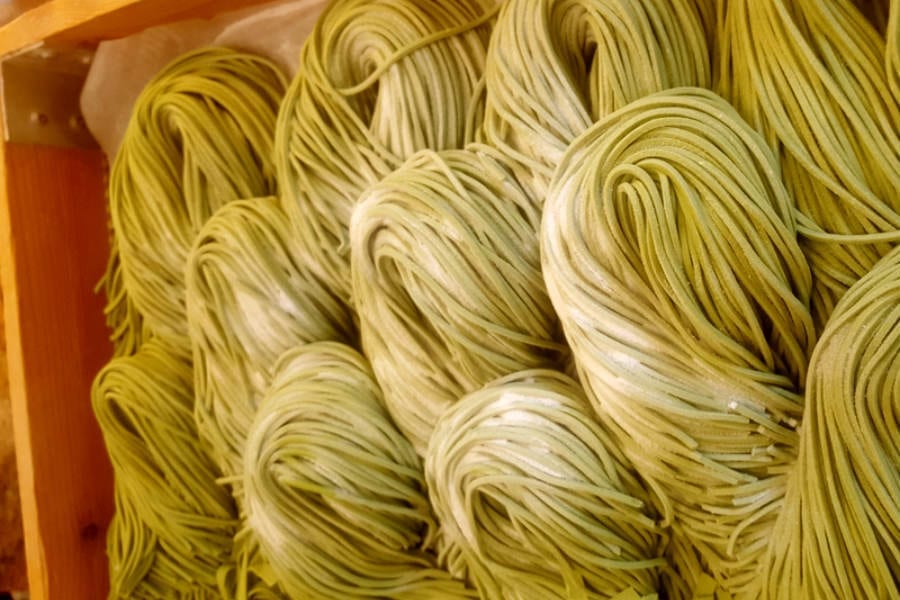 Tagliatelle at pastificio Battaglino
Il Trofiaio
This is another historic Genova pasta location, that's been in business for the past 40 years. Originally Pasta Fresca Dino in Valbisagno, the owner's family immediately specialised in the production of trofie, and becoming a beacon of quality in the area. In 1990 the place gets a full makeover when young sons Franco and Ivan take over. Since 2010 the business moves to Sant'Eusebio, automatically increasing the production and looking to export, too.
The offer is divided into 4 tiers: classic pasta semplice, among which trofie and gnocchi, sold at 3,30 Euro/Kg; pasta speciale, like smeraldine and chicche, going for 3,45 Euro/Kg; pasta ripiena semplice (which includes ravioli alla genovese, pansoti al magro, mezzelune) selling for 7,10 Euro/Kg; pasta ripiena speciale (like ravioli with fish filling and ravioli with wild greens) sold at 7,30 Euro/Kg. In addition to this, also pasta sauces and condiments like classic pesto or artichoke pesto, walnut cream or mushroom sauce, in addition to wild game ragouts. Nice selection of ready-made dishes, like vitello tonnato, potato salad, seafood salad and tiramisu.
Il Trofiaio | Genova | piazzale Bligny, 2 | tel. 010 898 3609 | www.iltrofiaio.it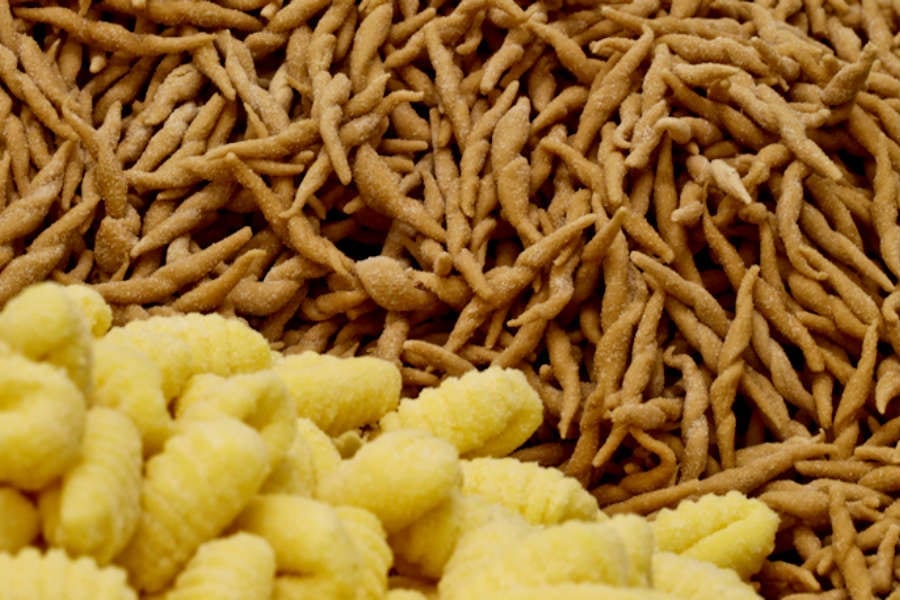 Gnocchi and chestnut flour trofie at pastificio Il Trofiaio
Leonardi
The story of Leonardi begins at Gavette, when Lidia and Francesco decide to open their first artisan pasta making shop in 1978 with their two kids. Now at the helm are grandkids Loredana and Taras, who bring professionalism and rigour to the family tradition as well as young entrepreneurial flair.
There are 4 citywide locations, among which one within the Mercato Orientale, in the centrally located via XX Settembre. In each shop it's possible to purchase fresh rolled pasta – ravioli, trofie, pansoti, taglierini – or opt for a ready made dish to finish cooking at home, like lasagne, cannelloni and genovese style meatloaf. The house specialty is ravioli, especially ones filled with artichokes or slow-cooked braised meat. Fresh pasta prices range from 7 Euro/Kg for tagliatelle and taglierini, to 25 Euro/Kg for ravioli.
Leonardi L&T laboratorio | Genova | piazza Giusti, 24/r | tel.010 515407 | https://www.facebook.com/pg/Pastificio-Leonardi-LT-103761209663430/about/?ref=page_internal
Leonardi L&T | Genova | Mercato Orientale box 95 | via xx Settembre | tel.010 589608
Leonardi L&T | Genova | Mercato Certosa box 57 | via Certosa | tel.010 0018462
Leonardi L&T | Genova | via Magnaghi, 41/r | tel.010 5530200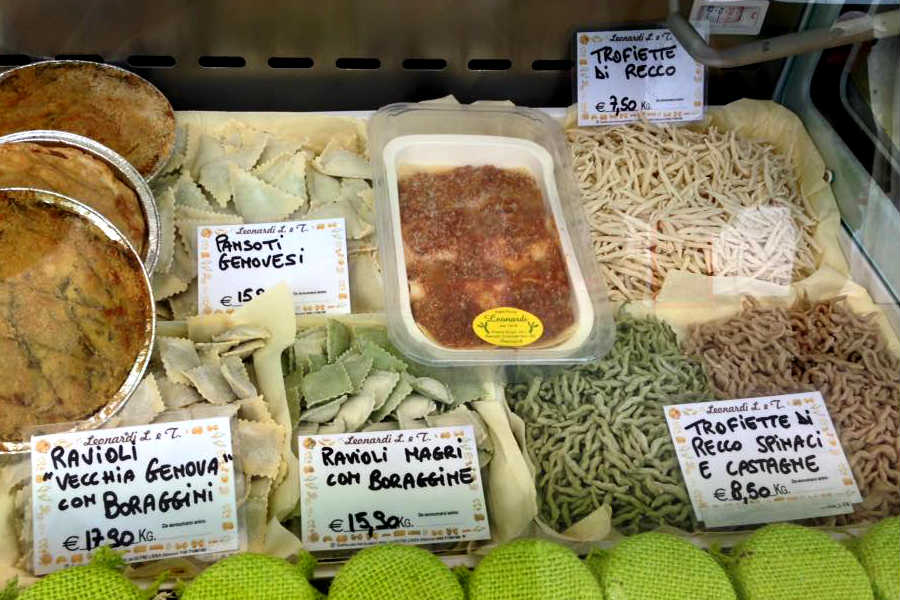 Window display at Leonardi L&T
Pasta fresca Nonna Maria
When Nonna Maria opened this fresh pasta shop in the heart of Genova in 1964, she did not know it would have become the livelihood for her and three following generations. In a matter of few years the pastificio earned great and unexpected success, immediately becoming the popular Foce neighbourhood's most important food destination. Now it's the grandchildren who are at the helm of the pasta production, preserving Maria's inherited craft. Here you can buy ravioloni di magro, ravioli filled with branzino or pumpkin, pansoti, classic trofie or made with stinging nettles, and gnocchi made with chestnut flour. Classic shapes are also part of the production, including pappardelle, tagliolini, lasagne and maltagliati. Ready-made traditional dishes are also available, like cima alla genovese, rice or vegetable pies, meatloaf, lasagne. A word to the wise: if opting for take-out try the "insalata russa" potato salad, which is known to be the best in town.
Prices range from 9 Euro/Kg for classic shapes, to 18 Euro/Kg for stuffed pockets.
Pasta fresca Nonna Maria | Genova | via della Libertà, 29/r | tel. 010 566708 | www.facebook.com/pg/Pasta-Fresca-di-NONNA-MARIA-861599390523068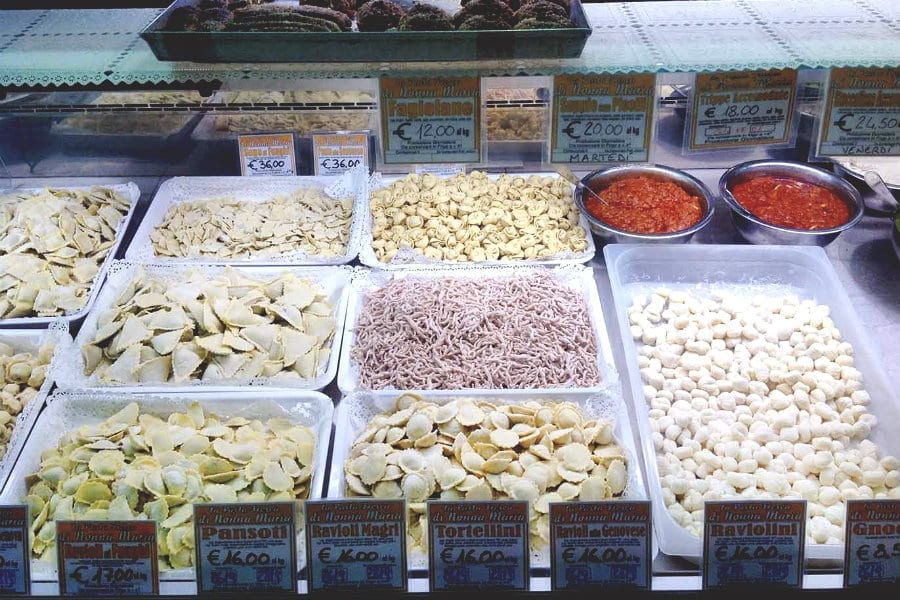 Window display at Nonna Maria
Pastificio Danielli
Located since 1967 in the heart of Genova, in the San Vincenzo neighbourhood, the shop was taken over by the Pezzo family in 1992. These were employed by the previous ownership for over 30 years. The pasta-making facility is open to the public, where it's not unusual to see the owners sharing their secrets to clients and aficionados. There's a vast choice of pastas, including pansoti al magro, corsetti (aka corzetti), small basil gnocchetti, fagottini filled with speck, plus strascinati, tagliatelle and maltagliati.
There's a wide selection of ravioli, filled with meat, borage or seafood. There are furthermore trofie, produced in a variety of flavours: black cuttlefish ink, spinach, chestnut or according to the Recco recipe. On the menu are also dishes like classic lasagne or al pesto, plus cannelloni, gnocchi alla romana, focaccias and savoury pies. Prices range from 7,50 Euro/Kg for classic gnocchi, to 23-25 Euro/Kg for ravioli.
Pastificio Danielli | Genova | via Galata 41/r | tel. 010.562383 | www.daniellilapastafresca.it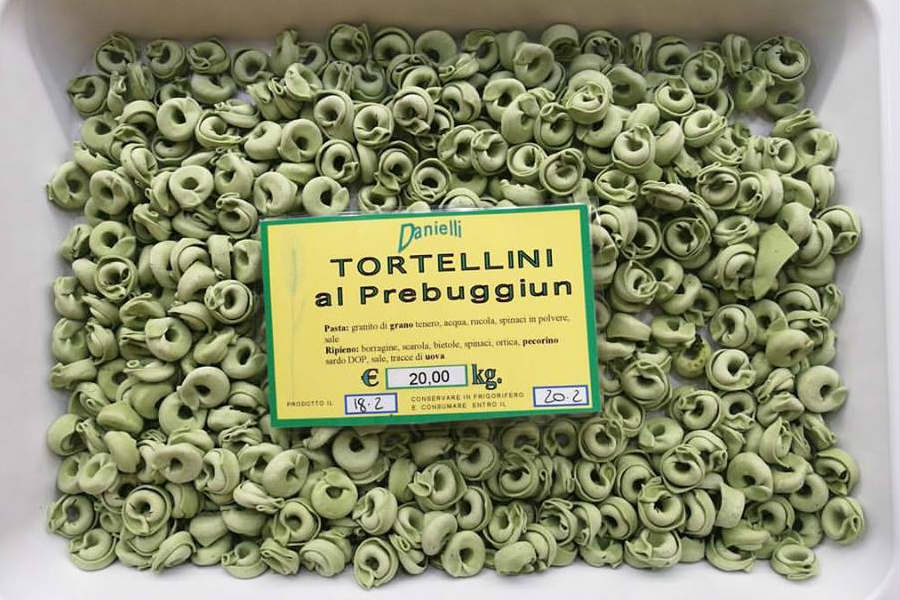 Tortellini at Danielli
Pastificio Novella (Sori)
Upon entering, the bond between land and business is evident. Located in Sori, only 15 kilometre from Genova, the business started in 1903 as a dried pasta shop with an adjacent deli. In the Fifties the place underwent an overhaul, steering production towards fresh-rolled pasta and hiring the best artisan pasta makers in town. These women started crafting trofie, and the place soon becomes a specialist in this traditionally regional pasta shape. For years the pastificio employees would bring flour to the homes of Sori, then returning to pick up the prepared pasta dough the next day. Basically a precursor of sharing economy. Nowadays the production has 60 employees, selects exclusively local suppliers for the ingredients and strives to constantly improve production quality.
There are over 30 different kinds of pastas available, from classic shapes like gnocchi and tagliatelle, to local specialties like corsetti and testaroli, plus filled pastas like ravioli al magro and borage ravioli. The most bizarre pastas are definitely the ravioli withPrepoggion, a mix of wild local greens like pimpinella, radichiella, cicerbita, dog-tooth violet, stinging nettle, Swiss chard, borage and wild radicchio. Prices range from 8 Euro/Kg for gnocchi, to 25-28 Euro/Kg for the stuffed pastas.
Pastificio Novella | Sori (GE) | via Ernesto Caorsi, 6 | tel. 0185 700812 | www.pastificionovella.it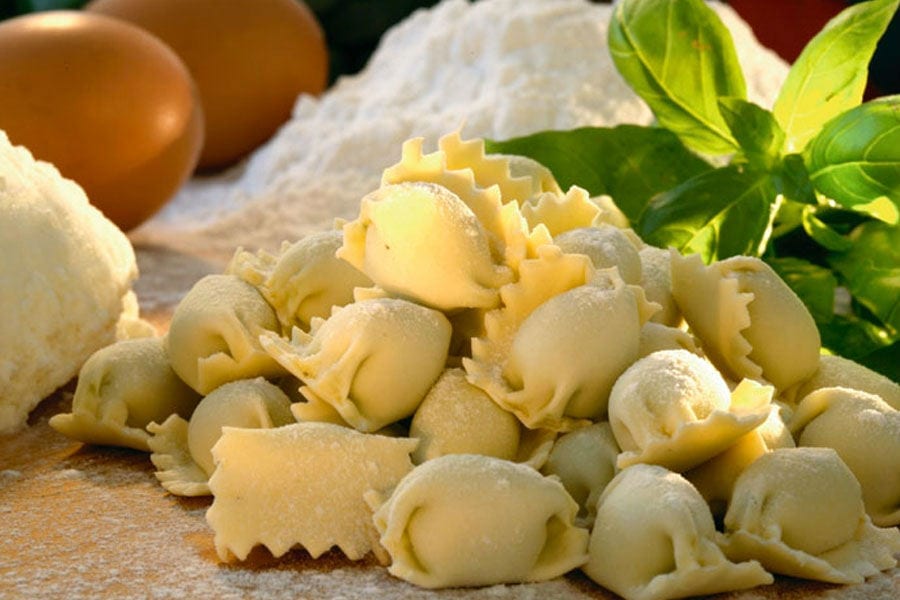 Baisl plin at pastificio Novella
Raviolevia
The multi-purpose structure produces fresh-rolled pasta for take-out, traditional dishes and local street food. Founded in 2015 by Luca Pirrello with the desire to create "a quality fast food place" entirely dedicated to ravioli, the place eventually integrated the production of other take out pastas. Now these two aspects of the production con-exist, competing for the gold.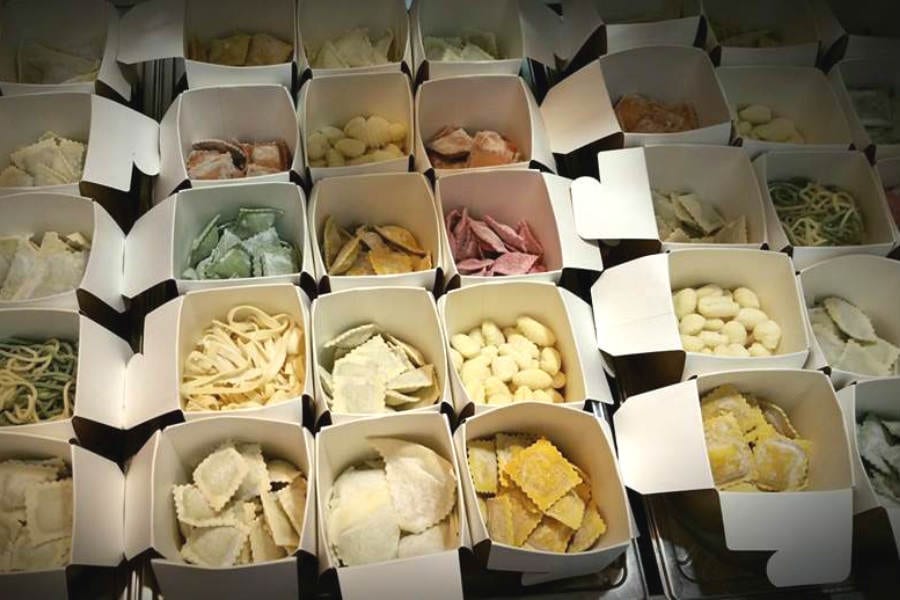 Pasta di Raviolevia
Clients here can purchase trofie, taglierini, pansoti, gnocchi, ravioli filled with wild boar, ravioli del casaro (with goat cheese and radicchio), and the house specialty: ravioli baita, which are filled with cheese, speck and honey. Those who prefer, can also sit at one of the tables and enjoy dishes selected from the daily menu. Think creamy soups and traditional soups, fresh rolled pasta with assorted condiments, plus savoury pies, focaccias, as well as desserts like tiramisu and jam-strewn crostata tarts. Prices for dishes range between 6 to 8,50 Euro per serving. Prices for fresh pasta vary from 8 Euro/Kg for trofie and gnocchi, to 18 Euro/Kg for pansoti and ravioli genovesi, and 30 Euro/Kg for ravioli with truffles.
Raviolevia | Genova | via Canneto il Lungo 89/r | tel. 010 267776 | www.raviolevia.it
by Francesca Fiore
translated by Eleonora Baldwin
Ciopy complied in collaboration with Maria Grazia Ferrarazzo owner of the Gli esperimenti di Mary Grace blog
Read also Pasta makers in Bologna, top 11 places for the good stuff
Read also Top 5 pasta makers in Bari