Bistros are a category with blurred boundaries, encompassing establishments that are currently quite popular, especially in large cities. It's not a coincidence that there are no excellences in the provinces. They are vaguely inspired by the "bistronomie" of France but in an Italianised version. We call it "small authorial and market-driven cuisine," often presented in the form of tastings or combinations of products to share, narrated on a blackboard, the fetish of many restaurateurs of the latest generation.
The beverage selection generally consists of a wine list that may not be extensive but targeted, continually a work in progress, often complemented by a cocktail menu, non-alcoholic options, and specialty coffee. The service is approachable but structured, the hours are flexible and extended, responding to changes in lifestyles and ways of dining out. Finally, the offering easily includes the possibility of grocery shopping, participating in workshops and tastings, and even stopping to work (while in France, a few months ago, there was a cry of pain from industry workers tired of people lingering for hours at a table, consuming only coffee). Here are the 7 best Italian expressions of what is now a well-established trend, three of which are in the capital plus a newcomer in Florence.
Lanzani Bottega & Bistrot - Brescia
Alessandro Lanzani is an enlightened owner with a sincere and deep passion for good things. On his day off, he takes his family or friends around Italy to see what's happening in the restaurant scene—for the pleasure itself but fundamentally to gain experience. Despite being in the business since convincing his father to transform their butcher-gastronomy into a multifunctional "jewel," open from 7 in the morning to 11 at night, it is dedicated to quality, whether in the gastronomy offerings or the leavened products for breakfast.
The result of the commitment is primarily the "freshness" of Bottega & Bistrot, offering something different from the even more tempting and informal Lab Lanzani (located at Via Milano 49, a proper restaurant). Still, it appeals to everyone in the city (and beyond): especially on the lower floor - reserved for the actual bistro and tastefully decorated - gourmets, "characters," families, and couples all sit comfortably. They find a menu composed of well-executed and enjoyable dishes, appetizing and rooted in Italian tradition, distinguished by excellent ingredients. At street level, there is a small outdoor area for those who come just for an aperitif, as well as a few tables for a quick lunch, featuring the house's excellences: selections of cured meats and cheeses, tartare, caviar, simple but carefully crafted first courses, and the now well-known and highly sought-after Lanzburgher. The wine cellar? Visible. Besides serving as a showcase for the entire Franciacorta region, it offers a wide range (including wines from France). It's delightful to seek recommendations.
via Albertano da Brescia, 41 - 030 313471 - gastronomialanzani.it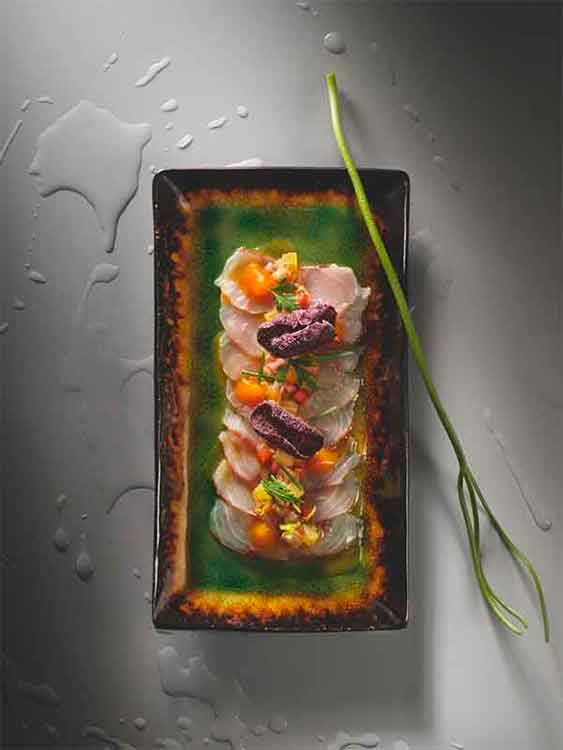 Amo - Venice
In the peaceful conquest of Venice – the real feat, rightfully celebrated by the Alajmo family of Le Calandre in Rubano, awarded Tre Forcchette in the Restaurants of Italy 2024 guide – if the gourmet concept of Quadri expresses history and pure grandeur, Amo is the refined contemporary vision where Philippe Starck's touch is even more appreciable. In the case of this bar-bistro-pastry shop inside T-Fondaco dei Tedeschi, just steps from the Rialto Bridge, references to the Serenissima Republic are numerous, making the place truly unique. A tip: before sitting down, admire it from above, discovering that the project is meticulously curated and not just something in the midst of shops.
You can already enjoy yourself here at breakfast with the coffee shop (by Gianni Frasi), high-quality leavened products, and tastings of a carefully crafted pastry where butter gives way to extra virgin olive oil. Never overlook the house's gelato, along with gourmet sandwiches, mini pizzas, focaccias, and the selection of 'cicchett' – available from 4 PM – during the aperitif hour, marked by a long list of signature cocktails. For lunch and dinner, the experience is enjoyable: the rich menu is overseen by Silvio Giavedoni, the longtime right-hand man of Max Alajmo, who envisioned a cuisine that is "varied, light, healthy, and festive," as he likes to emphasize.
p.zza San Marco, 5556 - 041 2412823 - alajmo.it
Caffè dell'Oro - Florence
One of the city's most iconic venues, just steps from the Arno and Ponte Vecchio, featuring an interior adorned with stylish vintage 1950s decor. The service extends throughout the day from lunchtime, catering to an international clientele. In the fusion-style kitchen, all the experiences gained by the skilled chef from his travels around the world come together. Customers come from all over the world, as well as locals who appreciate a menu consisting of tapas, perfect for nibbling in the afternoon. Examples include steamed bao with sweet and sour pork, daikon, and lemongrass, or Thai calamari in tempura with peppers and garlic foam. There are also hamburgers made with local ingredients and salads like the lobster burger with mixed greens. The wine list is extensive and diverse, matching the non-trivial nature of the cuisine it complements. Alternatively, you can opt for a cocktail.
Lungarno degli Acciaiuoli, 2/P - 055 2726 8912 - lungarnocollection.com/caffe-dell-oro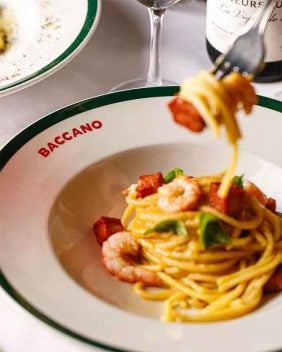 Baccano - Rome
Baccano, the realm of Nabil Hadj Hassen (crowned years ago as the king of carbonara during his 18 years at Salumeria Roscioli, awarded Tre Bottiglie in the Ristoranti d'Italia 2024 guide), is located just steps from the Trevi Fountain, an area dotted with forgettable and often pricey venues. However, it has a cosmopolitan appeal and a high-level offering that makes it ideal for a relaxed yet classy break at any time of the day. Some of the best pastas in Rome come out of the partially open kitchen.
The carbonara is, of course, a must-try, as is the amatriciana, but the menu is much more than a hymn to Roman cuisine and is divided into various sections: appetizers, first and second courses, plus specific sections dedicated to Italian and international excellences. There is also an oyster bar and a grill. Alongside an extensive wine list, the focus on mixology stands out. All this splendour, along with the location, naturally comes with a price that is not disproportionate to the average of similar establishments in Rome. Impeccable service despite the large seating numbers.
via delle Muratte, 23 - 06 69941166 - baccanoroma.com
Divinity Terrace at The Pantheon Iconic Rome Hotel - Rome
The spectacular view is a definite plus, but not the only good reason to treat yourself to a moment of luxury and relaxation on the rooftop of The Pantheon Iconic Rome Hotel. It's a small paradise on the Roman rooftops, perfect for a five-star aperitif, a "panoramic" bite, or a proper dinner with a gourmet touch, but in a more casual key compared to the fine dining experience on the ground floor (Idylio by Apreda, another Three Forks awardee in the Restaurants of Italy 2024 guide). The offering is diverse and of the highest quality on all fronts: signature pizzas served by the slice or as a whole, variations on classics such as "red tandoori" chicken and peppers, communal-style first courses, a selection of csarpaccios, some of which are also available in the tapas lineup—perfect miniature versions to accompany your drinks. Mixology works exceptionally well here, providing moments of happiness in turn. There are signature cocktails, mocktails, and equally well-executed classic drinks. The same applies to the wine cellar, which is extensive, well-structured, and equally well-presented by a relaxed but precise service, in perfect harmony with the surroundings.
via di Santa Chiara, 4/A- 06 8780 7070 - thepantheonhotel.com
Spazio Niko Romito Bar and Kitchen - Rome
The format of Chef Niko Romito's Rome establishment (of Reale in Castel di Sangro, ranked alongside Osteria Francescana in Modena at the top of the Three Forks list for the Restaurants of Italy 2024 guide) is multifaceted. It has become a reference point in this part of the Pinciano neighborhood, the upscale living room of the "managerial" city. The offering, much like the ambiance, is diverse: from breakfast at the counter to lunch and dinner at the pleasant tables in the rear veranda. Gaia Giordano oversees a contemporary yet ever-changing cuisine, ranging from high-end dishes like cold tagliolini with langoustines and green chili (the chef's touch on pasta is truly special) to more everyday options like salads, and even "signature" dishes such as savoury bombs and whole fried chicken to share. During the aperitif hours, enjoy well-crafted cocktails, perhaps accompanied by the sumptuous "shared space," an immensely enjoyable experience that reinterprets the Italian appetizer with tastings of cured meats and dairy, fried delights, and flavorful bites.
p.zza Giuseppe Verdi 9/E - 06 87565008 - roma.spazionikoromito.com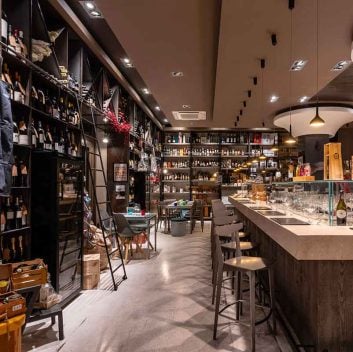 CUCINA.eat - Cagliari
A decade has passed since its opening, yet the wave of innovation brought by Alessandra Meddi's "light" format to the capital of Sardinia seems untouched. The setting is contemporary, featuring a counter, events, a bookshop, international specialties, and utensils, while simultaneously deeply and unquestionably Sardinian in its exploration of the island for rare and often forgotten treasures. As the years go by, the work at CUCINA.eat in Cagliari remains consistently serious, forward-looking, and thoroughly enjoyable for guests who stop by for a chat over a glass of wine, an aperitif, a quick lunch break, or to savor an author's dinner. The market (quite literally, as the restaurant is located near the legendary San Benedetto Market!) dictates the selection of dishes, with a few constants such as cured meats and cheeses or pâtés. The wine selection is personal and passionate, offering the option to enjoy an excellent craft beer or a well-crafted cocktail. It's recommended to take a seat at the impressive counter that dominates the space. The restaurant frequently hosts special events and tastings.
p.zza Galileo Galilei, 1 - 070 099 1098 - shopcucina.it