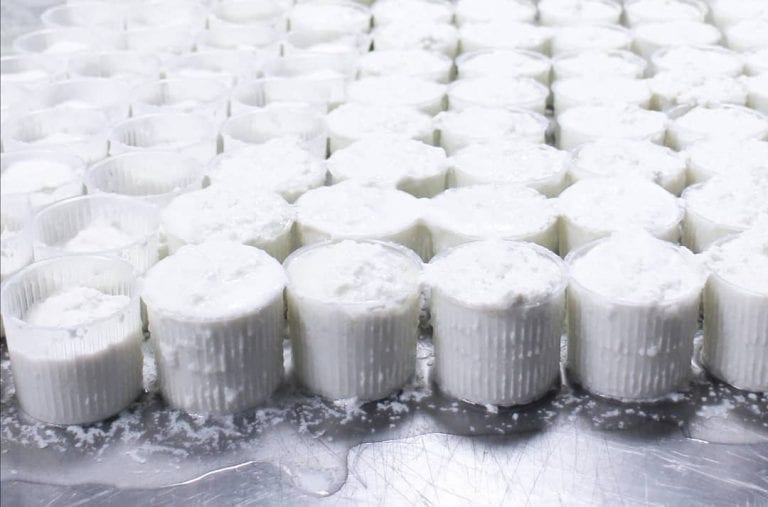 Can you eat cheese without overdoing the fat intake? A few examples of non-fat cheese, how to choose it and why it's always good to prefer quality products, even when on a diet. As explained by Amaury Jimenez, a young French fromager based in Turin.
Non-fat cheese classifications
Is non-fat cheese an oxymoron? The classification that for a long time guided the subdivision between fatty cheeses (with fatty substance above 42%), semi-fat (between 42 and 20%) and low-fat (below 20%) dates back to law n. 396 dating back to 1939, on the subject of production and sale of cheeses in Italy. In the table relating to the minimum fat content of the dry product, the text established the percentage prescribed for various dairy specialties, thus offering the possibility to distinguish with certainty the fattier cheeses from the low-fat ones, according to type. In 1992, a Community provision abolished the obligation to adhere, during the production phase, to a minimum fat content for cheeses other than those with a denomination. However, the parameters according to which a low-fat cheese can be defined as such have not changed. To the contrary, as the text specifies, if the fatty substance is less than 20% or between 20 and 35%, the label must inform consumers about the "low-fat" or "light" quality of the cheese being purchased. The provision, therefore, introduces a further reference, mentioning the so-called light cheeses (between 20% and 35%), not to be confused with the non-fat ones, because – as mentioned – they contain a percentage of fat that unites them, in large part , to the category of semi-fat. Demonizing cheese consumption, as long as it doesn't result in abuse, is wrong. Above all because Italy can boast over 400 traditional references, the result of a long tradition of dairy art, capable of representing the different territories of the boot-shaped peninsula. Those who, like the Italians, cannot ignore the production and consumption of cheese, are the French.
Amaury Jimenez. A French fromager ina Turin
France produces approximately 1,500 varieties of cheese, including 51 PDOs (46 cheeses, 3 butters and 2 creams). For some time now, the young Amaury Jimenez, fromager from Lyon, has been the ambassador of the French dairy tradition in Italy. In his birthplace he owned a fromagerie for four years, before moving to Turin. In autumn 2020, in the midst of the pandemic, Amaury inaugurated his cheese shop in the city, which is simply called, like him: Amaury Fromager. The French-style fromagerie that Turin – as in most of Italy – was missing, and immediately received positive feedback: "I'm very happy with how it's going, at first I thought it was just curiosity, but work has increased especially during the Christmas period." Also thanks to the "box" formula that Amaury has created for take-away aperitif, dinner and after-meal grazing boards, which have proved to be a perfect gift idea for cheese lovers. In his shop, Amaury offers about seventy references, all coming from France, including butter and heavy cream: "Every week I propose something new, in addition to the ever-present classics. During the year, I expect to rotate about 120 different specialties, which I personally import, relying on a network of about twenty French producers that I have known for years." We talk about quality cheeses, from small local producers who transform the milk of their free range animals and which fully represent the concept of terroir.
Non-fat cheese. Amaury's suggestions
But if we were to focus on non-fat cheeses, what would Amaury's recommendations be? "I start from a distinction on the type of milk: goat and cow milk have practically the same percentage of fat, protein, and calcium; sheep's milk, on the other hand, contains twice as much. In addition, the fat molecules of milk from goat cheeses are thinner than those of cow's milk. This is why goat cheeses are normally more digestible." The real difference, however, is the production and maturing techniques: "In France, goat cheeses are usually less mature, rather more fresh or soft. When a cheese contains 80% water, the fat is less concentrated and the product is leaner. Aged cow cheeses––I am thinking for example of our Comté or Parmigiano––on the contrary, have 80% dry matter, proteins and fats are very concentrated and reach percentages higher than 40%."
Which are the non-fat cheeses?
The reference to protein intake is not secondary: precisely as an excellent source of protein, vitamins and minerals, cheese – when they fall into the non-fat category – are highly recommended in low-calorie diets and in sports nutrition. We are talking, in regards to the Italian tradition, of dairy products deriving from leaner curds or fresh dairy products that have undergone a partial or total skimming process. This means ricotta (non-fat dairy product par excellence), spreadable cheeses (as long as they don't contain any cream), cottage cheese, stracchino (but in more moderation than ricotta, because it contains a greater amount of saturated fat), fresh goat cheeses. Regarding the last point, Amaury dispels a prejudice: "People often associate the creamy texture with the idea that it is a fatter cheese. This is not the case, because it contains a good percentage of water. So even a Camembert or a Brie (in Italy we think of tomino, as considered "light," Ed.) can be included in the category of non-fat cheeses: in the shop I propose a 20% fat brie (usually brie exceeds 25% fat, Ed.). "Back to Italy, let's dispel another myth: mozzarella cannot be considered a non-fat cheese. In fact, once the moisture contained in the product is removed, the calculation on the dry mass makes the percentage of fat jump almost to 50%, making mozzarella fall into the category of fatty cheeses. However, the fact that the product is consumed with all its moisture load makes the question less "alarming."
Eating guidelines. Not after a meal, yes to quality products
On the other hand, there is no difference, at least as regards to the percentage of fat, between raw milk or pasteurized milk cheeses. With a big "however:" "When you eat raw milk cheese you fully appreciate its taste, it is a satisfying sensation. This will lead us to consume less than an industrial cheese, which has less flavour. Therefore, for this and for many other advantages, it's always better to prefer a quality product. We French are always asked how we can not gain weight by eating so much cheese, a bit like the Italians are asked in regards to pasta. The truth is that I am satisfied with consuming a small but very good piece of cheese. Ideally it would be best to not to eat cheese in the evening, preferring lunch." More generally, it's good to follow the guidelines of nutritionists: the portions of cheese to be taken in a week, equal to 50 grams if aged or 100 grams if fresh, and only three; and not in addition to the meal, but rather in replacement of a main course of meat, fish or eggs.
Amaury Fromager – Turin – via Bogino, 19/d – 011 19708033 – www.amauryfromager.it/