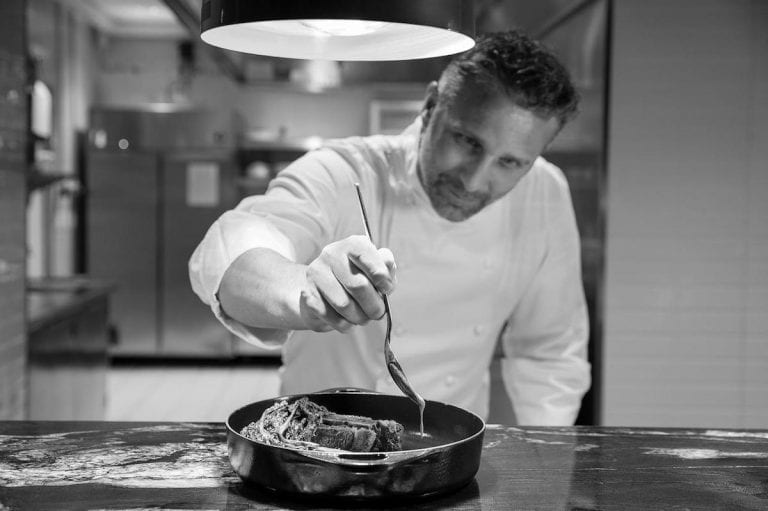 It was no easy task to find a chef to replace Vito Mollica at the Four Seasons Hotel in Florence (who moved to the Mine & Yours group), former executive chef and a central figure in Florence's gastronomic scene. But the solution was found by turning to an internal resource: Paolo Lavezzini, originally from Emilia but Tuscan by adoption, is the new executive chef at the Florentine hotel. He takes over after ten years in Brazil, first at the Hotel Fasano in Rio de Janeiro and then at the Four Seasons Hotel São Paulo, where he led the Neto restaurant for two years as executive chef, awarded the Gambero Rosso International's Tre Forchette Tricolore in 2019.
An eclectic spirit, he began his career with chef Angelo Paracucchi at the Carpaccio restaurant at Royal Monceau in Paris, then worked with Alain Ducasse at Plaza Athénée always in Paris, but his most valuable career-shaping experience was at the Enoteca Pinchiorri in Florence. In Italy, he ended his period as chef at the Plaza e de Russie hotel in Viareggio (Lucca) and then left for South America. We met him to find out a little more about him and to get to know his gastronomic proposal's guidelines.

Interview with Paolo Lavezzini
What made you come back from Brazil after many years?
My experience in Brazil was extremely positive. We developed a tailor-made restaurant that told my story and was loved by customers. We decided to return to Italy after the start of the pandemic. I wanted to protect my family, my wife and my daughter, and at the same time to see how it would have played out.
And then?
Then this opportunity came. I am really happy and honoured to be joining Four Seasons Hotel Florence.
You started in Italy, where you trained professionally, but there were also experiences abroad: how have you changed around the world?
I've learnt something from every place I went to. I started my career as seasonal cook on the coast, where the main objective was just to cook. I realised first at Enoteca Pinchiorri that cooking was something else, there I learnt rigour. Then I worked with Alain Ducasse with the aim of understanding what it was like to assist the best chef in the world at the time. There I acquired professionalism and discipline, laying a solid foundation for my future.
Then you went to Brazil…
Then I moved to Brazil, where cooking has a social value: it is an opportunity for young people to make a new life for themselves, even though they have not been able to study. In Rio de Janeiro I learnt the importance of social relationships as well as creating a more team-based structure and, when I joined Four Seasons in São Paulo, I learnt even more about this. Being in company for me was and is something of paramount importance.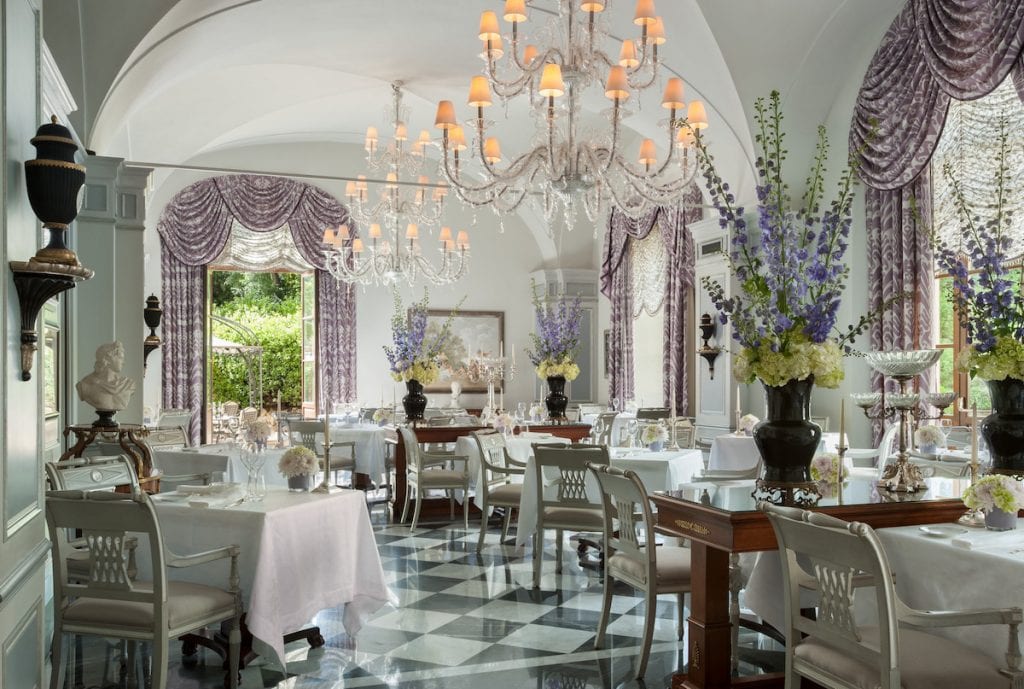 And now?
Now, if I look at the way I deal with the team, I demand a lot, but I am the first one who makes jokes. But above all I teach them, because teaching is the part that connects you the most to the people and to the structure, to the brand and to the team. I think empathy is chef's greatest ability.
So much for your approach to work. What about the kitchen?
If I look at the changes in my cooking, I think a chef should tell all the cultures he encountered along the way: France shaped me on a technical level, while Brazil influenced me more on the gastronomic one. I carry with me fire, acidity, spiciness, lots of fish and meat-based dishes, in general the need to return to main flavours.
How is Italian cuisine seen internationally?
I have been living in São Paulo, which has the largest Italian community in the world, as big as Rome. There, there is a well-established Italian gastronomic culture, with pasta, pizza, Milanese veal cutlet, stuffed pasta. You have to adapt the culinary offer to the demand, as more traditional or lesser-known niche dishes are not appreciated. During my travels, I realised that Italian food is the most respected and envied abroad – just think that São Paulo is the city with the greatest per capita pizza consumption in the world – even though Asian gastronomy is gaining popularity.
And how do you plan on making an international audience appreciate Italian cuisine in Florence?
Unlike abroad, Italian gastronomy proposed to an international community in Italy is 100% accepted, including unknown dishes: in Florence you can propose even a pappa al pomodoro (thick Tuscan bread soup typically prepared with fresh tomatoes, bread, olive oil, garlic, basil and other fresh ingredients) and I am pretty sure it would be appreciated anyway.
Where are you starting from?
In Florence I will start from the tradition, trying to make good food with good and above all seasonal products. We often forget our childhood's tastes, memories, products and quality, but these are the most important things.
How will you approach this new challenge in Florence?
Four Seasons Hotel Florence and the Il Palagio restaurant work perfectly, also thanks to Vito Mollica and Patrizio Cipollini that created a unique frame, both for Italy and in general. I think it's essential to be there in order to understand the customer. I will resume the outstanding work done by Vito, add my personal touch and discuss with him what should be changed.
Passing the baton is not always easy. Vito Mollica is one of the chefs most open to collaborations. What would you like to bring with you?
I have known Vito since Four Seasons Hotel Florence opened. I have always respected him as person and as chef, he is a mentor and a friend to me. He's a great cook, with his arm and his hand, and a great host. He is an example to me. He was the one who helped me get into the Four Seasons in Brazil, and I will always be grateful to him for that. As for Vito, hospitality plays a major role for me as well, and that's why I like being in a hotel. I am convinced that his influence should be retained, although there will be differences, since I am a different person.
Define your cooking style
My cuisine in the evening is based on what I find at the market in the morning. I try to understand the customer in order to please him, always following the seasons and the textures. My cuisine is also strongly defined by acidity, chilli, textures and pure flavours. I'm aware that I will have to satisfy both customers who expect something new and those who seek tradition. I will therefore have to be able to range from the simplest dishes to the most complex ones, where my time in Brazil will perhaps be more noticeable.
Four Seasons Hotel Firenze – Borgo Pinti, 99 – 055 2626 450 – http://www.fourseasons.com
by Leonardo Romanelli