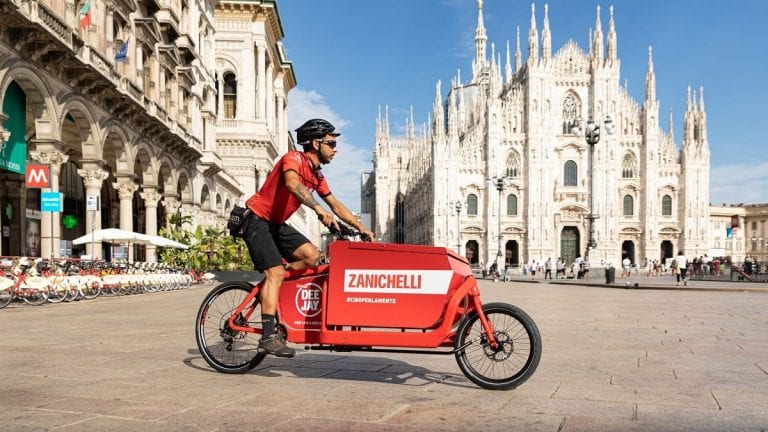 The Ciboperlaamente project us a cultural delivery service that will take shape in seven Italian cities, illustrating the beauty of the Italian laguage, through its etymology. The project borrows dynamics and timing from food delivery. That's why we like it.
Ciboperlamente. From food delivery to culture delivery
In recent months, the word 'delivery' has experienced a surge in popularity like never before. Associated with food home delivery services, the term has also entered the vocabulary of those who have never, until now, been particularly inclined to test its practicality. Now, after the new discovery buzz, the relationship with food delivery is slowly normalising, hand in hand with the desire to go out again. But in the Zanichelli publishing house they have seized the ball to start a curious home delivery project, which makes culture the object of the service. Ciboperlamente ("food for the mind"), as the operation is named, is a cultural delivery service, which will involve seven Italian cities in the coming weeks, starting from Milan, thanks to the help of special Zanichelli postmen. The initiative was created to launch the release of the Zingarelli 2021 dictionary, and in fact it borrows the dynamics of food delivery to make it a tool for spreading the beauty of the Italian language, through its etymology.
The Ciboperlamente postcards
In the period between November 14 and January 10, therefore, a team of Zanichelli postmen will be in charge of delivering a million postcards, which explore 21 different etymology word origins, narrating them in words and images, with illustrations by Venezuelan artist Fernando Cobelo. Moreover, just like in the presence of a platform for ordering food online, those who want to receive a postcard at home can choose (via the dedicated platform) between different types of menu-words: traditional, for children, daily special, authorial, exotic, chef's pick. The service is free and the postcards focus mainly on lexical curiosities, which will also be one of the focuses of the new Zingarelli dictionary, with 400 words that boast particularly significant etymologies, indicated by the graphic symbol of a tree (alluding to the roots of the language).
On postcards, illustrations will make the word's link with its origins even more intuitive and explicit: have you ever thought that the adjective "astonished," compared to its synonyms, expresses its meaning by recalling the image of a thunder that stuns? And that "companion" – in medieval Latin "companio" – refers to the one "who eats the same bread", thus indicating with the English equivalent, "breaking bread together" the particular closeness or affection for someone?
Delivery in seven cities
Ciboperlamente will help to play with words (from "freckle" to "abound," to "precocious," with many etymologies linked to the world of food), stimulating the readers' appetite for culture. The postmen will move around by bike, visiting Milan, Turin, Genoa, Bologna, Florence, Rome and Cagliari, according to a defined weekly calendar (in Milan the delivery is in progress, until September 21), to distribute as many postcards as possible. However, those interested in receiving them directly by post can order them online, choosing from their favourite menu: the order will be delivered in packages made by Comieco with recycled material. "The project was born during lockdown, when the desire for home deliveries and new projects was high" as explained on the initiative's website, "Our goal is simple: to bring home to those hungry for culture, free of charge and at their doorstep, many etymologies of Italian language in the form of illustrated postcards."
https://ciboperlamente.zanichelli.it/
by Livia Montagnoli