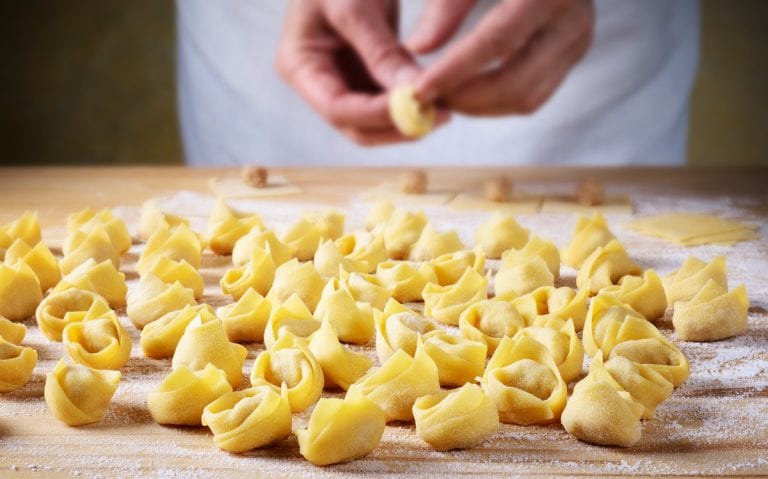 Christmas eve is finally here. Here are a few ideas for tonight's dinner.
Classic Pettole made with cabbage and cod: the Christmas Eve fry fest
Preparation time: 30 minutes, cooking 30 minutes
Yields portions for 12 people
Ingredients
1 kg flour
20 g brewer's yeast
1 whole white cauliflower
300 g desalted cod (purchased ready-made or soaked for a couple of days, changing the water often)
Salt
Black and white pepper
Vinegar
Peanut oil for frying
Method
Dissolve the yeast in a little water, add the flour and salt and continue mixing, adding just enough lukewarm water to obtain a very fluid batter. Keep whisking until the mixture comes off the bottom of the bowl.
Cover with a dry cotton cloth and overlay a wool one, then leave to proof for a couple of hours in a warm place. Meanwhile, peel the cauliflower, divide into florets and boil in salted water until tender. Drain and season with a drizzle of oil and a grind of white pepper.
Boil the cod, drain it, allow it to cool and remove the skin and bones, then break it up with your hands to obtain small pieces. Season with a drizzle of oil, a sprinkle of vinegar and a dash of pepper. Divide the pettole dough into three bowls. Leave one blank and add the cod and cauliflower to the other two.
Heat the oil to 180°C, take some dough with your left hand, clench your fist and push a ball of it out through the thumb and middle finger. With your wet right hand, catch the ball and toss it into the boiling oil. The ball will fall to the bottom before rising to the surface swollen and with the typical squiggles that characterise the pettole. Drain and dry on kitchen paper. Season with salt and serve immediately.
Other interesting Christmas eve pettole variants include the addition of small pieces of anchovies, black olives, boiled turnip tops, dried tomatoes or small "lampascioni," typical bitter wild onions from Basilicata.
Christmas Eve in my childhood memories does not have the scent of powdered sugar, vanilla and panettone but rather the acrid smell of fried food and ingredients that are not at all sweet and for children. From the early hours in the morning nostrils were flooded with scents that were as fragrant as they were penetrating: not only of steaming oil, but also of boiled cabbage and cod that needed to be desalted in the kitchen sink. Over time I have learned to appreciate those aromas, anticipating the full and decisive flavour of these particular fried foods.
Tortellini
Ingredients
For the pasta
350 g. flour
4 eggs
For the filling
250 g. pork loin
150 g. Prosciutto di Parma, sliced
200 g. mortadella, sliced
80 g. Parmigiano, grated
Extra virgin olive oil
1 egg
Salt to taste
Pepper to taste
Nutmeg to taste
Slice the pork loin. Heat some olive oil in a pan and brown the meat over high heat for a few minutes on each side.
When well browned, season with a pinch of salt and pepper, remove from the heat and let it cool, then cut it into pieces and collect it in the glass of a immersion blender with the prosciutto and mortadella. Blend coarsely, since tortellini filling is best chewed into.
Transfer everything to a bowl and add the whole egg, a sprinkling of nutmeg and some grated Parmigiano cheese. Mix, kneading with your hands, until evenly amalgamated.
It's advisable, but not necessary, to let the mix rest overnight.
Prepare the fresh pasta with eggs and flour by kneading it for at least 8-10 minutes, and then roll it out the very thin in sheet (if using a pasta machine, roll it out in increments, to the thinnest setting).
Cut the sheets into squares of about 3 cm sides.
Place a small hazelnut-size ball of mixture in the centre of each square, and fold into a triangle, pressing the edges to seal, then wrap the triangle (straight edge downwards) around the top of your index finger and attach the ends by crimping them together.
Let the tortellini rest for a few hours or even for a day.
Cook them for no more than two to three minutes in salted boiling water.
To fully appreciate them, tortellini are best eaten in broth, preferably made with beef and capon.
Goat leg stuffed with artichokes and lampascioni
Yields 4 servings
4 medium potatoes
1 goat leg (weighing approximately 1,5 Kg)
Caul fat netting
300 g lampascioni
4 artichokes
2 egg yolks
50 g pecorino cheese, grated
1 glass of white wine
Salt and pepper to taste
Extra virgin olive oil
Using a sharp knife, carve out the 4 largest muscles from the goat thigh; slit them on one side to obtain a pocket. Finely chop the remaining meat, trimming away any nerves and fat.
Clean and cook the lampascioni in salted water as well as the artichokes. Cool and mince vegetables, mix together with the minced goat meat, egg yolk, pecorino cheese, salt and pepper. Divide the mixture into the inner part of the four muscles, and wrap each individually in the caul fat netting. Season with salt, pepper and a drizzle of olive oil. Bake slowly, at low temperature, for about an hour, with a splash of dry white wine. In another separate pan, arrange the 4 potatoes and cook them for the same amount of time as the meat. When cooked, save the cooking juices, spoon out the fattest upper layer and filter with a fine mesh strainer. Arrange the portion of meat cut into slices on each plate and cover with the cooking juices. In each dish, add the potato sliced open and seasoned with plenty of salt and olive oil.
Panettone Charlotte
Level: Easy
Time: 20 minutes preparation, 45 minutes baking
Tipo di cottura
Yields 6 servings
Ingredients
250 g panettone
850 ml milk
3 eggs
80 g sugar
1 vanilla pod
1 tbsp. butter
Method
Cut the panettone into small, thin slices. Heat the milk with the vanilla pod split lengthwise. Break the eggs into a bowl and, with a whisk, beat them with the sugar until the mixture begins to whiten then, still whisking, pour the egg and sugar blend into the hot milk and mix well.
Grease a baking dish and arrange the slices of panettone on it, forming regular layers. One ladle at a time, slowly pour the milk and egg mixture over the panettone slices.
Wait about ten minutes for the panettone to soak up the liquid, then place the pan in the oven at 180°C. Bake for about 45 minutes, until a golden crust forms on the surface. Serve warm or at room temperature.