Spectacular, colourful, rich, irresistible: American desserts are a true delight for the eyes and palate, including filled layered cakes, cupcakes covered with delicious buttercream frosting and melt-in-your-mouth cookies. Walking in an American bakery in fact, it's hard not to be captivated by the many options available. Many, since American bakeries offer rich, diversified desserts, made with all kinds of products, from filled pies to soft cakes. It would be impossible to mention them all, so we have collected the 10 must desserts.
American desserts to make at home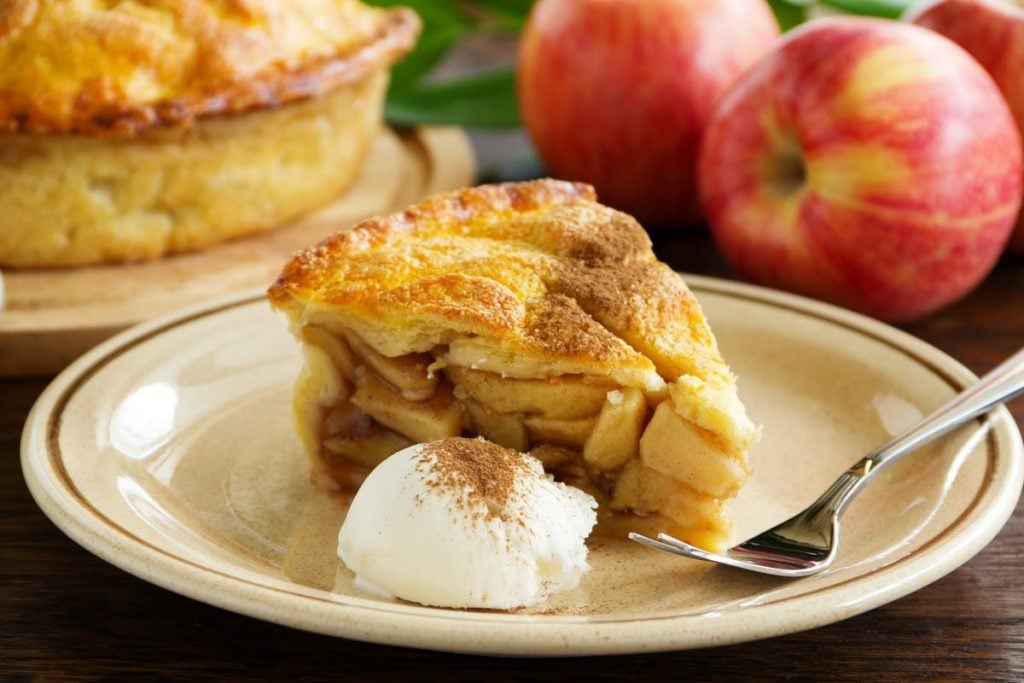 Apple pie
Over time, the national dessert of the United States has identified itself so completely with its people that it has given rise to the term "American as apple pie" to define authentic sense of belonging. In the beginning, apples were baked in the oven and then placed on a layer of pastry crust similar to brisé pastry, which served as a container. Over time, Americans began to cover the apples with another layer of crust to close the cake, creating the apple pie as we know it, one of the most famous apple pies in the world. It is generally served hot, with a scoop of vanilla ice cream or a dollop of whipped cream.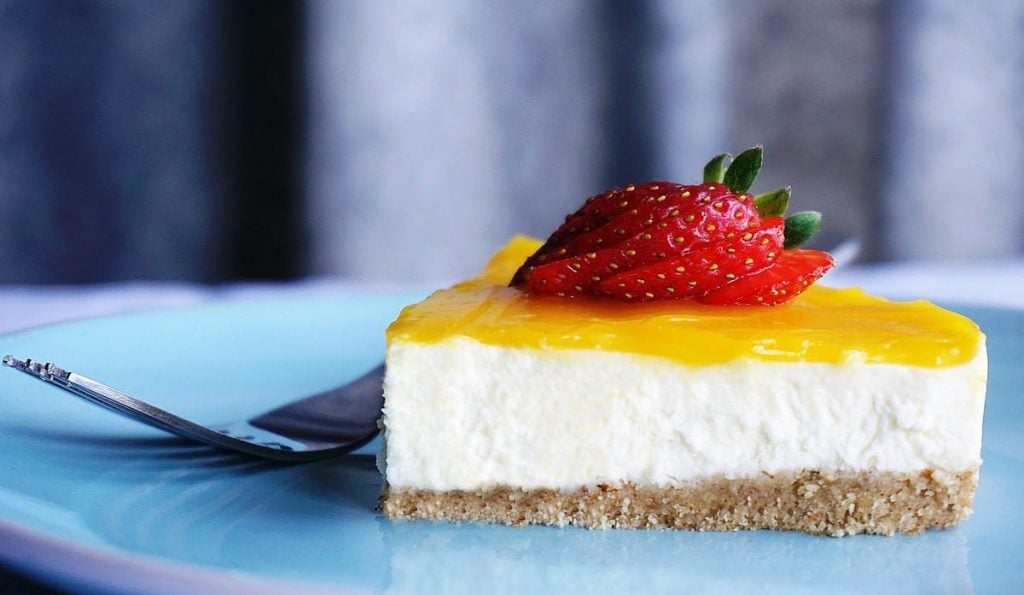 Cheesecake
It is prepared in two versions: "raw" in which the cream cheese hardens in the refrigerator, or baked, with the addition of beaten eggs. The New York cheesecake has as its peculiarity the use of sour cream and heavy cream, but the most popular version in the United States includes spreadable cream cheese widely used in American bakeries. Another big difference is the base, consisting of a compact layer of crumbled cookies moistened with melted butter. The cookies used in the original recipe are graham crackers, with their unique taste made with white flour, honey and wheat germ. Many, as a valid replacement, use dry digestive biscuits or shortbread, or sablé.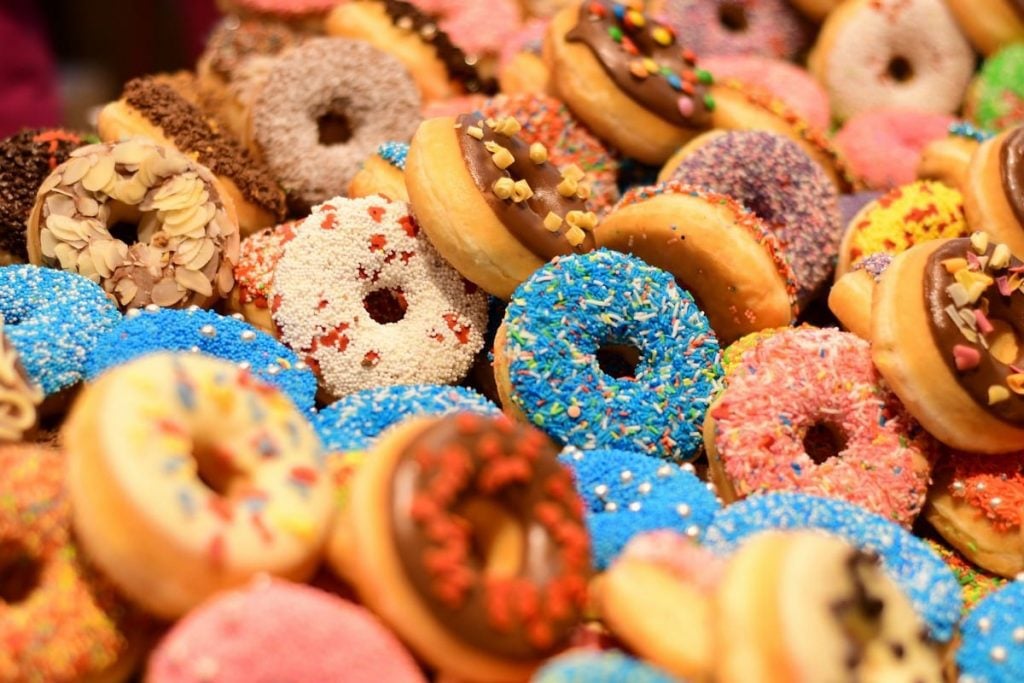 Donuts
Enjoyable and inviting in appearance, fried donuts are enriched with different ingredients. For fans of the hit animated sitcom "The Simpsons'' these sweet rings will always be "Homer's donuts," for passionate travellers the association with the Dunkin' brand or the unmistakable green and red Krispy Kreme sign will be immediate, but the history of donuts has much older origins, still partly shrouded in mystery. What is certain is that the first written record dates back to 1809 and is found in the book "History of New York'' by Washington Irving, which mentions "balls of batter fried in fat and called donuts or olykoeks." The reason is obvious: oly koeks (or olykoecks) are puffy and soft cakes of Dutch origin, whose name literally means "oil cake," fried in boiling oil and dredged in sugar. They seem to be the true ancestors of donuts, brought to the United States by the colonisers of the Dutch empire: in fact, same dough and process but no ring shape.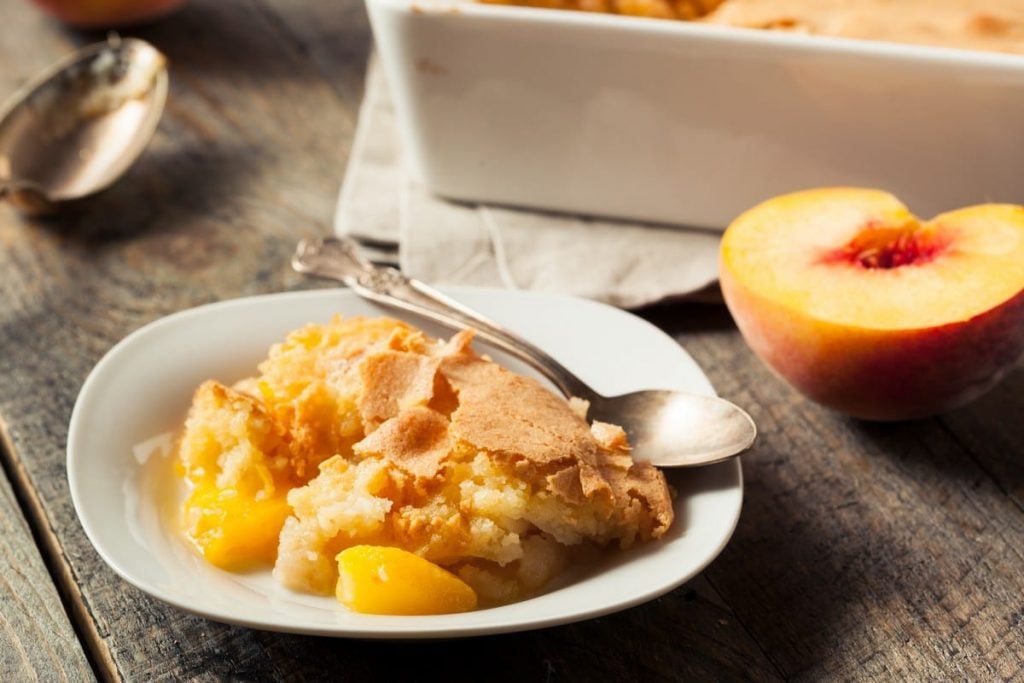 Peach cobbler
It was largely the Dutch and English immigrants during the first years of the European settlement who were responsible for the spread of cakes and pies in America. They adapted the recipes to the local ingredients available. When the settlers moved to the West in the early 19th century, however, access to fruit became increasingly difficult, so the locals had to use what they had: fruit stored in syrup or dried, and a little leavened dough. This is how peach cobbler was born, a dessert similar to crumble made with peaches covered with a soft pastry, popular especially in Southern countries and generally served with a scoop of vanilla ice cream.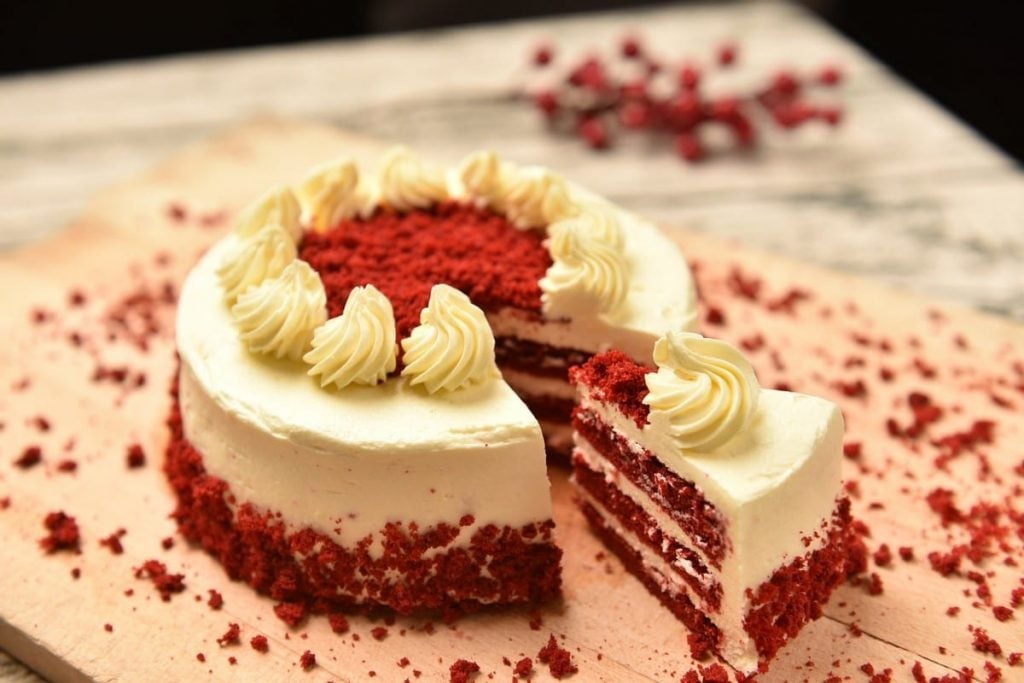 Red velvet
If cheesecake represents tradition, modernity is red velvet, which has experienced a rise in popularity in recent years: today there's red velvet in the form of cupcakes, pancakes, cookies, ice cream flavours and so on. Not much is known about its origin, but it seems that it already existed since the 19th century and that it was named becasue of the use of chocolate in the dough, which gave the cake a smoother texture, similar to velvet. When, during WWII, ingredients for cakes (specifically sugar and butter) were rationed, some bakers began to add other ingredients, including beets or beetroot juice, which made the desserts more pleasing to look at. Although this habit spread (to the point that some argue that red velvet was born in the southern states during WWII), the paternity of this dessert is disputed between the Adams extraction company, which takes the credit for making "the original" in the 1920s and the Waldorf Astoria Hotel in New York City, which helped popularise the recipe in the 1950s.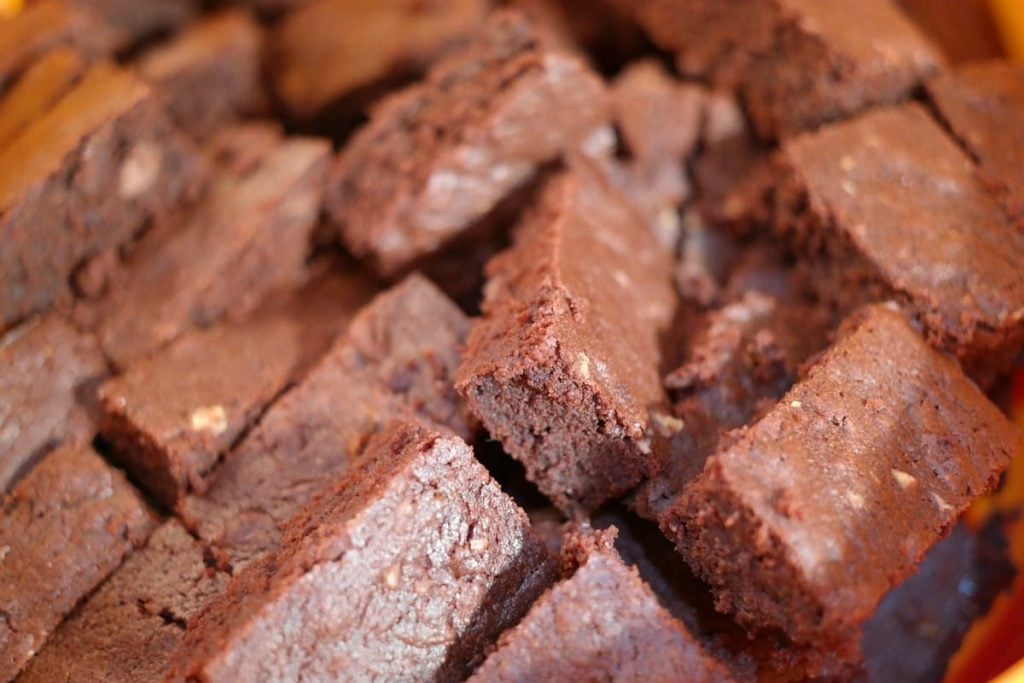 Brownies
Delectable and perfect for a snack, brownies are among Americans' most loved snacks. Probably born in 1905 thanks to Fannie Farmer, a well-known author of American cookbooks who adapted her recipe of chocolate cookies transforming them into bars, to be baked in a single dough and then cut into squares. It's not difficult to guess the origin of the name which simply refers to the dark colour of the cake; then there is the more recent lighter version, blondies, without chocolate and usually scented with vanilla.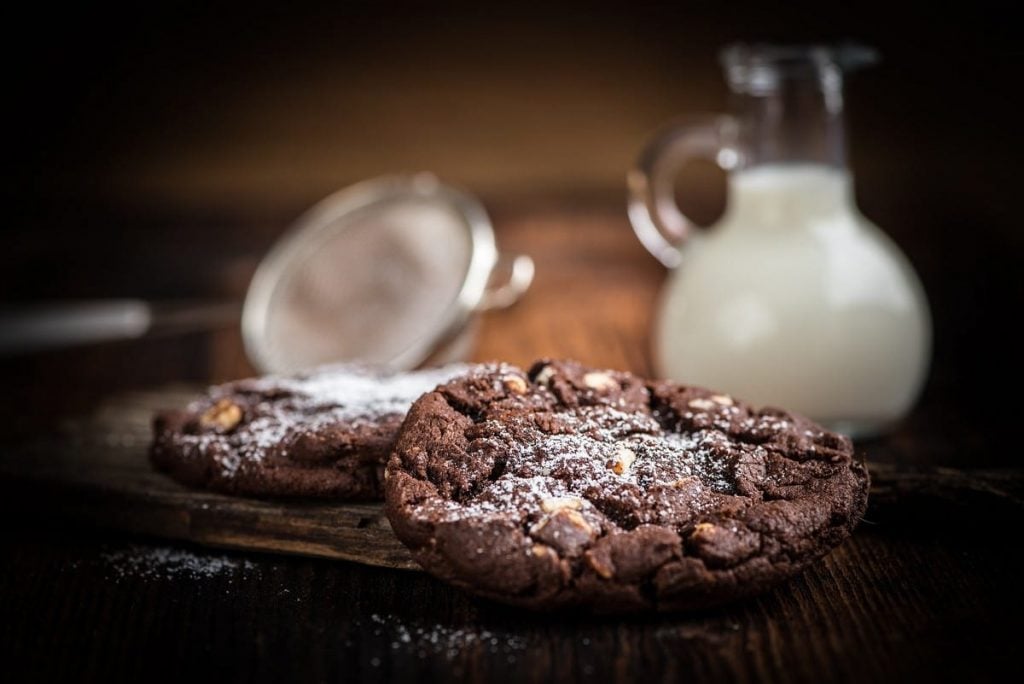 Cookies
We ca't talk about USA-made snacks without mentioning cookies, the American iconic treat adored by adults and children alike, which has generated countless imitations and variations. The most classic is the chocolate chip, born in 1937 thanks to Ruth Wakefield, cook and owner of the Toll House Restaurant in Whitman, Massachusetts, a place created from an old post office dating back to 1709. One day Ruth found herself without a necessary ingredient for her shortbread, so she decided to use what she had available: a bar of milk chocolate, which she chopped and mixed into the dough. Instead of melting, the chocolate chips kept their shape and the cook, satisfied with the success of the recipe, called the biscuits "Toll House crunch cookies."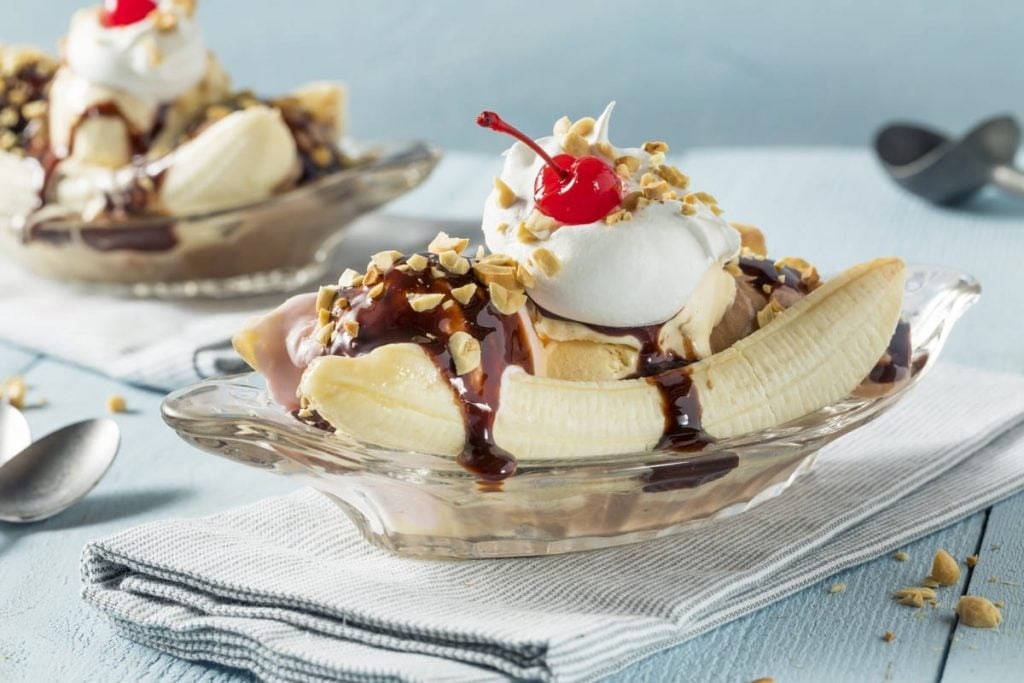 Banana split
This banana and ice cream dessert, so simple yet so tasty, among the best known in the United States, has made its way around the world despite being a recent invention. The father of the recipe is Chester Platt, a pharmacist from Ithaca, New York, who is also credited with creating sundaes, ice cream-desserts covered with syrups, whipped cream, chopped hazelnuts and other delights. Banana split, after all, is nothing more than a variation of the sundae, which involves the addition of a whole banana sliced lengthwise (hence the name), served on a plate, with the inevitable cherry as a garnish. Over time it has become so popular and rooted in US culture that it has a dedicated festival, the Banana Split Festival, celebrated annually in Wilmington, Ohio.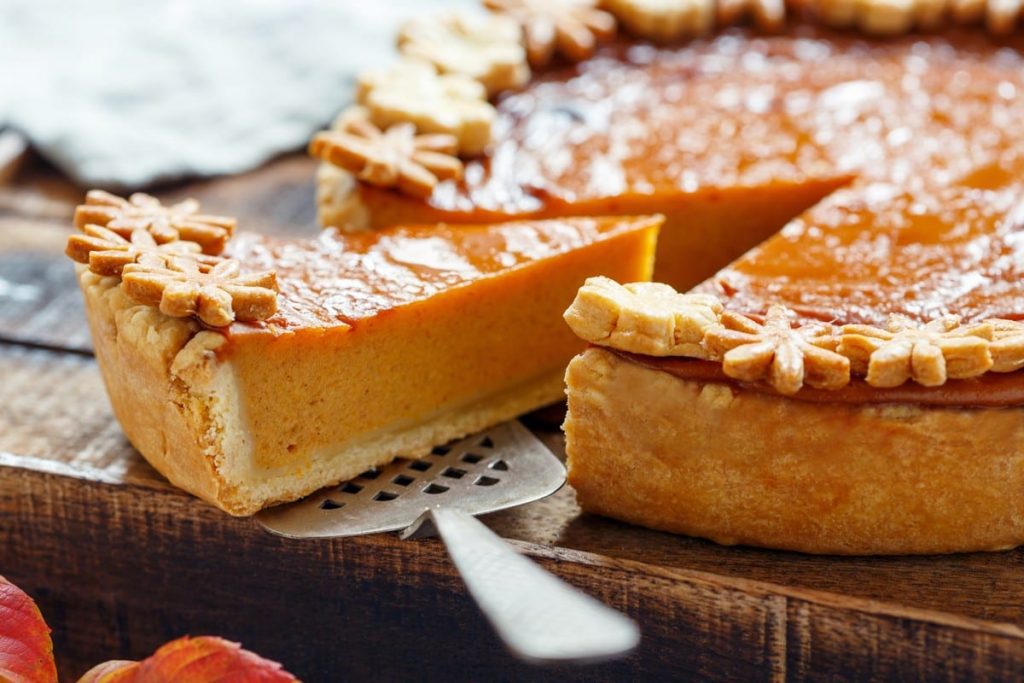 Pumpkin pie
Pumpkin pie is a typical Thanksgiving specialty, made with a kind of shortcrust pastry and scented with cinnamon, ginger, cloves and other spices. The ideal pumpkin to prepare the filling with is undoubtedly butternut, with a firmer and less watery pulp, ideal for not over-moistening the crust, thus jeopardising the baked outcome. In Italy, a good alternative can be the zucca Mantovana pumpkin, while in America (and in some international product stores in Italy) the pumpkin pie mix is available in a ready-made version, boiled and canned.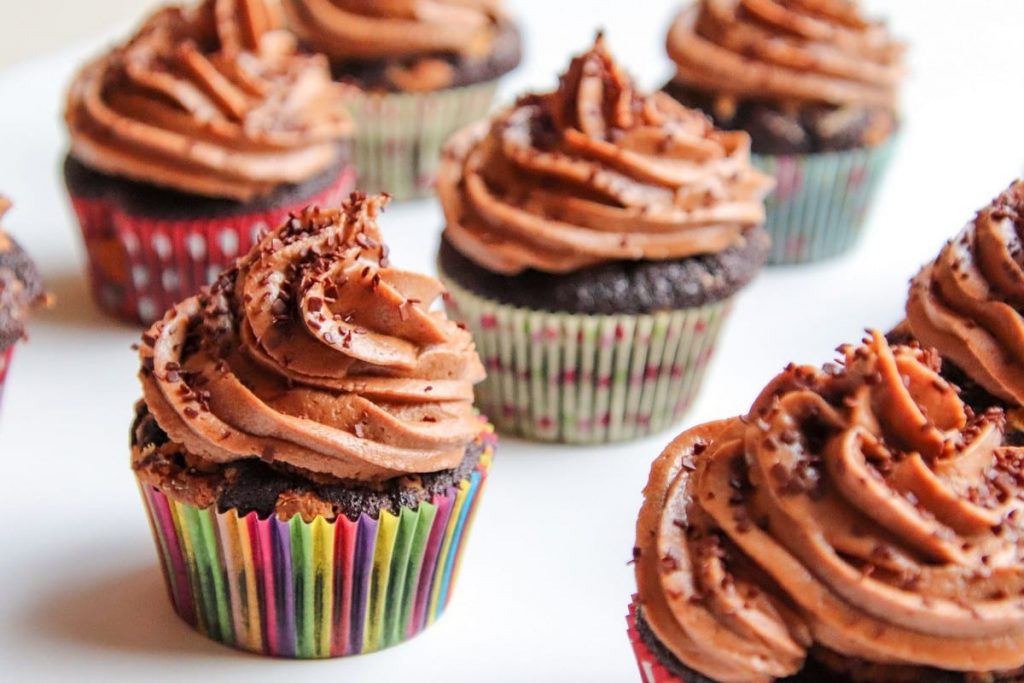 Cupcakes
Colourful and inviting, cupcakes are the perfect treats for those who want to indulge in an exception to the rule without overdoing quantities. The small cakes covered with icing or various spreads, usually made with butter or with cream cheese, are often coloured and covered with sprinkles. The first written trace seems to in Amelia Simmons' 1796 American Cookery cookbook, which refers to a "cake baked in small moulds." Probably, the word cupcakes was chosen because of the cup measurement unit used in American pastry, and since cupcakes were created as a more practical alternative to serve to guests during an afternoon tea.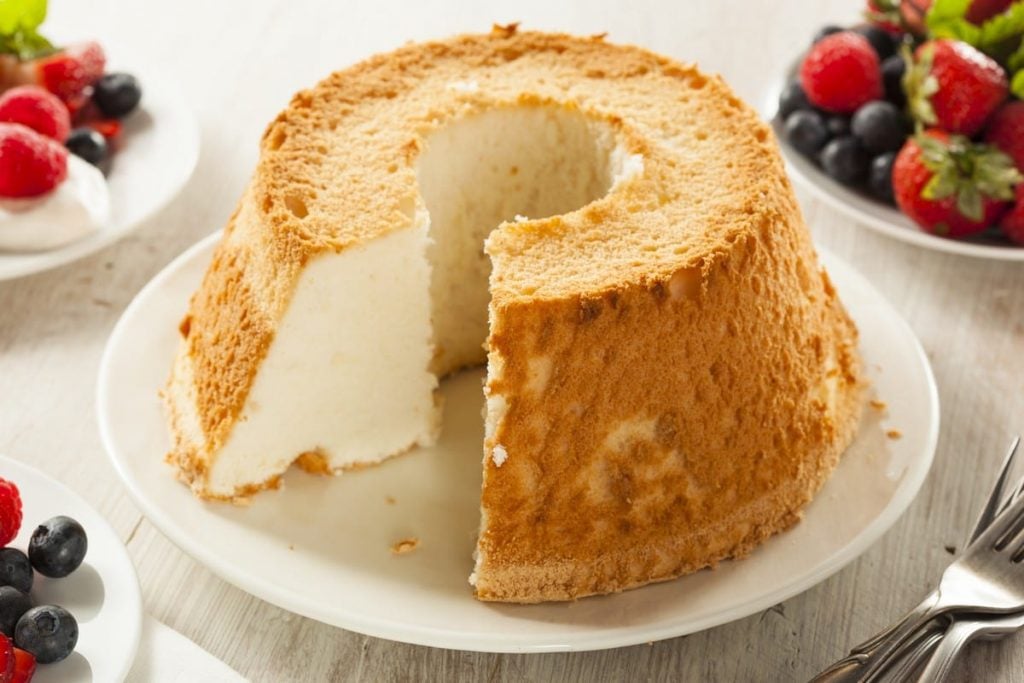 Angel and Devil's food cake
Angel or devil: in America there are both options, both very good. The first reflects its name: the Angel Food Cake is a soft, thick, ethereal cake with a soft dough and snow white colour. A truly angelic cake baked in a ring mould, made with egg whites, sugar, vanilla, flour and cream of tartar, dusted with powdered sugar and perfect for breakfast. Its chocolate counterpart, on the other hand, is ideal for those who love to indulge in gluttonous treats:a layered chocolate cake, filled and covered with dark chocolate ganache.
by Michela Becchi