Roy Caceres - Metamorfosi
The South American chef suggests trying the creations by Alessandro Miocchi and Giuseppe Lo Iudice, the young chefs of Retrobottega. As one of the city's most interesting new openings, this new and innovative format features orders placed directly with the "shop owner" from a chalkboard menu which changes daily. Patrons set their own table with the flatware and glasses provided in the drawer in each table, and the leitmotif of the entire project is reuse. This means reducing waste to a minimum and re-employing them in an innovative manner for the composition of other plates. Roy's favorite? "Without a doubt, the squab". For his second pick, he chooses ethnic cuisine: "I have recently discovered a very interesting sushi bar, Kiko. Here both sushi and sashimi are extraordinary, the fish is prime quality, the cuts are traditional and the rice is top notch". This must be why the reign of Atsufumi Kikuchi (ex sushi master at Sushi Ko) has quickly become a Japanese cuisine magnet in Rome. Lastly, in his personal mini ranking, Caceres includes Le Levain: "A bakery and pastry shop that both I and my children appreciate very much. When in season be sure to try the montblanc cake here". If you're not so into sweets, we may add that the marvelous savory croissants are equally worth a try.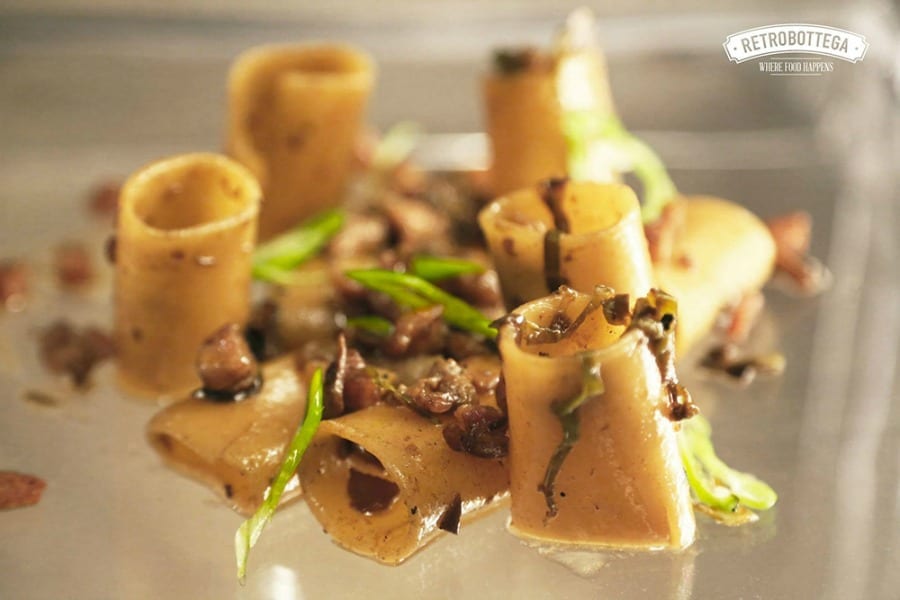 Gianfranco Pascucci - Pascucci al porticciolo
With the summer in full swing, the chef chooses a gelateria as his first dining pick, Marco Radicioni's. "At Otaleg! do taste the zabaione flavor, you won't regret it". On to a not so summery dish, for great satisfaction: "I choose the lamb coratella [a mix of chopped and braised liver, heart and lung meats] served at Armando al Pantheon, it's unbeatable. Even though all cucina romana is authentic and worthy". Go crazy and enjoy gricia, matriciana, carbonara then. And tripe, saltimbocca, puntarelle and roman-style artichokes. "As far as pizza baked in a tin, I think the one baked by Bonci at Pizzarium is unbeatable". It's now been a year since the place has renewed its looks and method. There's in fact more room, a cuisine mentality and a veritable kitchen brigade, plus a new dough made with a blend of milled cereals. Not for nothing Bonci's is Rome's most famous pizza by the slice joint.
Stefano Callegari – Trapizzino
Speaking of famous pizza in Rome, Stefano Callegari's is definitely one of them. You can enjoy his creations at Sforno, Tonda and now also at Sbanco, the newly opened pizzeria with a kitchen and a beer station. Outside of the region, Callegari is best known for his trapizzino, a plain pizza dough pocket filled with traditional Roman sauces and stews. In his three dining tips is also the gelato churned at Otaleg!. Favorite flavor? "Licorice". For his second pick, he names a trattoria: "At Flavio al Velavevodetto I find wholesomeness all around: in both products and ambiance. This is a place that always meets my expectations. And then their breaded vela cutlet has to be tried at least once in a lifetime". And for an after dinner drink? "I go to the Jerry Thomas Speakeasy and I enjoy my whiskey sour". In this exclusive Roaring Twenties style parlour, dedicated to the «Professore», inventor of modern mixology, entrance is only allowed with a password, in proper speakeasy fashion. (To find out, check out the question published every week on their website).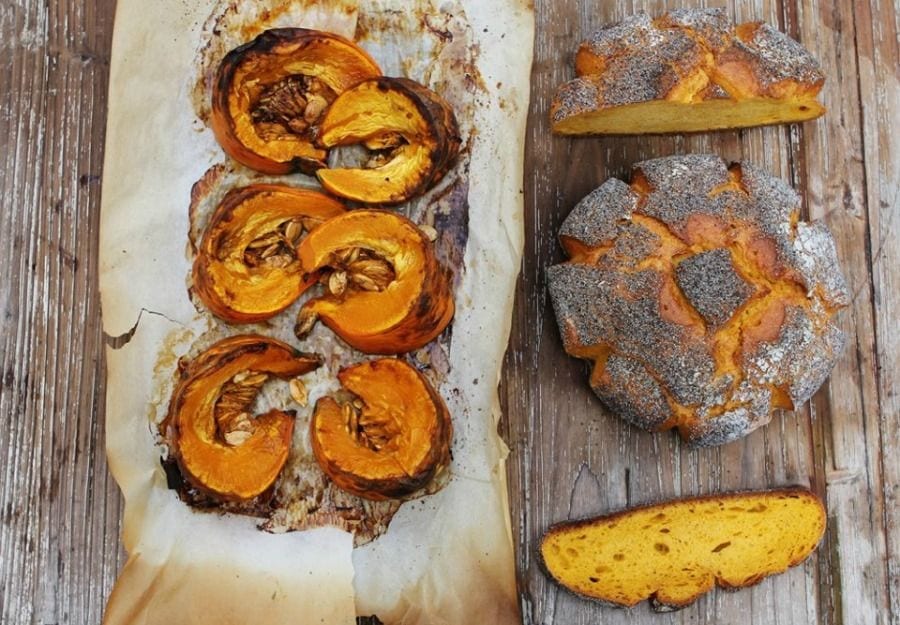 Marco Radicioni – Otaleg!
What places does the talented gelato artisan pick? "As absolute first place I pick Panificio Bonci. It is the realization of all my dreams and fullfills any desire, be it savory or sweet. The products are made with passion, love and skill. I could move in and live there!". In second place, a pizzeria – actually a "restaurant that loves pizza": "In Fucina, for their spirit of innovation which is unrivalled in Rome, in my opinion". In effect Edoardo Papa's pizza is the result of a carefully studied and wisely assembled dough (made with organic stone-milled flours), extensive leavening periods and almost maniac care in topping ingredient selection. Like lardo of Nero dei Nebrodi pigs, Conciato di San Vittore cheese, Ciauscolo di Visso [spreadable sausage] or high altitude summer pasture Fontina cheese from Val d'Aosta. "Lastly, I choose my neighbor Da Cesare. This place is an unfailing certainty, a constant embrace. Absolute must? The polpette di bollito meatballs". We agree.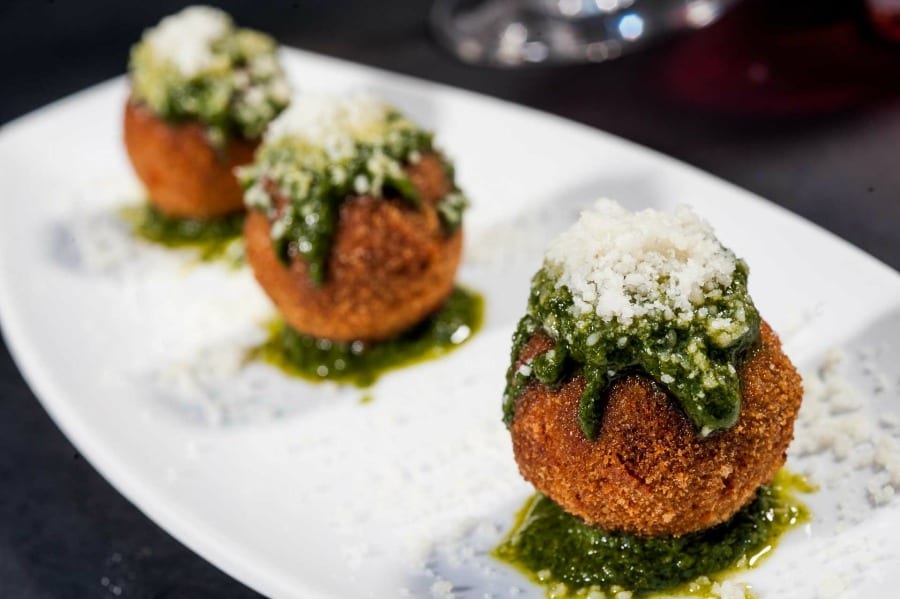 Marco Gallotta – Primo
The chef suggests the three places he frequents the most often. "Pipero al Rex because it feels like home, I don't feel welcome anywhere else the way I feel there. Plus for Luciano's cuisine, which is exceptional". Young chef Luciano Monosilio manages in fact to balance innovation and tradition in a modern and mature dialectic, borne out of his curiosity for contemporary cuisine, experimentation and his numerous travels abroad. The last one took him to Italian Cuisine&Wines in Beijing. "Osteria Bonelli for the cuisine's simplicity, their offer is clean and basic, and the great quality/price ratio. Meals are sold at around 25 euro". A true Roman osteria. "Lastly, for a well executed cocktail, Co.So.". Massimo D'Addezio's place in Pigneto has become a cocktail lover's must. (Currently closed for vacation. Our advice is steering towards Chorus Café on via della Conciliazione 4, another place owned by the great D'Addezio).
Alessandro Pipero - Pipero al Rex
The impeccable Maitre D' (the man who for many ways reinvented and modernized the term) places Roscioli as his first pick, "because it is the best place in the world and you can eat there at any time of day". For those who still don't know, Roscioli is truly a Rome institution. A baker, and now also gourmet deli, fine dining restaurant, wine bar and coffee bar. It's a family run business that now represents the world known epitome of quality food. "For the quality of the seafood and service, I suggest Il Sanlorenzo". The cuisine is very respectful of the extraordinary fish served and hailing from Ponza and surroundings. His third choice is completely different: Trapizzino of Stefano Callegari (mentioned above).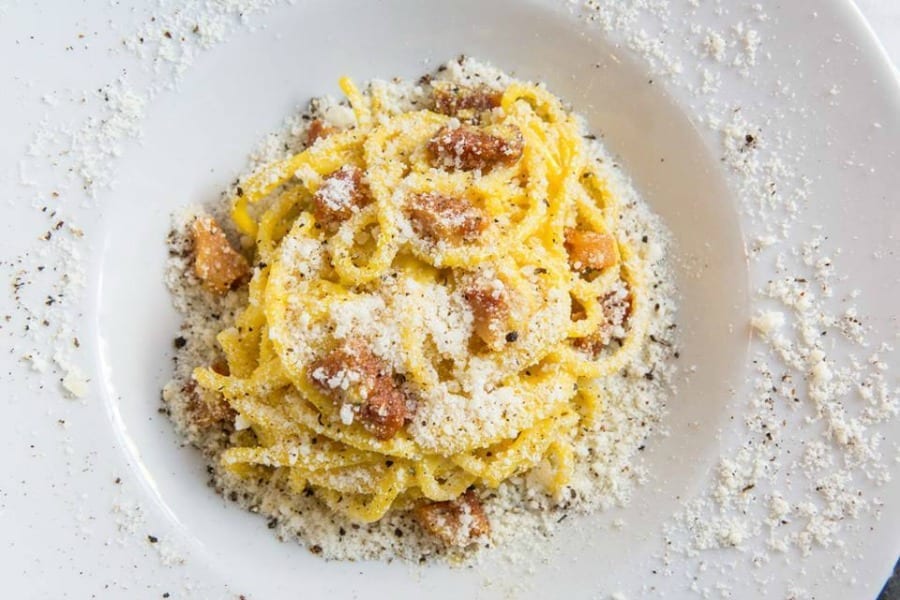 Leonardo Leuci – Jerry Thomas Speakeasy
Roscioli is also the first choice of barman Leuci, "in general for anything on their menu. Absolute quality is the common denominator for both cuisine and ingredients. This is a real oasis of fine dining, without ever losing sight of Roman tradition. Another place I very much like is Regoli, located near Piazza Vittorio. It is one of the few remaining authentic pastry shops. They still bake classic pastries like "diplomatici" for example, and cut in the correct size. No bite size versions, no trendy stuff or French imitations". Third pick? "A new place, the first specialty coffee in Rome: Pergamino Caffè. The coffee here is made with various extraction methods and different blends". The blends are provided or suggested by master roaster Massimo Bonini.
Cristina Bowerman – Glass Hostaria
Versatile chef Cristina Bowerman suggests a vendor not far from her place housed in the Testaccio market. It's Zoè, "this is the first vegetarian osteria with the shortest supply chain inside the market. Non pretentious and yet never predictable". Stall number 59 offers healthy, tasty and wide selection of foods, like for example fresh juices, apple and cinnamon pound cake and more. Favorite juice? "Kale, fennel, ginger and apple". From Testaccio we move to the nearby coast, in Fregene. More precisely at La Baia, a restaurant with annexed beach lido. "This is one of my favorite beach hangout, a place where I can enjoy fresh quality fish by the sea". Among the city's most recently opened places, chef Bowerman picks Osteria Fernanda and chef Davide Del Duca, "whom I have been closely following since the beginning of his career. I witnessed his growth, evolution and success. His talent is now solid". Del Duca's dishes are "dynamic, inspired by tradition and full of substance". Bowerman has no doubt which of them she considers the best: "canascione [a savory pie] filled with burrata, anchovies and greens".
Davide Del Duca - Osteria Fernanda
Unknowingly, the young chef suggests places that shares his same philosophy: ones with a cuisine that includes a good amount of technique and creativity, and that is easily accessible to all. His picks are: Osteria dell'Orologio and Cuoco & Camicia, "because their offer is intelligent, fun and creative minus the absurd prices. They are true artisans who use quality ingredients with skill, taking advantage of seasonality and availability". The first is the reign of chef Marco Claroni, who focuses on a cuisine that's centered and balanced. He uses excellent ingredients which are selected on a daily basis, and a particular inclination towards lesser known fish species. The second is a valid creative cuisine place whose governing core is tradition. Just think of their whole grain Tortelli filled with carbonara. Closing Del Duca's picks is the Jerry Thomas Speakeasy.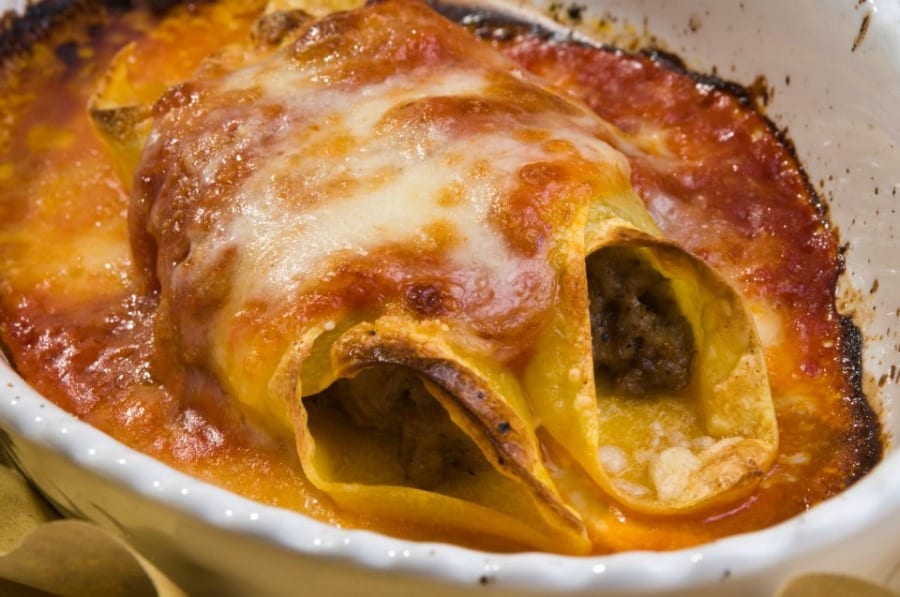 Marco Baccanelli e Francesca Barreca – Mazzo
Here are the Fooders Marco and Francesca's three dining tips: "Severance neosteria because of the extreme high quality. We know the way they work and we like it". We appreciate that attitude too. The place started as a small bistro and soon graduated to a perfect location for quality breakfasts, for well extracted coffees and fragrant croissants. Plus tasty snacks and lunch menus featuring cooked dishes also intended for take out. "As far as a more informal trattoria, we surely would like to suggest Da Sonia, pseudonym of signora Zhou Fenxia". A trattoria yes, but Chinese, the actual name of which is Hang Zhou but which is best known for its nickname Da Sonia. "We go there on average once a week and it's never disappointed us". Last dining pick: "Sora Maria e Arcangelo, where chef Giovanni Milana is extraordinary". Here you have to try the Cannelloni di Sora Maria filled with veal hash.
ADDRESSES CHOSEN BY THE CHEFS
RESTAURANTS and TRATTORIE
Armando al Pantheon | Rome | salita de' Crescenzi, 31 | tel. 06 68803034 | www.armandoalpantheon.it
Da Cesare | Rome | via del Casaletto, 45 | tel. 06 536015 | www.trattoriadacesare.it
Flavio al Velavevodetto | Rome | via di Monte Testaccio, 97 | tel. 06 5744194 | www.flavioalvelavevodetto.it
La Baia | Fregene (RM) | via Silvi Marina, 1 | www.labaiadifregene.it
Osteria Bonelli | Rome | viale dell'Acquedotto Alessandrino, 172 | tel. 06 8633077
Osteria dell'Orologio | Fiumicino (RM) | via Torre Clementina, 114 | tel. 06 6505251 | www.osteriadellorologio.net
Osteria Fernanda | Rome | via Crescienzo del Monte, 18 | tel. 347 4459593 | www.osteriafernanda.com
Pipero al Rex | Rome | via Torino, 149 | tel. 06 4815702 | www.hotelrex.net
Retrobottega | Rome | via della Stelletta, 4 | tel. 06 68136310 | www.retro-bottega.com
Roscioli | Rome | via dei Giubbonari, 21 | tel. 06 6875287 | www.salumeriaroscioli.com
Il Sanlorenzo | Rome | via dei Chiavari, 5 | tel. 06 6865097 | www.ilsanlorenzo.it
Severance neosteria | Rome | via Eurialo, 1e | tel. 06 45433374 | www.severance-neosteria.com
Sora Maria e Arcangelo | Olevano Romano (RM) | via Roma, 42 | tel. 06 9564043 | www.soramariaearcangelo.com
PIZZERIAS and BAKERS
Panificio Bonci | Rome | via Trionfale, 36 | tel. 06 39734457 | www.bonci.it
In Fucina | Rome | via G. Lunati, 25 | tel. 06 5593368 | www.infucina.com
Pizzarium | Rome | via della Meloria, 43 | tel. 06 39745416 | www.bonci.it
Trapizzino | Rome | via G. Branca, 88 | tel. 06 43419624 | www.trapizzino.it
ETHNIC CUISINE
Hang Zhou (Da Sonia) | Rome | Principe Eugenio, 82 | tel. 06 4872732
Kiko | Rome | piazzale del Verano, 90 | tel. 06 94849822 | www.kikosushibar.it
BAKERIES and GELATERIAS
Le Levain | Rome | via Luigi Santini, 22 | tel. 06 64562880
Otaleg! | Rome | viale dei Colli Portuensi, 594 | tel. 338 6515450 | www.otaleg.com
Regoli | Rome | via dello Statuto, 60 | tel. 06 4872812 | www.pasticceriaregoli.com
COFFEE BARS and COCKTAIL BARS
Co.So.| Rome | via B. da Montone, 80 | tel. 06 45435428
Jerry Thomas Speakeasy | Rome | vicolo Cellini, 30 | tel. 06 96845937 | www.thejerrythomasproject.it
Pergamino Caffè | Rome | piazza Risorgimento, 7 | tel. 06 89533745 | www.ilpergamino.it
STREET FOOD
Zoè | Roma | via B. Franklin, 12 c | tel. 06 830 6479 | www.facebook.com/zoemercatotestaccio
OUR LIST
Glass Hostaria | Rome | vicolo del Cinque, 58 | tel. 06 58335903 | www.glass-restaurant.it
Mazzo | Rome | via delle Rose, 54 | tel. 06 64962847 | www.thefooders.it/mazzo
Metamorfosi | Rome | via G. Antonelli, 30 | tel. 06 8076839 | www.metamorfosiroma.it
Jerry Thomas Speakeasy | Rome | vicolo Cellini, 30 | tel. 06 96845937 | www.thejerrythomasproject.it
Osteria Fernanda | Rome | via C. Del Monte, 18 | tel. 06 5894333 | www.osteriafernanda.com
Otaleg! | Rome | viale dei Colli Portuensi, 594 | tel. 338 6515450 | www.otaleg.com
Pascucci al Porticciolo | Fiumicino (RM) | viale Traiano, 85 (ingresso via Fiumara, 2) | tel. 06 65029204 | www.pascuccialporticciolo.com
Pipero al Rex | Rome | via Torino, 149 | tel. 06 4815702 | www.hotelrex.net
Primo | Rome | via del Pigneto, 46 | tel. 06 7013827 | www.primoalpigneto.it
Trapizzino | Rome | via G. Branca, 88 | tel. 06 43419624 | www.trapizzino.it
by Annalisa Zordan
translated by Eleonora Baldwin
Guide to city restaurants according to the top chefs: