The origins of apple pie
Soft or crisp, made with or without cream, baked in a shortcrust or puff pastry crust: apple pie is a cake with an unmistakable aroma, loved by all, young and old. A preparation that knows no boundaries, spread all over the world. Among the first written testimonies, is the one by Guillaume Tirel, French chef of the 14th century also known under the pseudonym of Taillevent. He talks of "tarte aux pommes", a cake similar to the North American apple pie, but with sweated onions stuffed in the filling, a technique that was very popular back then to lend sweetness to dishes.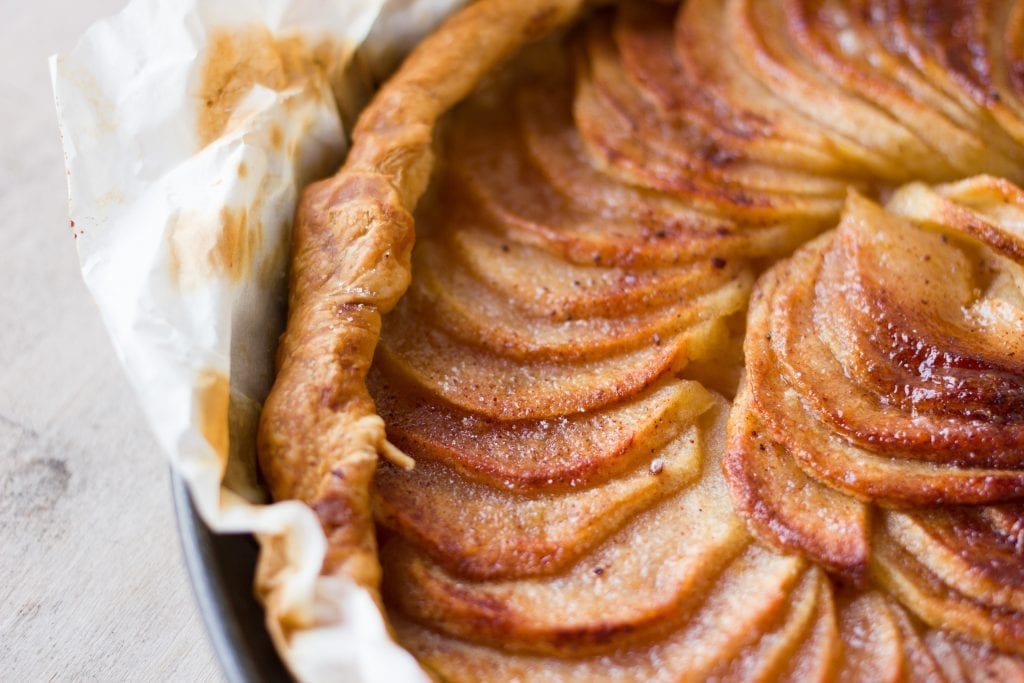 Apple pie: the anti-waste cake
According to the most valid theory, the cake was born in the United Kingdom, but it it began to spread in America, in New England, during the colonization period, until it became one of the symbols of the local cuisine. What is certain is that apple pie was born before the invention of refrigeration, so as not to waste fruit: in the absence of an appropriate storage method, in fact, homemakers cooked vegetables in different ways to preserve their taste. From the American apple pie to the Swiss veja, learn about all the world's apple pies.
International variations of apple pie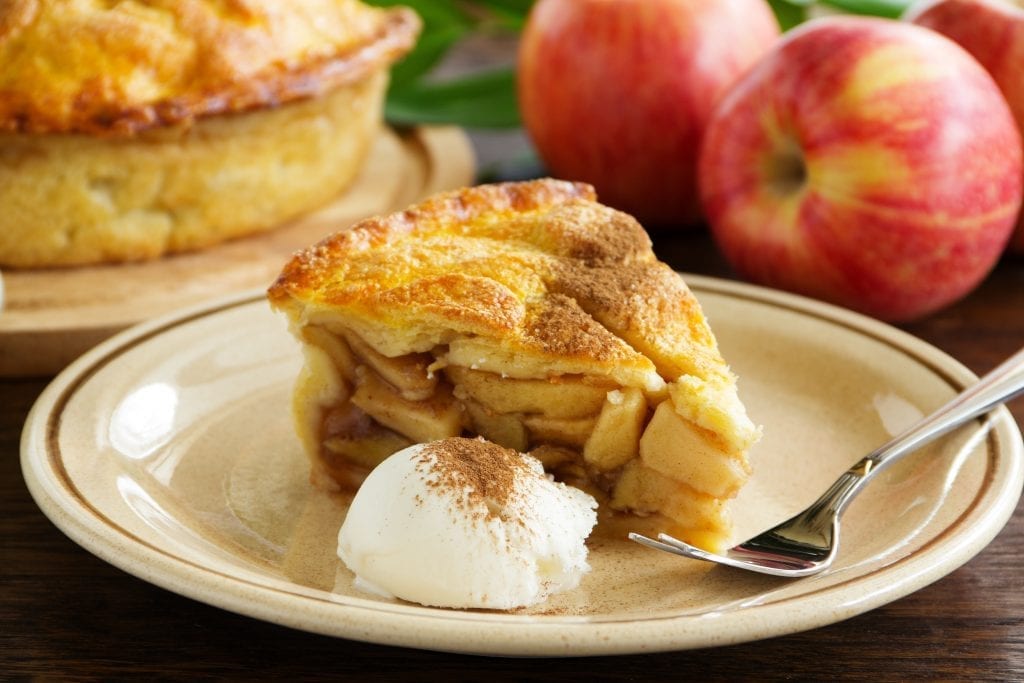 Apple pie
The US national pie has identified itself so completely with its people over time so as to give life to the phrase "American as apple pie" to define authentic belonging to the USA. In the beginning, the apples were cooked in the oven and then placed on a layer of dough similar to brisé, which served as a container. Over time, Americans also began to overlap another layer of dough to close the cake, creating the apple pie as we know it today, generally served warm, à la mode, that is with vanilla ice cream or whipped cream.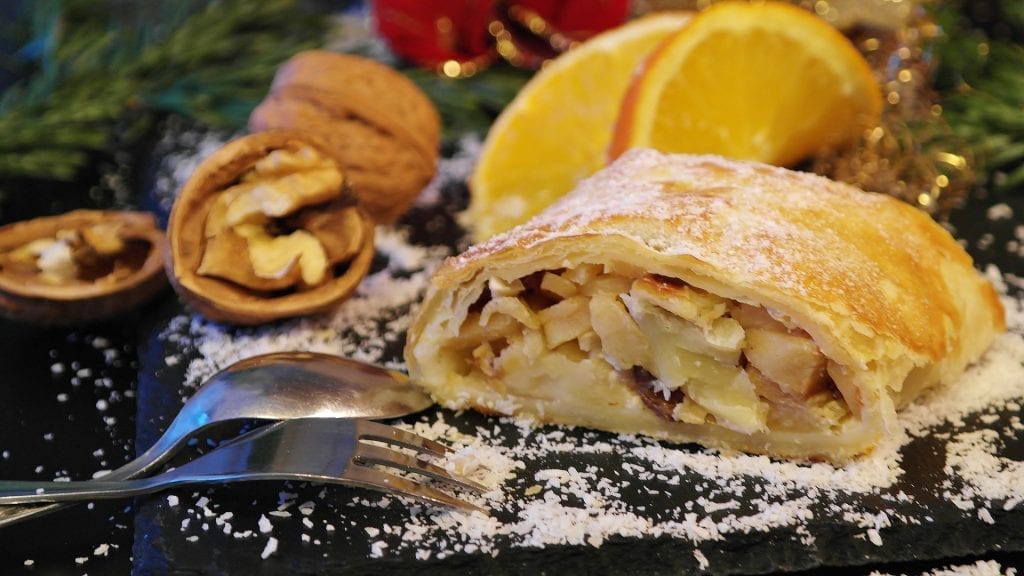 Apple Strudel
A roll of thin dough stuffed with apples, raisins, pine nuts and cinnamon, is among the typical products of Trentino Alto Adige. Ideal for a snack or as a dessert after a meal, it pairs well with pastry cream, chantilly, ice cream or even a fine glass of mulled wine. An ancient folk tale tells that the sheet crust must be so thin as to allow you to read a love letter through it.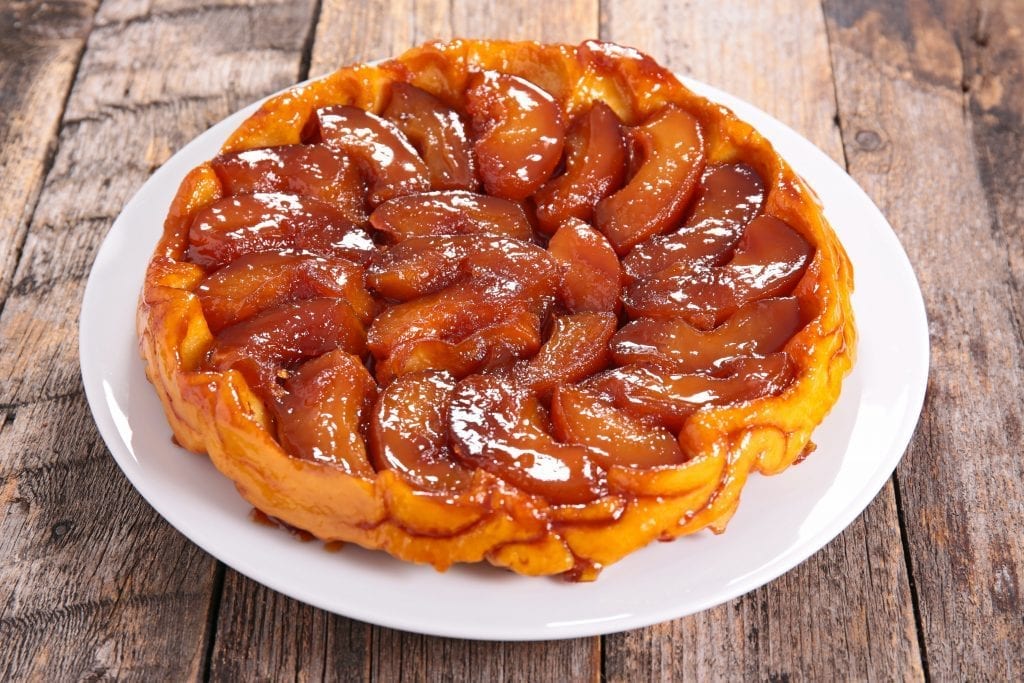 Tarte tatin
The famous French inverted cake was born by mistake in 1888 in France at the Hotel Tatin, managed by sisters Carolina and Stéphanie Tatin. The latter was in charge of the kitchen and her specialty was an apple tart, fragrant and perfectly caramelized. One day, during hunting season, Stéphanie hurriedly baked buttered and apples sprinkled with sugar, but forgot to add the crust. She therefore covered the cake with a layer of brisé pastry and turned the plate upside down: the hunters liked the dessert very much and renamed it "tart des demoiselles Tatin", or "tart of the two Miss Tatin", then later abbreviated to tart tatin.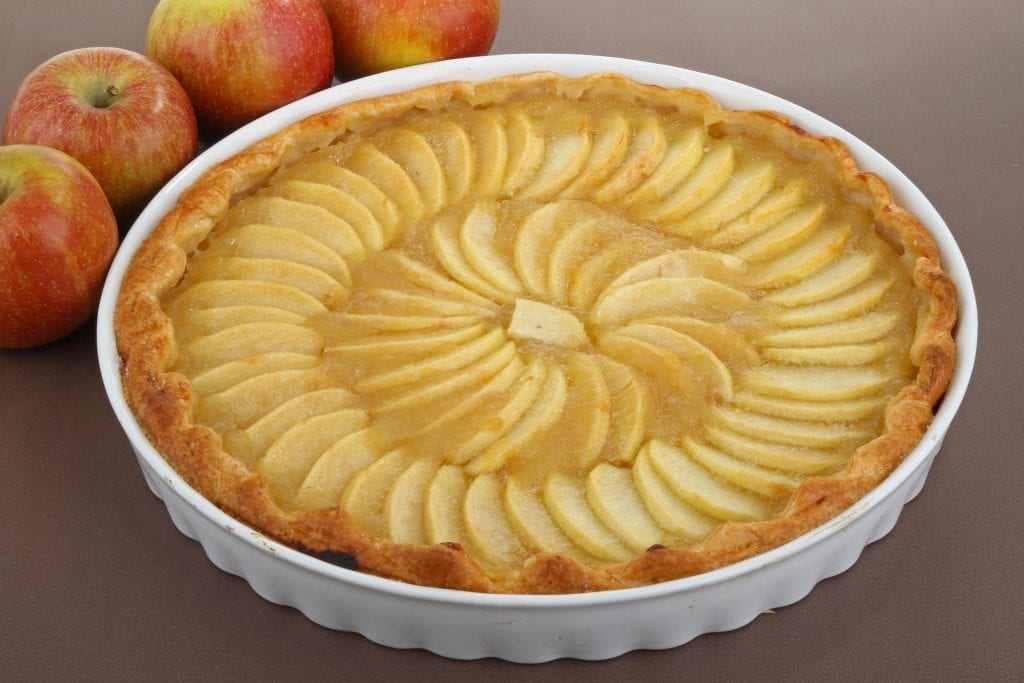 Tarte aux pommes
Among the territories where apple pie is most widespread is Normandy: local tarte aux pommes is made up of a layer of brisé pastry which contains a soft filling of apples flavoured with cinnamon. Many more ingredients are present depending on personal taste: those who use pastry cream, others prefer whipped cream, others enriche the filling with Calvados or with ground almonds. In any case, always a success.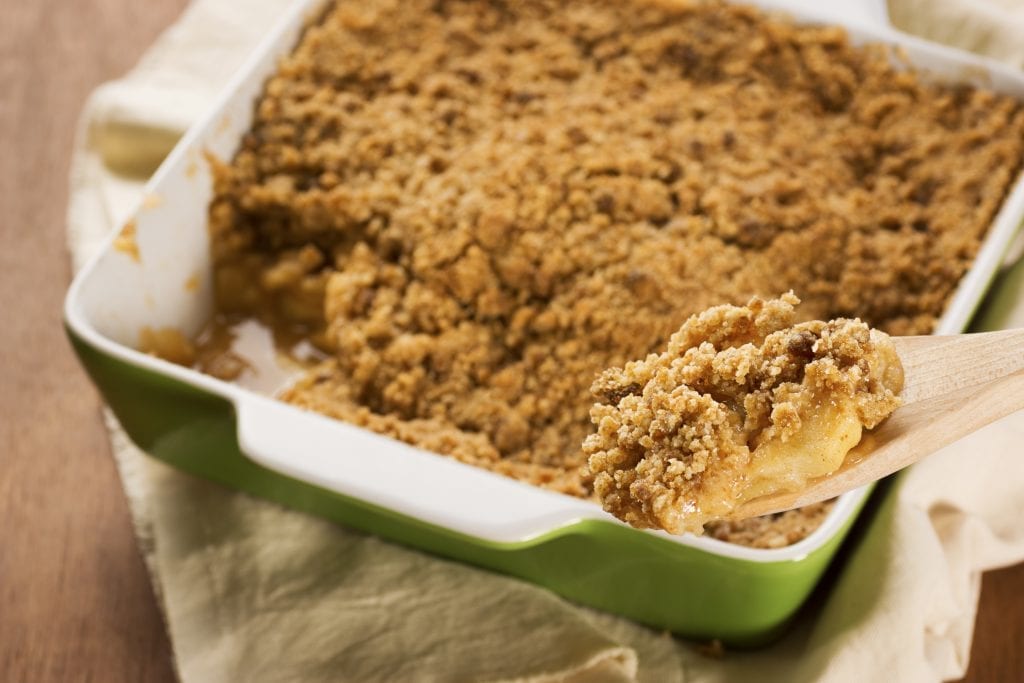 Apple crumble
A good crumble can be prepared with any type of fruit, but nothing beats a classic British apple crumble, apple-based cake covered with a layer of crumbles crips dough, inevitable at the end of Sunday Roast, the typical Sunday lunch. The apples are cooked in a pan with butter, sugar, cinnamon and other sweet spices (usually nutmeg and ginger), placed in a pie tin and covered with layer of dough made with flour, sugar and butter that's crumbled with fingertips to obtain a crisp and crumbly texture. Once baked in the oven, it's served with custard cream, a looser British version of our pastry cream. Legend has it that the dessert was born following the rationing of food resources during WWI, when in the absence of flour and butter the British replaced the dough of classic pie with crumbs of shortcrust pastry.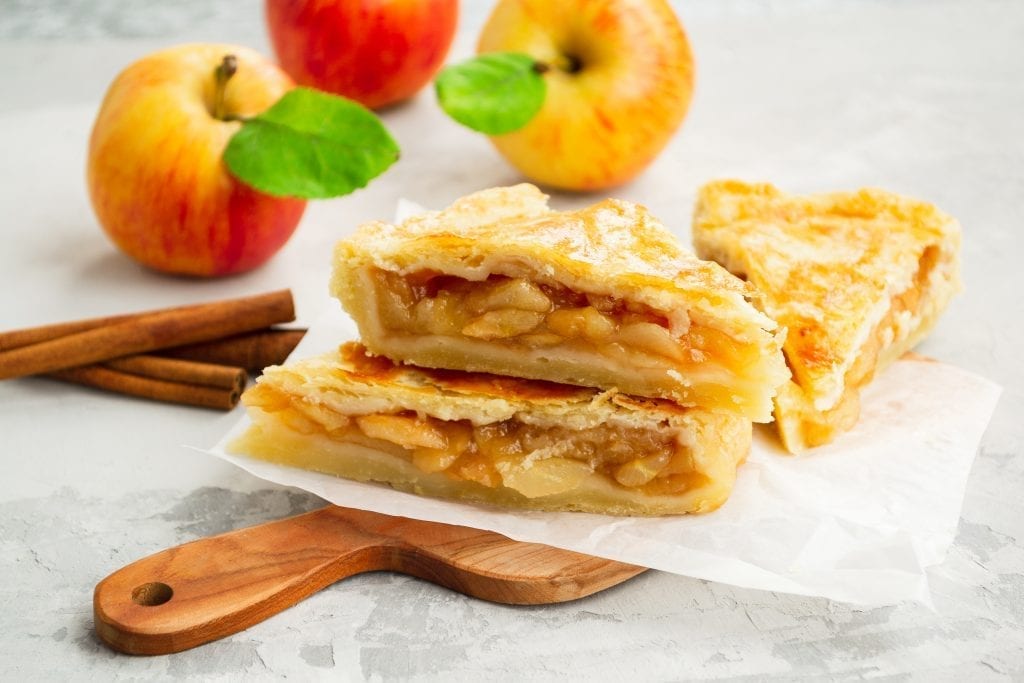 Vienna apple pie
There's more beyond Sacher and sablé biscuits: in the Viennese confectionery repertoire there is also space for apple pie, very similar to the American apple pie, but with a different shell, consisting of two layers of shortcrust pastry rich in butter and eggs. In the filling, honey, raisins, walnuts and cinnamon, to which a little pastry cream is sometimes added. The ideal topping? Whipped cream, ice cream or zabaglione.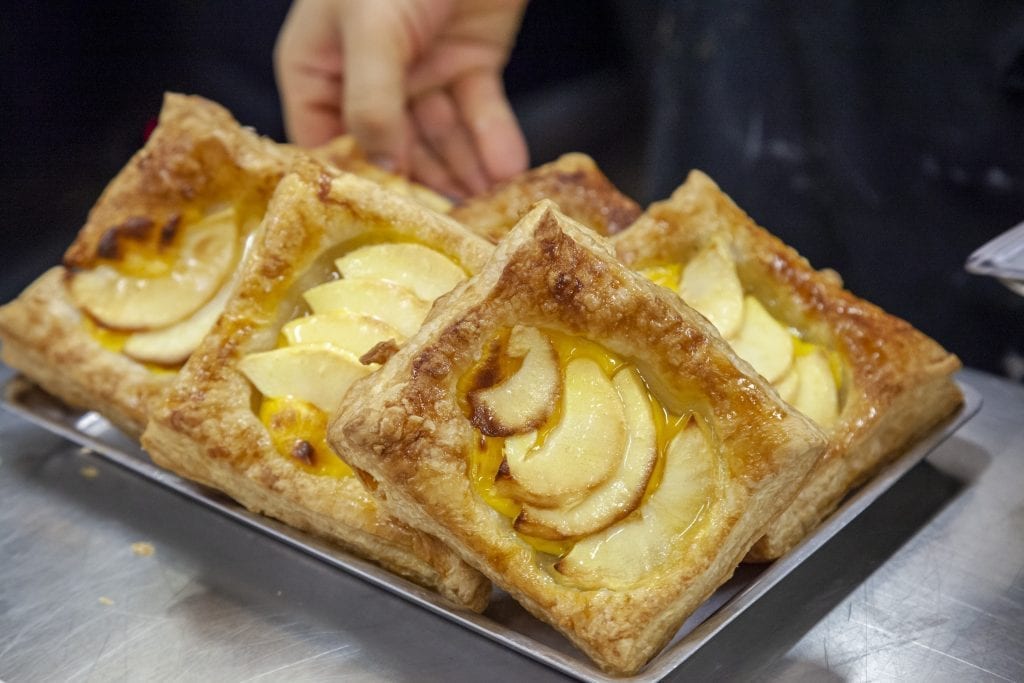 Apple veja
Typical pie of the Swiss Canton of Ticino made with puff pastry: inside are apples, milk, heavy cream, sugar and eggs, seasoned with cinnamon, vanilla or lemon zest. A simple and tasty dessert, often prepared also in a pear version. As always, there's also room for imagination: a good puff pastry is the ideal base to accommodate any ingredient.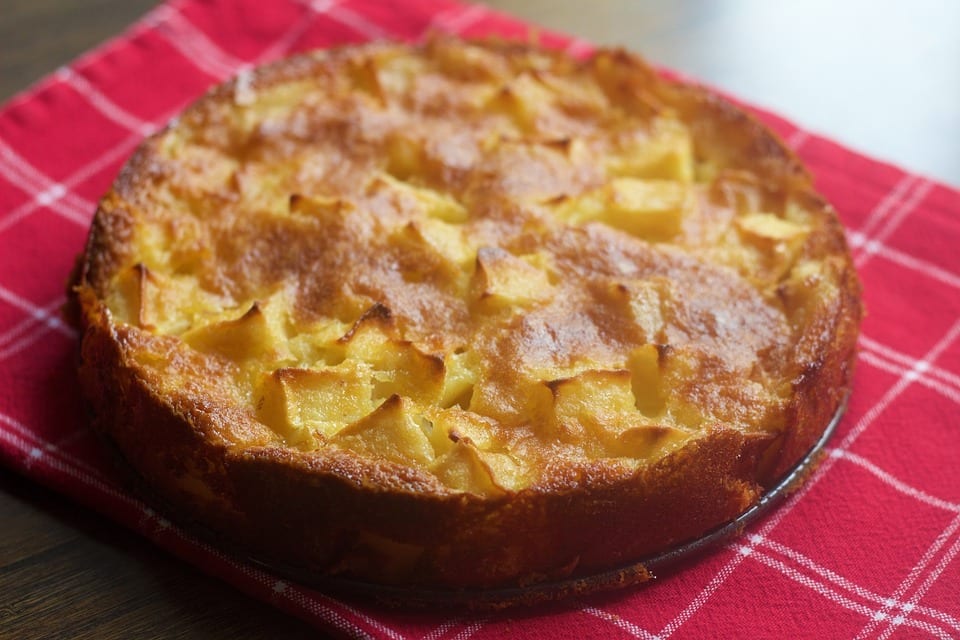 Torta di mele
The classic Italian apple pie is one of the most popular homemade desserts of the Peninsula, a simple preparation that is common to all regions, from North to South. No shortcrust, no brisé: only a soft open-face tart topped with thin apple slices on the surface. Most of the recipes include the use of butter, but it can also be prepared in delicious variants with olive oil.
Recipe: mini green apple crumble
110 g. flour
110 g. brown sugar
90 g. almond flower
90 g. butter, softened
3 green apples, peeled and cored
Butter
Granulated sugar
Chop the apples in 1/2 cm cubes. Cook in a pan with 2 tbsp of butter and 4 tbsp of sugar, until soft like applesauce, allow to cool. Prepare the crumble dough by mixing all the remaining ingredients with your hands, when the dough is evenly mixed, crumble it with fingertips. spread on a sheet pan lined with parchment paper, bake and allow to cool.With the help of a pastry bag, pipe the desired amount of apple compote into the bottom of a glass, cover generously with the crumble and finally garnish with icing sugar.
by Michela Becchi