Foods similar to pizza have been made since the neolithic age. In one of its many forms, pizza has been a basic part of the Italian peninsula's diet since then. This earliest form of pizza was a simple disk of bread that was baked on hot stones over a fire. After cooking, it was seasoned with a variety of different toppings and used instead of plates and utensils to sop up broth or meat drippings. Records of people adding other ingredients to bread to make it more flavorful can be found throughout ancient history.
And pizza as we know it today? It all starts in 18th century Naples, when the young King Ferdinand IV, in his summer palace of Capodimonte, orders his cook to bake pizzas in the ovens in which his father, Charles II, has his famous porcelains fired. Until then known as a poor man's meal, pizza was normally sold in the street with minimal topping. As pizza became more popular within and outside of the royal palace walls, stalls were set up in streets and alleys. Here the dough was shaped expressly as customers ordered. As time passed, various toppings were invented. The stalls soon developed into the original concept of pizzeria, an open-air eatery where folks congregated, ate, drank and talked.
After 1889, when King Umberto I and his wife, Queen Margherita of Savoy vacationing in Naples, beckoned to their palace the most renowned pizzaiolo at the time, Raffaele Esposito, to taste his popular specialties, pizza Margherita was born in the Queen's honor. Thus the standard by which today's pizza has evolved was set and Naples was finally established as the pizza capital of the world.
Let's take a look at the top 12 places for pizza located in Naples and surroundings, as recommended by the experts.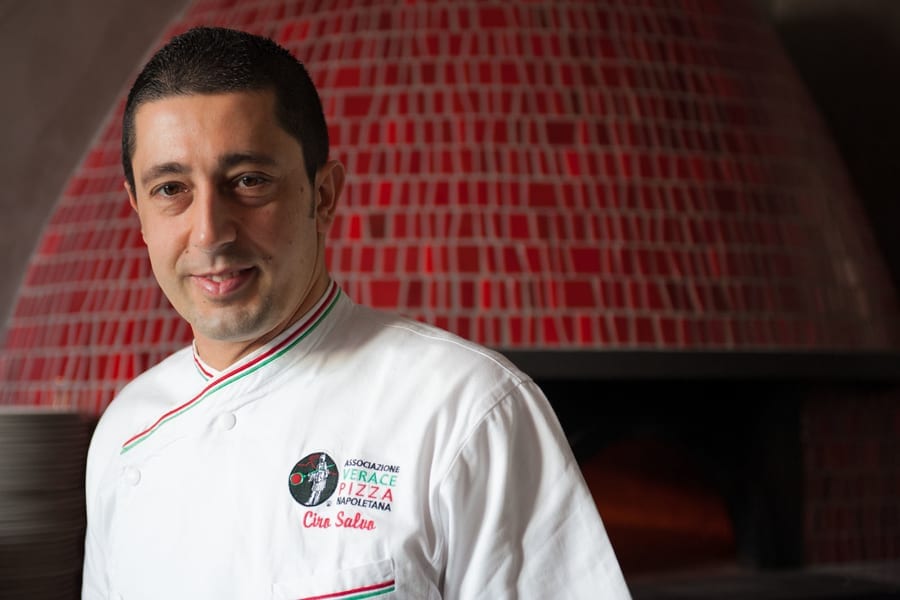 50 kalò - pizza according to Ciro Salvo
The line snaking from the entrance on Piazza Sannazzaro in the heart of posh Naples is a sure sign of this pizzeria's success. A recent renovation has doubled the seating space and added a new wood-stoked pizza oven. Despite the higher numbers, Ciro Salvo's quality pies remain intact, with new topping combos, seasonal menus that favour local prime quality ingredients, like Provolone del Monaco cheese, fresh fiordilatte made in the monti Lattari area, anchovies from Cetara, tomatoes harvested on the slopes of Mt Vesuvius, and so forth. Doughs are famous for their long leavening time and visible air pockets in the tissue. In addition to this, precise cooking times lend a lightweight, fragrant and digestible pizza. We loved the one topped with zucchini flowers, salami and ricotta; or the "50 Kalò" with olives, cherry tomatoes, fiordilatte cheese and bruised escarole greens. Gluttonous types should not forego the "Ripieno fritto", or among the starters, the delightful tiny fried pasta frittata. Great pairings with wisely selected wines and craft beers.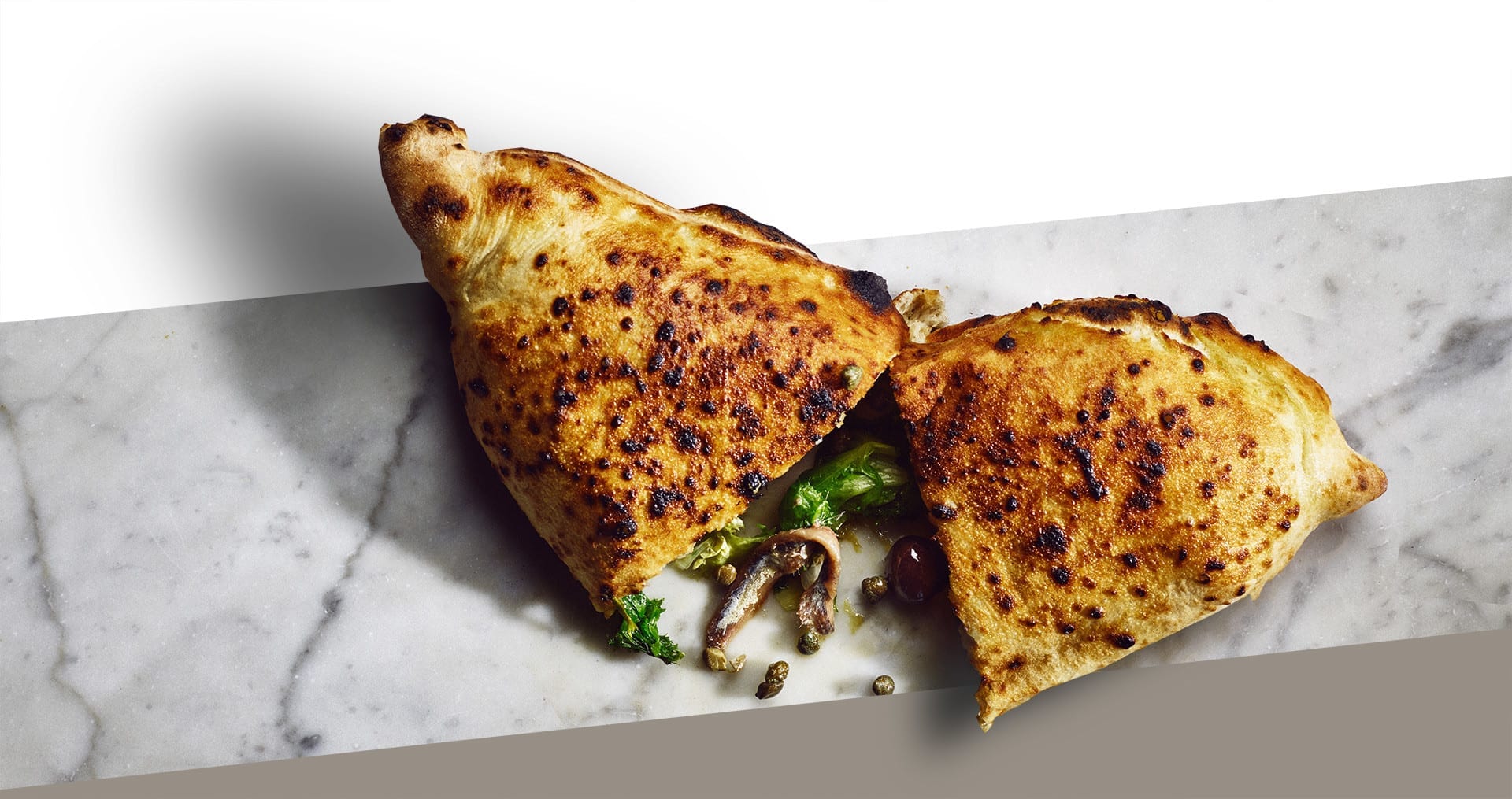 Pepe in Grani - paludit to the pizza pro Franco Pepe
Whether reviving forgotten ingredients and ancient local specialties, or working on the perfect pizza for picky eaters, Franco Pepe is always busy inventing. Quality, balance and clean flavors are Pepe's main concerns. His doughs – which are always hand-kneaded – are skillfully stretched and formed into perfect disks and cooked to perfection in wood-fired ovens, and give life to lightweight and delicious pizzas. Perfectly balanced between crispness and fluffy, filled with beautiful air pockets, the light crust is capable of supporting the ingredient combinations and flavors of Pepe's creative toppings. This year in particular, Pepe riffed on classics like the pizza Margherita, inverting the ingredients, roles and flavors with surprising results: the mozzarella di bufala is added to the crust after a brief time in the oven, and drawn with a raw tomato sauce and a basil reduction. Good beers both bottled and on tap, as well as a fine wine list match the dining offer. Service is attentive and rapid, during the weekend there might be a slight wait before being assigned to a table.
Attilio alla Pignasecca - pizza shrine at the foot of Mt Vesuvius
The almost 80 year-old lively Pignasecca neighborhood institution over the years has become a beacon for lovers of the "pizza a libretto" or regular round pizza pies. A warm welcome and courteous service are only the prelude to the delightful pizzas served here; lightweight pies whose fluffy crust and rim are thick and tasty, cooked to perfection in the wood-stoked oven after a 24-hour leavening rest. Topping the crusts are quality ingredients, like extra virgin olive oil, local tomatoes and artisan dairy products. Among the latest pizzas added to the menu, consider the pizza Natalina topped with baccalà, escarole greens, cherry tomatoes, capers and extra virgin olive oil – which is always present on the pies. Among the evergreen pizzas, aficionados always go for the Carnevale, a round pie with eight small stuffed strips and a fluffy rim stuffed with fiordilatte cheese, sausage and tomato. Good choice of wines and beers selected by Angela, sister and sommelier of owner Attilio. The venue is small but cozy and full of character.
Fresco - the future of pizza
This modern pizzeria, opened in 2009, boasts a seafront view that spans from the mighty Castel dell'Ovo and the Posillipo hill, this means outdoor dining on the patio during warm, sunny days, the norm in Naples. Once seated, meals should begin with a "Tris", a sampler of mini pizzas that allows to taste three specials in one go: a Margherita, a Ripieno stuffed pie and a Pasqualina, topped with sausage and broccoli rabe. Those wishing to stay traditional can choose from a menu of thirty-something pies. We loved the pizza Acciughina, topped with smoked provola cheese, anchovies, cherry tomatoes and black olives; or the classic Ripieno, filled with mozzarella, tomato, ricotta, salami and pepper. This can also be served in XXL size for pizza gladiators or small groups. The beer and wine list offers interesting pairings. In addition to the seafront location, Trattoria Fresco also has a branch in the Vomero neighborhood, on via Cimarosa 20.
La Notizia - Enzo Coccia and the many faces of pizza
Despite being in a less busy location of Naples, the residential Vomero district, La Notizia stands out with its vivacious and welcoming entrance and palatable pizza offer. Merit for this goes to the long-leavened and well hand-stretched doughs and seasonal toppings designed by Enzo Coccia. Openers like murzilli, bruschettas and saltimbocca panini are made with the same pizza dough and prepare for the delights that follow. The pies are fragrant, cooked to perfection and topped with a variety of ingredients. On the menu are for example the pizza Omaggio a San Gennaro, topped with yellow piennolo tomatoes, oregano, anchovies, black olives, parsley and garlic. Another favorite is Pizza del Contadino, a calzone filled with escarole greens, pecorino cheese and olives, not to mention the sublime pizza Margherita topped with local mozzarella di bufala. For a sweet ending don't forego the saltimbocca sandwich slathered with artisanal dark chocolate. Service is courteous and rapid despite the crowds.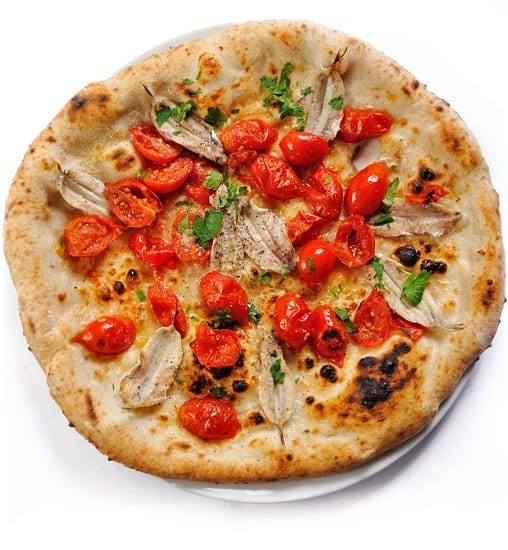 O' Pizzaiuolo Guglielmo Vuolo - Eccellenze Campane and the Vuolo dynasty's pizza philosophy
The pizzeria opened by Guglielmo Vuolo – within first year since opening it baked over ten-thousand pizzas – is the strongpoint of Eccellenze Campane, a regional quality food conglomerate opened in 2014 located in the western part of Naples. Guglielmo and sons Enrico and Valerio run a very tight ship, but results are stellar. The crust, prepared around 24 hours before baking, is fluffy and highly digestible, the toppings that dress the stretched disk crust are carefully selected and change according to the seasons and Vuolo's whim. We recommend the excellent pizza Margherita made with mozzarella di bufala, and the pizza Assoluto di Marinara, made with 4 types of tomato: soaked San Marzano, fresh del piennolo tomatoes, tomato passata and classic tomatoes. A standing ovation also goes to the fried pizza topped with soffritto sauce and buffalo milk provola cheese. A nice beverage pairing is provided by the locally brewed craft beers and a small selection of wines.
Sorbillo - a family affair
The historic pizzeria located on the Decumano thoroughfare in Naples is a fail-safe destination for pizza lovers at any time of day. Despite the snaking lines up to the entrance, the team gathered by Gino Sorbillo, who is not always in the restaurant, works perfectly and constantly offers delightful pizzas. The pies blanket the dish beyond its perimeter, crusts are thin and the slow-rise dough confers a lightweight and airy dough. The wood-stoked oven completes the masterpiece. The choice in toppings is vast, from classics to more creative options, many of which carry the names of the Sorbillo family members. One of the many is dedicated to nonno Luigi and is topped with mozzarella, pork cracklings, black pepper, cheese, basil and slightly stained with tomato passata: a delicious and very popular flavor combination. Pizza devotees can't go wrong with the pizza Margherita or the simple yet delightful pizza Marinara, either. As a testimony of the Sorbillo family's desire to promote pizza as a Neapolitan gastronomic heritage, on the same block is "Casa della Pizza", a place dedicated to Aunt Esterina, and where right next to the wood-fired oven is a conference room. But Sorbillo is unstoppable, and so on via Toledo is another eatery dedicated to Aunt Esterina, "La Pizza fritta di Zia Esterina", where the fried pizzas are made with organic flours and stuffed with quality products.
Starita - tradition and cultural heritage
Born in the early 1900s as a wine cellar and transformed into a pizzeria after WWII, this place's goods were brought to fame in the 1954 Vittorio De Sica film, "L'oro di Napoli". in which Sophia Loren sells pizzas "oggi a otto" that is, eaten on the say and paid eight days later. This historical hunger-buster formula is nowadays remembered on Starita's menu with a dedicated pizza stuffed with ricotta, pepper, pork cracklings and tomato passata. The pizzeria's symbolic pie is however the montanara: the just fried disk of dough is topped with tomato sauce and provola cheese and then warmed for a few seconds in the wood-stoked oven. This dries the grease and allows the cheese to melt. Doughs are left to rise for twelve hours and the portioned buns during that time are kept in stacked Douglas fir crates which absorb humidity and maintain textures elastic and oxygenized. The long wait in line is part of the deal here, but the pizzas more than make up for it. Service is rapid and courteous.
Villa Giovanna - breaking the rules of pizza
Francesco Formisano, wife Renata Sitko and his son Ciro have invented a unique staff format for Italy. There's no longer only a single "pizzaiolo" baking the pizzas, rather a super-specialized team where everyone's skills are employed yielding top results. Three people work at the pizza counter: one stretches the dough, one lays the toppings and one bakes the pizza working the oven. Doughs are created by the expert hands of a flour-worshipping food technologist who has transformed the kitchen into a veritable dough lab. Should patrons happen to bump into him in the dining room, they'd hear talk of amylase, polysaccharides, naturally and controlled temperatures, maturation, dough acidity – and the rest of the scientific research that goes into Villa Giovanna's delicious pizzas that are also light on the digestive system. The pizzeria is located at the foot of Mt Vesuvius, in the heart of baccalà (cod) territory. Hence a menu must is the pizza topped with chickpea cream and baccalà, and also the pizza Slow Food, made with Presidia foods like San Marzano tomatoes, fiordilatte cheese from Agerola, capers from the island of Salina and anchovies from Menaica. Another favorite is the seasonal pizza with Corbara tomatoes and small green sweet peppers. Villa Giovanna is also a traditional à la carte restaurant, which offers dishes that complement the pizza offer. Francesco treats customers to dessert, the beer and wine list is growing and the welcome is always excellent.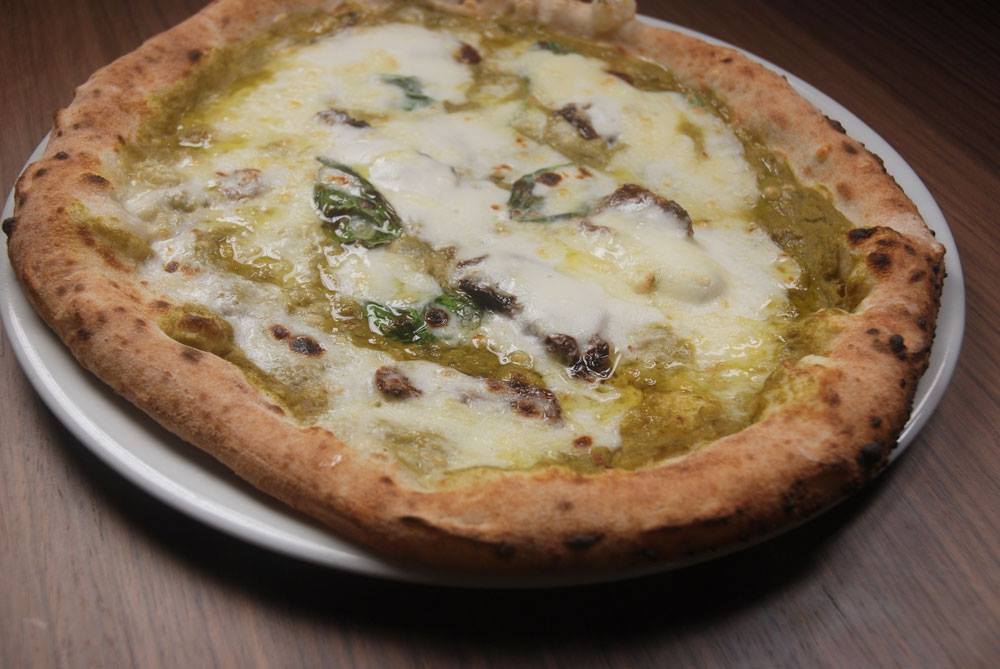 Era Ora - no yeasts and lots of ideas
Palma Campania is a regional center of gravity, equidistant from Caserta, Salerno and Avellino, an area dotted with masseriefarmhouses among small rural villages. This is where Pietro Parisi has based his kitchen/pizzeria, relying mostly on local ingredients and his farmer friends. The menu is an innovative one both in content and form, a sort of magazine that clients can take with them at the end of the meal to be entirely read at one's leisure. The front line is constituted by pizzas "al lievito fujuto" made with innovative, yeast-free doughs that employ the whey conservation liquid of mozzarella di bufala in place of the leavening agents. As far as recipes and toppings, don't miss the pizza Marinara made with Volti tomatoes, oregano from Trabucchi and braided garlic. Then there's the second line of pizzas, which adhere more to tradition: the pizza Casertana made with pancetta, local variety annurca apple and provola cheese; or the fried pizza with pork cracklings, farmer's ricotta, provola cheese and salami of the palle di Nola variety: an explosion of flavor which does not weigh on the digestive system. The handsome beer and wine offer complements the smiling and competent service staff.
Salvo da Tre Generazioni - the elegance of pizza
The Salvo brothers' formula works like clockwork: patrons are welcomed like royalty, seated and introduced to one of the best pizza meals in the entire area, full-on Neapolitan style. The dining room is fitted with white linen tablecloths and silver flatware. The fried starters are droolworthy, to the point that it will be hard to find the best among them: pasta and potato frittata (one-way ticket to paradise), potato croquettes, and the house classic fried pizza, which is stuffed with caramelized onions and ricotta and served with a shot glass of Marsala wine. And now, the pizzas. The two dome shaped wood-fired ovens at the entrance shell out perfectly baked pies, whose elastic and melt-in-your-mouth crust is topped with the best products the area has to offer, ingredients sourced in the surroundings directly by the owners themselves. The pizza topped with Paestum artichokes and pancetta is delightful, the pizza Margherita by Gennaro Esposito is sensational in its simplicity: tomato filets, fiordilatte cheese, 30-month aged Parmigiano and quality olive oil. The wine offer – both by the glass or bottle – is in constant evolution.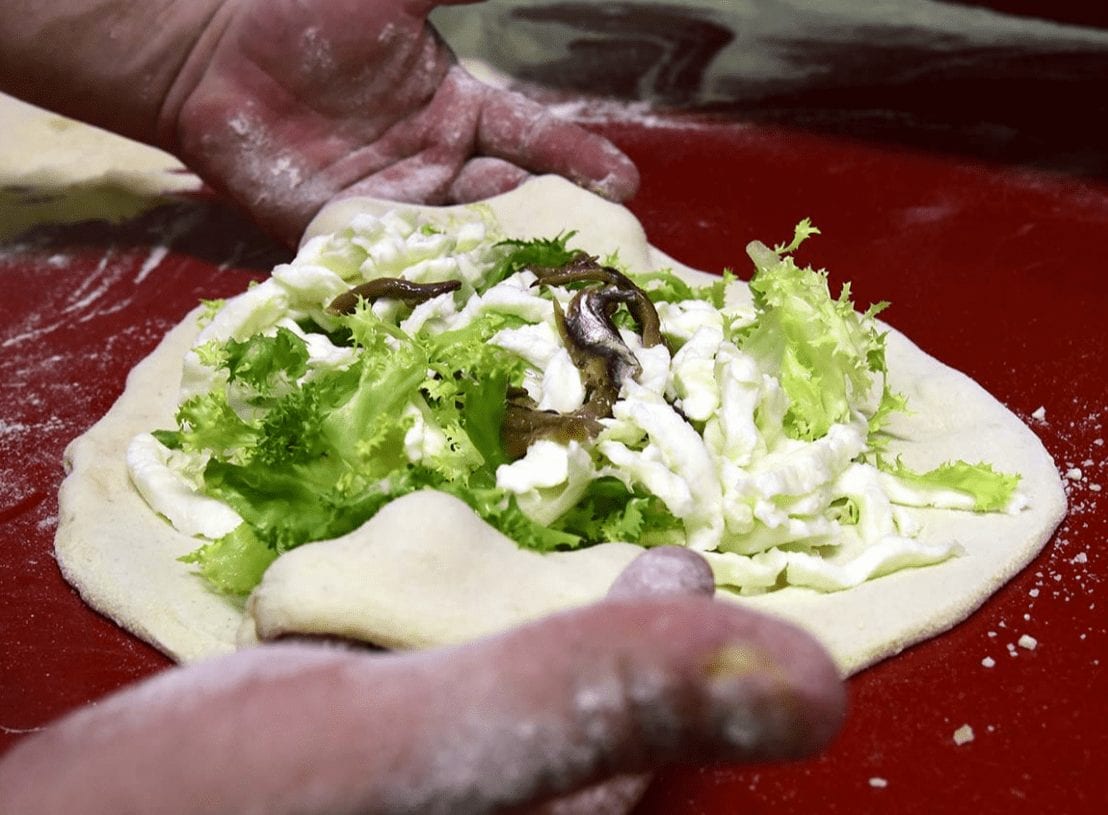 Palazzo Vialdo - fresh and local ingredents
In Torre del Greco, the Di Prisco family employs pizzaiolo Gianfranco Iervolino, who skillfully designs a stellar pizza menu which follows the tempo of the seasons and relies on carefully sourced local ingredients. Among these, great care is given to the selection of extra virgin olive oils dribbled on the house pies. Great balance in flavors can be found in the pizza Corbara topped with mozzarella di bufala, local Corbara tomatoes and their savory jam, petals of Provolone del Monaco cheese, olive oil, fresh basil sauce and Parmigiano Reggiano. Freshness is the key word of the pizza Jervolino, topped with cauliflower puree, fresh shrimp tails, olive oil, gossamer strips of lardo di Colonnata and the aroma of Sfusato Amalfi lemon. Same goes for the pizza Cetarese, topped with tuna and anchovies from the fishing village of Cetara, Corbara tomatoes, mozzarella di bufala, Mt. Vesuvius olive oil and basil, all added raw on the baked crust. There's an ample choice of beers, bubbly and wines to be paired to the pizzas.
50 Kalò | Naples | piazza Sannazzaro, 201B | tel. 081 1920 4667 | www.50kalò.it
Pepe in Grani | Caiazzo (CE) | vicolo San Giovanni Battista, 3 | tel. 0823 862 718 | www.pepeingrani.it
Attilio alla Pignasecca | Naples | via Pignasecca, 17 | tel. 081 556 8774
Fresco | Naples | via Partenope, 8 | tel. 081 552 0479 | www.frescotrattoria.it
La Notizia | Napoli | via Michelangelo da Caravaggio, 53 | tel. 081 714 2155 | www.pizzarialanotizia.com
O' Pizzaiuolo Guglielmo Vuolo - Eccellenze Campane | Casalnuovo di Napoli | via Nazionale Puglie, 325 | tel. 081 522 4551 | www.eccellenzecampane.it
Sorbillo | Napoli | via dei Tribunali, 38 | tel. 081 033 1009 | www.sorbillo.it
Starita | Napoli | via Materdei | tel. 081 557 3682 | www.pizzeriestarita.it
Villa Giovanna | Ottaviano (NA) | via Valle delle Delizie Fine SP159 | tel. 081 827 9014
Era Ora | Palma Campania (NA) | via Trieste, 147 | tel. 081 858 7591 | www.pietroparisi.it
Salvo Da Tre Generazioni | San Giorgio a Cremano (NA) | largo Arso, 10 | tel. 081 275 306 | www.salvopizzaioli.it
Palazzo Vialdo | Torre del Greco (NA) | via Nazionale, 981 | tel. 081 847 1624 | www.palazzovialdo.it
by Eleonora Baldwin