Initial impressions. The first day of Zuma Roma
Elegant, yet not ostentatious. This is tangible already from the main entrance on Via di Fontanella Borghese, where only a discreet plaque suggests that at Palazzo Fendi there is now room for Zuma. The international dining behemoth has ten restaurants worldwide, Rome is number eleven but Las Vegas is already in the works. After a polite greeting, a lift brings us up to the penthouse, where the mood shifts: dimmed lighting and a curved hallway of pink marble and bamboo wood directs us to a spacious dining room. Rainer Becker's contemporary izakaya is a careful assembly of elements stemming from the owner's unconditional love for Japanese food culture. Don't be expecting merely sushi, sashimi, tempura and matcha tea.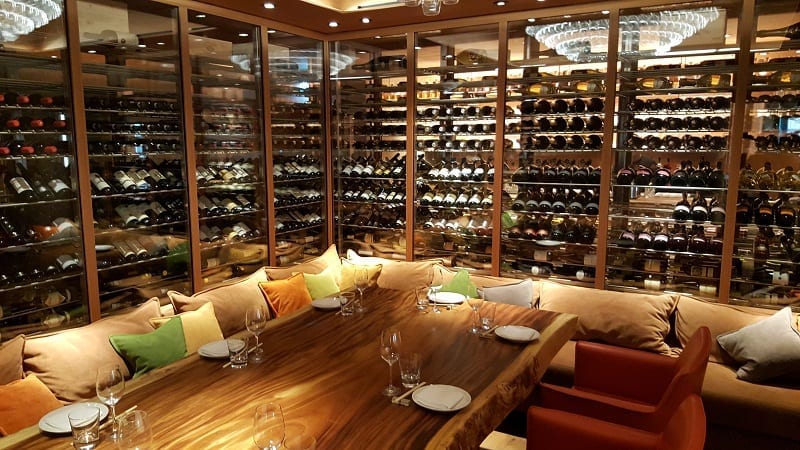 We are in Rome after all, and the views from the windows – in anticipation of discovering the attic terrace – confirm this. The Eternal City is all there: terracotta rooftops, Fuksas' glass "lantern" skylight atop the '900s Unione Militare building, the massive dome of the San Carlo church, the straight line drawn by Via dei Condotti and the twin steeples of Trinità dei Monti perched above the Spanish Steps. It's in the dining room that Zuma's unique identity is fully revealed, thanks to the exposed granite bricks on the walls, Thai wood tables, plush tailored seating upholstered and designed especially, pastels and occasional splashes of red. As per all the Zuma restaurants, the design is curated by Noriyoshi Muramatsu, partner from day one of team Zuma. The designer's hand customarily transforms the philosophy of the four elements of Nature, adapting it to the needs of each city. There's even a private social table located in a secluded area, and another intimate space in the wine cellar. Dining in the main room allows however to appreciate the heart of the very format that has made Becker and his financial partner Arjun Waney world known restaurant celebrities. Two masterminds behind an empire whose care for detail and standard control have made all the difference.
High standards and informal service. The style that sets Zuma apart
The restaurant welcomes its very first customers, but the service appears well up to speed, despite the challenge of grand opening turnout. There's an inevitable curiosity for Zuma's unusual essence: a concept of cuisine and service yet to be found in the Roman ethnic food scene. And from the onset the broken into cog-system satisfies (and exceeds?) all expectations. For each new opening, the house rules demand a training period of two months for head chef, Maître D' and sommelier, following the example of Zuma London in 2002, where it all began. In the meantime, the entire – entire! – personnel hired on site is trained to sustain customers in choosing from the menu, answer queries and transmit the love for that very Japanese food culture that permeates the Zuma world. The full staff – in Rome, Zuma has provided work to 65 people, international investors, prick up your ears! – is engaged together to train for four weeks prior to opening night in order to fine tune rhythm and find synergy among employees, who all end up sharing the project's spirit. Initially reservations will purposely not be taken to full capacity. The evident result of this strategy is an efficient, young and by certain standards surprisingly informal service, as far as what is commonly perceived. Each one finding their place and each one making a difference. Considering what we're used to in restaurants of a certain level, this definitely comes as a surprise.
Zuma at the table. Price policy and food philosophy
Equally surprising is the contained policy adhering to prices, despite the excellent ingredient quality and the minute detail and research operated to exalt them. At lunch time – in order to also comply with local demand – a meal can cost as little as 28 Euro by ordering the so called ebisu: miso soup, a choice between two starters and an entrée. Dessert can be had paying a small extra. There's even a slightly more contained formula priced 21 Euro. Even browsing the menu the range of dishes and prices is varied and affordable, well-structured among cold dishes, salads, robata, sushi and sashimi. If on the other hand patrons are happy to spend, the menu can indulge that too. Those wishing to pay 30 Euro are free to as well. At Zuma, as told by Rainer Becker himself, "the idea is promoting authentic cuisine, this does not mean strictly following Japanese tradition, nor turning completely to fusion". This is because Becker – after years as executive chef at the helm of Park Hyatt in Tokyo from 1993 to 1999 – has decided to lend his own interpretation to the culture he is enamoured of, without renouncing the license to adapt it to foreign palates, nor hindering his own creativity. "I remember my beginnings in Japan: I held some prejudice in regards to tofu, I had a hard time adapting my palate to those somewhat flat flavors (Editor's note: in Japan, for example, vegetables and greens are less savory than in the Western equivalent). I had to work backwards in regards to how we'd normally do with a Thai curry, which we habitually load with spices. Then I researched the most authentic experiences and found all the local expressions of a cuisine rich in alternatives: I fell in love with everything".
Izakaya. What is it?
Hence the idea of introducing in Europe the concept of izakaya. For the Japanese this is an informal table where good food can be shared among table occupants. The word 'izakaya' is a crasis of the Japanese words for "sitting", "sake" and "shop". A place to wind down after a day at work, ordering from a menu that includes various dishes, from robata and ramen, to sashimi and soup. It is the equivalent of an informal eatery like a pub, and characterised by classic red lanterns hanging outside: a low class sign that's very popular in Japan, one that denotes a much more affordable locale than other kaiseki places. This does not mean however that the izakaya table is lacking in terms of quality. The simultaneous presence of diverse cooking techniques and food workmanship – a play of textures and shapes in each plate – and the the rhythm of its dish sequence all concur to making it an unmissable gastronomic experience. Eating at the izakaya table allows to discover the most authentic identity of Japanese cuisine with a specific prerogative: sharing plates served at the center of the table so that all diners can serve themselves at their pleasure.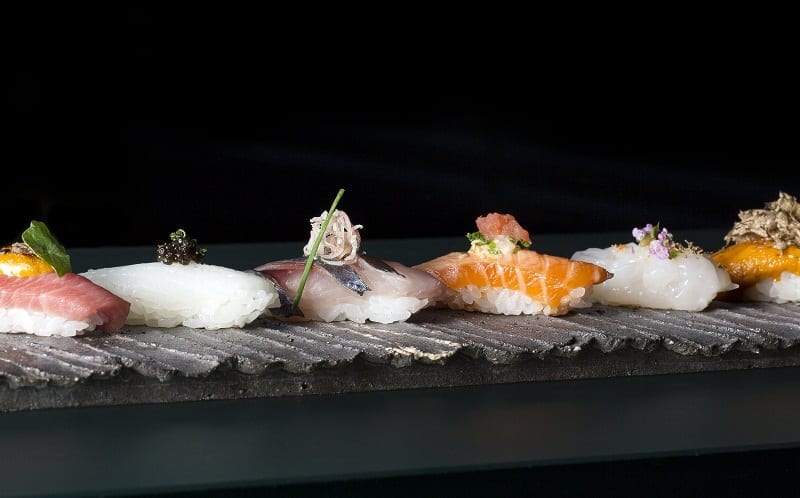 photo by John Carey
Tasting Zuma. Robata and the sushi counter
Sampling is what happens at Zuma, where the experience is enjoyed most by picking dishes from the menu among many different options and then tasting them from each other's plate, exchanging opinions between a bite of angler fish tempura with yuzu (16 Euro) and beef morsels grilled with soy sauce, garlic, ginger and green pepper (9.30 Euro). One thing is for sure, simply tasting sushi and sashimi here would mean not seeing the full picture. Better instead to experiment tasting Japanese cuisine free of all Western preconception. The menu holds no rigid explanations, flowing seamlessly from one category to the next, with taste buds teased mostly by the grilled specialties. Becker's other merit is in fact being the first to introduce the West to so-called robata. Customers at Zuma are greeted with robata as they enter. Charcoal-fueled grills on three different heights, manned by a large number of cooks, whose aroma permeates the air with the delightful maillard reaction scent of caramelized foods. Robata grilling is as ancient as it is traditional in Japan, in Italy it is pretty much unknown. On the grill you'll find beef filets and giant prawns, lamb chops and chicken wings, mushrooms and sweet potatoes, or mouthwatering skewers of bacon pancetta with miso-flavored yuzu mustard (8.50 Euro). The buzz around the grill counters the seraphic dance of the sushimen on the opposite side of the room, sculpting nigiri and maki behind the counter, where silence amplifies the solemn preparation involved in the art of sushi.
Tasting Zuma. The menu
The multiple faces of Zuma don't end at that: from the kitchen emerge also salads – truly worthy of mention is the signature salad (12 Euro), with tasty and well-balanced miso sauce – mouthwatering cold dishes like the amberjack dribbled with green chili pepper sauce, garlic and ponzu, or the brined bass with yuzu and truffle oil (again it's only sauces and condiments that close the circle) both sold at a little over 14 Euros. Coordinating manoeuvres in the kitchen is head chef Massimiliano Blasone (trained under Heinz Beck), who following directives by Bjoern Weissberger (executive chef and right arm of Becker in all Zuma restaurants) has already found his place and settled well in the Zuma dimension. While managing suppliers, he tells us in a few words what it means to enter the Zuma world: "the quality of the ingredients is very high, fish arrives from the best Tyrrhenian Sea auctions, from Civitavecchia and Terracina. The meat hails from reliable suppliers, as does the local produce which I purchase at a trusted stall in the Campo de' Fiori market. As far as olive oils, we favour delicately fruity Ligurian, Tuscan and Sicilian oils. Each product must respond to the needs of a cuisine based on balance as its primary goal, and sauces and condiments as its strong points".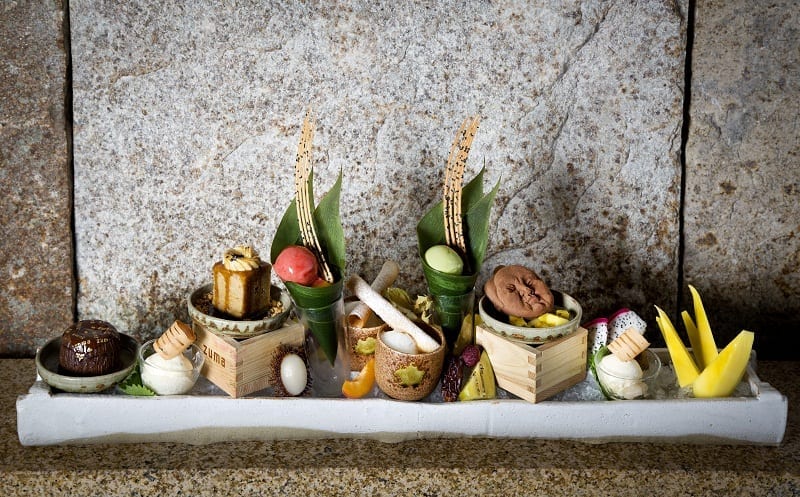 photo by John Carey
The sake list
Like Blasone, there are many other Italians in the Rome Zuma project. One of these is Michele Brando, already part of the team way back in London. Brando manages the wine cellar, but he is (mostly) a sake sommelier. In London, after years of sake culture training, the labels are now beyond 300 (there is no equally listed sake library in the British capital); in Rome there are "only" 20 at the moment, but the aim is reaching 50 soon, especially featuring small producers. It's important to make sake become an integral part of the Zuma experience, serving it paired to the meal to bring out the umami in the dishes or used in the sauces. The outlook is fascinating. Michele Brando is there to satisfy any curiosity: from instructing on correct serving temperatures for each product, pointing out diverse degree of aromatics, to pouring at varied levels of fluid viscosity.
The secret for success according to Becker
Holding the reins is always Rainer Becker, playing the role of "mentor and inspiration" which he has cut out for himself over the years. Always present yet constantly around the world, he reflects: "In the last decade the consideration for Japanese cuisine has changed: today there is no longer prejudice. People want to experiment new things. We have to be able to remain authentic while constantly improving. This means carving out for each new opening a specific identity, even if our menu is 70% signature dishes that our aficionados have showed the most appreciation for over the years. Yet every year we allow ourselves to add a dozen new dishes on the menu, stimulated also by contact with the hosting city". While Becker speaks, desserts reach our table. He confesses he is very fond of them, considering how Japanese culture does not have a dessert culture that is particularly compliant with our Western palate. But a style interpretation at Zuma is possible. Proof of this are the exotic fruit Chawan mushi, and the revised Pecan pie made with sweet potatoes.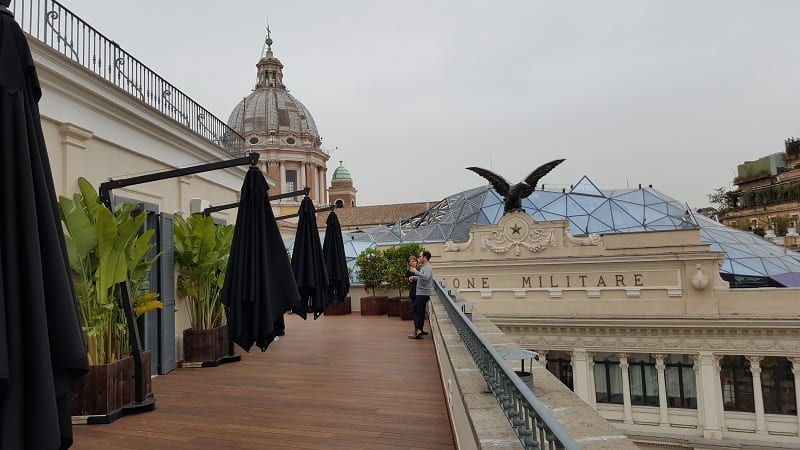 The surprise. The bar on the terrace
Are we done? No, and all it takes is climbing up a set of stairs to find out why. Next month the terrace bar with breathtaking views over the city will be fully operational. Cocktails will be mixed artfully by Stefano d'Ippolito, who will mostly be riffing on both classic and signature Negronis, which can be aged in barrel or bottled (in addition to being aged with sake). On the terrace that can seat 60, or on the comfortable bar stools of the wood paneled indoor attic, it will be possible to drink and eat thanks to a supporting upstairs grill and kitchen, choosing from a reduced menu, from 5 pm to late night. Music, entertainment and competitive prices ranging between 12 and 14 Euros for a fine cocktail and a view like no other in town.
We're betting it will be a Roman summer must.
Zuma | Rome | Palazzo Fendi | via di Fontanella Borghese, 48 | tel. 06 9926 6622 |www.zumarestaurant.com/zuma-landing/rome/holding
by Livia Montagnoli
translated by Eleonora Baldwin