Street food in India
Spicy flavours, inebriating aromas, a culinary culture whose origins are lost in the mists of time: fascinating, enveloping, multifaceted, Indian gastronomy has its say on every front, starting with iconic dishes such as curry stews and ending with many typical sweet preparations. Centuries old recipes that have been modified over the years depending on ingredient availability and many cultural influences. The Indian table is also famous when it comes to street food: here are some of the portable foods not to be missed.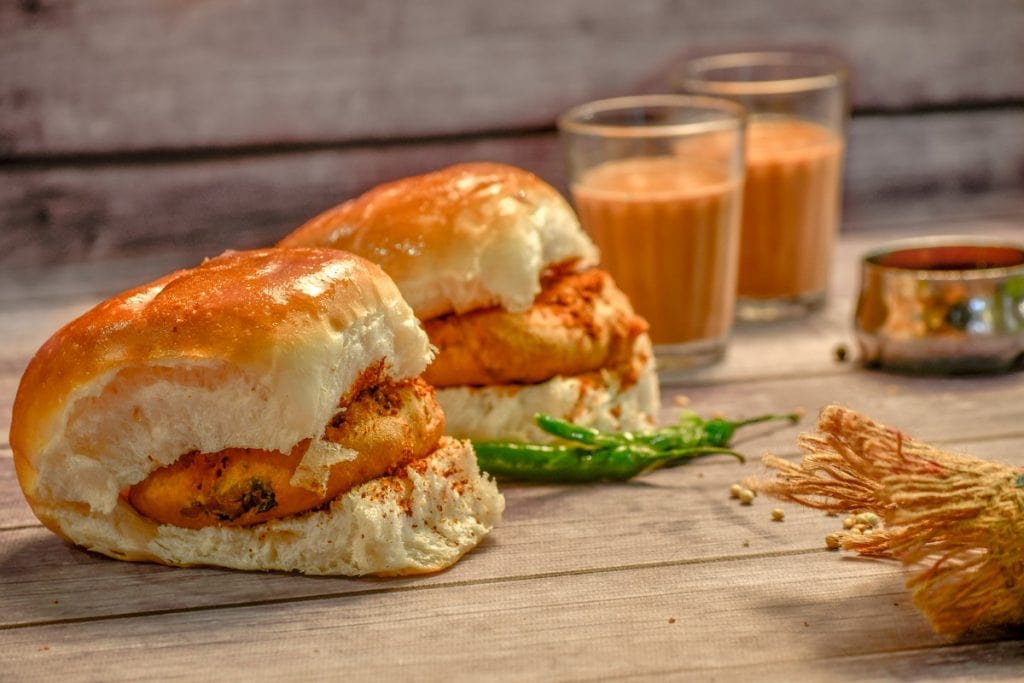 Vada pav, the sandwiches symbol of the working class
There are many variations of potato fritters around the world. India also has its own version, with vada, tartlets made with boiled potatoes, onion, green chillies, coriander and various spices, dipped in a batter made with chickpea flour and fried. They can be enjoyed alone, but their best expression is in the vada pav, a soft sandwich created thanks to the merchant Ashok Vaidya in the 1960s. The politician Balasaheb Thackeray at that time appealed to the inhabitants of Maharashtra to become entrepreneurs, investing in dining as was already happening in the south of the country. Vaidya then created a kiosk outside Dadar station, one of the most important in Mumbai, where he sold vada and poha, crushed and dried rice, next to an omelette stand. One day, he tried to add potato fritters inside the omelette, adding chutney to the filling, a winning recipe that inspired him to create a stuffed sandwich. Over time, the vada pav became the typical snack of the working class, because it is easy to make, substantial but above all affordable: the popularity of the snack increasingly grew, and still today you can find many street food stands specialised in this simple but delicious recipe.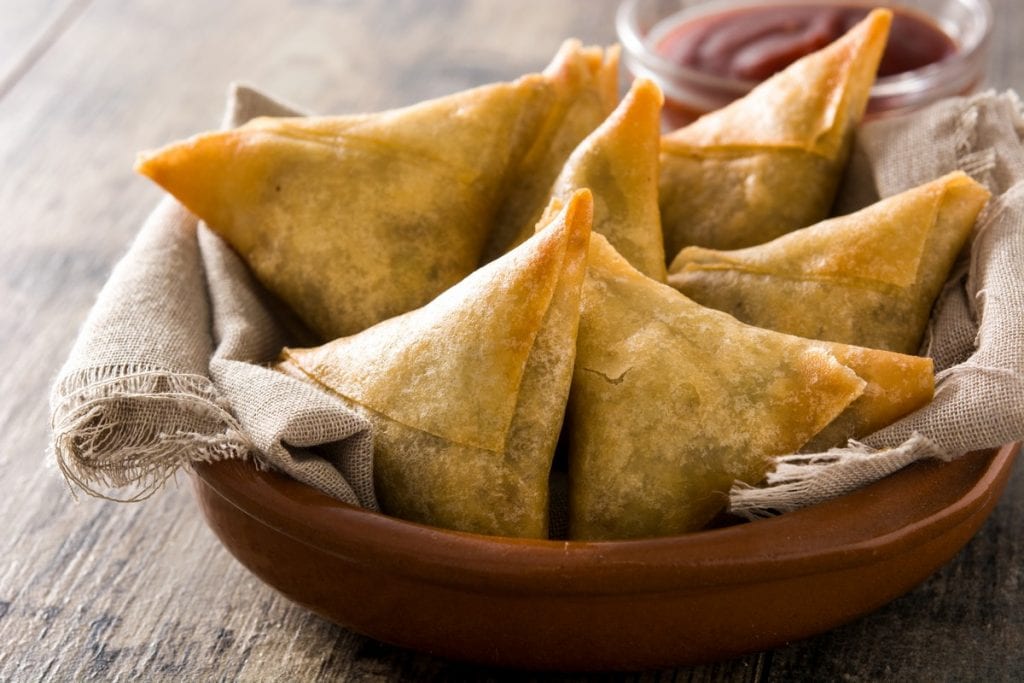 Samosas, spiced triangles
Bundles of thin dough with an unmistakable aroma, stuffed with vegetables, fried and irresistible: samosas are probably the most famous Indian street food, widespread in many other Middle Eastern countries with the necessary local variations. A primordial form of the samosas was the sanbosag, mentioned in Persian texts of the early Middle Ages, while other written sources speak of sanbusak or sanbusaa, small triangles filled with minced meat consumed by travelling merchants, who carried them in their saddlebags to have a quick, nutritious and practical meal. It seems that it was thanks to the merchants that samosas arrived from Central Asia to North Africa, then passing through East and South Asia. In India, however, they arrived thanks to Middle Eastern chefs who emigrated for work during the Delhi sultanate.
The use of ghee in India
Today they're mostly found in a vegan version, stuffed with potatoes and other vegetables cooked and seasoned with different spices, but originally they were made with meat, as also found in the writings of a Moroccan traveller from the Middle Ages, Ibn Batuta, who wrote: "Sambusak are a mixture of minced meat, almonds, pistachios, onion and spices, placed inside a thin bag of wheat fried in ghee." Speaking of ghee: this is a fundamental ingredient in Indian cuisine, clarified butter - heated so that the water and milk proteins separate - born due to the country's high temperatures, which in the past did not allow for optimal classic butter conservation. Clarified butter, in fact, lasted longer, and thus entered by right in many recipes, as well as in Hindu mythology: legend has it that Prajapati, lord of creatures, invented it by rubbing his hands, then throwing it into the flames and giving birth to his offspring. It is for this reason that, even today, Hindus pour ghee into the fire as an auspicious sign during weddings or other special occasions.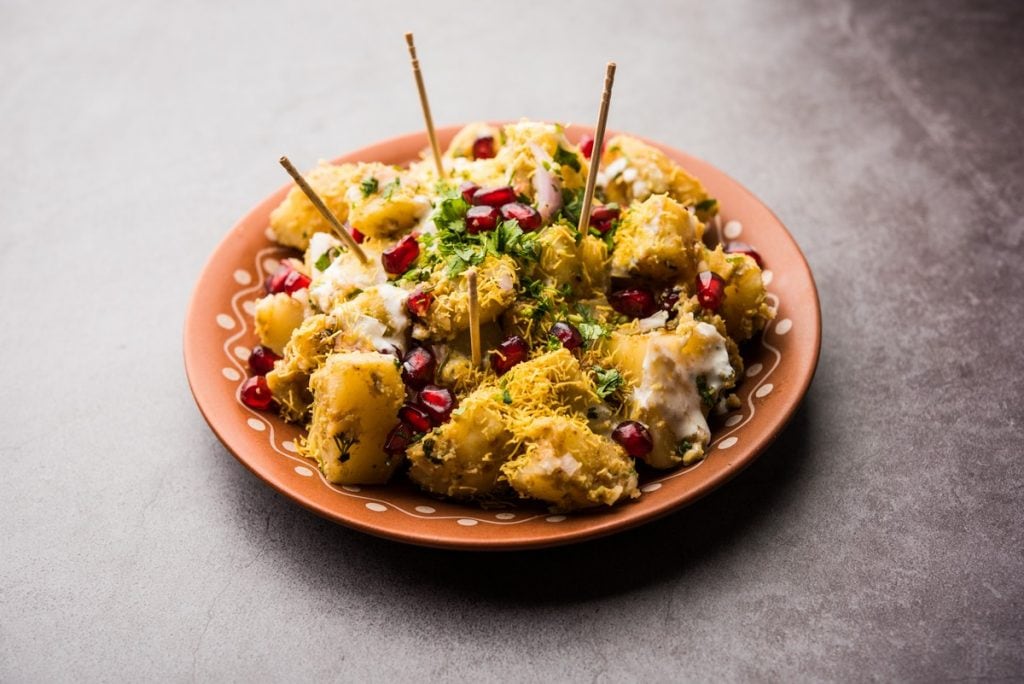 Chaat, a specialty to cope with the cholera epidemic
Fried spiced paste seasoned with different ingredients: never as in the case of chaat, are there many variations. According to folk tales, the dish was born during the Mughal dynasty, in particular during the reign of Shan Jahan, famous for the creation of the Taj Mahal: according to legend, chaat is also his invention, born to cope with the cholera epidemic in the Sixteenth century. The water was contaminated at the time and could not be consumed directly, so court physician Hakim Ali suggested mixing it with tamarind, coriander, mint and chilli to eliminate bacteria. There are no certain sources, however, about the origin of chaat, but the recipe has survived until today, probably called so because of its goodness: chaat means "to lick" and it seems that people went so crazy for this specialty to the point of licking their fingers. Today chaat is eaten as an appetiser or snack, and are fried balls similar to leavened batter, seasoned with vegetables, herbs, spices and accompanied by spicy sauces.
by Michela Becchi