Street food in Germany
German cuisine is not particularly famous for its richness, but like all countries it actually preserves ancient and delicious recipes, which make up an authentic table, made up of simple flavours largely the result of peasant culture. However, ubiquitous to streetside kiosks and Christmas markets are the most famous symbols of national gastronomy: sausages, potatoes and brezels. Here's how these street foods to be savoured while walking were born.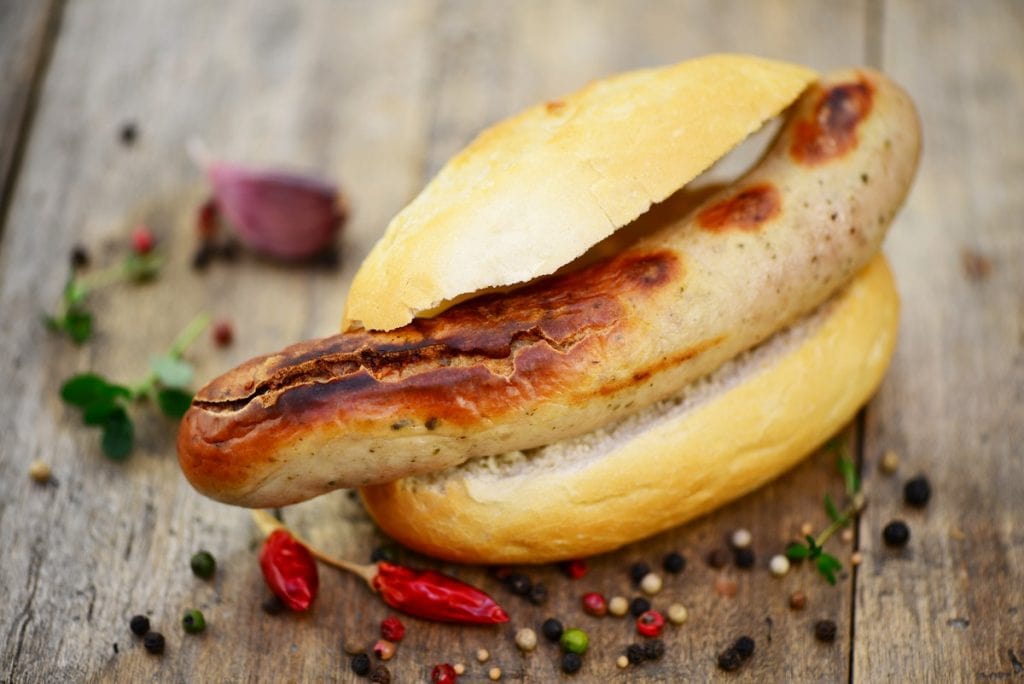 Bratwurst, the symbol of German street food
There is no Christmas market without bratwurst, the famous German sausages ubiquitous in cities year round. It is the street food par excellence in Germany, perfect to be enjoyed in a sandwich: the origins of the product are uncertain, but we know that in the beginning sausages were made with pork scraps, put together so as not to waste anything in the periods of famine, ideal for sustaining the population during the cold winter. Stuffing leftovers in a casing was also the best way to preserve them, a very ancient practice that, according to historian Heinrich Höllerl, dates back more than 600 years. Authorship of the sausage has always been disputed between Thuringia and Franconia, although Hollerl himself believes that a primordial form of bratwurst was actually invented by the Celts, and only later spread to Germany.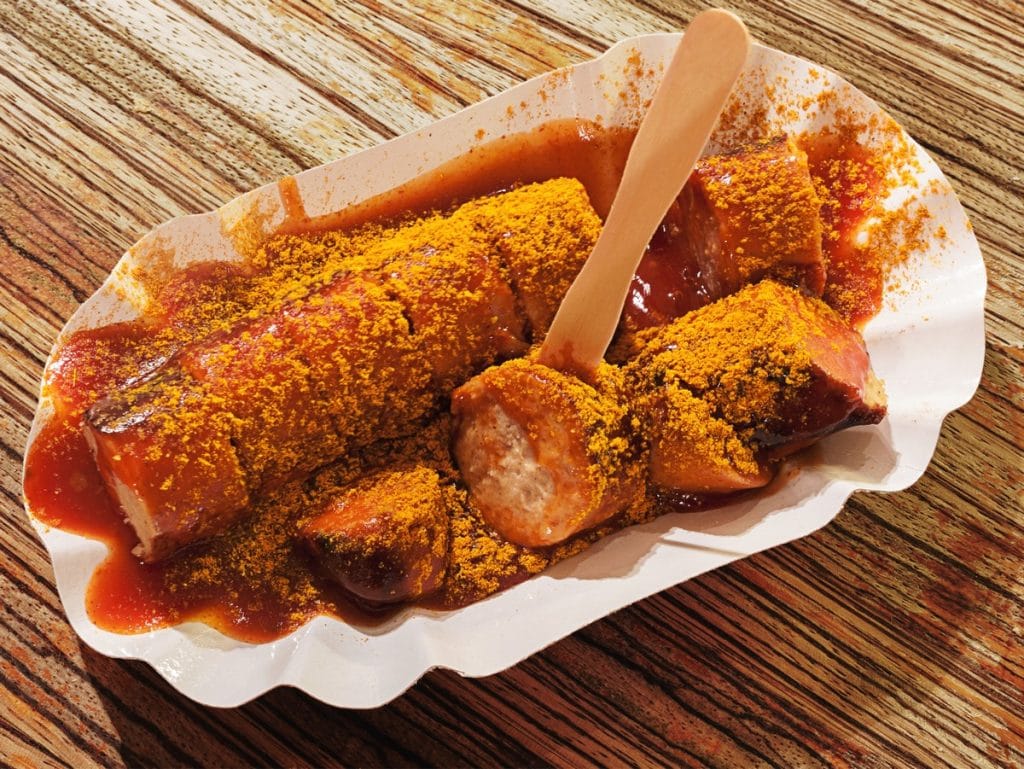 Currywurst, sausage with spiced sauce
The name, however, derives from brat, which means "finely minced meat" and wurst, sausage. Traditionally pork was used, but today it can often be replaced with veal or beef. Ready-made sausages can be grilled and stuffed into a sandwich, or cooked in a pan and served as a main dish together with sides (mashed potatoes, for example), or even boiled in broth or beer. More spicy and modern variant of bratwurst is currywurst, particularly popular in Berlin, probably born thanks to cook and entrepreneur Herta Huewer, who first offered it in her restaurant for the first time in the late 1940s. It is simply boiled bratwurst and then sprinkled with a sauce made with tomato, ketchup and curry.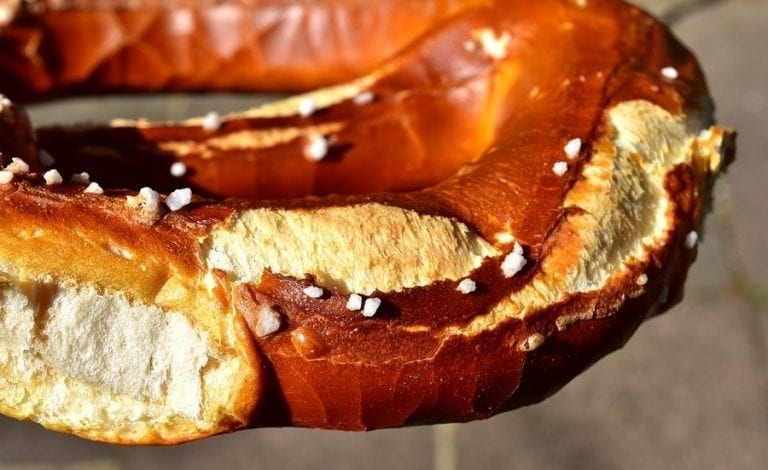 Bretzel, the baked snack
Bakery art in Germany is serious business. German bakeries can boast a series of delicious breads, from rye loaves to seed-rich buns, without forgetting the more elaborate desserts. But the real star of bakeries, the protagonist of many kiosks and carts scattered throughout the country, is the brezel. Symbol of German cuisine, this brown-coloured specialty actually has Alsatian origins: legend has it that in the past brezel was donated by monks from the South of France as a prize to children who could memorise the verses and prayers of the Bible. From here the name would also derive: pretiola, reward, a delicious homage that then spread to all the Germanic countries and in South Tyrol. Crossing the Alps and Germany, the pretiola became known as pretzel or brezel, first consumed half raw and then only later toasted thanks to the mistake of a baker, who fell asleep on the job and burned them. Once a symbol of luck and prosperity, brezel are now among the most consumed baked goods in all German cities. Entirely covered with coarse salt, the characteristic of these amber-coloured breads is their knotted shape, which makes them a fun snack for the little ones.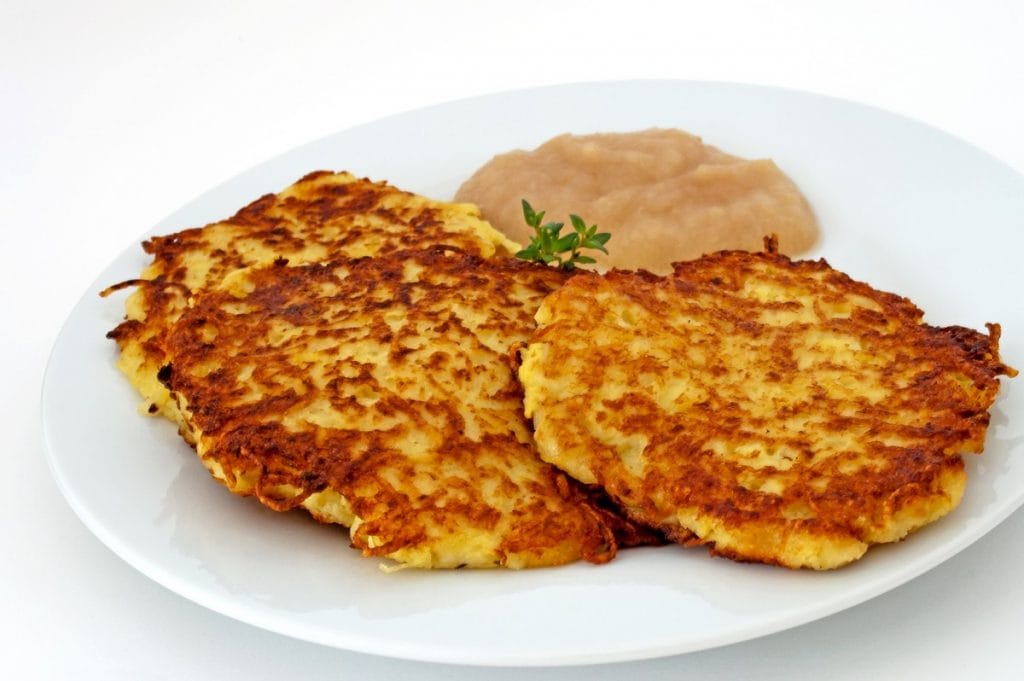 Kartoffelpuffer, German potato pancake
The love story between the Germans and potatoes is an endless one. In a salad with sauces as an inevitable side dish during a Sunday lunch, transformed into knödel, large fluffy gnocchi Bavarian style, and again in the form of mashed potatoes, baked or grilled: there is no German dish that does not go well with potatoes. They have been cultivated in Peru and Bolivia since the time of the Incas, but they arrived in Europe only in the Sixteenth century thanks to the Spanish conquistadores, in particular Gonzalo Jiménez de Quesada, who brought them back from the Andes in 1565. Like many new products, they were initially regarded with distrust, until Frederick the Great of Prussia decided to give them a chance in an attempt to help with an undergoing famine. Until the famous Kartoffelbefehl, the "decree of the potato" was signed in 1756 to encourage the cultivation of potatoes. Among the many recipes born as a result of the spread of the tuber, the most popular as street food is kartoffelpuffer, a pancake also known as reibekuchen, the protagonist of any carnival fair and popular festival in the country, in many more religious areas it's essential on Friday evenings. The first written record of the kartoffelpuffer dates back to 1877, and the basic recipe includes grated potatoes, onion, eggs and flour. It can be served with sweet or savoury dishes, and is generally accompanied by applesauce or sour cream.
Kartoffelpuffer recipe
1 kg potatoes
1 yellow onion
2 eggs
130 g flour
2 tsp salt
Black pepper
Extra virgin olive oil
Peel and grate the potatoes, then finely chop the onion. Dry the potatoes by wringing out all their moisture and then mix with the onion. Add the lightly beaten eggs, salt and flour and mix until smooth. Add freshly ground black pepper and heat the extra virgin olive oil in a pan. Pour spoonfuls of the mixture and serve hot.
by Michela Becchi