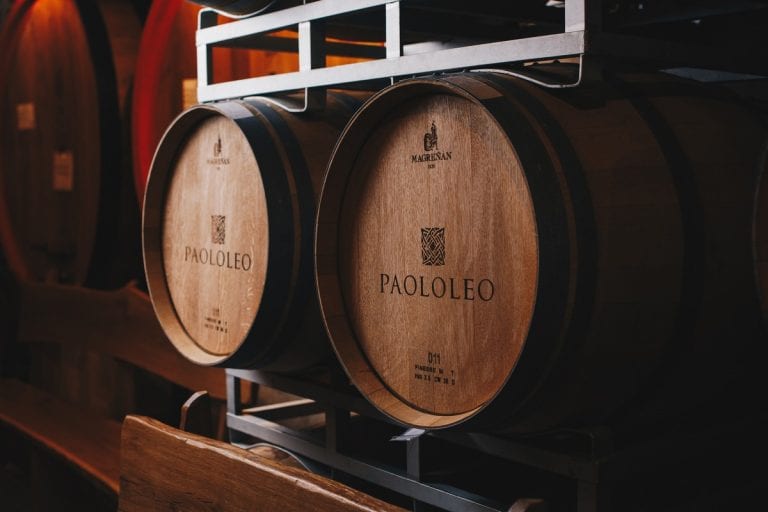 A passion for soil, for the vineyard, for the production of high quality wines, which are the mirror of Salento: here is the history of Paolo Leo and his family.
Nicola Leo, founder of the family and Paolo's father, began producing wine in Masseria Monticello at the beginning of the 1900s. The inheritance received is mostly based on the passion for soil, for the vineyard, for the production of high quality wines, which are the mirror of this wonderful corner of Puglia: Salento. Wines capable of also conquering international markets, thanks to finesse and textbook drinkability.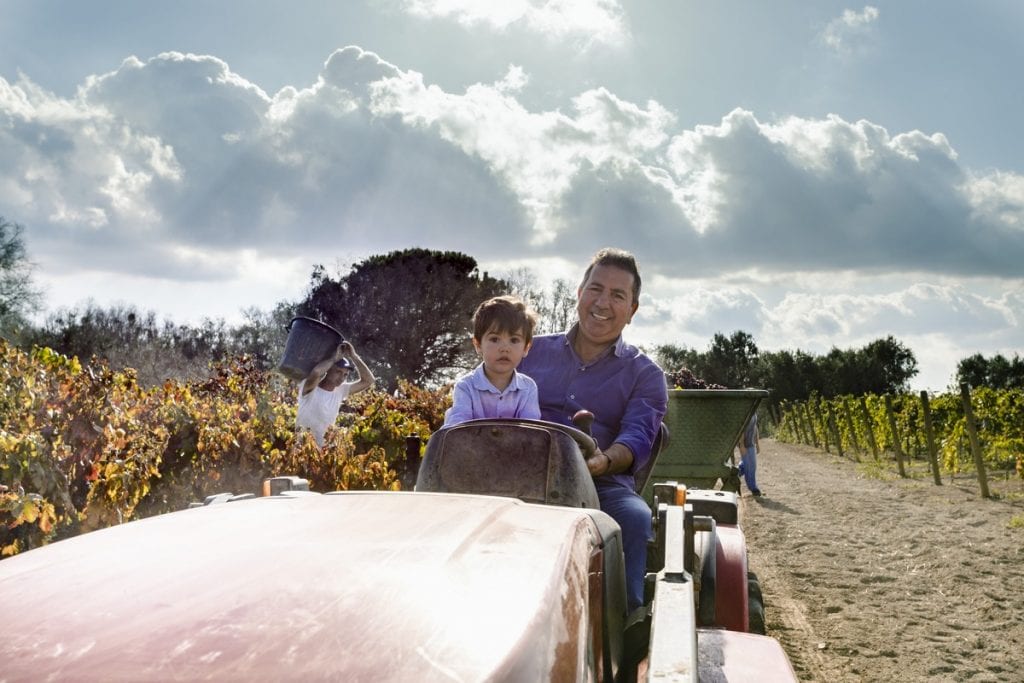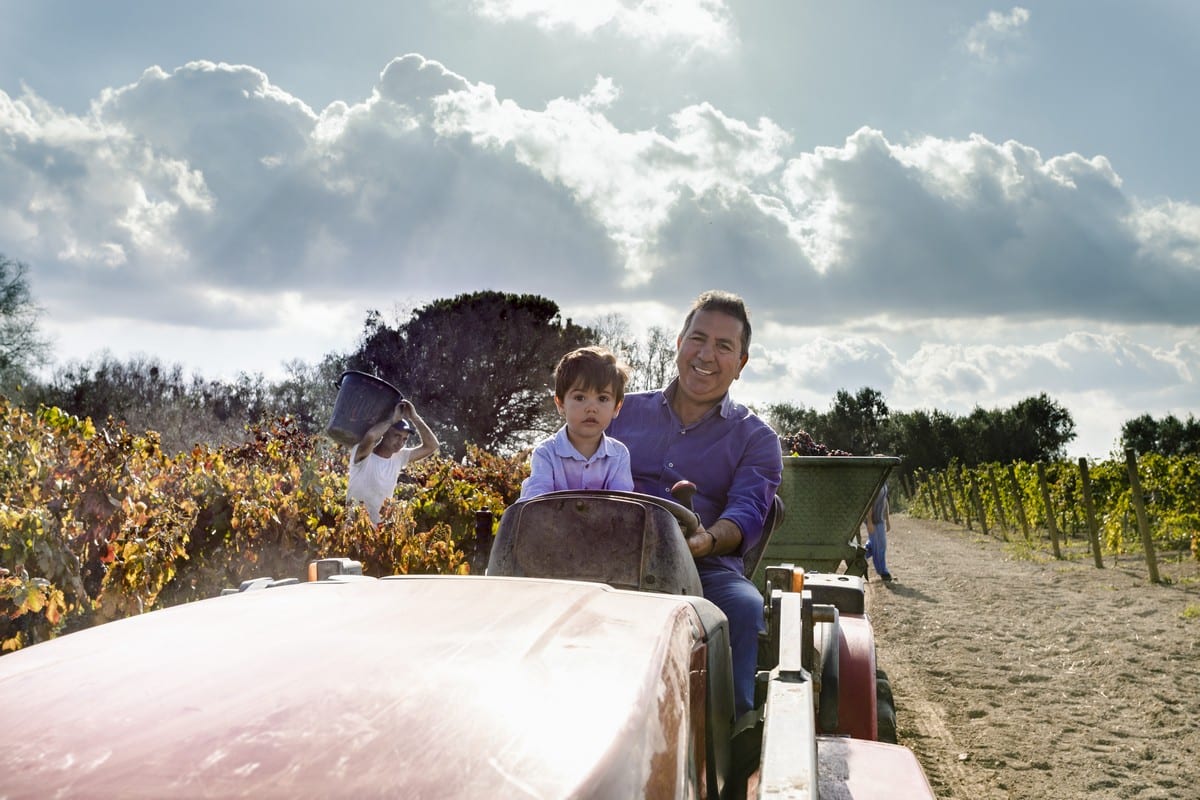 Currently Paolo runs the company, with the fundamental contribution of the rest of the family. "It was my paternal grandfather who started producing wine, his work relied more on commercial intermediation and the purchase of grapes – says Stefano Leo, Paolo's son. My father gave a change to the company, buying land and giving birth, in 2000, to our current farm. All the most important tasks are carried out by the family: the beacon guiding us in the great decisions is still our father, I take care of international markets, my brother Nicola is an oenologist, Alessandro is the group's brand manager, while Francesco, who recently graduated in economics is just now starting to pitch in his support. Finally, my mother takes care of administration, as well as hospitality and wine tours."
Where we are located
There are two wine-making cellars. The main one is located in San Donaci, in the heart of Salento, while the ther, recently inaugurated in August 2020, is located in Monteparano, at the gates of the Primitivo di Manduria appellation. Currently the winery counts on 50 hectares of vineyards, planted mostly in "alberello" training system. The Leos have always maintained this ancient way of conducting the vineyard, a true emblem of territory and biodiversity. The defense of the Apulian alberello is also implemented through a beautiful initiative called "adopt an alberello" where enthusiasts actually come into possession of a negroamaro plant, see its evolution and thus have access to a series of cellar initiatives. The soils where the grapes grow are predominantly clayey and calcareous, with the presence of sand. The climate furthermore makes the difference: the cold winds from the north, coming from the Adriatic coast, contrast with the warm winds coming from the Ionian Sea.
This creates very high temperature variations between day and night and a perfect microclimate for the ripening of the grapes. All characteristics that we then find in the glass… "Puglia is a very particular territory – continues Stefano– its beauty is also owed to the position of the region itself: Puglia is located between the two seas and we are in the center of three provinces: Brindisi, Taranto, Lecce. The soils are rich in minerals and lend wines lots of flavour, Mediterranean freshness, important tannins, but always ripe and silky. The proximity to the sea and the winds that dry the grapes, allow us to minimize treatments, thus implementing a management that "naturally" goes towards the organic regimen."
Paolo Leo in the World
"Currently, despite the particularity of 2020, we are very happy, and we estimate a growth of 20%. We try to bottle all our passion and this is understood very well in the world, plus our wines are always characterised by the utmost drinkability. We have large volumes in northern Europe and 2020 was supposed to be the year of the American conquest, where we invested heavily also thanks to the Gambero Rosso tours. Growth was only slowed down however, because in any case the sign is positive. In Asia we are present in the four Chinese cantons, but the region that gives us the most satisfaction is Taiwan. Japan is equally strong and from this year we are also present in Israel. Our wines are found in 36 countries around the world."
The wines
Many labels produced, divided into several lines. La Alture refers to the altitude of the vineyards, spread over plots above 350 meter altitude. Here the historic natives Apulian grapes grow, some of which are in danger of disappearing and on which the winery is focusing. They are verdeca, minutolo, bianco d'Alessano, susumaniello, black bombino and nero di Troia. Then there is the Paololeo line, the most important and full, which represents the essence of the production and is divided into classic, varietal, salento top, sparkling and top wines. Among these is Orfeo, flagship of the range, produced for the first time in 2000. It is precisely the Orfeo '18, made from negroamaro grapes, that won the Tre Bicchieri recognition in the Vini d'Italia 2021 Guide, winning the title for the third time. Recognition in hand, twenty years after the creation of the winery it's now time to take stock and to imagine the Paolo Leo company in the future. "It will be even more enterprising than today. There will be increased interest in innovation, we will grow our work as much as possible and, I'm sure, we will have many beautiful things to tell…"
Cantine Paolo Leo – Via Tuturano, 21 – 72025 San Donaci (BR) – www.paololeo.it
by Giuseppe Carrus