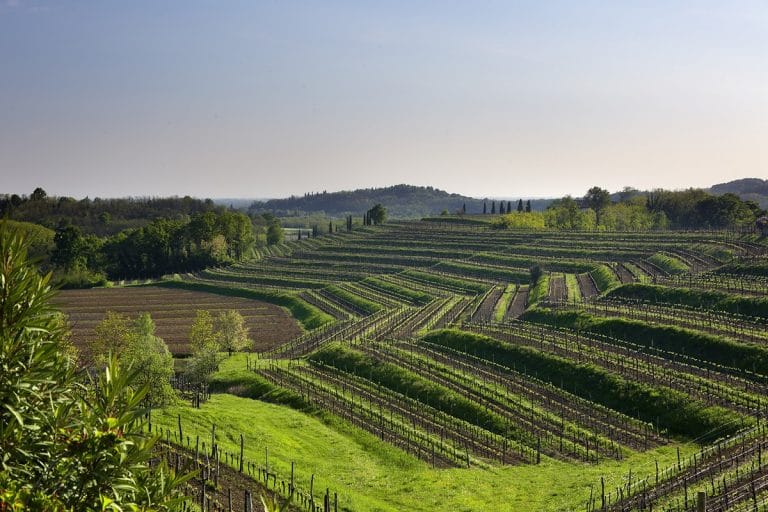 In the last year Genagricola has changed a lot, starting with management. Here's a double interview with new CEO Igor Boccardo and Sales Director Francesco Domini
Eight thousand hectares cultivated on the national territory, 25 farms, including 10 wineries and over 900 hectares of vineyards. These are the numbers of Genagricola, the holding of Generali, Italy's largest Italian agriculture conglomerate. In the last year it has changed a lot, starting with management. We met the new CEO Igor Boccardo, a manager with experience in various sectors, from L'Oréal to Unilever. "We started on a path that will lead us to not only be the largest Italian agricultural business––an important fact but in itself self-referring––we want to be the best in Italy. Especially in this moment in which the country is restarting. We are redefining the Genagricola Method that we will present when we celebrate our 170th birthday, in June in Cà Corniani, where it all began in 1851. Safety is rooted in our DNA, our future must be sustainable (in all its meanings) and our economy circular. Enabling all this will be innovation and the enhancement of our assets." The biggest investments? The Brand Architecture of the whole company is being defined––continues Boccardo––not just the wine. Based on this new structure, we will rearrange marketing strategies for the different markets, channels and brands. Investments in communication will arrive when we are ready, starting from the second half of the year. The objective of the wine brands: to amaze with choice and quality.
"Choice" because we want to have a complete portfolio (we are present in many Italian regions and we will find a way to fill the gaps) and we have the will to recover grape varieties that have sometimes been forgotten, small gems that are not sufficiently valued (for example: Albarossa in Piedmont). "Quality" because we want to transfer the daily work of our technicians (led by Giovanni Casati who interacts daily with Riccardo Cotarella and his team) and our investments in technology to the final consumer." In terms of exports, Boccardo aims to raise the share to at least 50% from the current 30%. The challenge has just begun, in a unique sector like Italian wine: a world of its own. "The wine world has some peculiar characteristics that are its strength but perhaps also its limit. It is an extremely important sector with a very long and fascinating, unique history. Wine is a product that talks about places and people, it does so through emotions and finds its maximum expression in hospitality: I believe there is no equal in any other market."
Also looking at new acquisitions, with an eye on Southern Italy
Next we spoke to Francesco Domini, the new Head of commercial activities and wine operations, with important experiences on the internationalization front, from Tormaresca to Feudi di San Gregorio. How has this pandemic crisis changed consumption and sales patterns? "The Pandemic, which is still ongoing, has simply accelerated the development of some processes that were already in the works. I am thinking, for example, of the affirmation of online sales or strengthening of the off-trade sector even for medium/high-end productions. Consequently, as a company, we have changed our approach, starting to look (and invest) more carefully at these channels, which are destined to grow further in the coming years." The markets to aim for abroad are clear. "For several years we launched an investment program on international markets with the acquisition of importers in the USA and China, with the aim of having a more widespread presence on these markets, which are considered strategic. In the future we aim to strengthen our presence in North America and in the Far East (China, Korea, Vietnam, etc.), trying to further develop our structures, essentially in those market sectors that are currently not very well presided (DTC sales, Global Accounts, etc.)." Italian wine offers extraordinary value for money, it is one of the mantras of this trade.
Is it a competitive advantage or an inability to value and sell our products at the right price? "This concept has always represented an opportunity, but also a great limitation, for Italian producers (with several exceptions, of course). In my opinion, the time has come to work all together, rigorously, to "reposition Italian wine at the top" on international markets, in order to compete in increasingly prestigious segments and channels that are more in line with quality, history and the "diversity" of our productions." The Group already has 10 wineries located in 5 regions, but the focus on new acquisitions is very high. "We are evaluating new development opportunities in other areas, including through potential collaborations and synergies with other wineries. As for the areas, I think that central-southern Italy has yet to express its great potential…"