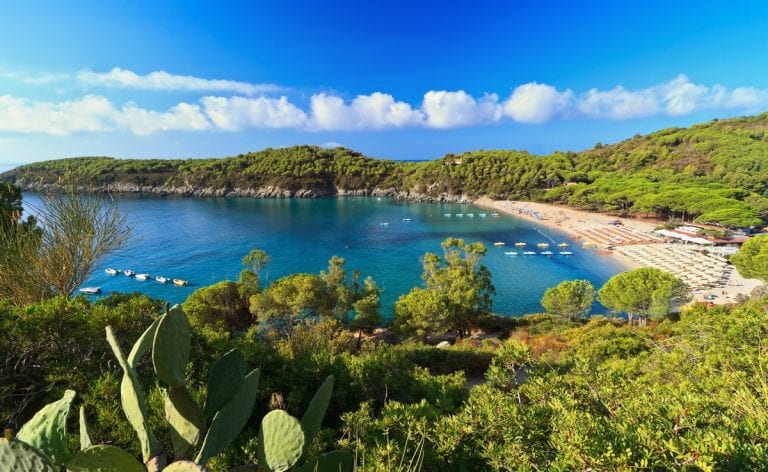 If asked what Elba's flagship wine is, we would probably answer Aleatico. But there is a white grape variety, Ansonica, which perhaps even better expresses the cultural roots and spirit of this island.
According to legend, the islands of the Tuscan archipelago are nothing more than pearls dropped by a goddess, Aphrodite. Which is Venus for the Romans. The divinity came out of the sea to meet Eros, her necklace broke and seven shining stones ended up in the water, remaining afloat and beginning to be populated by animals, birds, flowers, plants, men… And vineyards!
Elba and its wine
The largest of the islands, Elba, also holds an infinite amount of treasures. What is most striking going there and back? Precisely the variety of secluded jewels that each time reveal themselves to those who love to search and discover, whether it's bewitching hidden coves or archaeological finds, mountain views or postcards of sunsets. In the same way, superb vineyards seem to emerge like the tops of green icebergs, stoic and imperturbable even in the turmoil of the long summer season, to tell the story of an island that welcomed the grape variety a thousand years before Christ and was planted for a fifth of its 22,000 hectares of surface, in a constant seesaw of coasts and hills from which the over thousand meter altitude of Monte Capanne stand out. In many of these surviving – or rather resurrected – vineyards, Ansonica is still the protagonist today, the grape that most of all, perhaps even more than the famous Aleatico (to which we dedicated an extensive article in the 333rd issue of Gambero Rosso in October 2019), is a mirror of the island's terroir.
In Elba since the beginning of time and therefore native by definition, actually going with other names (Inzolia, Ansolla, Ansonaca, Zolla bianca, Uva del Giglio) it is found in different lands kissed by the sea and the sun, especially in Sicily, where perhaps it landed traveling from Greece, or perhaps from France. With a white berried grape, the cluster is rather unusual for a wine grape, loose and large, and the berry as well is golden yellow, sometimes amber, with thick and crisp skin, pulpy. It grows healthy, tenacious and not prone to mold and disease; the juice has a neutral flavour, some say, but the different interpreters are already confronting the issue and transforming it into wine, offering different answers and interpretations. Giving us an excellent pretext for a taste of the food and wine expressions of Elba, even before its crystal clear waters.
Zampicata di Montefabbrello
In the first rear of Portoferraio, Dimitri Galletti is a standard bearer of the Ansonica. He produces three versions, and one is still made "zampicata nel palmento," in the manner of the Etruscans: on the last Monday of September a handful of collaborators, friends and enthusiasts, gathers to crush the grapes in a stone basin, rebuilt on the ancient model. «I wanted to recreate a wine based on the memories of when I was a child, the millstones no longer existed but there was a wooden cage in which you "pawed it" while the juice dripped into the vat.» A wine that tastes of history, of celebration, of conviviality, warm and savoury, with only native yeasts and very few added sulphites, echoes of Mediterranean scrub beyond the yellow fruit. But a modern Ansonica also exists, Sasso di Leva, more delicate yet respectful of tradition, as well as a sweet, persuasive version that goes well with desserts and island cheeses. «All three are vinified in purity, demonstrating how many aromas and flavours it can express if well tended to.» It was Dimitri, who grew up in the shadow of this mountain, who gave the name Montefabbrello to the farm that his family had managed for generations. Aided by Nelly Famà, since 2001 he has restored old vineyards and planted new ones, for a total of 9 hectares, as well as persevered in the production of olive oil, fruit, vegetables, now also offered in an excellent Farmstead Restaurant. And he invested in the cultivation of quality grains, especially Senatore Cappelli, for a 100% Elba pasta that he makes on site, independently: «A healthy, nutritious and tasty product: my pride.» Among the other wines we point out an Elba Rosso Sangiovese Riserva, well structured and elegant, aged two years in tonneaux and as many in the bottle; its name is Bonfiglio and it is «dedicated to my grandfather, to whom I owe everything: he is the one who left me this land, as well as the passion to cultivate it.»
The Chianti heart of Stefano Farkas
Stefano Farkas' first harvest was instead in Panzano in Chianti, in 1974, in the very Villa Cafaggio founded by his father (of Hungarian origin, whose surname means 'Wolf') which he brought to excellence and to the threshold of 500,000 bottles, «difficult, because at the time the focus on wine was not like now». In 2005, at the height of success, a large brand took over the shares of his partner and Stefano decided to change scenery. He chose a buen retiro on the island of Elba, the green Valle di Lazzaro in Portoferraio: «I could have lived peacefully in retirement, but I wanted to accept the challenge» and by looking him in the face you understand that it could not have been otherwise.
A nineteenth-century farmhouse in need of restoration and old terraces where «paleo raged, as they would say in Chianti: grass on grass on grass, an impenetrable forest.» Five years to fully recover these, eight months with an excavator outside the window, walls that needed rebuilding and vineyards to be replanted; in 2010 the harvest of the new era took place. Today Valle di Lazzaro has about ten hectares of vineyards between property and rent, about 38,000 bottles produced annually. The Ansonica Lazarus offers citrus scents beyond the essence of the sea, a fresh sip of peach, mango and unexpected acidity. It is vinified in purity with maceration at low temperatures, «essential to maintain the cleanliness of the aromas» as well as the flotation phase, the long fermentation. «It's a strange grape, it seems more suitable for the table than for making wine, it requires intense maturation and maximum attention in preserving its acidity. Making wine is not difficult, but you have to be meticulous, in the vineyard as well as in the cellar.» The production of Farkas is faithful to this axiom, precise but always vibrant wines, take the Lazarus Elba Rosso Doc alone Sangiovese, «harvested three weeks earlier than in Panzano but worked with the usual Chianti method.» A surprising coastal wine, which carries on the narration of the Sangiovese as well as the precious experience of Stefano, a stimulus for the whole Elba wine scene.
La Chiusa and Acquabona
Not far away, Tenuta La Chiusa is a magnificent vision that opens with a villa overlooking the sea with olive trees, palm trees, cypresses and above all a garden-vineyard beyond it, all enclosed by walls in the manner of the French clos. Wine has been produced here for more than four centuries and even Napoleon stayed here twice. An island within the island, elegant and steeped in historical charm, which captivates at first sight. Giuliana Bertozzi Corradi, with her family (their first activity is the production and distribution of animated audiovisuals), took over everything in 2003, carefully restoring and persevering on the path of excellence, both in hospitality and in viticulture. The wines produced by oenologist Fabio Coser are all well calibrated, with an Ansonica that respects the typicality and is mineral, rightly savoury, a pleasant final astringency that predisposes to pairing crustaceans and also certain white meats. Among the new cellar entries we point out an iconic Vermentino in the cru version, the Fabrizia, from slightly overripe grapes, more full-bodied and intense than the snappy basic version.
Let's close with the area by moving less than three kilometers away, in the locality of Acquabona. It's worth mentioning the winery by the same name, that is the wine dream of Milan-natives Marcello Fioretti and Ugo Lucchini, and of the Maremma-native Lorenzo Capitani, pioneers in the reviving Elba viticulture since 1987. Their Elba Ansonica is round and full-bodied, sunny, well-balanced Vermentino enhancing the aromas.
Outside Portoferraio
Leaving Portoferraio, in Porto Azzurro we meet the Arrighi estate, of Elba-native Antonio, which elevates the Ansonica to the champion of the most daring experiments: «It is a unique, extraordinary grape, no other has that same skin and pulp». We have already written about Nesos, the marine wine with clusters dipped into the sea and dried in the sun, which undergoes maceration in amphorae in the manner of the Greeks of Chios, navigators who stopped in Elba 2,500 years ago. Also noteworthy is the IGT Valerius, «the result of years of study and experience with the Ansonica» also vinified in terracotta made by Artenova di Impruneta, Florence.
The Cecilia estate is instead located in La Pila, in the municipality of Campo dell'Elba. It is sui generis by nature, born in 1990 thanks to Giuseppe Camerini, a Milanese writer and artist who applies mathematics to graphic solutions, so much so that his original tassel characterises the most modern and recognisable labels of the Elba scene. «Since 2001 whats started as a hobby has become a business and the focus has been on quality, starting with hiring oenologists Vittorio Fiore and Barbara Tamburini», says his nephew, Lorenzo Signorini, author of the change of course together with his brother Renato. «For my uncle it was initially not easy, agronomic habits and practices were subverted, but over time he too came to be convinced that approximation cannot be synonymous with quality.» Today there are 10 total hectares, production of 65,000 bottles in crescendo and «as many as 20,000 are Ansonica, the native grape par excellence», continues Lorenzo, «in a modern interpretation, which aims at elegance. It is a grape that grows healthy, has low acidity and intrusive colour, it oxidises quickly, so we believe it's essential to work it at low temperatures, with very short macerations.» The result is a crystalline version, with immediate aromas of yellow and tropical fruit (thanks to a quota of Chardonnay), with hints of herbs, sage, Mediterranean undergrowth. «In my opinion, technology is essential for a wine that has an identity, but is at the same time contemporary.» This is the company's vocation, see the Oglasa, Syrah in purity for example, «a homage to the island of Montecristo, a vision from my uncle's windows for a grape that baptised me, in my first harvest in South Africa», crucial crossroads in Lorenzo's career.
Chiesina di Lacona
We close with an interesting novelty from the Elba vineyard scene: bottles that have been in circulation for a few months, even though it is a company that has been producing grapes for decades. Filippo Alampi is at the helm, born in Veneto to a Milanese mother and a father from Grosseto, a year of nursery school on Elba (but also one in London), an itinerant training but then stationed in Bagno a Ripoli, hinterland of Florence, where he produced excellent extra virgin olive oil with Fattoria Ramerino. On the island, in the locality of Lacona, in the municipality of Capoliveri, his family bought a farm in the 1950s, which was later turned over to wine by his father Claudio, an agronomist. «And until 2018 it supported itself in this way, selling grapes to the major wineries in Elba,» says Filippo. «My father worked in cooperation projects abroad and managed it mostly by telephone; when no longer felt up to it we found ourselves at a crossroads, to sell it or change pace, so that the profits could support a different work force.» The second option won and with the 2019 harvest Chiesina di Lacona arrived in wine bars and restaurants, making wine and marketing its own grapes. The name is dedicated to the church of the Madonna della Neve which dominates the 9 hectares of vineyards, the equipment bought (and the cellar is rented, waiting to build their own) from a customer who ceased the business. Among the varieties of grapes produced, on the advice of oenologist Maurizio Saettini, Filippo and Claudio Alampi decided to focus their first efforts on three types of white, including a 100% Ansonica: «As in the mono cultivars that mark our successes with extra virgin olive oil, we focused on the varietal characteristics of the grape, without distorting it or diluting its character.» Short maceration, soft pressing, fermentation in steel and part of the aging in barrique, for a precise and territorial wine, with a juicy and savoury sip, delicate tannins that give persistence. As well as being beautiful, the packaging has a low environmental impact, from the bottle to the cap, the focus is on an environmentally friendly product. It merits our applause, especially considering that the journey has just begun. And the same would be true for an island that continues to wait to be explored.
by Emiliano Gucci