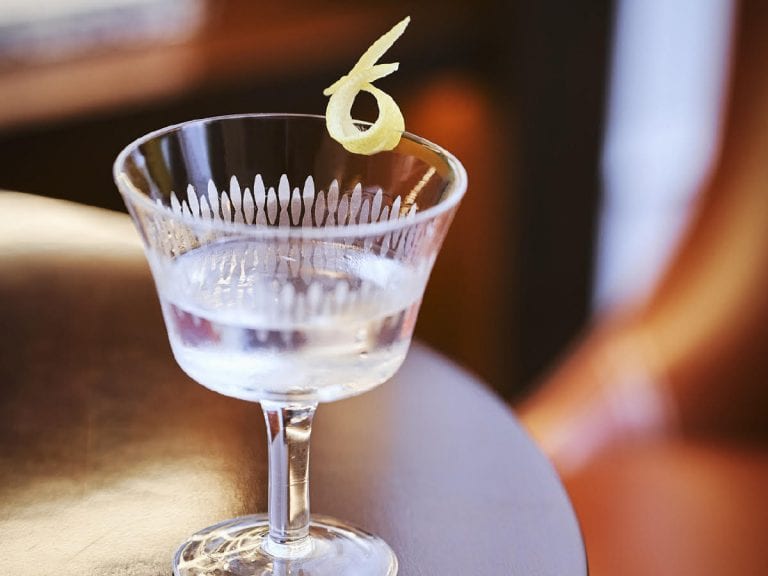 Bartenders Vincenzo Civita and Marco Colonnelli have created a delicious cocktail with Sherry: here's the recipe for Martini Cortado.
Martini Cortado: the use of Sherry in mixology
"Ever since we discovered Sherry, we thought of an ingredient to enhance the mixology, fascinated by the history as well as by the aromas and scents it releases with every sip. We chose Palo Cortado by Lustau for its elegant body, with delicate spicy notes of dark chocolate and hazelnuts, as the perfect accomplice of Tanqueray Ten. On the nose, the drink releases the freshness of grapefruit essential oils, which open the doors to the intense bouquet of gin. The result on the palate is a particularly dry Martini, balanced by the notes of sherry with hints reminiscent of the autumn season, perfect to sip on the first cold days."
The bartenders: Vincenzo Civita and Marco Colonnelli
Vincenzo Civita, from Puglia, born in 1990, grew up in the family bar, then took off by collecting important experiences that refined his talent: in Milan at Princi, in Tuscany at the Principe in Forte dei Marmi and at Andana in Castiglione della Pescaia, in London at Aquavit and China Tang at the Dorchester and back again in Milan at Bulk. Marco Colonnelli, Florentine, born in 1989, with a dregree in engineering and passionate about art, approached the coffee world at a very young age and then devoted himself to mixology, gaining experience in his own city in the splendid terraces of the Brunelleschi Hotel and the Grand Hotel Minerva. Together, since the end of 2018, the duo is the elegant and professional soul of Picteau Cocktail Bar, in the luxurious and contemporary setting of the Lungarno Hotel of the Lungarno Collection group. Here they bring together the great classics of cocktail mixology with a touch of innovation, so much so that they have earned the "Best Negroni Cocktail" and "Best Martini Cocktail" Awards – with the Martini Cortado, awarded by Blue Blazer – in 2019 and 2020 editions respectively at Florence Cocktail Week.
Martini Cortado recipe
7 cl Tanqueray Ten Gin
1,5 cl Lustau Sherry Palo Cortado
Glass: Martini
Technique: Stir and Strain
Garnish: Grapefruit zest