Milan and coffee: the latecomer to the trend
The 27th edition of the Milano 2017 guide has just been issued. A compendium of all the tastiest spots in the Lombardy capital. The result is again a city that's constantly up to date with current trends in regards to fashion, design, style and dining. There is a consistent growth of innovative dining formulas, haute cuisine restaurants, fine street food, quality delis and quick easy meals from hamburgers to aperitivo, by way of ethnic cuisine. Among these formats one seems to be lagging behind: the specialty coffee bars. Avant garde coffee houses, as we mentioned before, are having a harder time in Italy. The triad that involves varied extraction methods, artisan roasts and competent baristas and defines a quality coffee bar is beginning to finally take hold in different parts of Italy, from coastal locations to the Eternal City, which is finally picking up its coffee game.
It's now Milan's turn, or rather that's how it should be. Places are still unfortunately few, despite being solid. Specialty coffee and filter coffee marketing is slowly leaving a mark with Milan foodies, but the road ahead is still long. In the meantime, here are the places that are making an effort to change.
Àmati
Our list opens with Àmati, a bistro not far from the central train station which bases its offer on popular pairing of health and flavor. Products are always fresh and cooked in the open kitchen and sold with foreign coffee house "grab & go" model. Huge care is given to ingredient seasonality and quality. The added bonus is a collaboration with Rome research facility Vis Sanatrix Naturae, which bases its work on nutritional biotherapy, that is a methodic therapy that uses food as healing and prevention tools. In a format studied for export, filter coffee could not be omitted. Checking quality of coffee here is Andrea Boglioni: "We initially used Orang Utan Coffee Project, a project intended to help coffee plantation workers to function environmentally". Therefore, "we'd buy the raw beans from Orang Utan and had it roasted in a micro roastery in Sinalunga, Lo Scuro. Even though we will eventually use other sources, we will still rely on the same small roaster". At Àmati there is one bend and 4 single origin coffees: Guatemala, Brazil, Indonesia (Orang Utan) and Ethiopia. For brewing extraction for filter coffee, the official start of the season will be September, with v60, aeropress, French press and cold drip. For the latter, Andrea and Flaminia Nocchi, brains behind the project along with dad Marzio, are looking for a carpenter to build the custom bar machinery. "We found the metal structure parts, now all we need are the wood elements". More news regarding beans: they will be coming from Britain, and roasted by Matteo Pavoni. "We're expecting Matteo to send us some samples, but for the future we're hoping to buy the raw beans and roast them at Lo Scuro or at Andrea Cremone's place in Genoa". This is the person who with brother Matteo Caruso is at the helm of HQ Specialty Coffee. The next step? "Roasting the coffee in-house".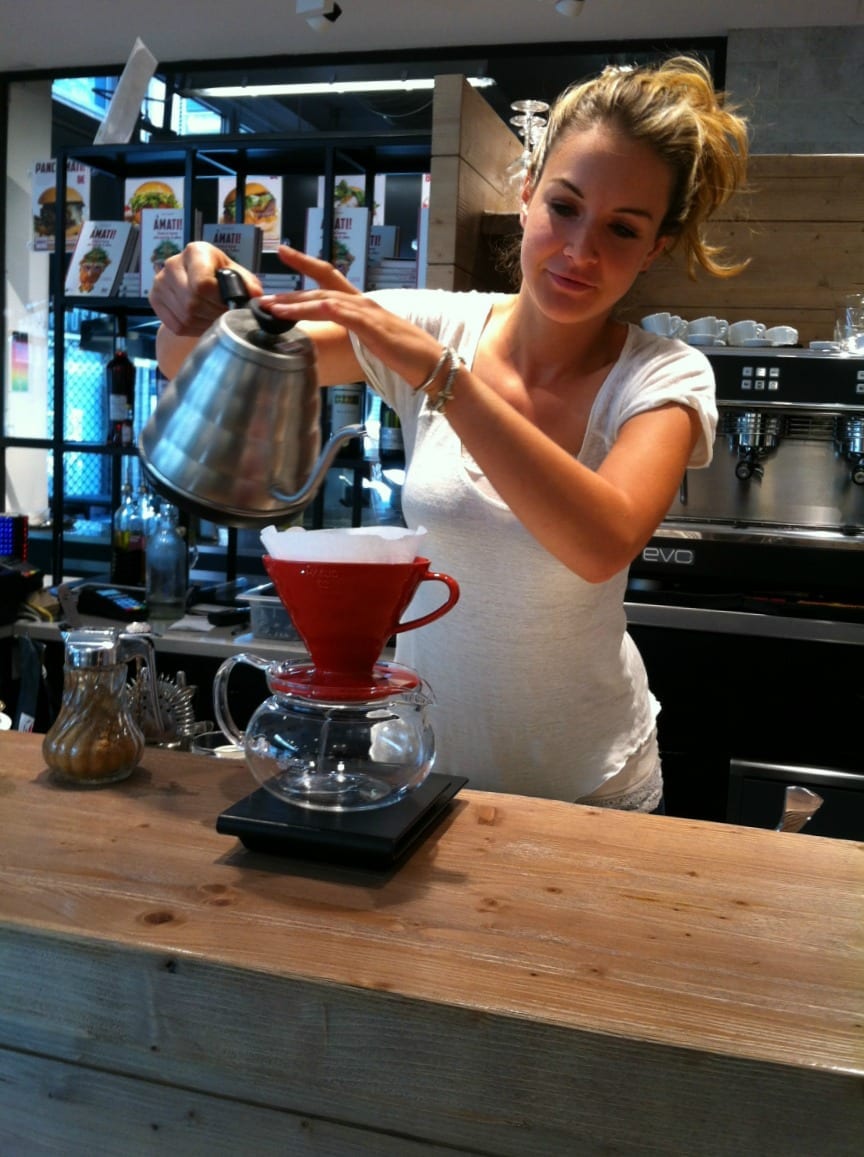 Marketing coffee
How do you feel filter coffee is accepted in the city of Milan? "There's a long way to go still. Italian consumers are not accustomed to this product. It needs to be marketed and explained well, starting from basic concepts". The space that houses Àmati seems fit for a veritable revolution: "The Galleria next door is temporarily closed, but it will soon open as a brand new steakhouse. On the other side of our shop is a gym. Patrons of the gym are an ideal target for our format: we are careful about health and ingredient quality. In this way, through food, we can promote specialty coffee too".
There are a number projects and a clear objective, then, but also an important effort to negotiate. The two are approaching the Milan coffee challenge with lots of ideas and enthusiasm. Another hallmark of Àmati? The cappuccino made with homemade almond milk, "which is definitely harder to froth compared to cow's milk, but so tasty and protein rich, minus the animal element. Finding the perfect texture for cappuccino is no joke, but we're even able to apply small latte art decorations".
Out of the Box
Heading towards Porta Venezia, in a side street off Corso Buenos Aires, we find more filter coffee influenced by Boglioni, but rather sold in a gelateria. This is not an isolated case for Italy, to the contrary. In the Garbatella neighborhood gelateria Nero Vaniglia, the owners have been promoting different coffee extraction methods for some time now. The Out of the Box story is one of wise entrepreneurial spirit and marketing, of which we'll soon write about in the future. It all started in Bologna with Sorbetteria Castiglione and master gelato maker Giacomo Schiavon. He is the recipe mastermind behind the flavors at Out of the Box. The format was designed by Flavio Sears, marketing expert with experience in various international multinationals. Open gelato making room, select ingredients and fabulous design make the place unique. But let's talk about the coffee. "The idea of introducing filter coffee was Andrea's. It's thanks to him that we're pioneering this. We have Lo Scuro roast the raw beans, we then extract with espresso machine or with filter v60, aeropress, syphon and cold drip". The beans are two single origin used since the opening in December 2015, but more will come along the way. "Filter coffee is totally new for Italy, we need to offer it by spiking customer's curiosity. We always allow clients to taste our coffee, and it's hardly ever disliked". The bar/gelateria team willingly picks up the challenge: "The goal we're setting for ourselves when we opened was "thinking out of the box", think big and develop interesting projects".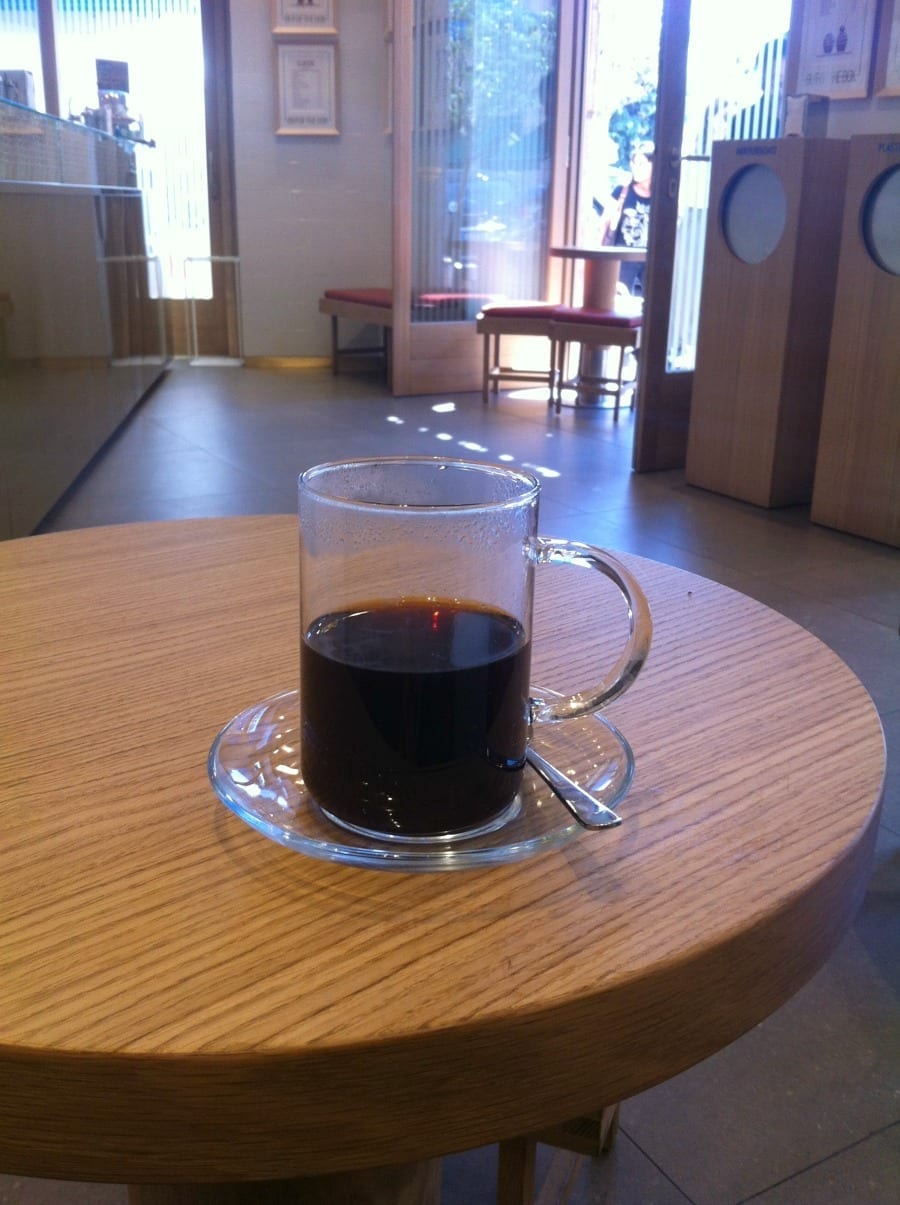 Caffè Pascucci
We're still in downtown Milan on Corso Europa, in the San Babila area. Opened a little over a year ago, Pascucci is present in various Italian cities. The coffee under the same name is roasted and served in many variants. The Milan venue is on two floors and Marco Bagiacchi is at the helm, responsible of the coffee's quality control. On the Pascucci team from the beginning with Marco was Scae trainer and current Italian brewing champion Eddy Righi who holds refresher course all year long. For espresso they use an organic blend or a 100% arabica which, "with small parcels we roast ourselves with a roasting machine inside the venue", explains Marco.In addition to this we have single origin specialty coffees for all the other extraction methods including syphon, v60, chemex, aeropress and cold brew. "Specialty coffees are gradually building their client niche. Sometimes we manage to sell 10 a day, which is a huge result for an Italian target". There are lots of events and lectures in the future, plus afternoon workshops and other tastings featuring specialty coffee. Until now the coffee bar has hosted only one event, however a very important one: the Italian aeropress championship.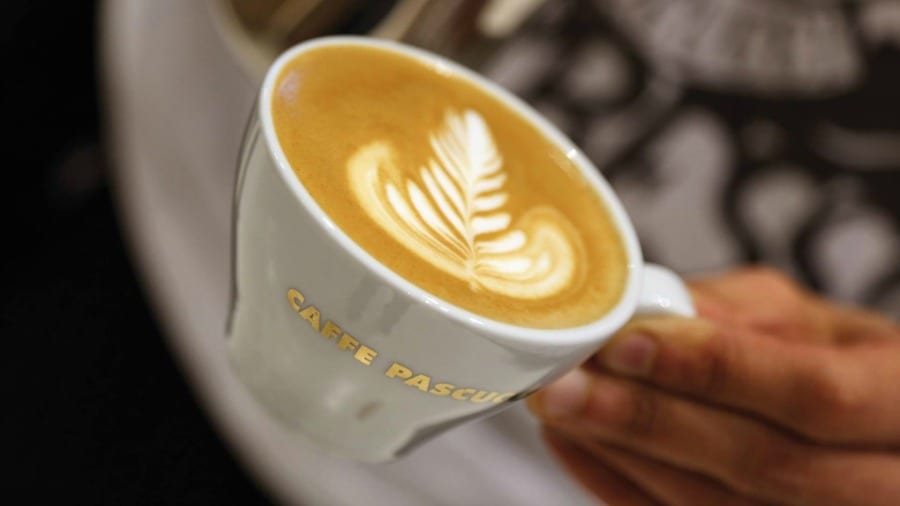 Taglio
In the Navigli area, a little further from the heart of town, is a pioneer of filter coffee in Milan. Opening in 2013, Taglio is a shop, coffee bar, bistro and cocktail bar. Open all day for all meals, Taglio caters to the city's needs from breakfast to food shopping, including a small lunch and dinner menu. In such a modern and complete offer, there is also space for innovative coffee, in all its variants. The blend is created by Cristian Grimaldi, responsible for the entire coffee aspect. He roasts it in the small machine inside the venue. For the single varieties, the Taglio team relies on Greek roaster Taf Roastery. Chemex, aeropress, v60, syphon and ever present espresso: these are the extraction types offered here. As part of the staff it was initially Matteo Pavoni, later joined by Cristian, "who became part of the team with the opening of our corner cafe within Mercato Metropolitano", explains barista and team member Fabrizio Fivori.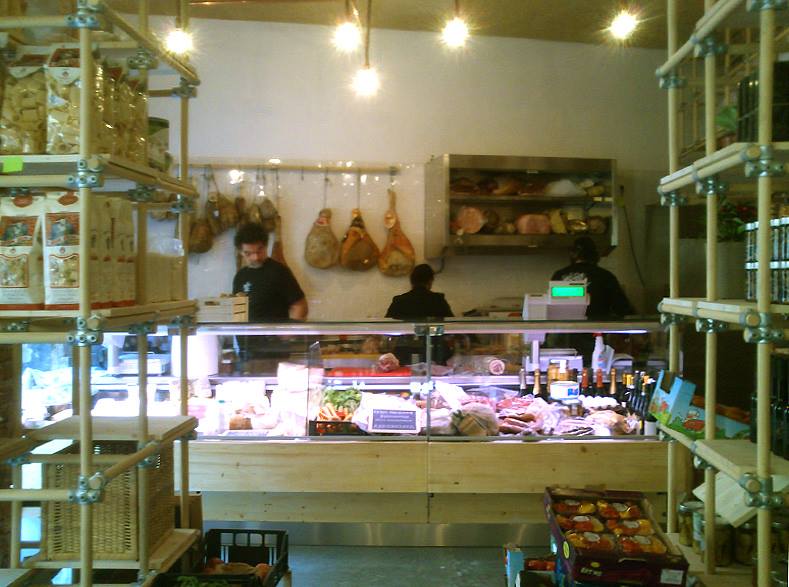 Moleskine Café
The youngest place opened only a short time ago in the Brera district, Moleskine Café intends conjugating old-school romantic literary cafe atmosphere with contemporary specialty coffee houses. After opening in the Geneva airport, Moleskine is now investing in Milan with "an alternative to Starbucks" that's all-Italian. Curating the coffee is Sevengrams, a business owned by sisters Mary, Angelita, Anna and Daniela Mauro, expert marketers of specialty coffees and of professional barman training. "clients can choose among espresso or the day's filter coffee. del carefully selects the day's coffee and offers knowledge to consumers of all the available nuances of the coffee". The staff was trained by the Mauro sisters and award winner Latte Art champion and Scae trainer Chiara Bergonzi.

Where to buy...
Quality roasters are late in the race. The only specialty coffee available for retail at the moment is Pascucci. Just outside of town however, in the municipality of Seveso, is roaster/coffee house Griso, which is a Scae associate, and that sells prime quality roasted beans. Espresso, v60, aeropress and cold brew are the methods adopted here, in addition to a handsome selection of herbal teas and infusions. Owners are Antonio Biscotti, master roaster, and Claudia Balzan, who personally select the best raw beans. The venue also hosts professional cupping tastings in order to train palates and discover new fragrances and aromas according to extraction method and degree of roast.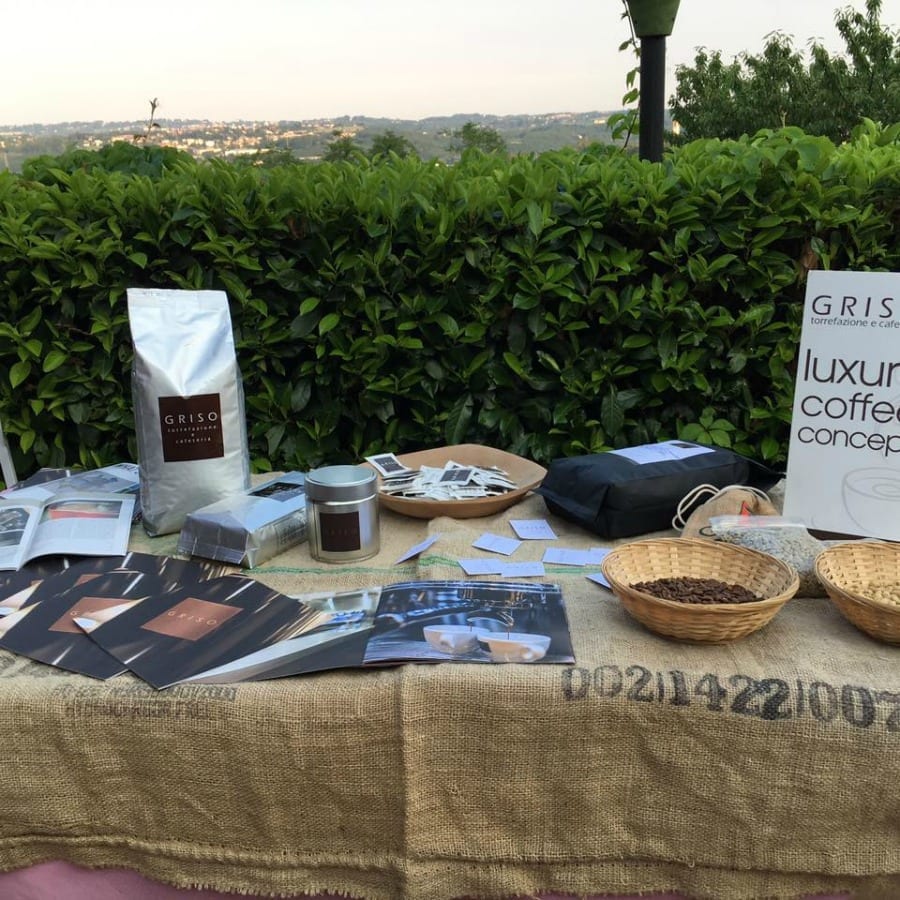 ADDRESSES
Àmati | Milan | via Alfredo Cappellini, 21 | tel. 02 66712030 | www.amatinutrition.com
Caffè Pascucci | Milan | Corso Europa, 22 | tel. 02 36596516 | www.facebook.com/pascuccimilano
Griso | Seveso (MI) | via N. Tommaseo, 13 | tel. 03 62523807 | www.facebook.com/torrefazione.griso
Moleskine Café | Milan | Corso Garibaldi, 45 | tel. 02 72000608|www.facebook.com/Moleskine-Caf%C3%A9-Milan-Corso-Garibaldi
Out of the Box | Milan | via Malpighi, 7 | tel. 02 36637300 | www.facebook.com/OutOfTheBox.MI
Taglio | Milan | via Vigevano, 10 | tel. 02 36534294 | www.taglio.me/
by Michela Becchi
translated by Eleonora Baldwin