The tradition of eating fish in Bologna
Bologna cuisine is deep seated in century-old tradition and bound tightly to local ingredients. It is well loved all over the work for the authentic flavors and classic dishes, especially in regards to the pasta starters. Think lasagna, tortellini, cannelloni and all manner of pasta recipes handed down generations by the "sfogline" homemakers skilled in hand stretching fresh egg pasta. Yet Bologna culinary tradition includes many entrees where meat and pork cured meats take center stage. Bollito misto, braised meatballs, stuffed guinea fowl and capon galantina. In addition to these quintessential dishes are a number of fish recipes, like stewed eel, fried frog's legs, baked anchovies and baccalà (cod) fritters. These are dishes that have traveled less far out of the region, but equally valuable in the area's culinary heritage. Popular in the past especially, and still present on the menus of the more traditional eateries, are dishes whose base is fresh water fish, like carp and tench in the first place.
Nowadays, not many Bologna restaurants have decided to include fish as their offering, but some seafood dishes have found a place on the menus of the city's most traditional tables. The restaurants who rely on prime quality fish are only a handful. Here are the best places for fish, as suggested by the resident chefs.
Brunelli
Brunelli fishmonger opened in 1924 and has since been a trusted purveyor for fish lovers. Several restaurateurs rely on the fresh fish sold here, like Massimiliano Poggi and Gianni Fruzzetti, masterminds behind Vicolo Colombina, a traditional restaurant whose kitchen is in the care of chef Leonora Rinaldi. "Brunelli is a trusted source of fresh fish for Bologna residents who love to cook. All the catch is fresh and fine quality, but their forte is fresh water fish". Rome-born and Bologna bred Fabio Fiore, chef and owner of osteria Quanto Basta agrees. His restaurant on via del Pratello takes a step from mainstream local cuisine offering a wider choice beyond tagliatelle and bollito, adding fish dishes like creamed baccalà and codfish skewers. "Brunelli is constant in both ingredient quality and variety of choice".
Brunelli | Bologna | via Drapperie, 8 a | www.facebook.com/pages/Pescheria-Brunelli
Pescheria del Pavaglione
Next up is Pescheria del Pavaglione located within the Mercato di Mezzo, and the most popular fishmonger among Bologna chefs. "I almost never source my fish from the city fishmongers", explains Francesco Carboni of restaurant Acqua Pazza, "I like entertaining a direct relationship with the fishermen. But this is not always possible. When that is the case, I have no doubt: Pescheria del Pavaglione is the ideal place for those who, like me, need exceptionally high quality ingredients to prepare signature dishes". Another regular of the small fish shop is chef Fiore (osteria Quanto Basta), who comes here especially for his oily fish, "the anchovies are particularly delicious". In addition to retail, the shop also offers the opportunity to enjoy dishes made to order made with the day's catch. Hence the birth of "aperifish", a series of small plates of raw and cooked fish appetizers. There's also a fine fish burger, notable stuffed calamari, paccheri pasta dressed with baccalà, salmon meatballs, and other simple, tasty recipes paired to a good glass of local wine.
Pescheria del Pavaglione | Bologna | via Pescherie vecchie, 14 a | tel. 051 227798 | www.facebook.com/Pescheria-del-Pavaglione
L'Adriatica
Again Chef Carboni (restaurant Acqua Pazza) suggests this next fishmonger specialized, as the name suggests, in products hailing from the Adriatic Sea. This is another a eatery-fishmonger, on the one side selling fresh fish and on the other cooking it to order. "This particular dining format is booming in Italy right now. L'Adriatica is a mix between a restaurant and fish fryer and a fishmonger. Patrons greatly appreciate this", says the chef, who comes here for the "crustaceans and white fish, the best in town".
L'Adriatica | Bologna | via Drapperie, 8 b | tel. 051 228695| www.facebook.com/pages/Pescheria-Ladriatica
Qualimed
Sicilian fish in Emilia-Romagna? Apparently yes, thanks to Salvo and Peppe at Qualimed, a project created by the two friends in 2012. Acronym of the words Quality, Alimentary and Mediterranean, this fishmonger offers inland chefs the opportunity to work with prime quality southern Italian fish. There are two stores, one just outside Bologna in San Lazzaro di Savena, and the other in Castelvetro di Modena. The daily catch comes from places like Mazara del Vallo, Lampedusa, Favignana. Purchasing at Qualimed is the team of Vicolo Colombina: "For fish hailing from the Ionian Sea, this is the place. Unbeatable".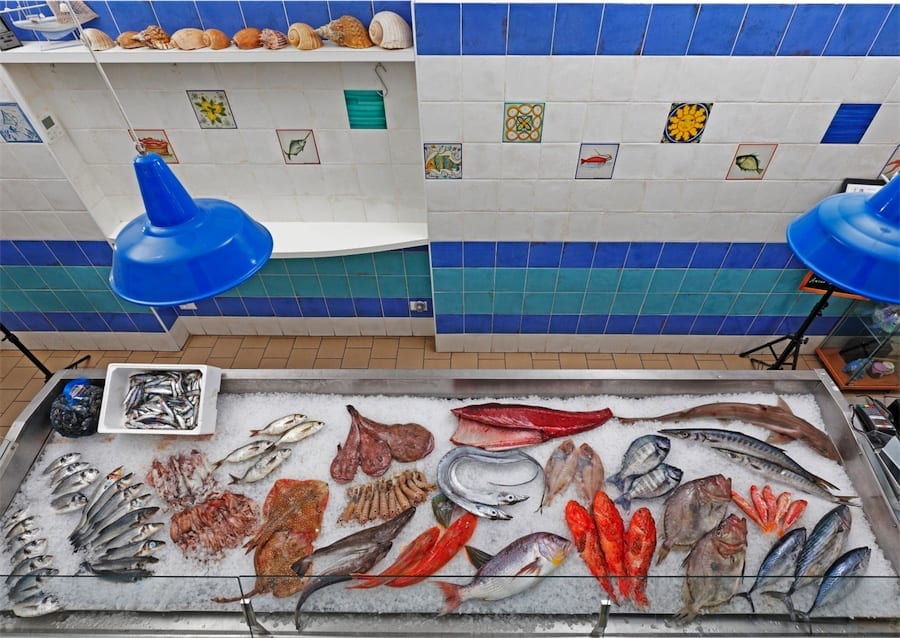 Qualimed | San Lazzaro di Savena (BO) | via Palazzetti, 14 | tel. 051 6258505 | www.bottegaqualimed.it/
Peschereccio
In addition to the few yet valid stores in the city, some prefer to source their fish in nearby towns. That's what chef Gerardo Monaco at Garganelli, restaurant of hotel Savoia Regency does. For his fish dishes he chooses a fishmonger located in the small town of Budrio. The name of which is Peschereccio and it offers quality fresh fish on a daily basis: lobster, bream as well as seafood risotto, Valencian paella, baked turbot with potatoes, all which can be briefly warmed in the oven for those unwilling to cooks. We asked a local chef Dino Baldini of restaurant Centro Storico in the heart of Budrio for his opinion regarding Peschereccio's specialties: "All the fish and seafood are top notch. Peschereccio is number 1 in the area, for both white fish and mollusks and crustaceans. My favorite? Scallops and tub gurnard".

Peschereccio | Budrio (BO) | via S. Vitale, 14 c | tel. 051 808400| www.pescheriabologna.com/
by Michela Becchi
translated by Eleonora Baldwin
Where to buy fish in Rome: 7 recommendations by top chefs