Vietnamese cuisine
In Vietnamese "com" means rice, but also meal. In Vietnamese cuisine, in fact, there is no real distinction between the product and the act of eating, given the ancient history of the Vietnamese with this precious food. One of the most consumed products in all of eastern gastronomy, used here in many recipes and used for sauces, pastry, pastas and other dishes. But on the Vietnamese table there are also many broths, noodles and pork, fish recipes and delectable sauces: listing all the typical dishes of the area would be impossible, so we collected only 10 of the most famous Vietnam specialties.
Typical dishes of Vietnamese cuisine
Phõ
Probably one of the best known traditional dishes, a soup originating from the north of the country, with over 20 ingredients needed only for the beef broth. This is then enriched with rice noodles, chopped beef carpaccio and vegetables. The peculiarity of this recipe is the customisation each diner can apply to the dish: guests can in fact add the ingredients they prefer, from slices of raw meat cooked directly in the broth, to the most varied aromatics such as coriander, spring onion, chilli or lime.
Banh Cuon
Thin sheets of steamed rice dough stuffed with mushrooms and meat, which are a little reminiscent of dumplings. The meat used is usually pork, while the dough is obtained through the fermentation of rice. Delicate and rolled out thin, the rice dough is cooked on a plate placed over a pot of boiling water.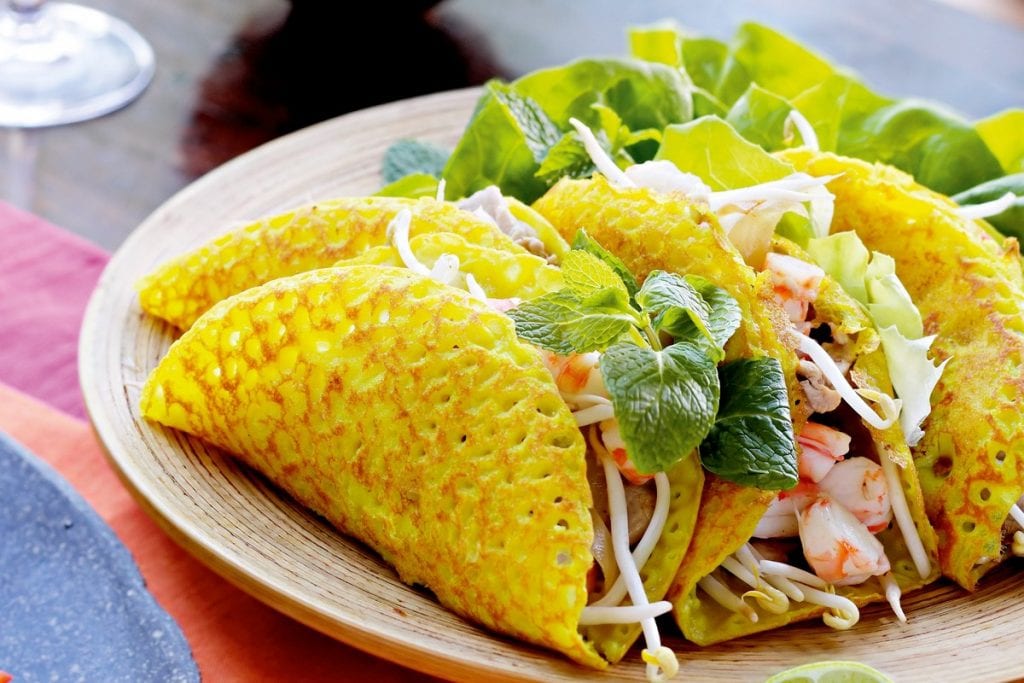 Banh xeo
A typical dish from South Vietnam, banh xeo is a crepe made from rice flour, coconut milk and turmeric, stuffed with fish, meat and bean sprouts. It is served fried and wrapped in lettuce leaves, usually embellished with mint or other fresh herbs. It is not uncommon to find it paired with fish sauce diluted with water and lemon, nước mắm pha. Another common accompaniment, used especially in the central part of the country, is tương sauce, made with liver, garlic and hoisin sauce, based on soy, chilli, fennel and garlic.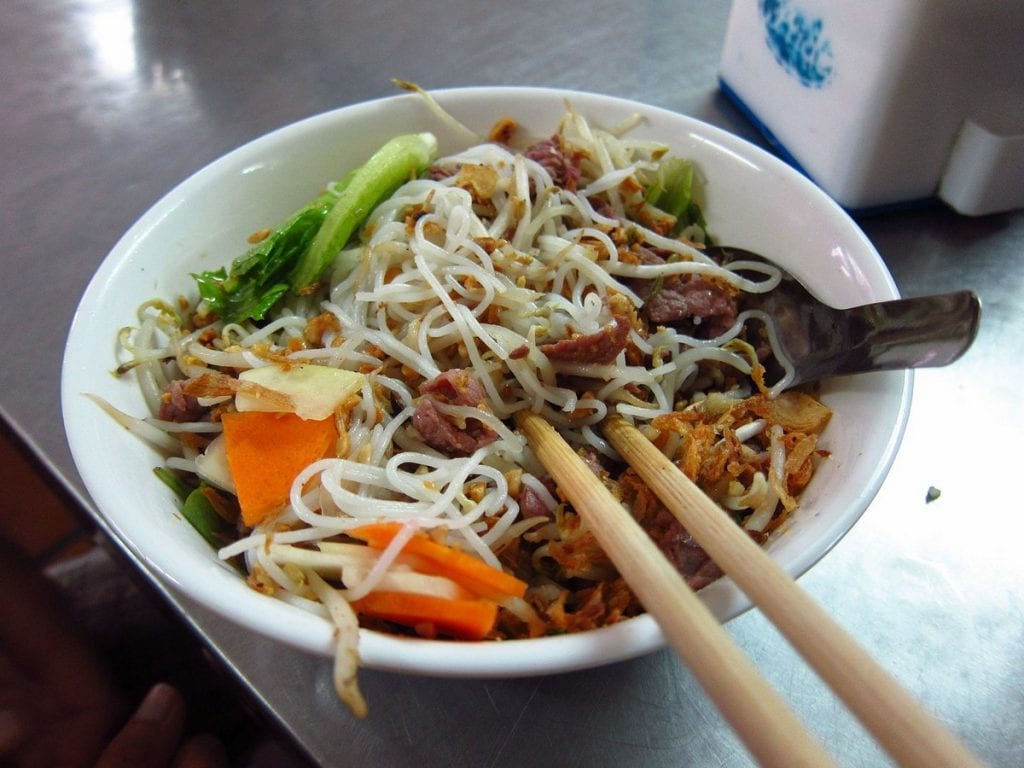 Bun bo nam bo
Noodles and pork are a happy and lasting marriage in Vietnamese cuisine. Again, the two ingredients go well together in the city of Hanoi, where they are used to prepare a fresh salad with daikon and pickled carrots, fried shallots, peanuts and lettuce. There is also a little meat broth to put in the bottom of the bowl, to wet the noodles and mix all the elements of the dish in the best possible way.
Nem ra
Crisp and delicious, fried rice puff rolls are among the most popular and appreciated dishes across the country. In the South they are called cha giò, but again, the story does not change: they are delicious appetisers that vary from time to time according to the ingredients available. In fact, it is difficult to establish a unique recipe for Vietnamese rolls: pork is often used, but they are also found in the chicken version, or in the variant employing fish with shrimp, crab and sometimes even snails, especially in North Vietnam. There are also vegetarian variations, with tofu or mung beans and sweet potatoes.
Bun cha
Another typical dish of Hanoi, which has become famous for having found among its many admirers celebrities like Barack Obama or Anthony Bourdain. It is a meat broth with spiced pork meatballs, served with a nest of rice noodles on the side, herbs and fish sauce mixed with sugar, rice wine, water and garlic. An invigorating dish, a mix of flavours and aromas capable of conquering even the most difficult palates.
Egg coffee
Legend has it that it was a bartender at the famous Sofitel, the historic hotel in the French Quarter of Hanoi, who invented the drink to get around the lack of milk. There are no certain sources about the origin of egg coffee, but it remains the symbolic drink of the Vietnamese capital, made with coffee, egg cream and sugar. Today, condensed milk is also often added and egg coffee is also served chilled.
Muc don thit
In the central area of Vietnam, in particular in Hoi An, a special version of stuffed calamari is the specialty prepared, a rich and tasty dish. The filling consists of fish sauce, oyster sauce, soy sauce, chicken broth, chilli and onions: ingredients with an intense flavour that create a delicious filling for calamari or squid, generally served with steamed rice..
Cha ca
Returning to the North of the country, again a fish dish, in particular caught in the Red River that passes through Hanoi. This is a historic recipe, originally created to serve the troops during the French colonial rule, made with fish marinated in turmeric and paired with noodles, peanuts and fresh vegetables.
Banh nam
Among the cities best known for quality gastronomy in Vietnam, Hue deserves an honourable place in the North-Central Coast region. The local cuisine was especially famous for banh nam, rice flour dumplings stuffed with mushrooms and pork, similar to banh cuon, but steamed and wrapped in banana leaves. The method of consumption also changes: they are in fact seasoned with a generous dose of fish sauce.
by Michela Becchi