Hünkar Beğendi (sultan's delight)
It is a kind of mutton (or lamb) stew where the meat is sautéed with a lot of onion (kebap), quite spicy, and served on a bed of aubergine cream roasted on the fire and lightly smoked, then creamed with butter and flour and a pinch of grated Karsar (caciocavallo).A rich, structured and spicy dish. Many perfumes, freshness and depth. We recommend the Aglianico del Vulture Titolo '15 by Elena Fucci: a convincing pairing.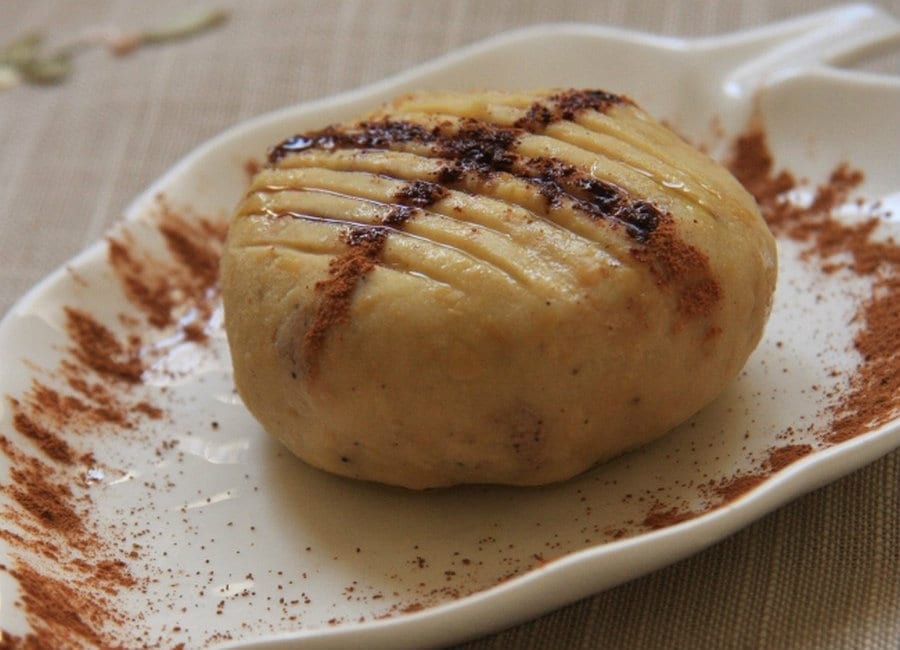 Photo www.cornucopia.net
Topik (little ball)
This dish is a meze, it belongs to the Armenian tradition of İstanbul: a ball of chickpeas, potatoes and humus stuffed with onions, pine nuts and sultanas, cinnamon, allspice, black pepper.Without to be paired with a white wine, with a good body but above all an excellent aroma to counter the spices. We went to Lazio and found a great Frascati Superiore. It's Eremo Tuscolano 2016 ofValle Vermiglia.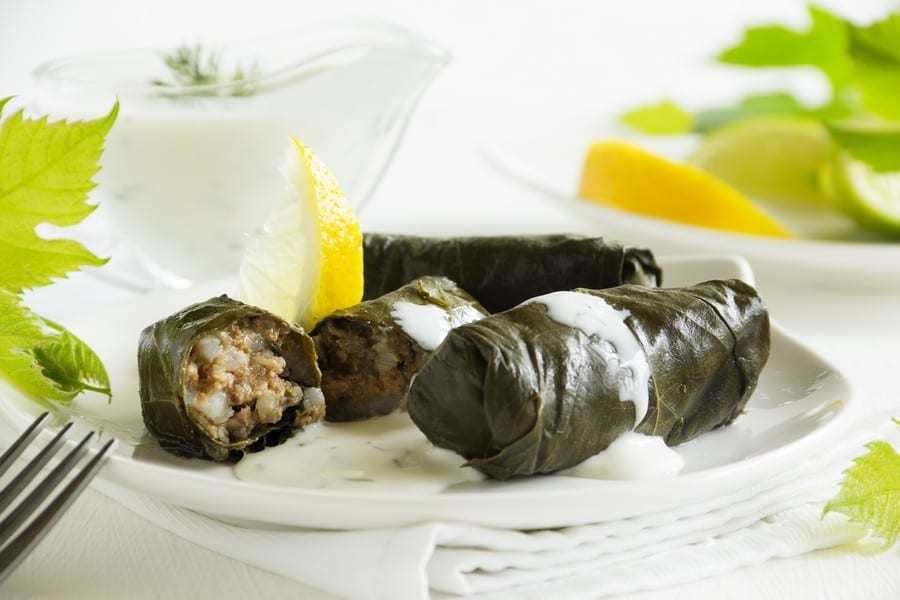 Dolma (dumplings)
Dolma can be made with different vegetables: vine leaves, cabbage, fresh and dried aubergines, fresh and dried peppers, courgettes etc. In Istanbul they are made with a meatless filling of rice and onion, pine nuts and raisins, and olive oil; or with lentils. The most famous dolma is the one wrapped in vine leaves.
Only vegetables and rice for this very tasty vegetarian dish. Combining a white is a must, provided it be of good structure to support aubergines and peppers. Try with Offida Pecorino Artemisia '16 of Tenuta Spinelli.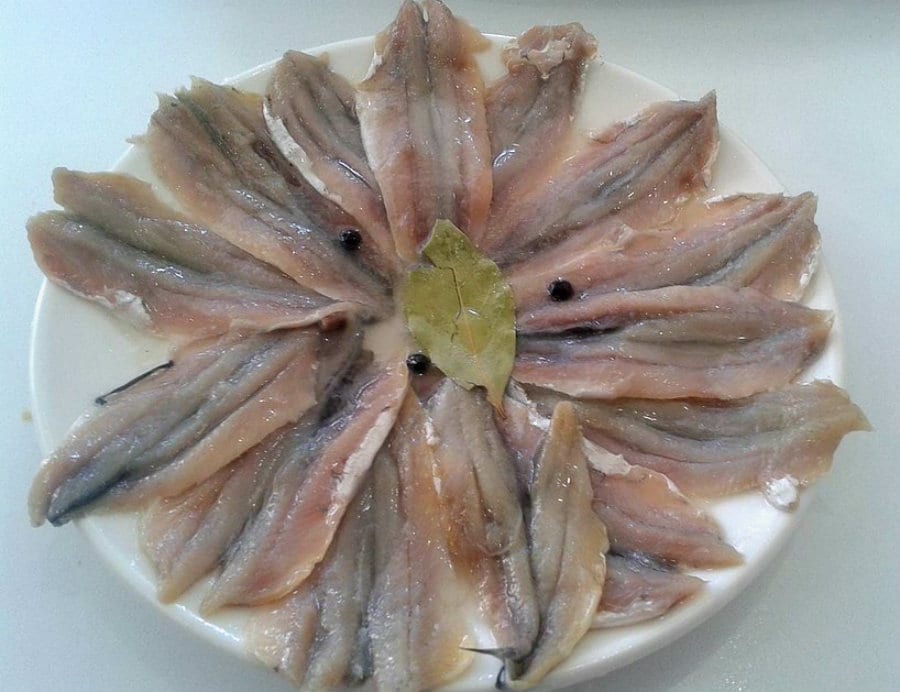 Lakerda
Lakerda is the most popular Istanbul meze there is. It's done made with palamita (tuna) of the Bosphorus: arranged in overlapping slices, and separated by a layer of salt; after a short 24-hour fermentation, the salt is cleaned off and the slices can be preserved in olive oil for longer.To pair with the Bosphorus tuna we went to the deep Italian south and then climbed to the top of the volcano: we needed a Mediterranean wine, but also fresh and mineral. Etna Bianco Alta Mora 2016 by Cusumano felt like the ideal choice.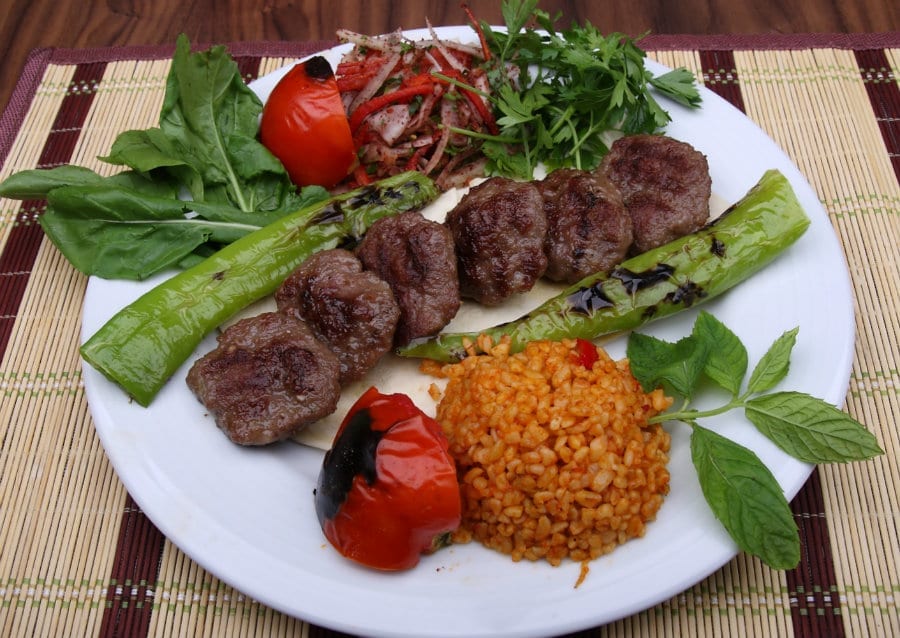 Kadınbudu köfte ("woman thigh" meatballs)
Soft meatballs made by mixing pre-cooked and raw meat seasoned with rice, salt, pepper, parsley and served golden and fried. It's the most loved finger food in the houses of Istanbul.Where there is fried food, there's bubbles. The Brut Rosé by Monsupello seems to as the perfect wine for these meatballs: it cleans the mouth, it holds the structure of the plate and it's deep just enough.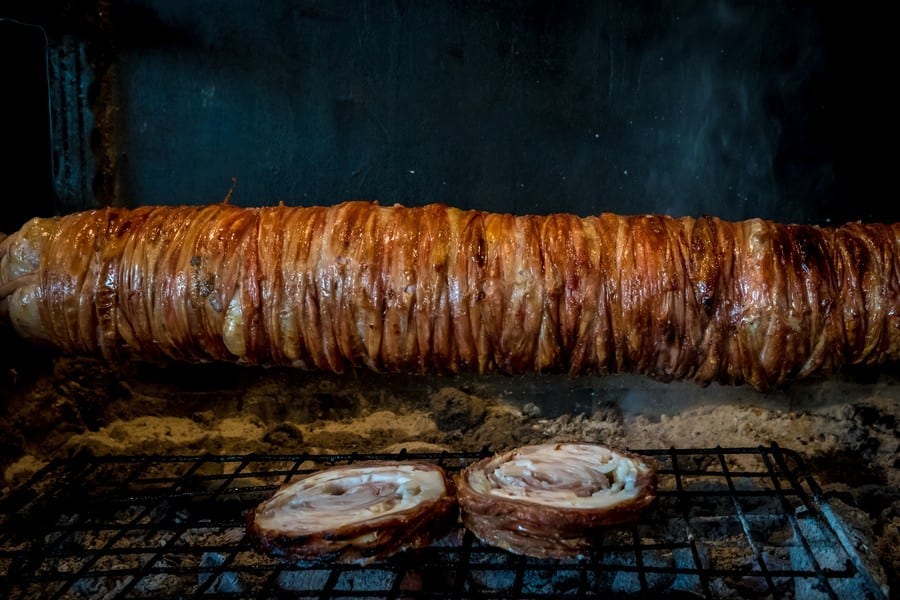 Kokoreç (skewered entrails)
Istanbul cousin of the Sardinian trattalia (skewer of entrails wrapped in intestins), the kokoreç is made with lamb intestines and sweetbreads: precooked and then grilled, it is seasoned with spices.
So much flavor, but also spice and succulence. The Valle d'Aosta Cornalin '16 by Rosset Terroir is fresh, has elegant tannins, a good acidity and a final sapidity. A wine made for entrails, in short!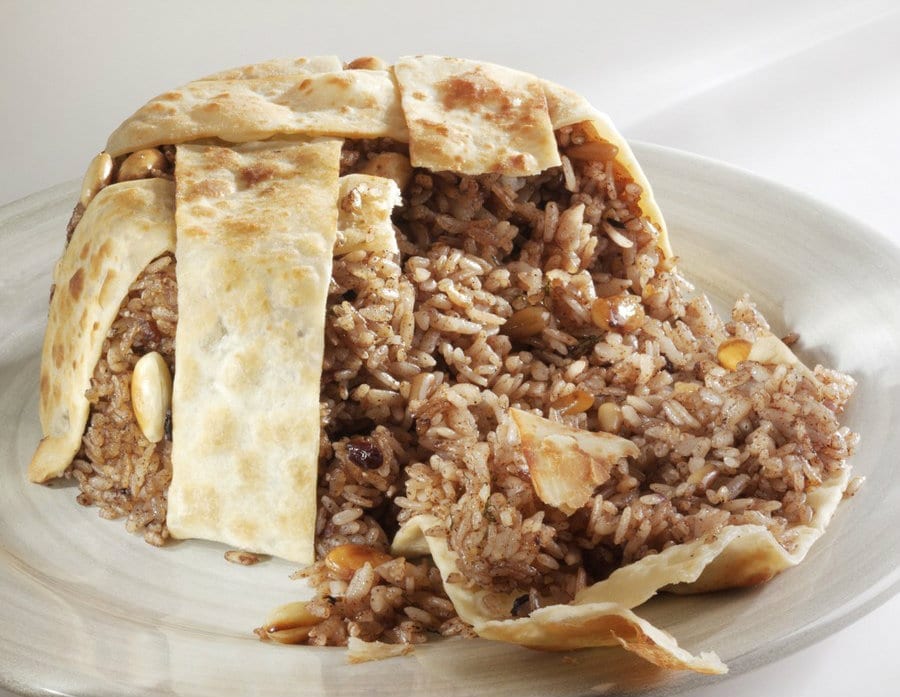 Perde Pilavı (pilav)
Pilav is a casserole made with rice added with onion, raisins, pine nuts, chicken meat, black pepper and pimento, then rolled in egg-based pasta and baked in the oven.
Without a doubt, to be paired with a white wine. But it must be fresh with acidity, very aromatic (the contrast with the spices is key) and with a hint of fruity sweetness. The South Tyrolean Gewürztraminer Nussbaumer 2015 of Cantina Tramin is the right bottle for this dish.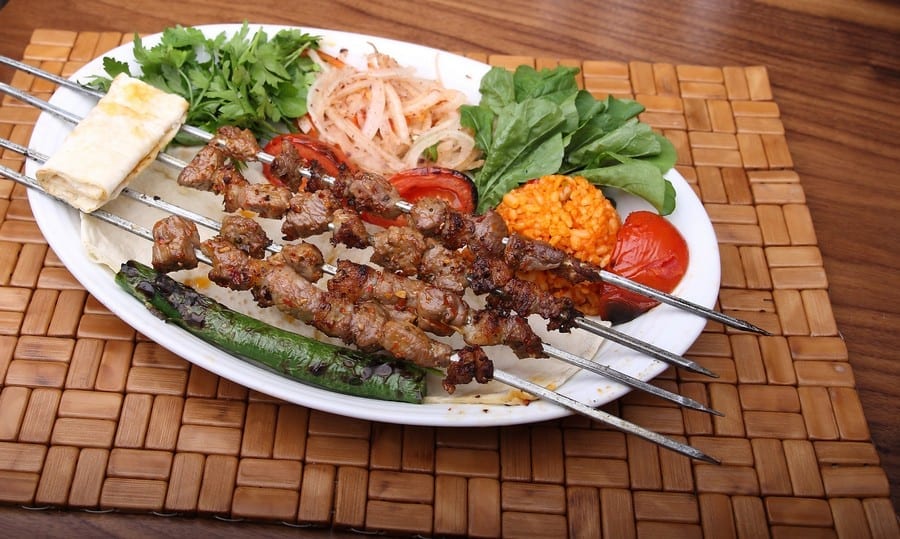 Şiş kebap (skewers)
Meat skewers: unlike arrosticini from Abruzzo, these are very spicy (made with pepper, cumin, chilli pepper and dry thyme).
More bubbles for these meat skewers. But red this time The Lambrusco Concerto '16 by Ermete Medici & Figli cleans the mouth from the meat's fat, and with its aroma holds up well the spice baggage; the sapidity counteracts the succulence of the dish.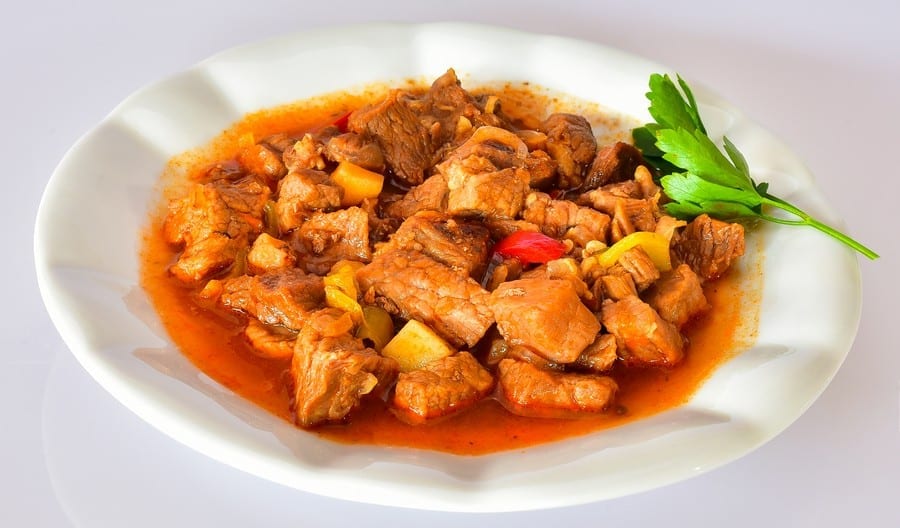 Ayvalı Tas Kebabı (kebap with quince apples)
The dish comes from Antep: lamb stew, onion, carrot, quince, spices. Serve with rice or bulghur pilav.Match the lamb with a white. Absolutely yes, especially if a great white, the result of maceration on the skins from an aromatic variety: Malvasia '13 by Damijan Podversic will undoubtedly be the best.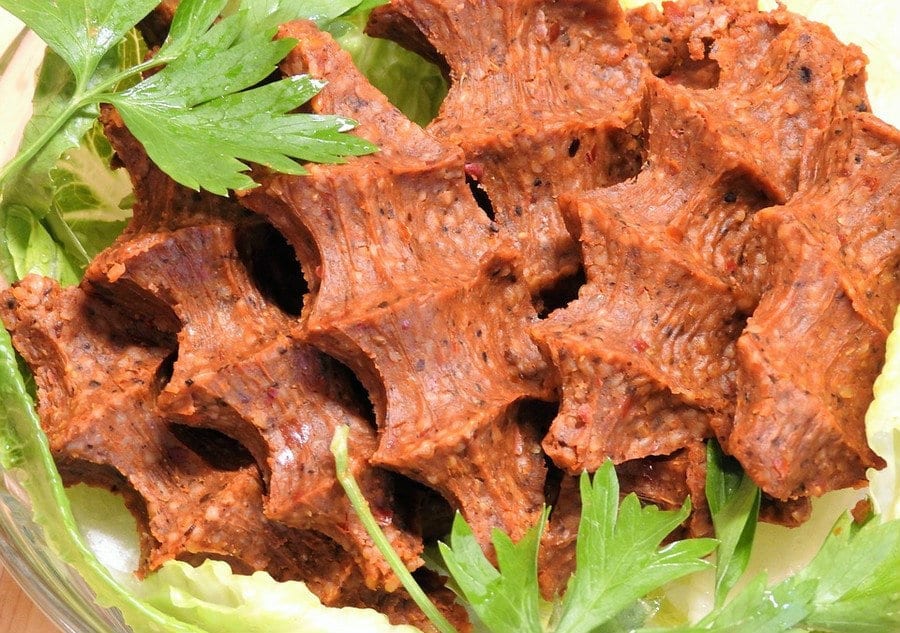 Çiğ Köfte (raw meatballs)
Traditional of the Southeastern part of Turkey, the origin of the dish is controversial. The most famous meatballs are those from Urfa with İsot hot pepper. Everything is raw: lamb, bulghur, onion, tomato and sweet pepper concentrate, salt, pepper, İsot, cumin, lemon.
A peculiar dish where everything is eaten raw. We went on the safe side and paired bubbles with it. Our search went in the direction of freshness, flavor and a natural aromatic vein to complete the mouth. Valdobbiadene Brut Nature '16 by Silvano Follador was was an obvious choice.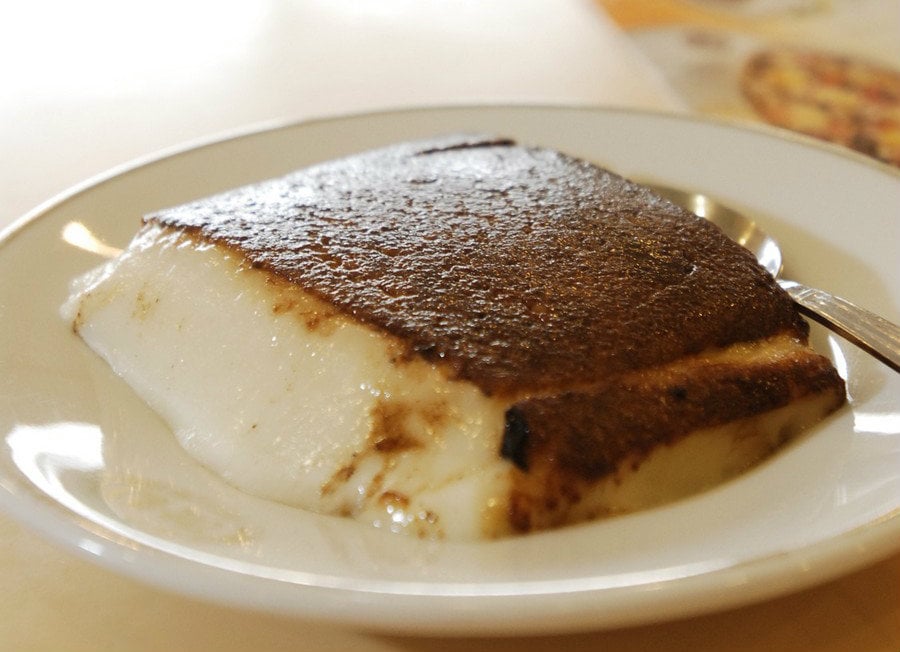 Tavuk Göğsü (chicken breast)
Very bizarre dessert: a milk pudding added with rice starch, sugar and shredded chicken breast. The taste of the chicken is hidden but the ingredient lends an intriguing texture. You can put cinnamon or crumbled pistachios.
Sweetness calls sweet wine, but without overdoing. Let's never forget that Piedmont produces a very great (and historic) wine. The Moscato d'Asti '16 by Paolo Saracco is not only very good, but it is also ideal pairing with the sweet... chicken.
by Giuseppe Carrus
translated by Eleonora Baldwin
Article released on the May issue of Gambero Rosso. A brand new issue that's available in digital form on App Store or Play Store
Subscribe here
WHAT YOU MISSED
In the May issue of Gambero Rosso is a complete itinerary to discover Istanbul, including trends and news in the city. A 15-page feature that includes Alessandro Naldi's infographics to better understand the historical events of the city, an interview with Carlo Bernardini, chef and promoter of Italian gastronomy in Istanbul, and a focus on the concept of fine dining in the city, one by journalist Margo Schachter and the other by the internationalist lawyer Besim Hatinoğlu. Not only that, we have selected the 4 best breweries in Anatolia and the 4 itineraries to discover the Pamuk district.