In a deep dive in the world of regional cookies today we scrutinize Tuscan tradition. 10 different tips, plus a recipe for Biscotti di Prato by maestro Paolo Sacchetti, awarded the highest recognition by Pasticceri&Pasticcerie 2017.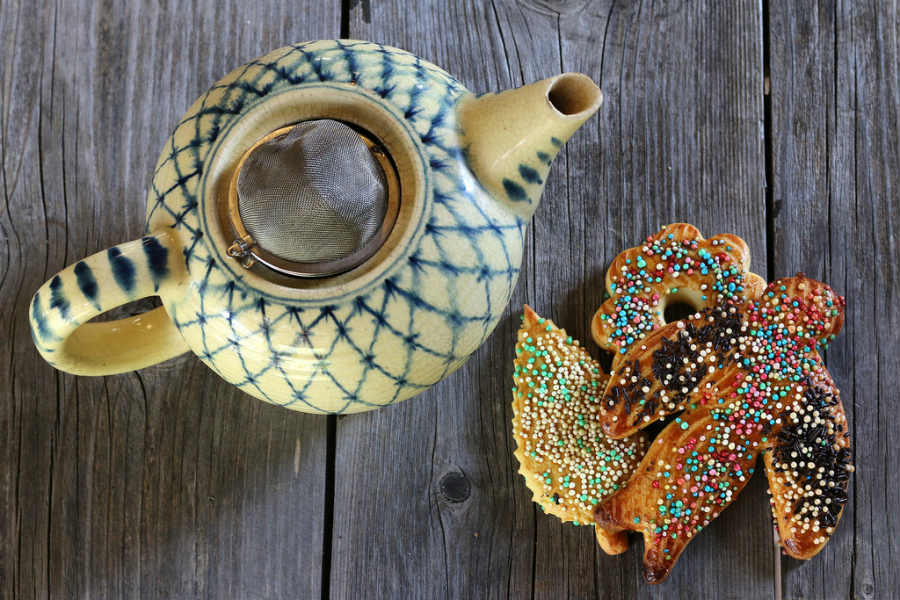 Befanini
Befanini
Soft befanini are particular to the areas of Versilia and Lucchesia, and are the traditional Epiphany sweets. They are baked January 5th and fill baskets on the mantle, in place of the classic stocking, which La Befana comes to fill at night. Despite being replaced by industrial products, the befanini tradition lives on in the surroundings of Lucca. The recipe is made by mixing flour, sugar, butter, eggs, yeast, milk, orange zest, a pinch of salt and a shot of rum. The cookies are shaped and decorated with local sugar sprinkles.
Biscotti di Panicaglia
Panicaglia is a district of Borgo San Lorenzo, an area of the greater Florence city area. Legend has it there was an unnamed baker in this area, which first produced this recipe made with no animal fat. Vegan biscotti di Panicaglia are made with equal parts potato starch and flour, sugar, orange zest, 2 glasses of water or 12 tbsp. olive oil mixed and shaped into loaves. The loaves are baked for 10 minutes and then cut into smaller parts and baked again for another 10 minutes.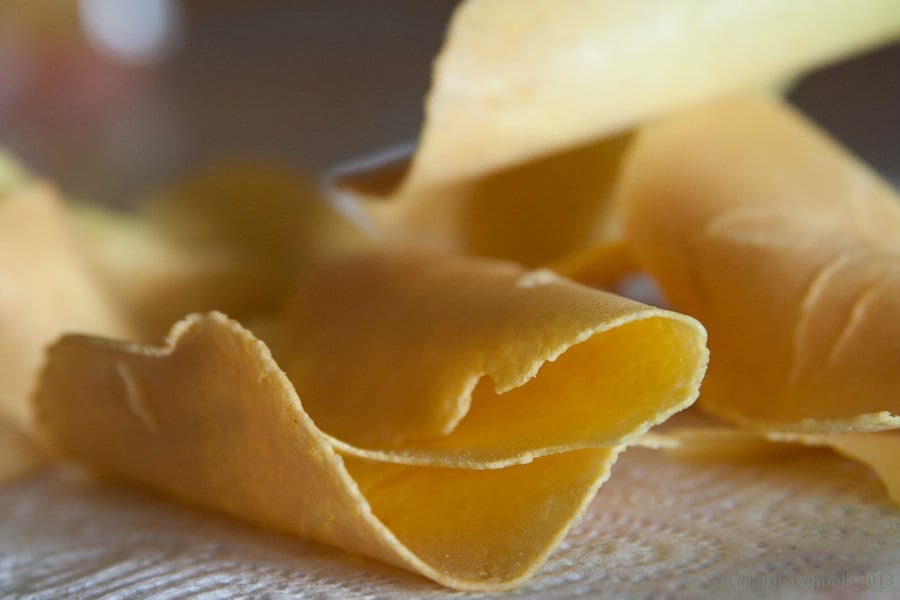 Brigidini di Lamporecchio
Brigidini di Lamporecchio
Brigidini are very thin cookies, similar to wafers. They are typical of Lamporecchio a town in the province of Pistoia. The story behind these peculiar thins maintains nuns of the St Bridget order enhanced mass wafers by adding sugar, eggs and anise for a small sinful concession to gluttony. The recipe includes, flour, sugar, eggs, a pinch of salt, a tbsp. of anise seeds and a vanilla pod. Traditionally baked in a wood-fired oven in iron moulds called "schiacce", the baker also adds a small button of dough and presses it on the top of each cookie. These get placed in the oven again for a few minutes. Once baked, the "brigidinai" would deliver them to neighbouring towns. To this day, during religious festivals, these cookies are still sold on stands.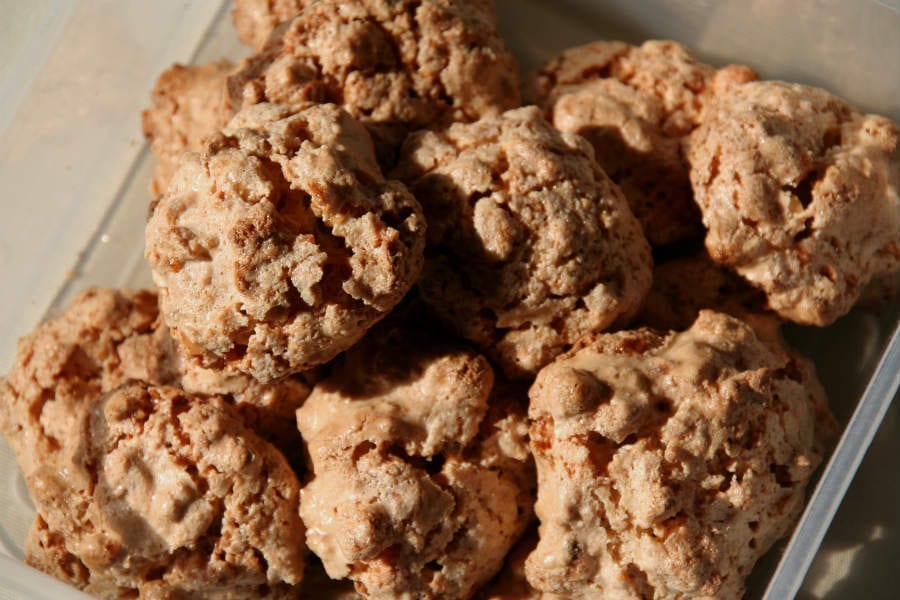 Brutti ma buoni
Brutti ma buoni
Paternity of "ugly but good" cookies is divided between Pistoia and Lucca. In actual fact the origin of this recipe is from Piedmont and in particular, the bakers of the royal House of Savoy. When in the new-born Italian state the capital was moved from Turin to Florence, in fear of the Austrian invasion (1864), court bakers invaded Tuscany, spreading this recipe virtually everywhere. In Prato these were associated to the already famous "cantucci", creating a classic pairing. It's easy to make brutti ma buoni: mix ground almonds, hazelnuts, egg whites and powdered sugar. The only thing is timing, since the dough needs to rest 8 hours.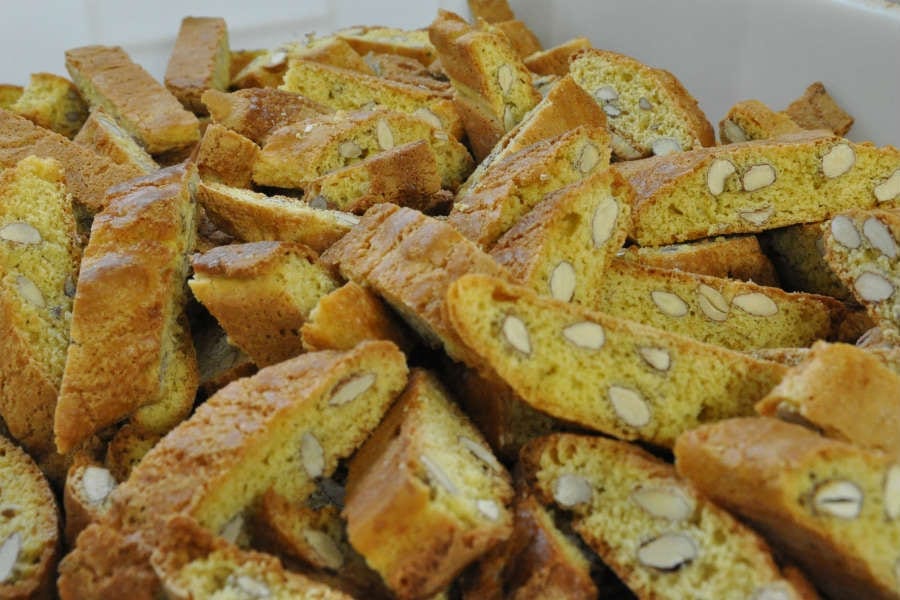 Cantucci
Cantucci e Biscotti di Prato
Cantucci are probably Tuscany's most famous cookies. There is however a controversy regarding the name: are cantucci and biscotti di Prato the same thing? The answer is no, they are not the same thing, despite being very similar. Biscotti di Prato are made with a more basic recipe – flour, sugar, eggs, almonds and pine nuts – without any leavening agent not flavouring, while cantucci are far richer.  The first documented recipe for cantucci, to this day conserved in the state archive in Prato, is contained in a manuscript by Baldanzi, a Prato intellectual of the XVIII century. The current recipe however is devised in the XIX century by Prato native baker Antonio Mattei, aka "il mattonella". Both cantucci and biscotti di Prato, both boasting a rocky texture, are commonly eaten dipped in Vin Santo, typical Tuscan dessert wine. Cantucci are equally common in Umbria and Lazio where they are called "tozzetti."
Cavallucci di Siena e berriquocoli
Two very similar cookies, both connected to the city of Siena. Cavallucci are simpler, irregularly shaped and dusted with confectioner's sugar are a typical Christmas time tradition.  The name comes from the habit of making this particular cookie available in coaching inns to both horse handlers and horseback couriers, who would eat them during their break, by dipping them in wine. The recipe of expert Giovanni Righi Parenti in his book La cucina toscana employs flour, sugar, honey, candied orange peel, anise seeds or powdered coriander and a pinch of ammonium carbonate.
Berriquocoli, also known as bericuocoli eberriquoccoli, are a variation of cavallucci. It's not clear which came first, both were already widespread during the time of Lorenzo Il Magnifico de' Medici. Compared to cavallucci, berriquoli also employ candied citron and ground walnuts, which make the flavour more intense and aromatic.
Necci della Garfagnana
In Garfagnana, an area in the Lucca province, located between the Apuane Alps and the main Apennine mountain range dividing Tuscany and Emilia-Romagna, necci means chestnuts. Chestnut flour obtained from ground dried chestnuts is a local staple, and commonly used for sweet baked goods. The name then indicates both the chestnut and the cookies made with chestnut flour. Necci della Garfagnana are thin, soft crepes rolled much like Sicilian cannoli, to be filled with delicate cow's milk ricotta. The crepe is made with fresh chestnut flour, EVOO, water, butter and salt. The ricotta filling is added with candied fruit and sugar.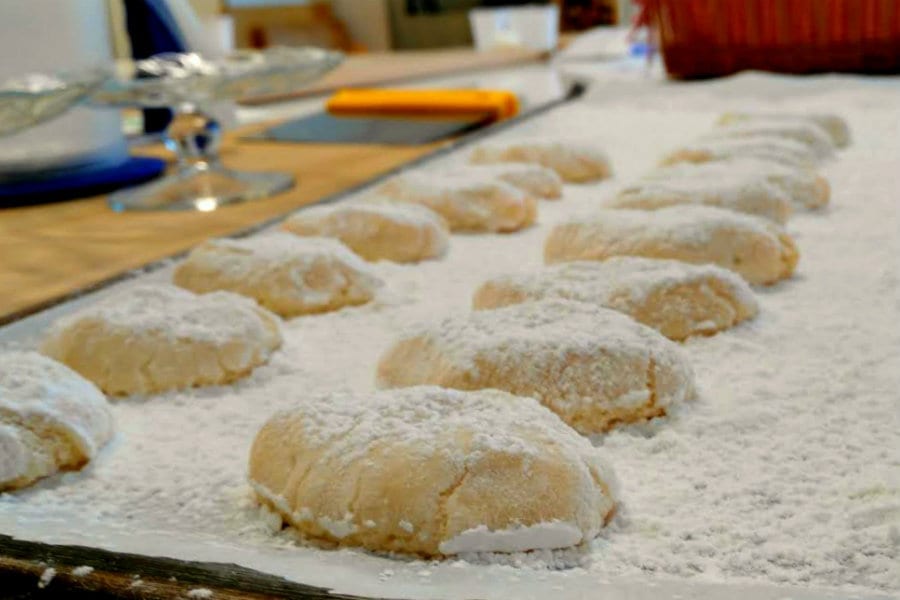 Ricciarelli di Siena
Ricciarelli di Siena
Ricciarelli di Siena spell seafaring journeys and cultural fusion. According to legend, these typical cookies are owed to Ricciardetto della Gherardesca, Crusade warlord who reproduced in his homeland Tuscany a very popular Middle Eastern recipe. He had them made in his castle near Volterra defining amounts and proportions as well as shape; reminiscent of the slippers of Sultans he met during his travels slippers. The cookies are soft and made with almond paste, flour, candied fruit and confectioner's sugar. The dough needs to rest for 2 days before being shaped and baked, Traditionally eaten around Christmas, but baked year round. There exist also a version of ricciarelli dipped in dark chocolate, called "ricciarelli rozzi".
Biscotti di Prato recipe courtesy of Nuovo Mondo bakery
Ingredients:
1 kg flour
900 g sugar
500 g almonds
100 g Versilia pine nuts
6 whole eggs
6 egg yolks
Lemon zest
1 vanilla pod
Method:
Form a volcano with the flour and add the sugar in the crater. Add lemon zest, vanilla, eggs and yolks (saving some for egg wash). Mix from the centre, slowly adding the flour. Add nuts and knead the entire amount of flour to obtain a soft mass.
Shape into 2-inch oval loaves. Place on a baking sheet and brush with egg wash. Bake in the hot oven at 210 degrees C (410 degrees F) for 15 minutes.
Take the loaves out of the oven; allow cooling for 20 minutes. Cut oblique slices and allow cooling completely before serving with Vin Santo.
Nuovo Mondo | Prato | via Giuseppe Garibaldi, 23 | tel. 0574 27765 | www.pasticcerianuovomondo.com