Fresh pasta tradition in Bari
Orecchiette are Apulia's most popular pasta shape, classically paired with broccoli rabe dressing. But beyond orecchiette are many traditional fresh pasta shapes are at the core of thie region's gastronomy. Artisanal pasta makers have, in time, specialized in an increasingly rich offer, to include both traditional shapes, other Italian favourites and even the more innovative shapes. For our series on Italy's best fresh pasta producers today we visit the port city of Bari, in search of the area's best places for fresh rolled pasta.
Bottega del Tortellino
Let's begin at a Bari stalwart. Located in the Madonnella neighborhood, in the periphery, La Bottega del Tortellino is a solid enterprise guided by Signora Assunta Piccione, heir to a family of artisanal pasta makers since the early 1900s.
Products are all hand-rolled, ingredients selected among the best local suppliers, flours carefully chosen by the owner. The offer spans classic Bari pasta shapes and to include tortellini – in their original version as well as with surprising variations. In addition to these are ravioli, agnolotti, tagliatelle and gnocchi. There is furthermore a selection of already assembled dishes that only need a quick bake in the oven, like lasagne with vegetables, al pesto or dressed with ragout Bolognese, meat-filled cannelloni or stuffed with ricotta and spinach, crêpes filled with ham and cheese, or sweet versions, like fried cartellate. Two house musts are the chocolate tagliolini made with cacao and the tortellacci with grouper. Prices range from 6,50 Euro/Kg for the more simple shapes, to 20 Euro/Kg for the special stuffed pastas.
Bottega del Tortellino | Bari | via Cardassi, 81 | tel. 080 554 2873 | www.facebook.com/pg/bottega.deltortellino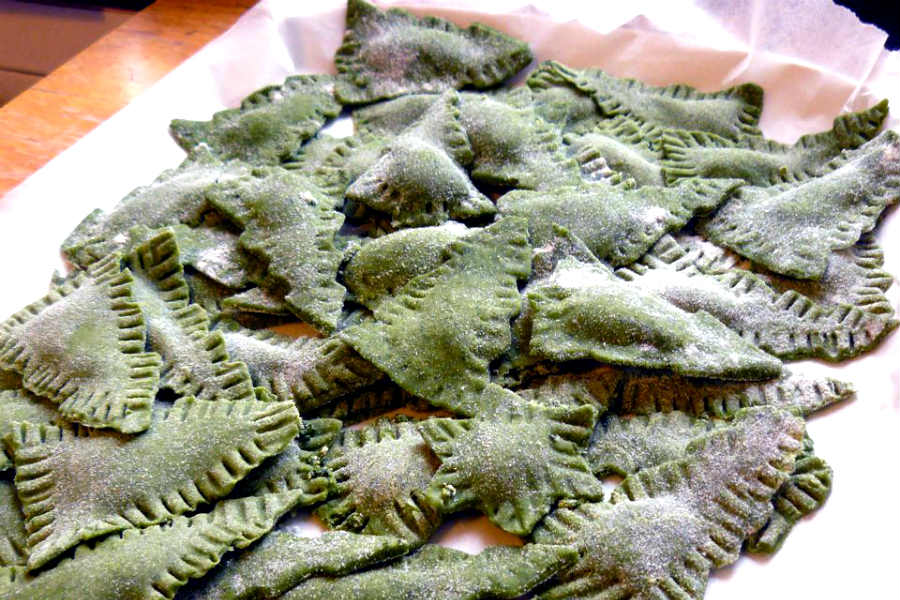 Bottega del tortellino
Lady Grazia (Valenzano)
Located only a few miles outside of Bari, pastificio Lady Grazia in Valenzano was founded in 1983 by Giovanni and Grazia Polide. It produces fresh pasta according to traditional methods, without any additives. The offer ranges from orecchiette to agnolotti, cannerozzi, strozzapreti and trofie. The fresh pasta can be made with varying types of flour: besides durum wheat semolina (including oraginc and whole wheat types) pastas can be made with farro, kamut, grano arso, literally burnt grain, buckwheat and chestnut four. The strongpoint of the store is the stuffed pasta, thanks to chef Lorenzo Lacriola, who comes up with creative fillings and flavour combos. The dry pasta is extruded through bronze dies and dried naturally with a process lasting over 50 hours. In addition to all this, there are also already assembled dishes to cook at home. Prices vary according to type: 5,50 Euro/Kg for the classic shapes to 25 Euro/Kg for the stuffed pastas.
Lady Grazia | Valenzano (Bari) | via Bari, 152b | tel. 320 8128572 | https://www.facebook.com/pastificio.ladygrazia?fref=ts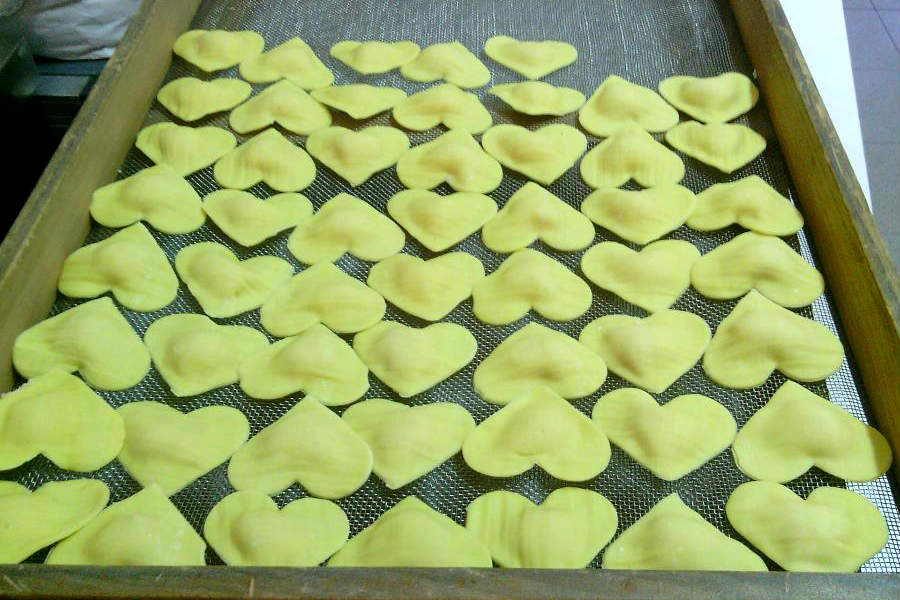 Hearts filled with robiola cheese and bresaola - Lady Grazia
Pastificio Ancora
Giorgio and Rosalia Ancora opened their pasta shop in 1970, unaware that their son Marco would have continued the family business adding a modern touch while still retaining traditional values of the artisan pasta-making craft. An example of this is the choice of maintaining bronze die extruders in a time when many were converting to laminated pasta (an alternate procedure to die extrusion, in which the dough is squeezed through increasingly narrow-spaced rollers to obtain a thin layer while keeping temperature and pressure points under control). The current selection in this shop is vast: gnocchi, lasagne, orecchiette, tagliatelle, dry pasta, ravioli, tortellini. The house specialty is pasta "al nero di seppia" that is added with black cuttle fish ink. But shelves salso stock kamut grain pastas, and other naturally colored and flavoured pasta products. Prices range from 4 Euro/Kg for the dried pasta, to 25 Euro/Kg for tortelloni nero di seppia.
Pastificio Ancora | Bari | via Giulio Petroni, 53/b | tel. 080 557 5503 | www.facebook.com/pg/Pastificio-Ancora-Di-Marco-Ancora-421523964606961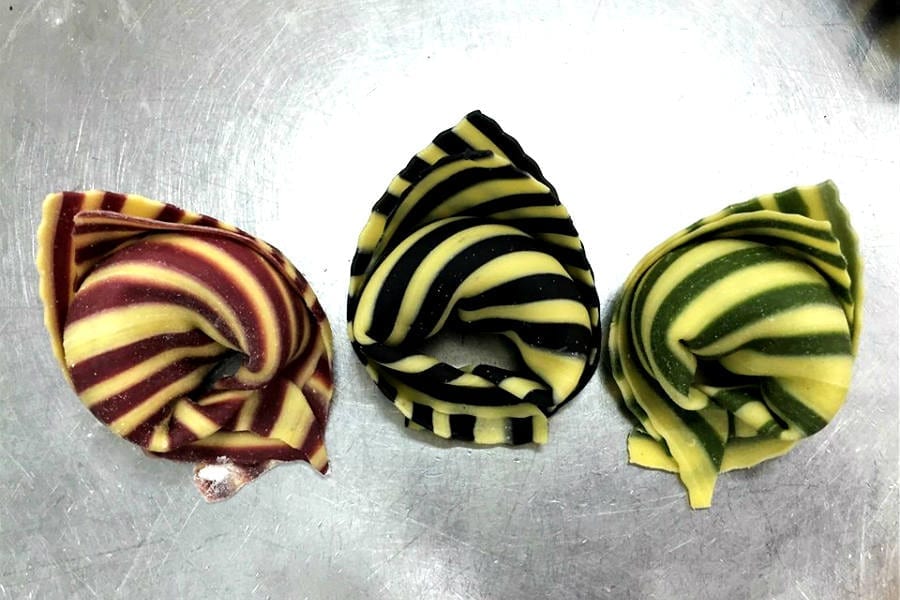 Rainbow tortellini, pastificio Ancora
Pastificio Ancora&Fiore
Located in the San Pasquale neighborhood in Bari, this small family-run pasta maker produces all the classic pasta shapes as well as a handful of other shapes typical to other regions, plus a few creative kinds as well. Here you can purchase orecchiette, cavatelli, strozzapreti as well as paccheri, tagliatelle, agnolotti and tortellini. Pastas are made with oraginc and whole grain semolina flours, as well as buckwheat and grano arso. Every day the inhouse kitchen assembled ready to bake dishes like lasagne, crêpes and rollè. The house specialty is the fagottino al caprino, a pasta pocket filled with goat cheese, but the tortelloni with stracciatella, bresaola and rocket are equally tantalizing. Prices vary: 4,50 Euro/Kg for simple shapes, 17 Euro/Kg for the stuffed pastas.
Pastificio Ancora&Fiore | Bari | via Re David 67/B | tel. 0805423290 | www.pastificioancoraefiore.it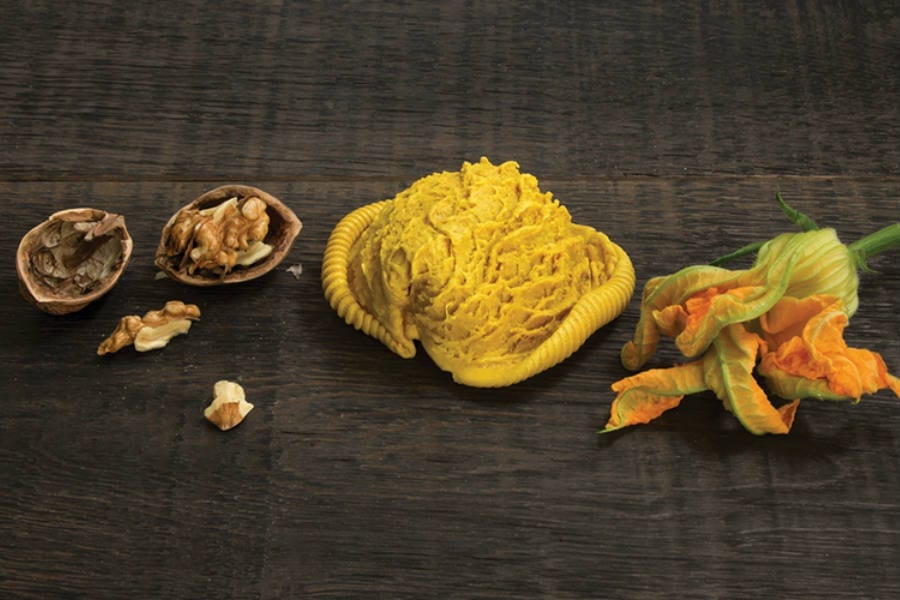 Orecchioni, pastificio D'Agostino
Pastificio D'agostino (Giovinazzo)
Michele D'Agostino's life journey has taken bizarre twists: from working in a factory to producing pasta by way of music. Now a successful pasta maker in Giovinazzo, only a few miles from Bari, ex-factory worker and music buff Michele decides to make a life change in 1983 by opening a small artisan deli selling homemade pasta: orecchiette, orecchioni, capunti, and minuitti typically made in the old historic centre of Bari. In addition to these shapes, the shop sells also fresh and dried wheat four pasta like tagliolini, pappardelle, spaghetti alla chitarra; as well as stuffed pastas like tortelloni, mezzelune and quadrotti. The winning trait is the whimsical naturally colored pastas: decorated farro mezzelune crescent shaped pockets, "cappello del prete" with nero di seppia, pasta "daisies" whose petals are pink thanks to beet juice in the dough. The D'Agostino delicatessen shop also offers classic regional specialties like taralli (made with grano arso, mixed grains or with olive oil), panzerotti, focaccine, biscotti. Prices range from 4,50 Euro/Kg for the simple shapes, to 22-24 Euro/Kg for the more elaborate pastas.
Pastificio D'Agostino | Giovinazzo (Bari) | via Marconi Guglielmo, 74 | tel. 080 394 3437 | www.pastadagostino.it
Copy kindly supervised by blogger Nunzia Bellomo of Miele di Lavanda
by Francesca Fiore
translated by Eleonora Baldwin
Read also Pasta makers in Bologna, top 11 places for the good stuff