The Corner Rome
Located on the beautiful and quiet Aventine hill, this gorgeous Art Nouveau townhouse dating back to the early 1900s comes complete with tasteful design pieces and a lushly landscaped jardin d'hiver patio. Everything from speakeasy-style cocktails to the elegant interiors is in tune with the Michelin star cuisine. The kitchen is the realm of talented chef Marco Martini, who riffs whimsically on classics and goes straight to the point with his powerful and refined, modern offer. In the "Sinergia" 7-course tasting menu, dishes are paired to signature cocktails, so expect to dine on rigatoni pasta dressed with oxtail ragout while sipping the Negativo di Daiquiri, a revised version of the rum classic with chocolate liqueur and black olives.
Madre
Walking into Madre feels like tiptoeing into an exotic dream. Occupying the grounds of an ancient Dominican convent, the modern renovation sits under vines that drape down from the terrace ceiling. A clever colour palette and flickering candles on tables concur in setting an elegant and romantic ambiance. Chef Riccardo di Giacinto's South American-inspired menu is playfully creative, featuring "games" such as a savoury maritozzo pastry filled with either burrata and Spanish anchovies, or sautéed broccoli rape, grilled sausage and pecorino cheese. Mains may include red prawns grilled on a hot plate of Himalayan salt, or tender meats that are fire-grilled at small barbecues on the table. For dessert ask for the chocolate, ginger and popcorn treat.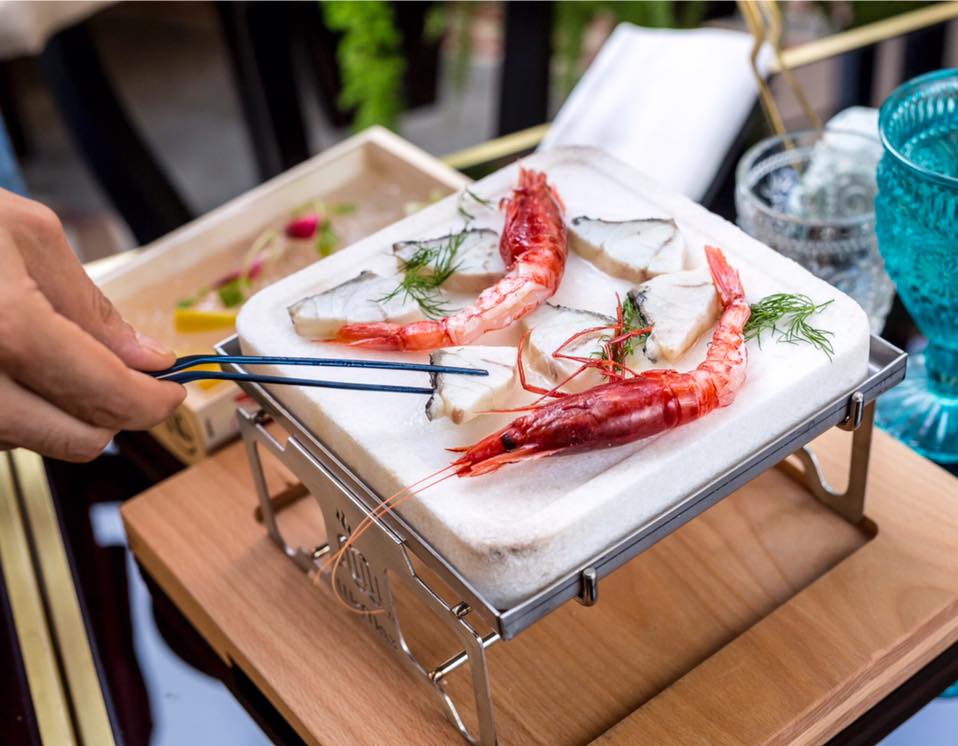 Piperno
Piperno is one of the oldest restaurants in Rome's ancient Jewish quarter. Situated in a tiny piazza that even Romans have a hard time finding, tranquil and safe Piperno sets tables outside with bentwood back chairs and white tablecloths. Reliably serving traditional Roman food since 1860, the menu includes a handful of Roman Jewish dishes, but the kitchen is neither Kosher nor Jewish owned. Aside from world-famous carciofi alla giudia (deep fried Jewish-style artichokes), think delicious spaghetti cacio e unto (pasta tossed with grated pecorino romano cheese and natural lard), or the delightful homemade agnolotti di vitello (veal pasta pockets) dressed with a simple tomato and basil sauce. Leave room for dessert, specifically, for Palle di Nonno, the house specialty: decadent deep-fried chocolate-studded ricotta dumplings.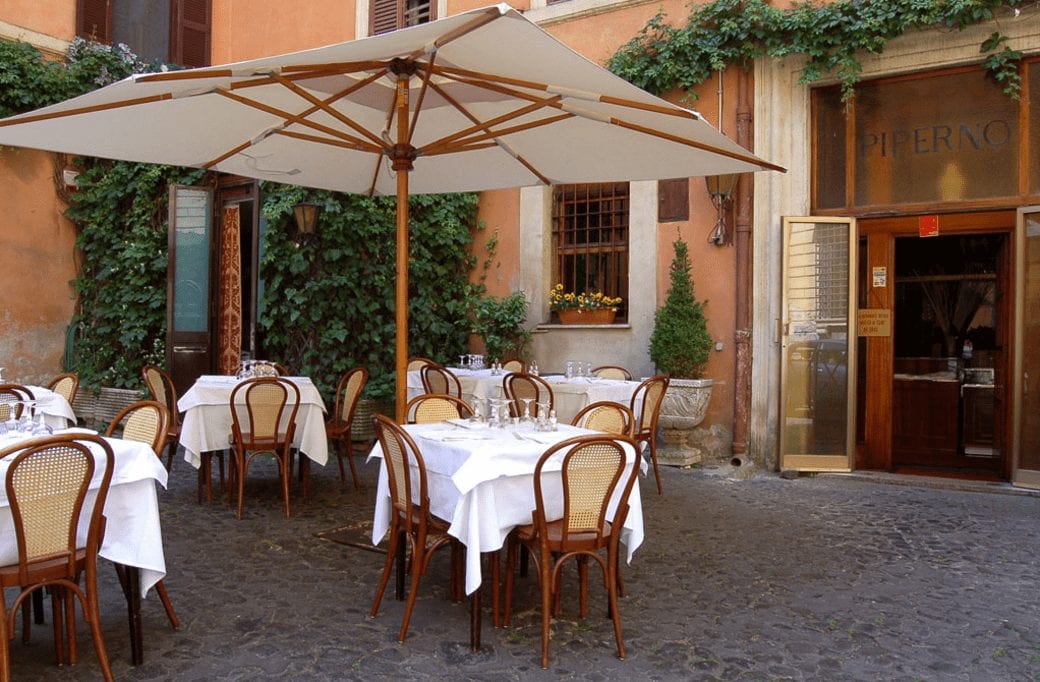 Pierluigi
Besides its impressive VIP clientele and fine cocktails, this restaurant attracts gourmands in its gorgeous outdoor space in the historic piazza de Ricci, which the restaurant has all to itself. The menu specializes in seafood that is always fresh, and prepared in a multitude of ways by chef David Cianetti. The selection of crudo from the seafood raw bar can feature, according to season and market availability, fine French oysters, local king prawns, assorted fish carpaccios and tartares served with seasonal fruits. If you can't do without a plate of pasta, go for the house linguine with sea urchin and toasted hazelnuts. In addition to the seafood extravaganza, meat dishes, vegan, vegetarian and gluten-free options are also available. As one of the few fine seafood restaurants in central Rome that's open on Sunday, as soon as the weather gets warm, reservations become mandatory.
Trattoria Da Cesare al Casaletto
Tucked away in the quiet Monteverde district, and easily reached on the number 8 tram line, Da Cesare is one of Rome's best dining destinations. Chowhounds flock to this well established trattoria for its elegant cucina romana, polite service, articulate wine list and leafy outdoor patio. Try their legendary fried starters (breaded meatballs, moscardini and gnocchi, even!) veal cacciatore and, if you're feeling adventurous, their classic tripe alla romana.
Flavio Al Velavevodetto
Ask to be seated up on the roof and not in the inner courtyard (which can become cramped and lacks a view). Choose instead a table along the upper balcony. The Testaccio treetops and the food on your plate will make you sigh. Located within Monte Testaccio – and ancient Roman "landfill" made up of millions of broken amphorae shards – and now a Rome dining institution, Flavio serves fine plates of carbonara, polpette di bollito (breaded meatballs made with boiled meat), but has come to fame amongst gastronomes for its cacio e pepe, homemade pasta tossed with pecorino cheese and cracked black pepper. The tiramisu with a secret centre surprise is a house specialty.
Necci dal 1924
Once a rustic watering hole in Pigneto in the 'Twenties, Necci found fame when poet, writer and director Pier Paolo Pasolini put it in his 1961 film, "Accattone". It has since been popular with local residents for its laid back approach to simple, traditional recipes, cooked in home-style fashion. Nowadays, Necci is a magnet for film culture buffs, hipsters and intellectuals who love to dine on paccheri alla gricia with octopus seasoned with paprika and lemon; or the grilled Cornish hen served with pumpkin puree and confit tomatoes. Food is served from morning with breakfast, snacks, lunch, and aperitivo and through the night with dinner in the lush outdoor garden patio, away from the hustle and bustle of the increasingly crowded Pigneto main drag.
Vivì Bistrot Villa Pamphili & Piazza Navona
If you love nature and want to swap city bedlam for a serene lunch in the park, head to Villa Pamphili, home to the flagship Vivì Bistrot. If on the other hand, you're looking for a table with a view of Piazza Navona minus the rose sellers and ridiculously touristy food, hit the Palazzo Braschi branch. The menu features only fresh and organic foods, many vegetarian options, juices, cakes, soups and an abundance of seasonal salads. The Aperò offer is equally tantalizing.
Da Enzo al 29
This popular trattoria is tucked away in a quieter corner of the ebullient Trastevere neighbourhood. The minuscule trattoria serves classic cucina romana, such as classic pasta amatriciana, gricia, carbonara and cacio e pepe. The oven-baked baccalà (salted cod) pie and house saltimbocca, can only be topped by the mascarpone and wild strawberry dessert that's eaten out of a glass with a very big spoon. The friendly service and efficient kitchen are the passionate work of siblings Roberto, Chiara and Francesco Di Felice, true trasteverini to the core.
La Maisonnette Ristrot
Situated in the historic Garbatella suburb, La Maisonnette "restaurant-bistro" serves up informal and creative Mediterranean cuisine with a penchant for fresh seafood. You can unwind on their candle-lit garden patio, or reserve a table overlooking the DNA strand-looking Ponte Settimia Spizzichino seven days a week, from midday to late at night. Standout dishes include the house Scotch egg spiked with comté, cumin, capocollo and hazelnuts; orecchiette pasta with cuttlefish, cabbage, walnuts and ginger; or the house duck leg confit flavoured with tamarind and tangerines. The wine list focuses on a fine selection of natural labels.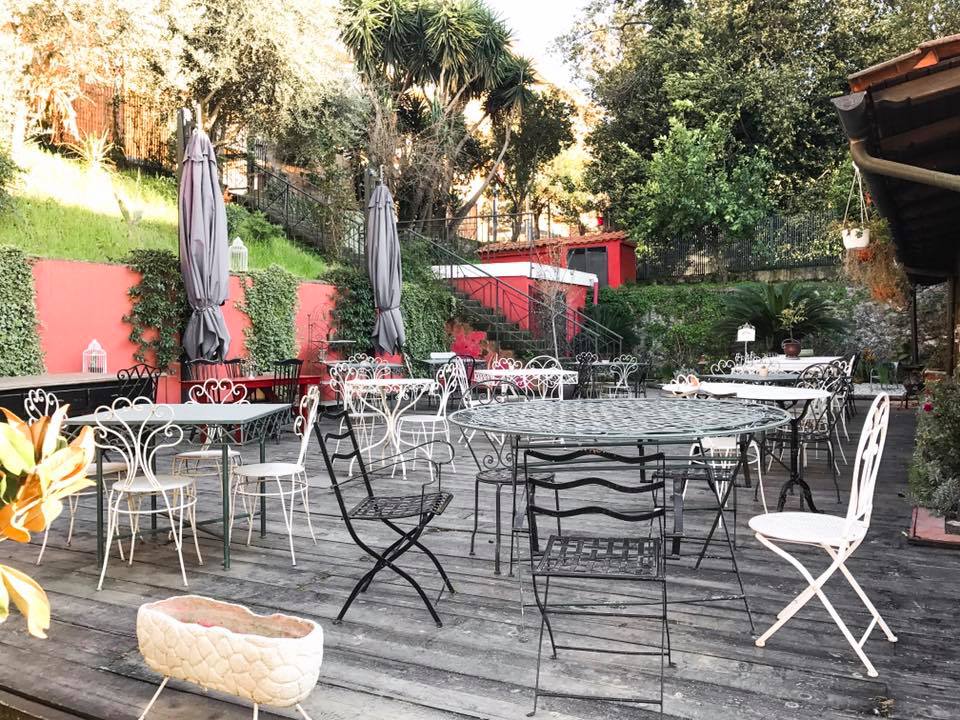 Disclaimer: Eating outside in Italy may involve cigarette smoke. This is something you have to accept if you want to eat al fresco in Rome.
The Corner Rome | viale Aventino, 121 (Aventine) | Tel. 0645597350 | thecornerrome.com
Madre Roma | largo Angelicum, 1/a (Monti) | Tel. 066789046 | madreroma.com
Piperno | Monte de' Cenci, 9 (Jewish Ghetto) | Tel. 0668806629 | ristorantepiperno.it
Pierluigi | piazza de Ricci, 144 (Campo de' Fiori) | Tel. 066861302 | pierluigi.it
Trattoria Da Cesare al Casaletto | via del Casaletto, 45 (Monteverde) | Tel. 06536015 | trattoriadacesare.it
Flavio al Velavevodetto | via di Monte Testaccio, 97 (Testaccio) | Tel. 065744194 | ristorantevelavevodetto.it
Da Necci dal 1924 | via Fanfulla da Lodi, 68 (Pigneto) | Tel. 0656241004 | necci1924.com
Vivì Bistrot | via Vitellia, 102 | Tel. 065827540 | piazza Navona 2 | Tel. 066833779 | vivibistrot.com
Da Enzo al 29 | via dei Vascellari, 29 (Trastevere) | Tel. 065812260 | daenzoal29.com
La Maisonnette Ristrot | via Giacinto Pullino, 103 (Garbatella) | Tel. 0683765543 | lamaisonnetteristrot.it
by Eleonora Baldwin