The heat and chaos of July are behind us. The packed sardine-like lidos are gradually thinning. This time of year sees bluer skies, clearer waters and fresher air. Resort areas, whether coastal, rural or mountainous, are less crowded. Those who endured Ferragosto in the city often choose to take their well-earned vacation at this time of year. Here are a few tips on where to eat well some of central Italy's lesser known vacation spots, extending the last days of summer.
Santa Marinella - Glem
Chef Luca Pellini's inventive cuisine is at the core of this restaurant located 60 km northwest of Rome. After flocking to Santa Marinella for the long stretches of golden sand, a good idea is exploring the fine kitchen of Glem. Bestowed 1 Fork from the Guida Ristoranti d'Italia, the restaurant's menu features modern riffs on classic sea fare. Prime quality catch of the day is employed in the "crudo" raw appetizers and other handsome menu choices. Think spaghetti with plump clams, artichoke and ginger; or the huge assortment of fried fish in the house fritturaplatter. A handful of non-sea dishes on the menu, and a nice wine list. The fine food, courteous service and welcoming ambiance are further perked by a lush outdoor garden.
Terracina - Il Granchio
At the same distance from the eternal city and on the opposite end of the coast, 70 km south of Rome is the Latina province, where stellar restaurant Il Granchio has been attracting seafood lovers since 2000. Realm of chef Daniela Onorato and husband Luca Ciamberlano, the elegant restaurant awarded 2 forks by Guida Ristoranti d'Italia, respectfully employs phenomenal ingredients sourced daily at the Terracina fish auctions, which determine the day's menu. We love the evergreen "zuppa senza spine" fish stew which is a house stalwart. With an impeccable service and wine list, those seeking a less formal menu and price point can choose to sit in the bistrot room and feel equally pampered.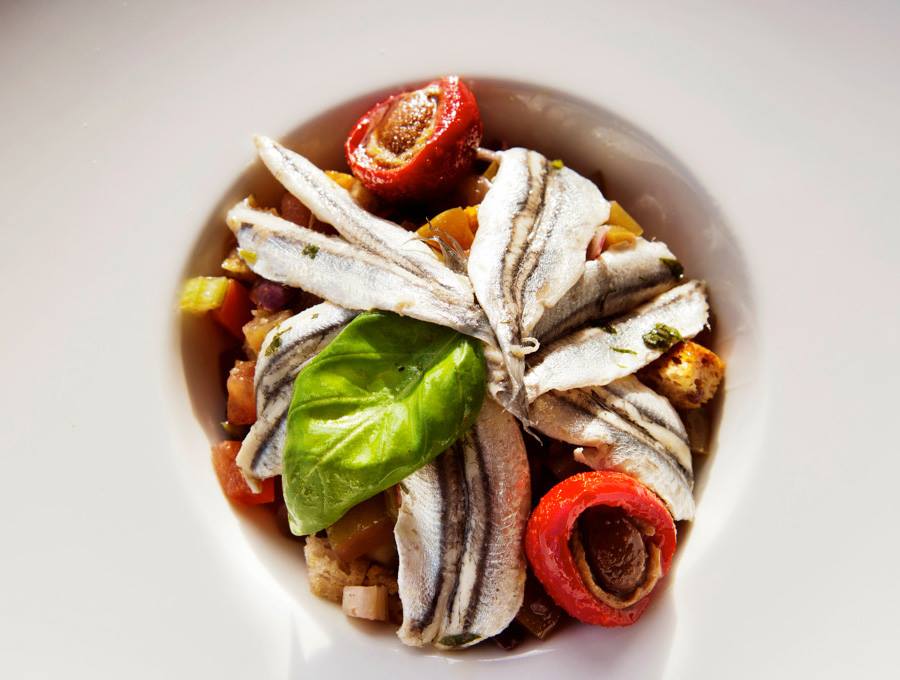 Gaeta - Antico Vico
Not far from Terracina is jewel town Gaeta, with its steep cliffs and soft, sandy beaches. After climbing down (and back up) the steps to the area's best secluded beach "300 Gradini", why not head over to the elegant tables of Antico Vico, located in the old Medieval city's maze of alleys? Located in an ancient stone palazzo dating back to the 1200s and sitting on ancient Roman marble artifacts, the restaurant's classic cuisine includes both sea and meat fare. Oily fish, crustaceans and mollusks, and some of the area's best local mussels complement the traditional specialties like the "tiella", a savory tart filled with either octopus, braised vegetables or onions and the area's most famous purple olives.
Castiglione della Pescaia - Encanto White
Heading back north up the coast and into Tuscan territory, we leave the vineyards and curvy, postcard cypress-lined roads typical of this area behind, headed to the Maremma coast. The gem town of Castiglione della Pescaia spans from a port town to a lush Mediterranean pine forest overlooking the sea. Both these elements are reflected in the local Maremmana cuisine. North of the city, on a spur jutting into the sea at Le Rocchette beach is a small corner of paradise. Encanto White serves fine seafood on a terrace built on stilts in the sand in the cove's quiet beach. Local oily fish, crustaceans and lots of cruditées grace the menu, further enhanced by the fine wine list. The cold pressed extra virgin olive oil used in the kitchen and available on the table is self-produced by the owners on their farm.
Porto Ercole - Il Pellicano
The Argentario is an area of Tuscany among central Italy's best kept secrets. Just outside the resort town of Porto Ercole, amid hillside gardens overlooking the Tyrrhenian Sea, is restaurant of luxe hotel Il Pellicano, where Michelin-starred southern Italian chef Sebastiano Lombardi creates modern Mediterranean cuisine using only top quality organic ingredients and fish caught in the waters the kitchen overlooks. Elegant seafood and land-based tasting menus as well as a superbly designed wine list. Reserve a romantic table on the waterside terrace and prepare to say yes.
Isola del Giglio - Da Mario di Meino
Fine seafood restaurant managed by the exuberant yet never intrusive owner Zio Brizio is a Giglio institution. The quality of the fresh fish is top notch, the cuisine is simple with whimsical peaks, and hefty portions. For a representative plate of Giglio cuisine, order the house spaghetti "all'imbrogliata" that is with clams, pine nuts, cherry tomatoes, calamari, anchovies, capers, squid and olives. Outdoor seating, sparkling house wine served in jugs and the Mediterranean Sea all around makes this a perfect end of summer treat.
Giulianova - Beccaceci
In the region of Abruzzo, the coastal resort town of Giulianova is an undiscovered beach lover's paradise. Awarded with 2 Forks by the Guida Ristoranti d'Italia, restaurant Beccaceci is no rookie in the local dining scene. Classic local sea-based cuisine has been served with elegance and skill in the restaurant's stone arched rooms since 1922. Chef Vito Pepe's cuisine features Adriatic specialties, fresh caught wild fish served in traditional dishes, ranging from pasta starters to simple yet delicious grilled fish.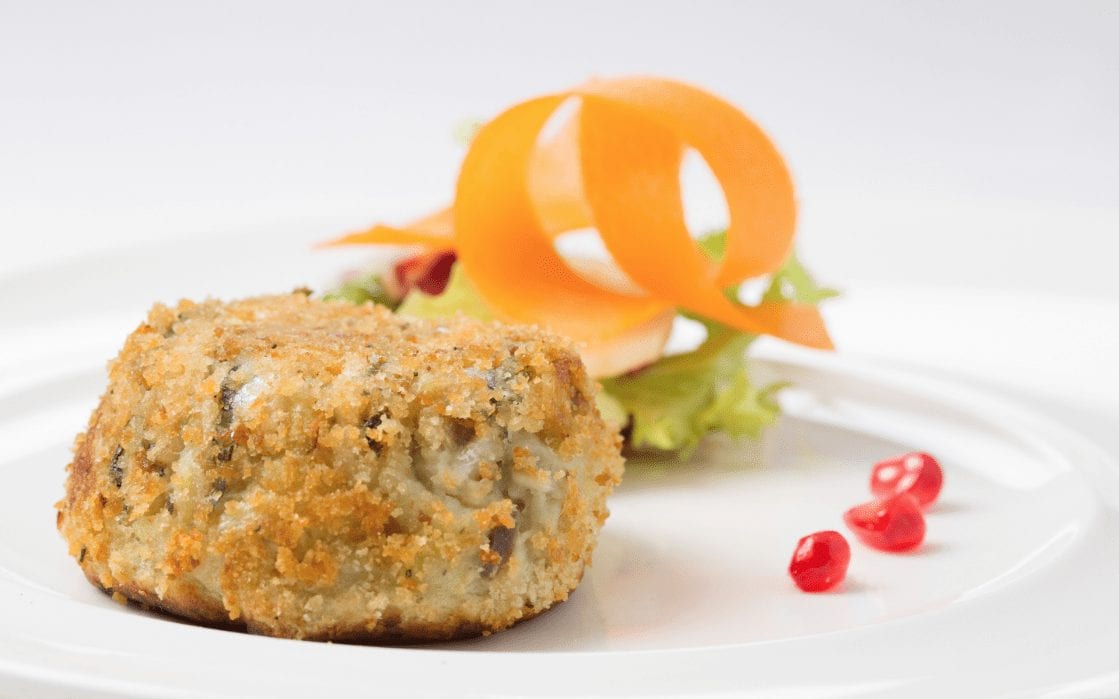 Vasto - Hostaria del Pavone
Approximately 120 km south of Giulianova, and in the Chieti province is another Abruzzo Adriatic food lover's magnet: the coastal town of Vasto. According to legend, the town was founded by Greek hero Diomedes, and its earliest archaeological artifacts date back to 1300 BC. But what many may not be familiar with is the wide choice of fine dining establishments Vasto boasts. Hostaria del Pavone is one of such destinations. On the menu traditional marine fare, like the sublime "brodetto alla vastese" made with whatever local fishermen caught that day, plus homemade bread, interesting wine list and courteous service.
Cupra Marittima - Oasi degli Angeli
In the Marche region, south of Abruzzo, on the Adriatic coast is the charming town of Cupra Marittima. Located approximately 70 km southeast of Ancona and 30 km northeast of Ascoli Piceno, coastal Cupra attracts for its pristine beaches and tranquility. Our destination of choice however is inland from the coast, and precisely in a vineyard. Oasi degli Angeli Agriturismo farm offers lodging and skillfully prepared local fresh produce paired with the property's exquisite natural wines, produced by owners Eleonora Rossi and Marco Casolanetti. For their guests, the young winemakers, enamoured of the Montepulciano and Grenache grape varieties and Piceno terrain, offer a fixed menu (with changes upon request) served paired with three different wines. A true must.

Porto Recanati - Andreina
We remain in the Marche region, a handful of kilometres inland from Porto Recanati, where restaurants normally offer a large selection of locally caught seafood. Awarded 2 Forks by Guida Ristoranti d'Italia, and 1 Michelin star, Andreina is a hallmark of quality and tradition. The menu, designed by chef Errico Recanati, focuses on an elegant and innovative offer featuring grilled meats and poultry, particularly skewered and cooked over the coals. The elegant tasting menu is a fine summary of the cuisine's full expression, well balanced by the refined wine list and courteous service.
Addresses
Glem l Santa Marinella (RM) l Piazza Civitavecchia 8 l Tel. 0766 513904 l www.glem.biz
Il Granchio l Terracina (LT) l Via S. Francesco Nuovo, 80 l Tel. 0773 709696 l www.ristoranteilgranchio.it
Antico Vico l Gaeta (LT) l Via Vico II del Cavallo 2/4 l Tel. 0771 465116 l www.anticovico.it
Encanto White l Castiglione della Pescaia (GR) l localita' Le Rocchette l Tel. 0564 947126 l www.encantowhite.it
Il Pellicano l Porto Ercole (GR) l località Sbarcatello l Tel. 0564 858111 l www.ilpellicanorestaurant.com
Da Mario di Meino l Isola del Giglio (GR) l Via Provinciale 26 Loc. Campese l Tel. 0564 804087
Beccaceci l Giulianova (TE) l Via Zola 28 l Tel. 085 800 3550 l www.ristorantebeccaceci.com
Hostaria del Pavone l Vasto (CH) l Via Barbarotta 15/17 l Tel. 0873 60227 l www.hostariadelpavone.it
Oasi degli Angeli l Cupra Marittima (AP) l Via Contrada Sant'Egidio 50 l Tel. 0735 778569 l www.kurni.it
Ristorante Andreina l Loreto (AN) l Via Buffolareccia 14 l Tel. 071 970124 l www.ristoranteandreina.it
by Eleonora Baldwin