UberEATS – after Europe now in Italy
We had disclosed news of this a few months ago: the 2009 San Francisco founded business, after activating its food delivery services in Amsterdam, London, Paris and Brussels was looking to launch in Italy. And so it is: from October 26th Milan residents can order a meal at home or at work with only a few clicks on the UberEATS mobile app. Despite the issues with the UberPOP service, Italy is an interesting market for Uber, especially as far as food is concerned. For this reason the ex-startup launches with an important investment: 100 affiliated restaurants, free delivery charges and no minimum purchase necessary. After the initial launch period, this will eventually become a paid service.
How it works
Simple and quick: Uber is the intermediary between the restaurant offering delivery service and the courier, who are not bound by any restrictive timetable, minimum number of deliveries nor identifying uniform, and who can decide when and where to go online and for how long to work the shift. The interaction is between restaurant and courier: Uber, with its platform, holds a percentage of the restaurant's revenue. No cars in Milan though, here deliveries are done with scooters or bicycles. With the UberEATS app, clients can browse menus and choose what they want. Clients already registered with Uber will find the EATS service already integrated in their smartphone app. However both apps are independent, yet it will be possible to connect the two profiles using the same billing info.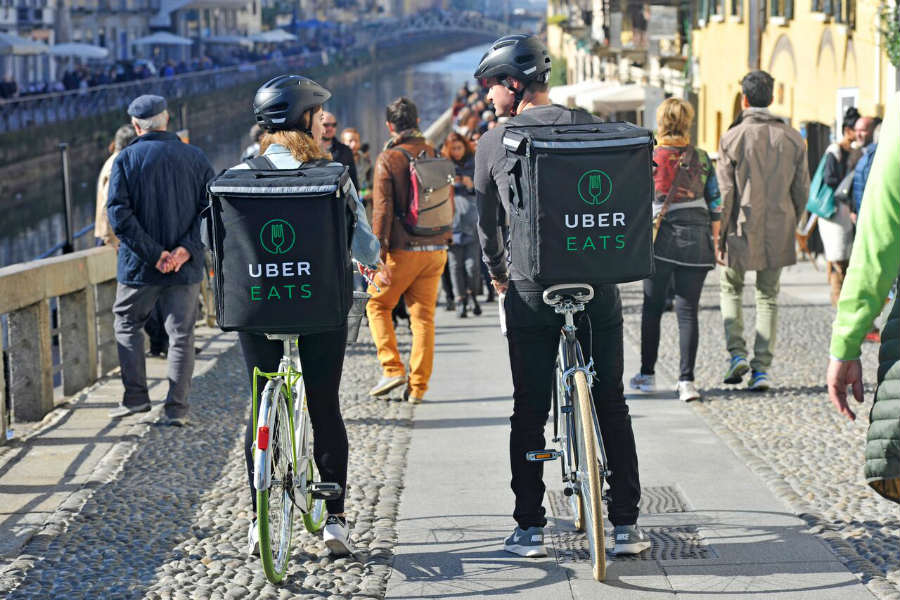 Photo by Andrea Delbò
Affiliate restaurants
The food offer currently on UberEats is quite varied: affiliate restaurants are 100, all medium-high range with a variety of vegetarian adn vegan options. Once users have enjoyed their meal, they can rate the food and service with a thumbs up or down, or adding comments. Among the restaurants and commercial food businesses that have joined Uber are Briscola, Fatto bene, Il Prisco, Ravioleria Sarpi, Mariù, Raw Vegan, La Martesana, Le Vrai. After Milan, latest rumours via LinkedIn have Rome as the newest Italian UberEATS market.
Controversy on food delivery
Uber wants to shed light: we are not Foodora. After the controversy that arose in past weeks regarding the Foodora food delivery, with couriers accusing the company of exploitation, Uber wants to clarify. "Our business model is essentially different", explains Carlo Tursi, general manager of Uber Italy. "We are not a transportation operator, the delivery man is an individual who works independently for the restaurant. The delivery man decides his own schedule, there are no shifts, no assigned areas, and there are no uniforms. It's a way for couriers to make some cash. We are not a kind of business that can assure a single source of income or an alternative to regular office jobs. The correct definition of this as opposed to sharing economy would be gig economy". The website for courier registration is already counting a high number of requests, mostly among people between ages 18 and 26.
by Francesca Fiore
translated by Eleonora Baldwin
Restaurants currently affiliated with UberEATSBianca
God save the food
Rap del Gargano
Gusto 17
Morso
Roqus
Corey's Soul Chicken
Macinata
Mariù
La Martesana
A 'Mare
A Casa Eatery
Let's Wok
Le Vrai
PopDog
Greek Fusion
Namaste
Rock Burger
Trattoria della Pesa
Meat Art
Sushita
El Caminante
I Salentini
Ghe Sem
Fatto Bene
Maido
Pizzeria di Porta Garibaldi
Special Burger
Crank Organic Bakery
Orobianco
La Griglia di Varrone
Latteria alla Darsena
Mantra Raw Vegan
Hambistro
Myke
La Filetteria Italiana
Briscola
That's Vapore
Il Priscio
Puglia in Brera
3WRaw
Evo
Hops Beer Shop
Amuse Bouche
Flower Burger
Suri
Ravioleria Sarpi