The harvest of Montenapoleone District. Grand Tasting 
Companies that have been producing great wines for at least 20 years, with the highest ratings, between votes of the Italian and international press. It is the selective filter of the Comitato Grandi Cru d'Italia which since 2005 has been promoting a consolidated group of wineries. Currently there are about 90, including publications and events in Italy and around the world, with a focus on Asia. The tasting of the Committee, which went live on Friday, October 7th, was one of the main events of La Vendemmia organised by MonteNapoleone District, an event that brings great Italian wines to the heart of luxury and fashion, including tastings, charity auctions and dedicated menus. The formula has been already replicated also in Rome and Shanghai. Now, glass in hand, we offer you a journey with some wines tasted in the historic Napoleonic hall of Palazzo Serbelloni, in the centre of Milan.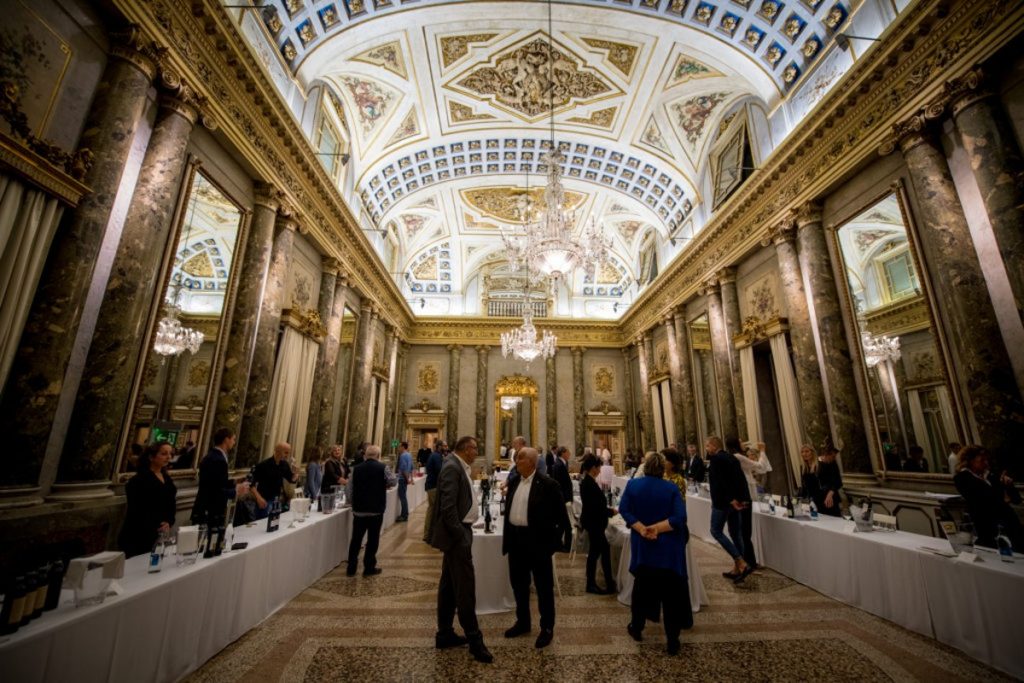 Cartizze V. La Rivetta Brut 2021 Villa Sandi
We start from the collina del Cartizze hill, 108 hectares divided into over 50 owners, for a cuvée that is proposed internationally as one of the happiest and most profound expressions of the glera grape. Delicate, airy aromas of sage, basil and pear, for a soft, creamy and satisfying sip, of remarkable harmony and grace. Naturally it calls for a Mediterranean herb risotto.
Trento Perlé Bianco Riserva 2015 Ferrari
The feeling is that at Ferrari the hierarchies are increasingly thin, with a truly impressive average level. As soon as it came out, Perlé Bianco Riserva 2015, a warm and sunny vintage, was already in an exciting form in terms of fragrance and definition. There is all the style of the house for freshness, it has aromas of mint, wheat and white peach: it is lashing, savoury and balsamic. Only chardonnay grapes, over 6 years on the lees, bordering illegality for its smooth drinkability.
Franciacorta Dosaggio Zero Annamaria Clementi Riserva 2014 Cà del Bosco  
The cuvée dedicated to the founder of Ca' del Bosco, a blend of chardonnay, pinot bianco and pinot nero, always represents a point of reference. And even the 2014 vintage, which has only been on the market for a few days, offers the usual richness of references and details, with a more pronounced citrus profile than the latest versions, due to a certainly colder year. The spicy contribution is perfectly balanced, it just needs time, it has energy and character to travel in the bottle for a long time.
Alto Adige Valle Isarco Kerner Praepositus 2021 Abbazia di Novacella
A breath of freshness from the Isarco Valley to get to know a convent with a cellar that has been producing wine since the year 1142. Located in the complex of the Augustinian Canons' Abbey, "prepositus" was the term used to indicate a superior of the convent and today it identifies the upper range of the cellar. We like this wine because the delicately herbaceous vein is combined with iodized aromas, for a vibrant and juicy profile, with a long and relaxed finish. Try it with  some al dente spaghetti with homemade pesto.
Greco di Tufo Cutizzi 2021 Feudi di San Gregorio
A white that wanted to be red. It's the Greco speaking in the glass with its classic decisive, gritty nuance, deep sapid tension and citrusy sprint. The wine is still contracted, but it has momentum and flavour, for a tissue that we are sure will manage to travel in time even for more than 10 years. We have said it many times, the ageing potential of whites from Campania is really still too undervalued. Food pairing? Go for some peppered mussels.
Salice Salentino Rosso Donna Lisa 2017 Leone de Castris
We moved to Salento to try one of the historic wineries of Southern Italy (the first to bottle the first rosé wine as early as 1943), the production line dedicated to Maria Luisa de Castris. A negroamaro with a balance of black Malvasia di Lecce, old alberello vines that sink on soils rich in sand. The aromas take us between raspberry jam and tomatoes ripening in the sun. The mouth is soft, rich, warm, slightly alcoholic, but it is supported by the fruit.
I Sodi di San Niccolò 2018 Domini di Castellare di Castellina
From Salento to the firm, steep and difficult to work soils in Castellina in Chianti, in the Chianti Classico area, for a cru produced since 1977. In this case, a balance of black malvasia enriches the Sangioveto, a clone of Sangiovese. The 2018 offers notes of dark fruits, black tea and balsamic essences. The mouth is rich, crisp and reactive. Knocking on its door in 10 years, you will find it still very young.
Brunello di Montalcino Prime Donne 2016 Donatella Cinelli Colombini
We met Donatella Cinelli Colombini, owner and for years engaged in the role of the Italian President of Donne del Vino since 2016. Brunello Prime Donne is the symbol of the first Italian winery with an entirely female staff, Casato Prime Donne located in the North-West area of Montalcino. As we all know, 2016 was a stellar vintage: the wine whispers in airy tones of cherry and mint; on the palate it is fine, fragrant and silky. Montalcino plays a jazz rhythm.
Ornellaia 2017 Tenute dell'Ornellaia
Italian wine needs icons. Here we are with the celebrated blend of cabernet sauvignon, merlot, and a balance of petit verdot and cabernet franc. The vineyard is half-hidden at the foot of the Bolgheri hills, kissed by the fresh sea breeze during the summer months, protected from the coldest winds in winter. A swirl of vanilla, black pepper and sweet tobacco introduce the taste. The spices give rhythm to a dense and juicy mouth, with a decisive and tight tannic burst. The finish is quite supple and spicy. It is the product of a vintage, 2017, which for us is among the most complicated in Italy in the last 20 years, not far from 2003.
Amarone della Valpolicella Classico Riserva 2011 Le Ragose 
We close with Marta Galli, the new generation at the helm of a small winery in Valpolicella that continues to focus on high hill vineyards, only large barrels and very long ageing before being marketed. The vintage here is great, the wine sings in the glass, near its peak. It dances on rich and mature tones, it combines density and concentration of pulp but also momentum and excellent acidity. It also brings back typology to those who are straying away.