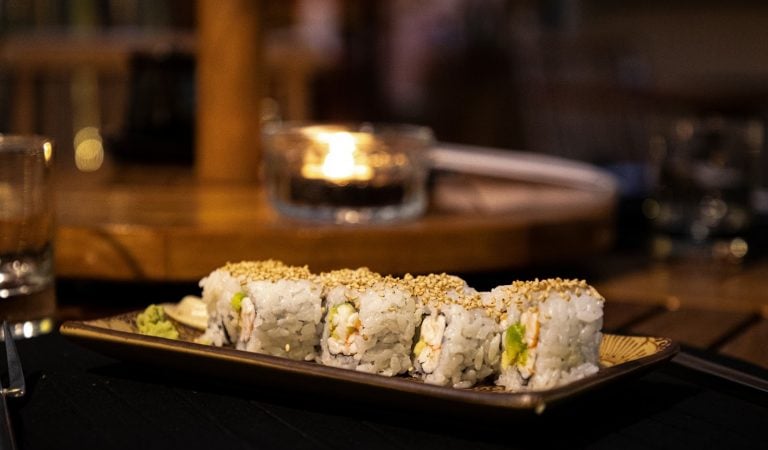 There are those who make fusion cuisine and those who stick to tradition, but in any case Turin is an interesting place for sushi lovers. Here are 10 spots not to be missed.
Although sushi rituals and customs in Japan are well defined, exporting such a distant culture to the West has inevitably meant a culinary cross-fertilisation, change and evolution. The Gambero Rosso Sushi guide has collected more than 250 restaurants and highlighted the best spots that offer an interesting expression of Japanese cuisine. Here are the spots to try in Turin.
Where to eat sushi in Turin
Arcadia
An Italian restaurant that also boasts a good sushi bar. Selected fresh and quality raw materials are evident from the first taste, starting with the classic nigiri and sashimi, but the rolls with various fillings are equally satisfying, such as the Mexican rolls with spicy tuna, tobiko, avocado, cashew nuts and rocket. You can also enjoy various samples of raw fish in the Bento box.
Arcadia – galleria Subalpina, 16 – facebook.com/RistoranteArcadia
Fuzion Food
Chef Domenico Volgare proposes his 'fuzion experience', an original experience that mixes Asian and Mediterranean cuisine, paired with a selection of wines from all over Italy, craft beers and cocktails. Moscato d'Asti is used to soak the Piedmontese Selenio rice, while the 'Mediterranean sushi' features Fassone della Granda sausage, robiola di Roccaverano cheese, Piennolo cherry tomatoes, Taggiasca olives and Apulian organic extra virgin olive oil.
Fuzion Food – via A. Volta, 4b – fuzionfood.it/
Homu
In the Crocetta neighbourhood, this is a landmark for sushi lovers and its variations, accompanied by a fine selection of warm alternatives. The raw menu is extensive and enhanced by fresh, selected ingredients. The Crispy rolls with fried salmon skin, sea bass tartare, tomato slices and sesame sauce are delectable, as well as the nigiri and sashimi.
Homu – c.so F. Turati, 9a –  facebook.com/RistoranteGiapponeseHomu/
Japs! e ramen
Four restaurants in the city, each one with a different culinary proposal: the one in via Carlo Alberto 2 is an izakaya and sake bar; the one in Corso De Gasperi 8 is a noodle bar; the one in Corso Dante is specialised in ramen, while the latest restaurant in Corso Moncalieri 47 is dedicated to Wagyu beef. With a varied and inviting menu, sushi occupies a place of honour in every restaurant.
Japs! e ramen – c.so Dante, 53 – japs.it
Kensho
Quality raw materials, a refined setting, targeted lighting and an intimate atmosphere. In the Chiesa family's restaurant, the Japanese gastronomic tradition is matched by a friendly welcome with attention to detail, starting with the efficient and professional service, to the drink menu that combines an excellent selection of wines, sake and spirits. Every dish, including sushi, is prepared with care, precision and skill.
Kensho – via Mercanti, 16 – kenshorestaurant.com/
Koi Japanese Fusion Restaurant
The common denominator here is the freshness of the ingredients that underpins a cuisine that briskly combines traditional dishes with more innovative proposals, without neglecting the use of quality Italian products, together with various titbits from around the world. The nigiri proposal includes the Mascietra, made with Mazara del Vallo prawns and Russian caviar, and the Suzuki Kepa, made with sea bass, Pantelleria capers and yuzu zest.
Koi Japanese Fusion Restaurant – via conte S- Frola, 4 – ristorantekoi.it
Miyabi
Tezuka Masanori is the menu creator of this beloved Japanese restaurant in Turin, born as a Japanese cultural association and then turned in 2020 into a real restaurant. Herbs and vegetables from its own garden or the local market, organic produce, fresh wasabi and homemade fermented foods are the basis of every recipe, not forgetting the fish from Japan. Don't miss any sushi interpretations, starting with nigiri and sashimi.
Miyabi – via Villa della Regina, 9° – facebook.com/MiyabiTorino/
Oinos
The restaurant features a culinary cross-fertilisation starting from the classic sushi, where the flavour of Japanese raw fish is combined with Sicilian and Mediterranean flavours of 'sushiliano'. Beside the classic combinations, here you can have fun with rolls made with shi drum, courgettes and crunchy almonds, or with Mazara del Vallo red prawns, basil and extra virgin olive oil, or with tuna, basil, almonds and citrus oil. The nigiri are also delicious, especially the one with tuna and caramelised sweet Tropea onions.
Oinos – via della Rocca, 39 g – oinosristorante.it/
Shizen
A two-room restaurant with an elegant minimalist style, where you can stop and enjoy creative dishes with a strong influence of Thai cuisine. The sushi chef's hands give life to nigiri, sashimi and temaki – don't miss the Yellow rolls with mango and amberjack – but the chef's suggestions are worth tasting as well.
Shizen – v.le E. Thovez, 6 – shizen.it/
Wasabi
A historic Turin restaurant with a large room, an open counter and the possibility to dine on raised tatami platforms. The fish is well presented and of excellent quality, making sushi and sashimi the main attraction for the loyal clientele, while the good quality rice makes nigiri the restaurant's pièce de resistance. Don't miss the one with marinated eel fillet or shrimp!
Wasabi – c.so F. Ferrucci, 72 – facebook.com/pages/Wasabi/174164972605155