Sunday roast
Simply put, the Sunday meal. Sunday roast is a British meal that revolves around roast beef but which includes a series of other tasty products and sauces, served in the same rich and colourful dish, to celebrate Sunday together with loved ones, but also on important occasions, like Christmas and family gatherings. Traditionally, it's eaten around 3pm, although many now eat Sunday meals around dinner time, especially given the morning English breakfast tradition with bacon, eggs and other delicacies, usually reserved for the weekend. The preparation of the Sunday roast is long and laborious, starting with the meat, which is cooked for up to an hour, depending on personal taste.
Sunday roast: roast beef and meat consumption in Britain
The ritual began to spread in the late 15th century, during the reign of Henry VII, a period in which abundant consumption of meat was a common habit in the palace, especially among the royal guards, whose nickname was precisely "Beefeaters" for this reason. The guards started the Sunday roast beef tradition by cooking the meat (usually fillet, sirloin or shoulder) in the morning before going to Mass. The practice was consolidated during the 19th century: women would leave the meat to cook in their village baker's oven, which was closed on Sunday, and picking it up when back from church, perfectly roasted. A tradition that's also told by William Kitchiner in the 1871 volume "Apicius Redivivus: Or, The Cook's Oracle", in which the author recommends eating about 3 kilos of meat per week to stay healthy, to underline once again the central role that meat plays in the British diet.
Sunday roast: veggies and Yorkshire pudding
In the plate along with the main course are roasted vegetables - carrots and parsnips in the first place - potatoes, cooked both in the oven and as mash, peas, broccoli, cauliflower, but also pigs in blanket, (pork sausages wrapped in bacon). And then the ubiquitous Yorkshire pudding, baked batter with a shape similar to muffins, originally baked sitting under the roast beef so as to collect the meat drippings. The first written record of the recipe is found in a book called "The Whole Duty of a Woman" (1737), where it's mentioned with the name of dripping pudding.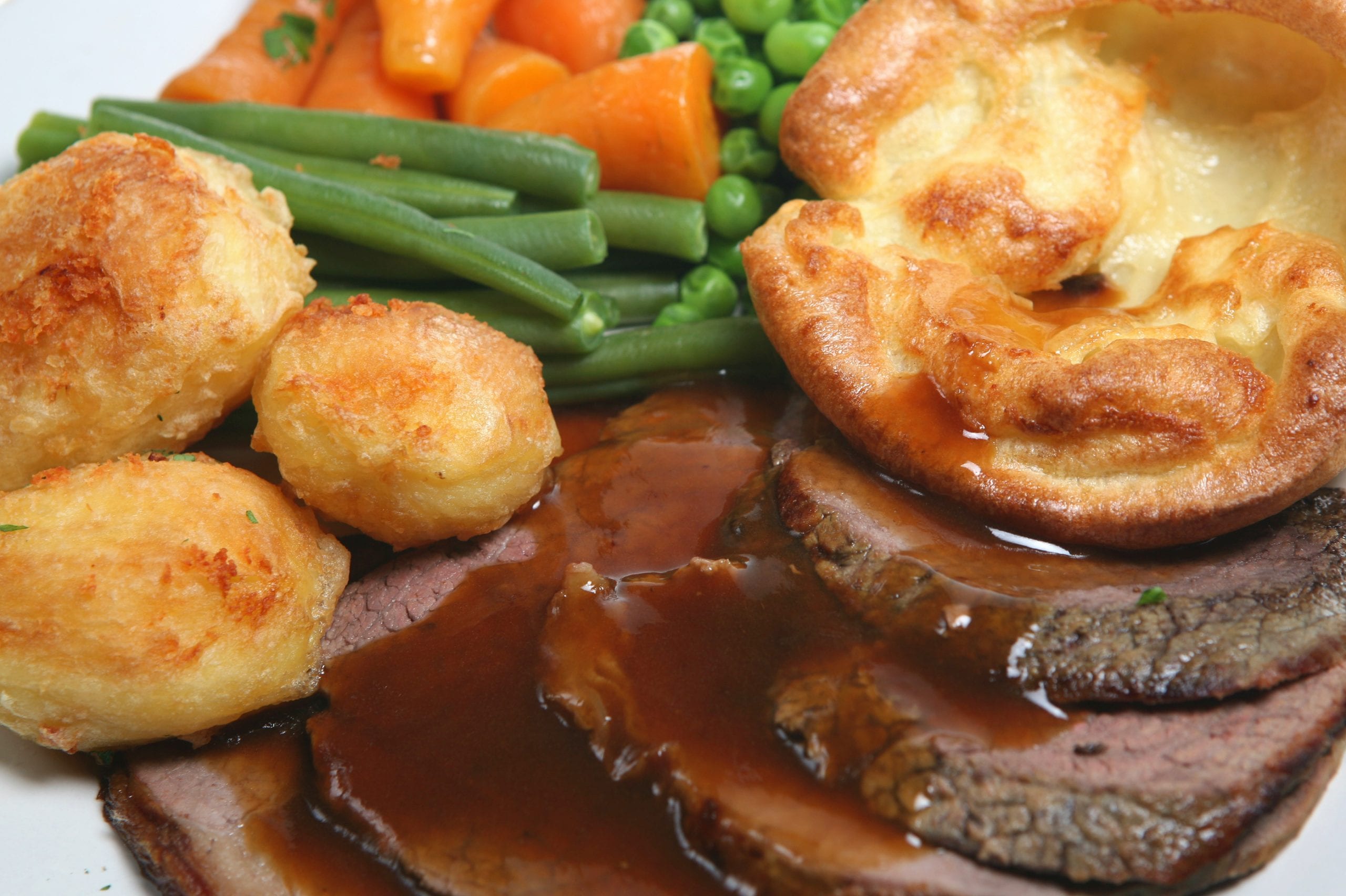 Sunday roast sauces: gravy and horseradish
Today Yorkshire pudding is no longer cooked under the meat, but to embellish the whole dish, including the vegetables sides, there is gravy, a thick sauce made with the cooking jus of the meat, enriched with aromatic herbs and spices, broth and a little flour for thickness. The name derives from the French term gravé, a word used in the 14th century to describe meat or fish broths but also the juices of the meat that resulted from oven cooking. On the market there are several ready made variants of gravy, a sort of powdered bouillon cube dissolved in boiling water, but whose flavour is far from the homemade version. In place of gravy, there's also spicy horseradish cream.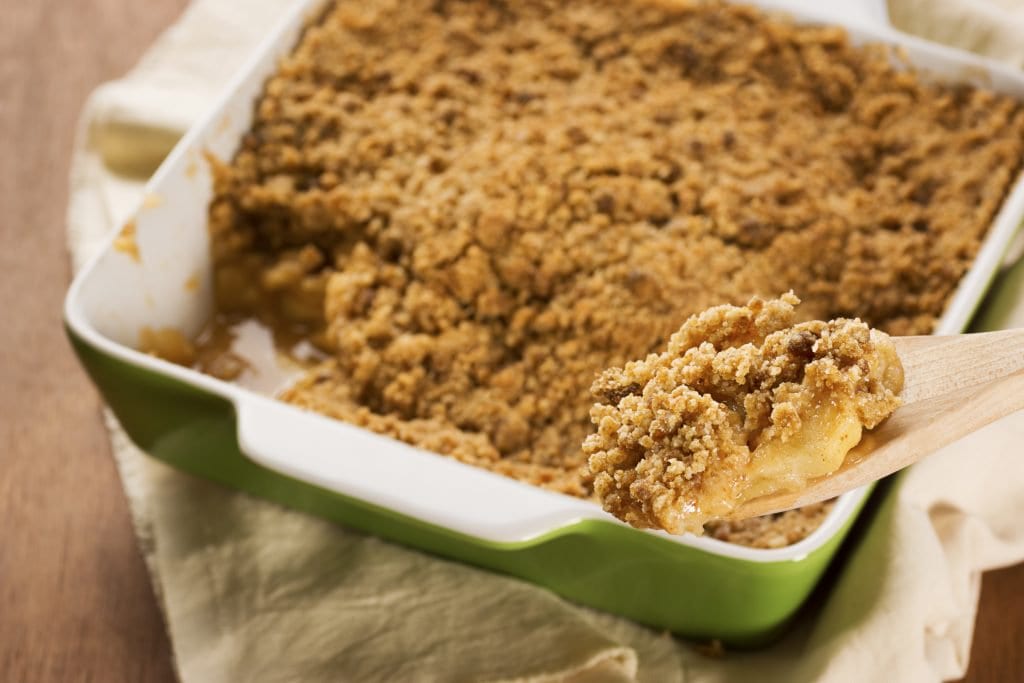 Sunday roast desserts: trifle and crumble
Two main options to choose from for dessert: trifle or crumble, the most iconic British desserts. The first is a delicious and baroque-looking pud, composed of several layers of sponge cake soaked in Sherry or other fortified wines, pastry cream, whipped cream and fruit (according to many, zuppa inglese recipe derives from trifle). Born as a way to use pieces of leftover sponge cake and fruit close to spoil point, over time trifle became more and more popular and different variations began to spread which included fruit jelly and other ingredients. Crumble, on the other hand, is a crisp dough made with flour, sugar and butter, crumbled with fingertips in order to obtain a crumbly consistency and used to cover lightly pan-cooked fruit with butter, sugar and sweet spices. Legend has it that crumble was born following the rationing of food resources during WWI, when in the absence of flour and butter the British replaced classic pie crusts with shortcrust crumbs. It can be prepared with any type of fruit, even though the traditional version uses apples or rhubarb. The inevitable pairing is warm crème Anglais.
Where to enjoy Sunday roast
Quarantine is the ideal time to experiment with new recipes, but when the emergency is over and you can resume travelling, in order to taste proper Sunday roast there is no better place than British pubs, places with an ancient soul that guard peasant cuisine and traditions, and which sum up the history of Britain. These are veritable meeting points, before refreshment stops, where you can relax with colleagues after work or watch sports matches in good company. An unmissable stop for every self-respecting Englishman since the 15th century, a period in which the first pubs - short for Public Houses, that offered drinks - start appearing at every street corner, presenting as a sort of tavern, where one could find room and board. In the meantime, if lunch seems too laborious to make, you can always prepare English breakfast!
by Michela Becchi