Santa Severa
Isola del Pescatore
Only a few kilometres from Civitavecchia (the large port of Rome) is the small resort village of Santa Severa. Popular in the Sixties with Italian celebrities, now it's a quiet family destination with a handful of great beach clubs and seaside eateries. Views of the Santa Severa Castle can be enjoyed from the terrace on stilts of family-owned Isola del Pescatore. Seated at the colourful tables it's easy to spot celebrities and football stars like Francesco Totti munching on bruschetta with sautéed wedge clams and bucatini pasta with mussels and pecorino cheese served in colourful terracotta plates.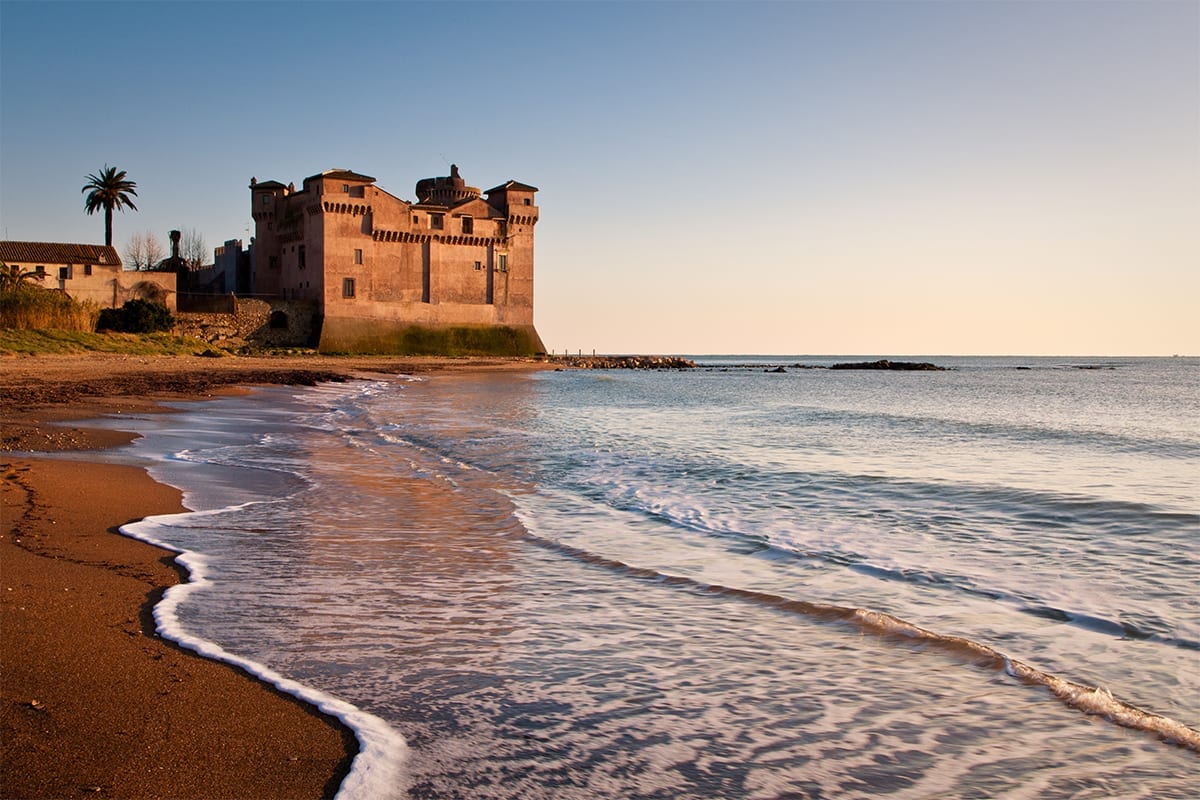 Santa Marinella
L'acquaMarina
South of Santa Severa and just north of Fiumicino is Santa Marinella. In the early Fifties it was a magnet for Italian film stars who purchased property here. L'acquaMarina is a stabilimento balneare (private beach club) with a fine restaurant. On the menu, freshly caught fish, crustaceans and molluscs sourced from the nearby sea. Think spaghetti with clams, grilled whole fish and crisp fried calamari. Dinner is served on a gorgeous terrace that overlooks the water and the fishing boats that supply the kitchen.
Fregene
La Baia
The large pineta (pine forest) planted under Pope Clement IX in the 1660s was an attempt to protect the coastland and soak up the brackish waters near the mouth of the Tiber river. In his era, Mussolini had the surrounding swampland drained, and by the Fifties beach clubs began sprouting up along the coast. In the Sixties and Seventies the fishing village of Fregene located 25 km from the Colosseum became an oasis for Italian fashionable via Veneto crowds. Dolce Vita regulars included Federico Fellini, Marcello Mastroianni and even intellectual Pier Paolo Pasolini. While not the best destination for swimming – due to heavily polluted water – Fregene is always packed with people who come for tanning, evening drinks and to dine on the waterfront at sunset. La Baia located in the small Villaggio dei Pescatori, an old fishing village on the north side of town is a popular restaurant. The owner, colloquially named Benni, welcomes aficionados with heaped plates of "coccio del marinaio" a delicious fish stew served with croutons. There's also delightful linguine with amberjack and bottarga in addition to the ubiquitous spaghetti con le vongole, pasta with clams.
Maccarese
Paradise Beach
This quiet beach club located at the very end of the road in Maccarese is the correct mix of relaxed ambiance and wholesome food. The family-run kitchen serves classics like spaghetti alle vongole and frittura mista (try the moscardini in addition to classic calamari rings). Menu choices in the grilled fish department change daily depending on market availability. Great homemade cakes and lots of fabulous fruit cups to end the meal. Designated drivers will have to unfortunately miss out on the house sgroppino (lemon gelato drowned in vodka).
San Giorgio
Not properly on the beach, rather nestled in the lush cropland of Maccarese only a few miles inland, is gourmet stalwart San Giorgio, serving top quality surf and turf cuisine since 2015. Chefs Andrea Viola and Valerio Volpi, both Maccarese natives, took the place over from the previous ownership and are doing a great job at reinterpreting Roman classics with creative flair. Trained at Gambero Rosso Academy and then under Giulio Terrinoni, Viola and Volpi boast solid haute cuisine skills and a fine seasonal menu, which includes dishes such as linguine with sea urchin, Jerusalem artichoke milk and coffee.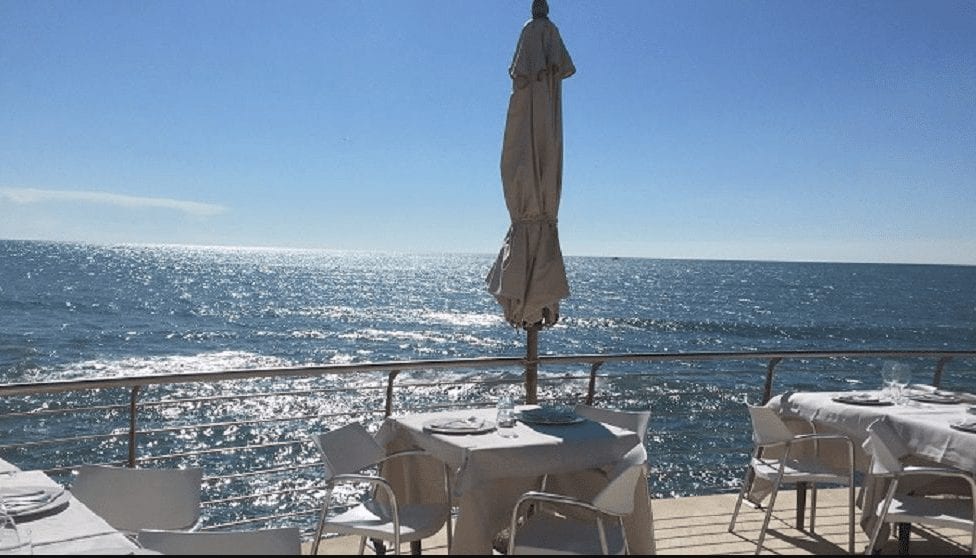 Ostia
La Vecchia Pineta
Ostia is the beach closest to Rome, and it's packed with Italians all summer long. The water here does not win any cleanliness awards, but the point of beach going in Rome is not swimming. Not to be mistaken with similarly named establishments in the area, La Vecchia Pineta is Ostia's most reliable (and expensive) restaurant. The building, in true Fascist era architecture, was built in 1933 and welcomes guests in a large double dining room with large floor-to-ceiling windows and a stunning terrace overlooking the Tyrrhenian Sea. The menu offers dishes such as sea bass carpaccio with citrus and fennel, and black cuttlefish ink fettuccine with Venus clams and zucchini blossoms. A word to the wise, the place is packed on weekends.
Capocotta
Mediterranea
The dunes of the Capocotta natural reserve stretch along the coastline with several free beaches identified by numbered front gates, cancelli. Mediterranea at gate number 10 is a quiet beach club with a fine restaurant that opens only for dinner. Their branzino in citrus marinade is always a hit, as are the razor clams au gratin and the mackerel salad with purple cauliflower, celery, green beans and mint. The seared tuna with baby spinach is a steal and the cacio e pepe with octopus is a must. The wooden deck and white canvas covering for shade are the perfect setting for a sunset dinner after a day of sunning.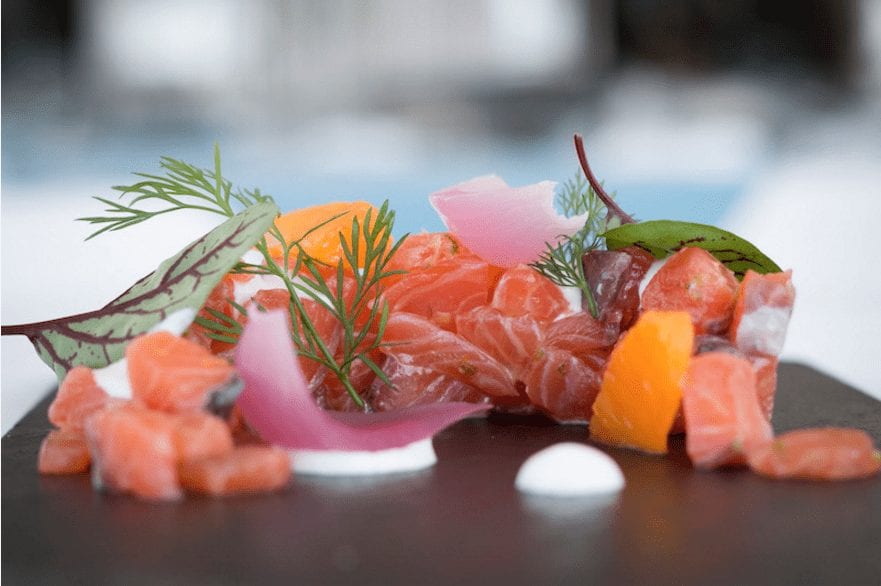 Torvaianica
Ugo al Villaggio
Further down south from Capocotta is the village of Torvaianica, home to large sports facility and beach club Marine Village. With two distinct beach areas, one for families and another more glamorous with cabanas and private gazebos on a grassy lounge, Romans come here to relax, work out, sail and dine on fresh seafood in the clubhouse restaurant. The menu features highlights such as paccheri pasta with prawns, octopus and orange zest; or baccalà and chickpea soup served with a black cuttlefish ink crostini.
Anzio
Romolo al Porto
Seafood dining doesn't get more local than in Anzio. The delicious low-cost oily fish featured in most restaurant menus is caught by small boats between Anzio and Nettuno and sold shortly after to retail and dining establishments all over the metropolitan area of Rome. Over the years, the restaurants in Anzio have improved their cuisine, developing a new, modern and complete offer. One of these is Romolo al Porto. Fortified by family tradition, solid background, vitality and boundless energy Walter Regolanti trained under Alain Ducasse and Moreno Cedroni, and then raised his father Romolo's restaurant to unmatched standards of quality. The fresh local fish, sometimes caught from the owner's own boat shines in the seasonal menu. Good wine list.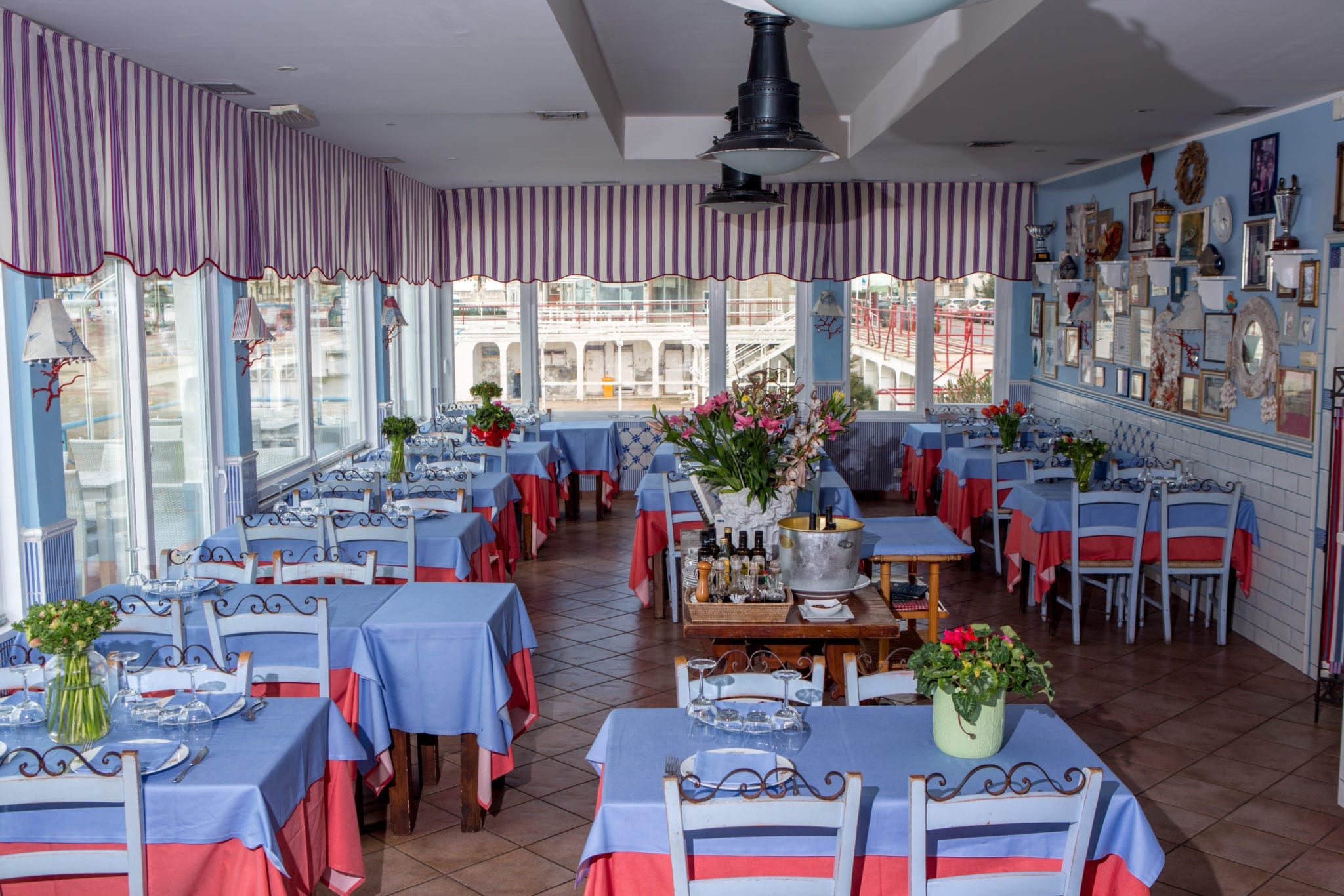 Da Alceste al Buon Gusto
Reliable fresh seafood served on a stunning raised deck on stilts since 1950, Alceste never disappoints. With it's charming red, white and blue dining room, the fish and seafood assortment will have you returning here time and again. Try the mixed grilled fish platter, or go crazy with the frittura mista. Be sure to end with the fried bombette dessert, you won't regret it.
Nettuno
Cacciatori
Named after the Roman equivalent of Poseidon, the god of water Neptune, the fishing and resort town of Nettuno is in fierce competition with its neighbour Anzio. Cacciatori is a Nettuno institution. Founded in 1896 and originally a hunting lodge (cacciatori is Italian for 'hunters') nowadays this is a solid seafood destination in the small town of Nettuno. Spend the day visiting the WWII US memorial, or strolling down the lungomare before heading over for tagliolini pasta with cuttlefish, calamari and shrimp; or a whole sea bass baked in a salt crust. Leave room for dessert.
Sabaudia
Bar Ristorante Bufalara
By far Sabaudia is one of the prettiest, cleanest beaches near Rome. It regularly wins awards for having some of the cleanest beaches/water in the region. Being at a 2-hour drive from the city, it's also less crowded. Bufalara is a small shack at the end of the long stretch of beach in Sabaudia, which was built in 1950 and located within the Parco Nazionale del Circeo natural reserve, an area of bird-watching paradise. Elegant in its simplicity, Buafalara is a fish-lover's must. The seafood menu is determined by the fresh catch of the day and sourced at the family-owned fishmonger "Pescheria Caprolace" in the nearby town of Borgo Grappa. The organic produce is picked fresh at a nearby farm. Menu highlights include clam and shrimp sauté, seafood lasagna, ravioli filled with fish and local specialty, tiella (a savoury pie baked in a bread crust with assorted fillings). The informal restaurant sits at the foot of a beautiful sand dune on the public beach, and is open year round.
Vistamare
The lovely San Felice Circeo Mountain overlooks the coastline, and perfect beach meals can also be had at Michelin star restaurant Vistamare of the Il Fogliano Hotel located between the city of Latina and the beaches of Sabaudia. This is an exquisite luxury hotel overlooking a sandy stretch of beach and whose kitchen recently won its first Michelin star.
Sperlonga
L'Angolo
While other beaches on this list have rather unattractive and relatively new, Mussolini-era blocky cement towns, Sperlonga is reminiscent of charming whitewashed Greek villages. The main square and pedestrian areas have a gorgeous views over the gorgeous and clean beach below. Open only in summer, L'Angolo is a stunning beach club pizzeria and restaurant with a diverse food offer. Family run and informal, the kitchen serves fresh fish and classic dishes and pizzas. The bread, pasta and desserts are all homemade. The menu and wine list are well curated by the chef Luciano and his kids, who also serve at the tables. Don't forego the paccheri with fresh anchovies, capers, olives and yellow Cilento cherry tomatoes. After dinner, walk up the steps and through the tiny labyrinth of alleys and stairs to end the night with a drink in the piazzetta.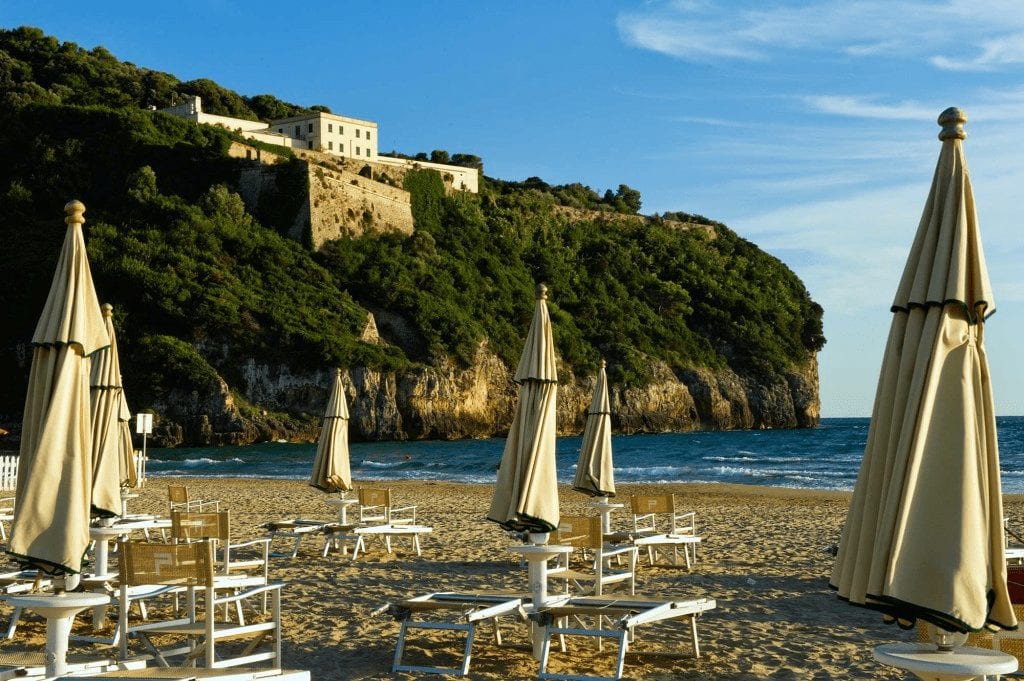 Gaeta
La Perla
Picture this: rent an ombrellone (beach umbrella) andlettino (sunbed) and spend the day tanning, reading, snoozing, strolling along the water, chatting, playing cards, and taking swims in the Mediterranean Sea. The crystal blue waters of the Serapo beach in Gaeta are the perfect backdrop for the fine meals served at the lido restaurant La Perla. Menu selections may include pizzas baked in the wood-stoked oven, classic Mediterranean fish and seafood dishes, classic pastas and a handful of meat dishes, plus well-executed desserts.
L'Isola del Pescatore⎪Santa Severa⎪via Cartagine 1⎪Tel. 0766.570145⎪www.facebook.com/Lisola-del-pescatore-530030927156069
L'AcquaMarina⎪Santa Marinella⎪piazza Trieste 8⎪Tel. 0766.511715
La Baia⎪Fregene⎪via Silvi Marina 1⎪Tel 06.66561647⎪www.labaiadifregene.it
Paradise Beach⎪Maccarese⎪via Monti dell'Ara 425⎪Tel. 06.6671451
San Giorgio⎪Maccarese⎪piazza della Pace 9⎪Tel. 06.66579054⎪www.sangiorgiomaccarese.it
La Vecchia Pineta⎪Lido di Ostia⎪piazzale dell'Aquilone 4⎪Tel. 06.56470255
Mediterranea⎪Capocotta⎪via Litoranea Km 8⎪Tel 06.56470041⎪www.ostiamediterranea.it
Ugo al Villaggio⎪Torvaianica⎪via Litoranea km 10,100⎪Tel. 06.91908178⎪www.marinevillage.it
Romolo al Porto⎪Anzio⎪via del Porto Innocenziano 19⎪Tel. 06.9844079
Da Alceste al Buon Gusto⎪Anzio⎪piazzale Sant'Antonio 6⎪Tel.06.9846744⎪www.alcestealbuongusto.it
Cacciatori⎪Nettuno⎪via Giacomo Matteotti 27⎪Tel. 06.9880330⎪www.ristorantecacciatori.com
Bar Ristorante Bufalara⎪Sabaudia (LT)⎪via Lungomare Pontino 1, Km 20,900⎪Tel. 0773.534108⎪www.ristorantebufalara.it
Vistamare⎪Sabaudia (LT)⎪piazzale G. Loffredo, Strada Lungomare Latina-Sabaudia⎪Tel. 0773.273418⎪www.ilfoglianohotel.it
L'Angolo⎪Sperlonga (LT)⎪via Tiberio⎪Tel. 0771.548808⎪www.langolosperlonga.it
La Perla⎪Gaeta (LT)⎪via Marina di Serapo 1⎪Tel. 0771.464921⎪www.lidolaperlagaeta.it
by Eleonora Baldwin