Open Coffee
Lavazza, historical Turin roaster forever engaged in promoting coffee culture launches yet another project. After the opening of the first flagship store in the heart of Milan in the pedestrian Galleria area, dedicated entirely to the many dimensions of coffee, it's now the turn of Open Coffee. This is a new digital space where coffee connoisseurs and aficionados can share ideas and experiences, and draw inspiration. The online community of coffee lovers is a place where users can exchange opinions, discuss and stay up to date with latest news. The platform is already active on Instagram and will soon be available on other social networks. This marks Lavazza's increasingly innovative marketing approach. It is a collective experiment that gathers images and words, curated by influencers selected by Lavazza and Nextatlas, a trend research company. The initiative embraces a wide audience, with the goal of making the coffee universe more accessible to all consumers and not only to a small niche of connoisseurs.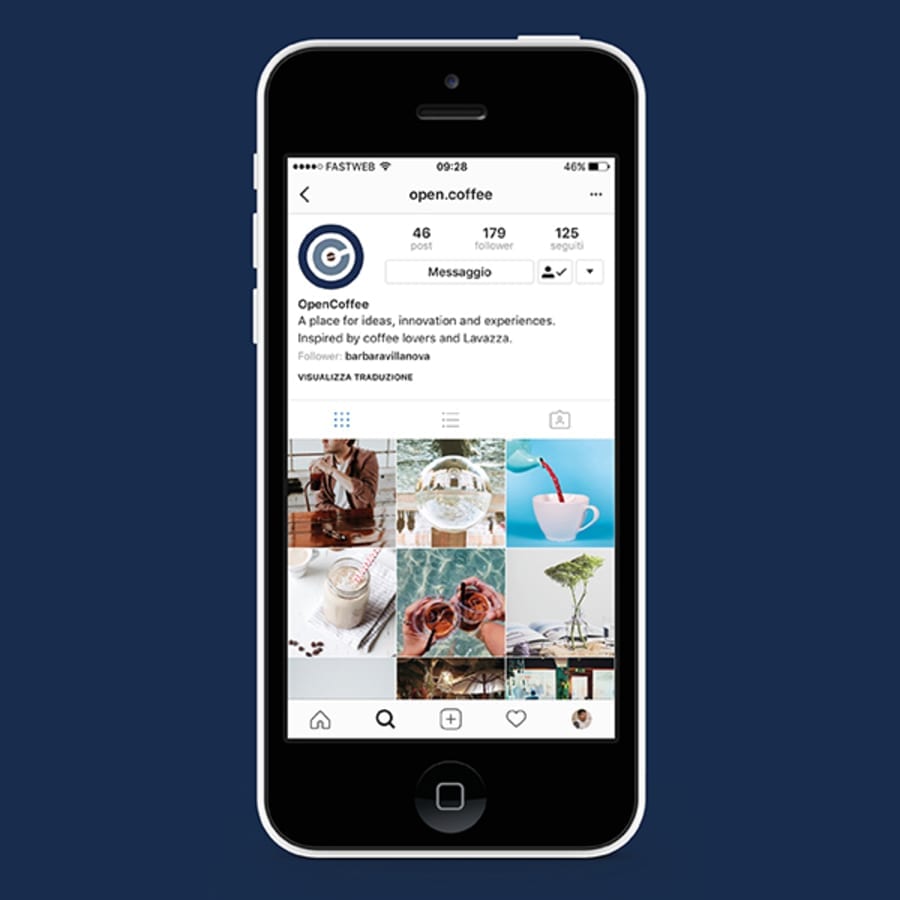 Bellissimo
In charge of designing the logo is Bellissimo, a design studio founded in '98. Their mission is use of evocative and contemporary words and images. "There's 16 of us, we are all designers and editors. The areas we develop are for the most part branding, management consulting and event planning, but we have also designed magazines and architecture books", for celebs such as Renzo Piano and Mario Cucinella. We interviewed Luca Ballarini, one of the firm's founders and current Creative Director: "We are currently working on a new project for Tartuflanghe and Pan, high quality products for whom we are now working on naming, visual identity and packaging". In addition to this, the studio is also doing a complete packaging overhaul for three main Lavazza products.
The Open Coffee logo
For the new digital platform, Bellissmo has created a graphic solution that is in tune with data communication, with a composition that plays with the letters O and C of the company name, plus the image of a coffee cup seen from above as well as the familiar web search magnifying lens as well as other 2.0 imagery. "The idea came a year and a half ago, we wanted to create a community for coffee lovers. That's why we chose a logo that could work well on social media as well as an app icon for mobile devices", that is a 1x1 geometric square, "which means a small and rational logo".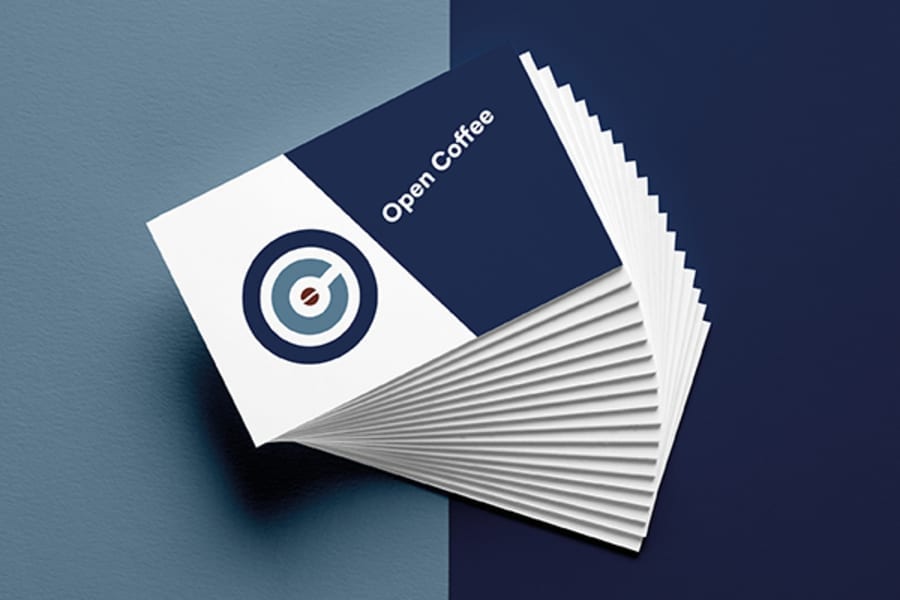 The result is a minimal symbol that's ideal for a context in which imagery and visual sharing concepts prevail. "We chose circular shapes to suggest the coffee cup idea, even if this is not the first thing that comes to mind when seeing the logo. In the middle we have a coffee bean, the only brown element in contrast with the Lavazza blue tones on a white background". Sleek and clean, the logo is functional to its purpose: capturing the attention of as many users as possible. "We were looking for a practical solution, that could be suitable for contemporary technology, yet retaining style".
Other projects
Many of the studio's projects are in the field of food, but others go beyond. "In 2012 we designed the new visual identity for Musei Torino Piemonte subscription campaign, we worked on restyling their paper as well as their ad campaigns for the Lombardy version of the badges". There was also the design of the book, La scienza del giocattolaio, published by Codice Edizioni, and other logos for digital companies such as iCoolhunt (a social network that gathers new trend images and allows users to becomestyle gurus). In addition to these, many other brand campaigns and events, "for which we design spaces, content, video, music, performances", translating a brand's values into a coherent positioning experience capable of triggering curiosity in a captive audience.
Bellissimo | Turin | via Regaldi, 7 | tel. 01 12478137 | www.bellissimo1998.com/it
by Michela Becchi
translated by Eleonora Baldwin