Struffoli, the desserts from Campania
Among the most famous Christmas desserts, born in Campania but now appreciated and enjoyed throughout the country, struffoli have their roots in ancient times, even if their origins are uncertain. According to many, struffoli derive from the Greek strongoulos - hence the name - meaning "rounded," while others believe that Neapolitan pastry chefs were inspired by a Spanish dessert, the piñonate, balls of dough similar to struffoli but with a more elongated shape. Then there are those who instead believe that the origin of everything is the term 'to rub,' (in Italian, strofinare) referring to the gesture that is performed during the preparation of this dessert. In any case, one detail is certain: it was the convents that spread the recipe, thanks to the manual skill of the nuns who made struffoli and donated them every year at Christmas to families who had distinguished themselves for acts of charity. To characterise the creations of fried balls, decorations made of honey and candied fruit, without forgetting diavulilli, the typical coloured sprinkles.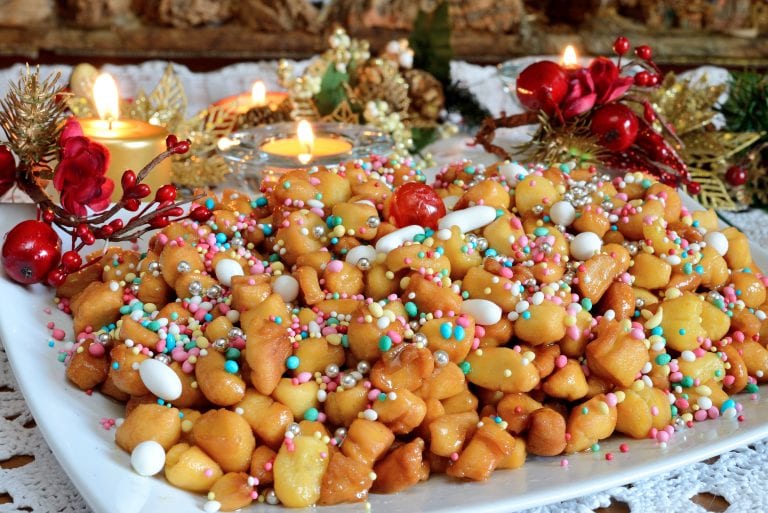 Struffoli recipes
500 g. flour
1 Tbsp. sugar
1 freshly squeezed orange juice
1 glass anise or grappa
1 baker's ammonia
Salt to taste
Peanut oil for frying
300 g. honey
100 g. sugar
Coloured sprinkles
Struffoli recipe
Mix the flour with the orange juice, the anise, oil, sugar, baker's ammonia and a pinch of salt. If the dough is too hard, add a little water or more orange juice to obtain a soft and elastic ball. Let the dough rest for 30 minutes. Working on a floured surface, form ropes of 1.5 cm in diameter. Cut into 1 cm nubs and, if desired, roll them on the reverse side of a grater to lend the characteristic shape of gnocchi. Bring plenty of peanut oil to frying temperature (170° C) and dip small quantities of struffoli at a time. Fish out with a slotted spoon when they are golden to dry on paper towels. Melt the honey with the sugar and pour it over the struffoli arranged in a mound on a plate. Complete with the sprinkles and candied fruit.