Sandwiches in Naples
In traditional village festivals, in the villages of Campania holiday festivities did not begin until the Neapolitan traders hadn't arrived : carousel people, street vendors, carnacuttari, i.e the sellers of tripe and cooked meats. The tradition of street food––which plays a huge role in Naples––has not completely disappeared, and it's still easy to come across old-time shops and modern signs that reproduce the best of Neapolitan cuisine in take-away format. Think sfogliatelle, little pasta frittatas, tortani rustic breads and fried pizza (or the delightful pizza al portafoglio, folded in four and eaten on the go), Naples is the kingdom of street food, but it's still the classic sandwiches that rule this style. Sandwiches in Naples are a real institution, they are street food stars, stuffed with the best of local production. Here are the best ones in and around the city.
The best sandwiches in Naples
Fratelli Mascolo
In the city of pasta, even sandwiches play a leading role: the authentic Gragnano panuozzo, to be precise, made with pizza dough and stuffed in various ways, depending on the season. Since 1995, siblings Ciro, Fiorenza and Lina Mascolo have made this local specialty their strong point, creating delicious and never banal recipes. The "Confit" is stuffed  with sausage, black pork lard, cherry tomatoes and provola cheese, for example. The "Ron Ciccio" is filled with fried artichokes "ndurat e fritt", pancetta, fiordilatte and a Parmigiano fondue. There is also a lot of good pizza bread, sold by weight.
Fratelli Mascolo – Gragnano (NA) – piazza G. Marconi, 9 - facebook.com/pizzeriafratellimascolo/ 
Panineria Ciro Mazzella
For a tasty, informal lunch, with a simple and exciting offer head to Panineria Ciro Mazzella. This is where you go to taste the famous panini, an institution since the '70s, filled with prime quality meats. The bread is baked on a charcoal grill, toasted and crisp, stuffed with porchetta from Ariccia, scamorza cheese from Agerola and eggplant parmigiana. There are many other tasty specialties that can satisfy even the most demanding palates.
Panineria Ciro Mazzella – via Panoramica, 27 - facebook.com/CiroMazzella56/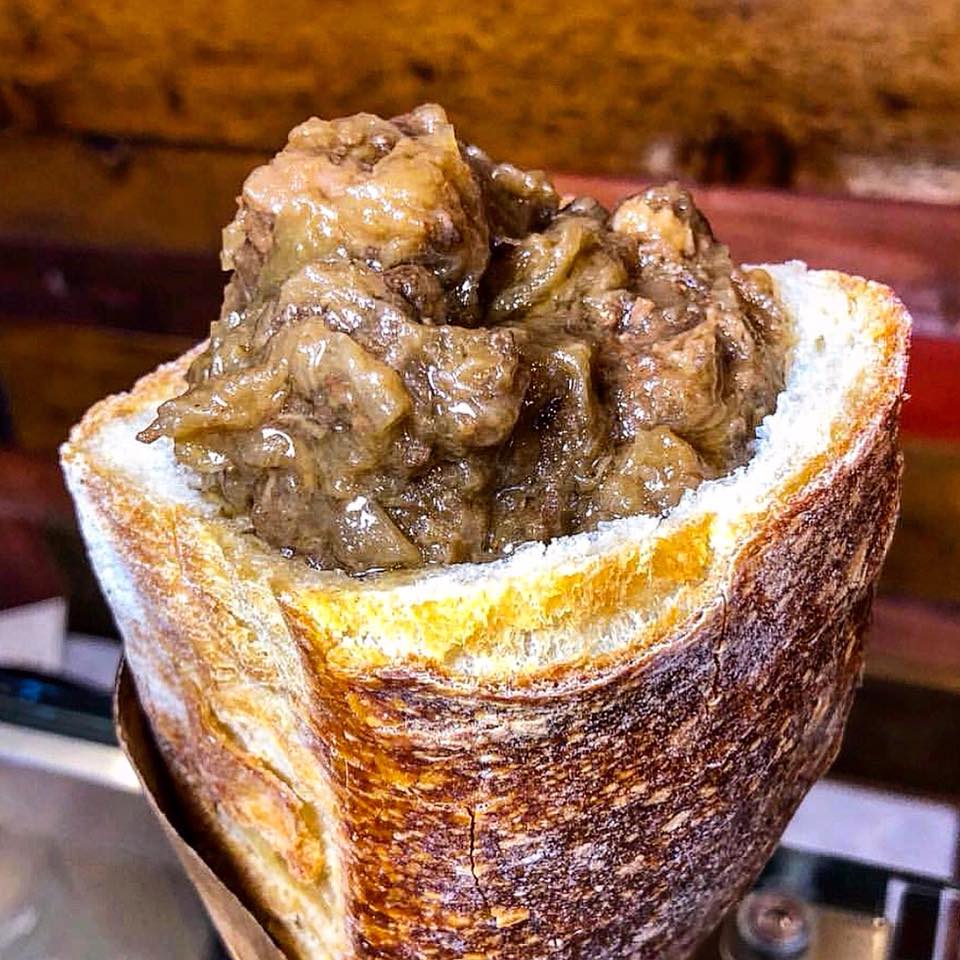 'O Cuzzetiello
Belonging to a recipe of ancient tradition, "cafone" style bread is appreciated above all for its "cuzzetiello", the crisp and round end part, which has been the par excellence snack for children, stuffed with sauces and leftovers. It's indeed a play on memory put into practice by the venue located on via Rimini (and in the Vomero branch, on via Bernini), which has transformed this childhood specialty into a desired street food. Eggplant parmigiana, fried meatballs and friarielli greens, stewed "genovese" meat––a must––and braised octopus " alla luciana" are just some of the most delicious fillings available on the menu, in addition to the special filling that rotates monthly.
'O Cuzzetiello – Naples – via Rimini, 51/ via Bernini,90 – www.ocuzzetiello.eu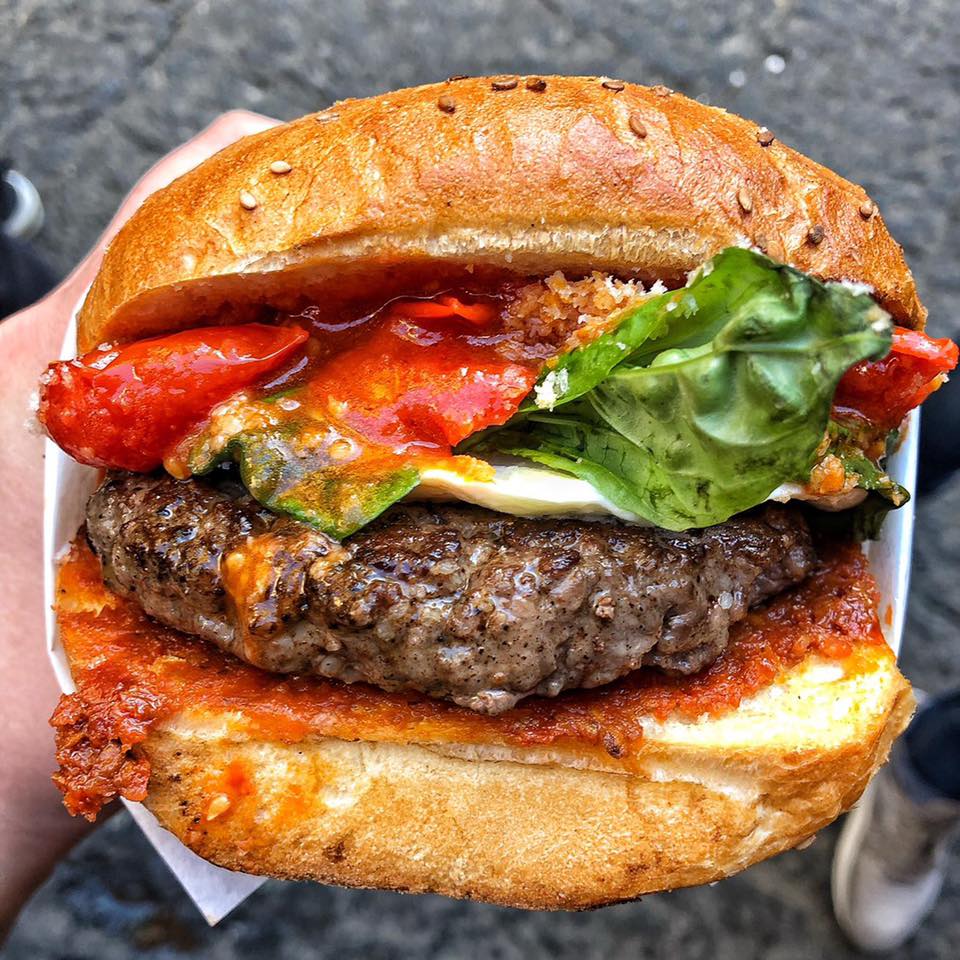 Puok Burger Store
He rose to fame thanks to his blog "The culinary adventures of Puok and Med", a collection of pizzas, sumptuous sandwiches, fried snacks and focaccias, all seasoned with praise to his mother, grandmothers, aunts, who made him the most famous Neapolitan blogger. But recently Egidio Cerrone has embarked on a new adventure, Puok Burger Store, a trendy sandwich shop that has two locations and which has immediately received much enthusiasm from the public. In both locations there is a long queue, but patrons are always rewarded by the deliciousness of the sandwiches overflowing with good ingredients, with the monthly special that changes constantly. To complete the picture are the ubiquitous crispy and delightful fries, in addition to the sincere and friendly smile of the staff.
Puok Burger Store – Naples – via F. Cilea, 104/ piazzetta Nilo, 9 – www.puokburger.com
Tandem da asporto
Three locations (the other two are restaurants) in the city for this place that has made Neapolitan ragù its trademark. The real one, which bubbles in pots for hours and hours before seasoning ziti or other pasta is the protagonist of the traditional Sunday lunch. In the branch dedicated to street food, on via Mezzocannone, pasta dishes are served, but above all sandwiches, such as the cuzzetiello stuffed with ragù or braciola, meatballs, sausage or eggplant parmigiana. There's also a vegan ragout made with vegetables only.
Tandem da asporto – Naples – via Mezzocannone, 75 - facebook.com/tandemdasporto/ 
Oasi
The address to taste the real saltimbocca sandwich in Vico Equense. This is a traditional Campania region sandwich made with pizza dough, enriched with tasty fillings. Fillings include fiordilatte cheese, mortadella, provolone del monaco, dried tomatoes and roasted courgettes, and then the one with Chianina burgers, shredded burrata, bacon and eggplant. There are also rustic bites, charcuterie boards, salads and homemade desserts, all simple and delicious. A true haven of peace with priceless sea views.
Oasi – Vico Equense (NA) – via L. Serio, 5 – www.oasisaltimbocca.it
 by Michela Becchi