Guido
Restaurant Guido celebrates 70 years of service. Thanks to the passion and perseverance of brothers Gianpaolo and Gianluca Raschi, today this is one of the entire Adriatic riviera's most aclaimed and loved restaurants. Served here is the best Adriatic sea fare, handled with balance, harmony and a light hand. There's great skill in showcasing the best ingredients, cooking methods reduced to the bare minimum and attention to presentation. A fine example of this is the recipe suggested by Gianpaolo: "This dish represents the sea in its true nature. No added fats, no added salt, it is the ADriatic that speaks to me during my mile-long walks on the shore". Here, then is "Bassa marea in Adriatico".
Guido | Rimini | Località Miramare, Lungomare Spadazzi, 12 | tel. 0541 374612 | www.ristoranteguido.it
Bassa marea in Adriatico (yields 4 servings)
500 ml sea water
Assorted shellfish
8 anchovies
20 g seaweed
The night before cooking, gather a small bucket of sea water, bring to a boil and let cool. Leave the pot to rest overnight in the fridge. The morning after strain using a fine mesh gauze and dilute with 35% freshwater to abate salinity. Clean the shellfish carefully. Immerse all bivalves in boiling water for 30 seconds, and use a small carving knife to open each. Serve in a deep dish )possibly glass) and cover with the chilled sea water. Garnish with seaweed and anchovies.
Uliassi
Mauro Uliassi, famous interpreter of sea cuisine and Marche tradition grande interprete, has a personality which is known well beyond regioanl borders. His seafront restaurant is ranked among the best in the country. The quality of his dishes is phenomenal, thanks to his brave and technically perfect cuisine. This winning combo is reflected in the recipe he offers our readers: Sole à la Maitre d'hotel.
Uliassi | Senigallia (AN) | via Banchina di Levante, 6 | tel. 071 65463 | www.uliassi.it

Sogliola alla Maitre d'hotel (yields 4 servings)
For the parsley cream
1000 g parsley
5 g agar agar
Rinse the parsley, do not remove the stems. Blanche in batches for 5 seconds in boiling water and cool in ice water. Extract the liquid through a greenstar juicer and let it coagulate at room temperature for 1 hour. Skim the jelled parsley on the surface with a fine mesh spatula and press it though a sieve. After a night in the fridge bind it with 5 grams of agar agar for every 100g of parsley pulp, let cool and blitz with an immersion blender.
For the parsley powder (to be made a day in advance)
1000 g parsley
Slather the parsley pulp as obtained above (but without the agar agar) on parchment paper and let it dry in the oven at 50° C overnighte. Blend the dry puree the next day.
For the garlic cream
500 g garlic, peeled, cored and blanched 3 times
100 g shallot
700 g heavy cream
700 g water
125 g white wine
Olive oil
2 g xanthan gum
Sauté the minced shallot in some olive oil. Add blanched garlics and simmer for 2 minutes. Splash the wine and let it evaporate. Add cream and water, bring to a boil and cook for 20 minuted. Blend the xanthan gum and add to the mix. Let cool.
For the butter foam
150 g demì-sel butter
300 g fish broth
20g di procream
4 g soy lecithin
Blend together and place in a siphon.
For the lemon concentrate
1 kg lemons
Rinse the lemons and juice, peel and all. Put through rotovac and reduce by 1/10
For the sole fish
200 g sole fillet (preferably from 1-kg soles)
Medium breadcrumbs
Clarified butter (ghee)
8 g parsley powder
80 g parsley cream
50 g garlic cream
8 g lemon concentrate
50 g butter foam
24 spinach leaves
Bread and fry the fillets in butter and plate as follwos: start with the parsley powder, build adding the parsley cream, in the center add the garlic cream, then the lemon concentrate and lay the sole on top. Complete the garnish with butter foam and spinach.
La Madonnina del Pescatore
La Madonnina is the restaurant where the cuisine of Moreno Cedroni expresses his true hear, passion and tradition, all amid whim and class. The Marche chef possesses full knowledge of technical prowess and ingredients of sublime quality. His cuisine wins hearts and astounds thanks to the graceful way the chef conjugates Marche tradition with elements hailing from all ove the world, pioneering trends and concept restaurants, inventing avant garde dining and innovative formulas. Besides Madonnina there's also Clandestino sushi bar located in the bay of Portonovo, which has spearheaded a local form of raw fish. Then there's Anikò, a fish deli where shoppers can also stop in for aperitivo with seafood snacks and fish salumi for sale too. As far as the recipe of choice, we're making "Ricordo di un viaggio in Vietnam: ostrica alla griglia, mangia e bevi" - memories of a journey to Vietnam, a grilled oyster.
La Madonnina del Pescatore | Senigallia (AN) | Località Lido di Marzocca, Lungomare Italia, 11 | tel. 071 698267 | www.morenocedroni.it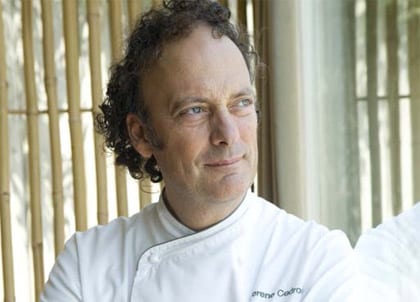 Ricordo di un viaggio in Vietnam: ostrica alla griglia, mangia e bevi (yields 4 servings)
4 oysters
1 onion
Water
Sugar
Juice of 1 lemon
Chilli pepper
Parsley water
Fry the onion and set aside. Blend to emulsify water, sugar, lemon juice and parley water. Shuck the oysters and place them on the grill for 2 minutes. On a plate add the onion and the liquid mixture to the grilled oysters. Serve and enjoy.
by Annalisa Zordan
translated by ELeonora Baldwin