Angelo Sabatelli
The man has traveled quite a lot. Yet he's still not tired – in February he is moving to a new top secret location). Twenty years serving gourmet tables of the largest Asian hotel chains and prestigious resorts. Then Monopoli and Masseria Spina, at the end of a narrow dirt road flanked by gnarly olive trees not far from the sea and the heart of the town of Monopoli. Here patrons can indulge in a 360 degree culinary evasion. Puglia also offers a digression from regional cuisine in addition to the canon of fresh homemade pasta and raw fish, remaining bound to local flavor and culture. This comes easy to one of the Puglia region's most talented chefs. His cuisine is effective, intense, cosmopolitan and at the same time highly representative of the deep Italian south. For Gambero Rosso readers, chef Sabatelli shares his recipe "Spaghettoni al sugo di scorfano" - pasta with scorpion fish,"a simple, fresh and seasonal dish".
Angelo Sabatelli | Monopoli (BA) | viale A. Moro, 27 c.da Spina, 437 | tel. 080 802396 | www.angelosabatelliristorante.com
Spaghettoni al sugo di scorfano (yields 4 servings)
For the oil powder
25 ml extra virgin olive oil
50 g tapioca maltodextrin
Place the maltodextrin in a bowl and whisk in the olive oil, as per making mayonnaise. Once the oil is well blended, save the mixture in a sealed container and set aside.
For the spaghettoni
600 g scorpionfish
240 g spaghetti
100 ml extra virgin olive oil
1 garlic clove (whole)
1 pinch of hot chilli pepper
100 g tomato sauce
10 basil leaves (half of which julienned)
200 g ice
120 g candied tomato (minced)
20 g candied lemon rind (finely chopped)
Salt
Scale, eviscerate and fillet the scorpion fish, removing all the bones, skin and cube the pulp. Do not discard the bones. Place the cubed pulp in a sealed container and refrigerate for later. Simmer the garlic in olive oil in a large pan, remove it once lightly golden and add the chopped spine of the fish. and simmer for an additional 5 minutes, or until the bones have turned golden. Add the chilli pepper and tomato sauce, basil and ice. Bring to a boil, lower the heat and cook for 20/30 minutes. Transfer the sauce to a saucepan, add candied tomato and lemon and julienned basil and cook to reduce slightly. Cook the pasta in lightly salted boiling water, drain and dress with the sauce and the cubed fish fillets, blending to coat well. Adjust seasoning, plate and dust each plate with olive oil powder before serving.
Dal Corsaro
Founded in the Sixties by grandfather Filippo, today Dal Corsaro is under the guiding hand of Stefano Deidda, who has managed to imprint an innovative and very personal twist to the place. Also thanks to past experience under Antonino Cannavacciuolo and Martin Berasategui in Spain. His creative cuisine, tech and modern interpretation of local ingredients, is among Sardinia's best. Another option is going for the bistro (hence low cost) option in annexed Fork, built out of a special room inside the restaurant. His shared recipe uses smoked mullet, tomato and yogurt. Here is the recipe for you.
Dal Corsaro | Cagliari | viale Regina Margherita, 28 | tel. 070 664318 | www.stefanodeidda.it
Muggine affumicato, colatura di pomodoro e neve di yogurt (per 6 persone)
For the reef mullet
1 reef mullet weighing approximately 1 Kg
1 liter water
70 g salt
50 g sugar
FIllet the reef mullet, brine in water, salt and sugar for 40 minutes at 5° C. Remove the fillets from the brine, pat dry and cold-smoke them in a beech sawdust smoker. Place in a gastronorm container sealed with cling film for 20 minutes. Cook the fillets in sous vide sealed bags at 52° C for 15 minutes.
For the tomato water
500 g tomatoes
1 rib of celery
2 shallots
1 bell pepper
4 basil leaves
200 g cucumber
5 g xanthan gum
Proceed as per making gazpacho and filter the obtained juice with a fine mesh strainer in order to obtain a clear and perfumy liquid. Adjust seasoning, add texture with xanthan gum and vacuum away the air.
For the yogurt snow
500 g goat yogurt
30 g sugar
150 g water
Assorted sprouts
Mix the yogurt with water and sugar and freeze. Once solid, scrape with a fork to obtain snow.
Plate the reef mullet in a deep dish, add the tomato water and complete with the yogurt snow and aromatic herbs according to preferred aromatic profile. The chef suggests using wild fennel pollen, basil sprouts, chives, turnip and sorrel.
La Madia
Age 43 with three kids and wife Loredana with whom in Licata in 2000 he opened one of Italy's best tables. The name is Pino Cuttaia – after working in the kitchens in Sorriso at Soriso and Il Patio in Pollone – has come back to the homeland. The starting point in his cuisine is in fact the memory of a past lifetime, echoes of childhood and a still of olden day Licata. In the desire to express memory reside reason and heroic stubbornness to stay here in his birthplace, a slice of nondescript coast halfway between eastern Baroque and west-facing temples. Hence the Sicilian chef's dishes are so intimate and extremely personal. Today he shares the recipe for his dish Sapori di mare.
La Madia | Licata (AG) | corso Filippo Re Capriata, 22 | tel. 0922 771443 | www.ristorantelamadia.it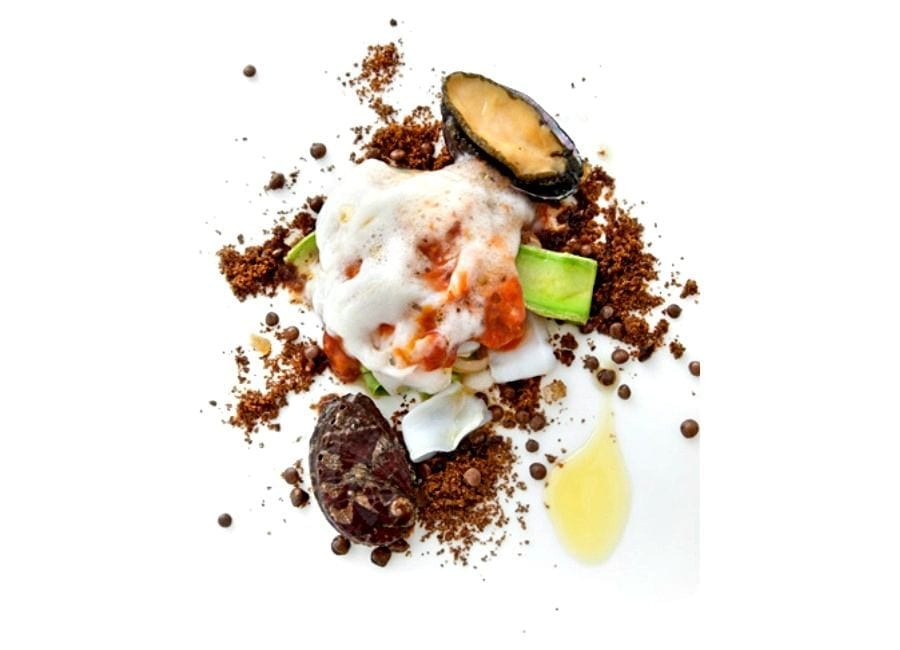 Sapori di mare (yields 4 servings)
For the almond milk
200 g almonds
200 g still mineral water
Boil the almonds in the water, when lukewarm peel away the husk, blend with a few tablespoons of water and set aside. Wring through a cheesecloth, reduce the almond milk over a low flame.
For the lentils
100 g lentils (preferably from Ustica)
Extra virgin olive oil
Cook the lentils in very little water, lightly salted and drain. Place on an oven pan and dry completely at 60° C. Fry in very little hot oil until crisp.
For the clams
200 g clams
3 g gelatin
Rinse the gelatin in cold water. Steam the clams open and save the water they shed. Heat this liquid slightly and dissolve the gelatin. Pour the obtained mix in a siphon.
For the cuttlefish
1 cuttlefish weighing approximately 300 g
100 g sea urchin pulp
200 g green zucchini
100 g sea asparagus (salicornia)
Salt
Clean the cuttlefish, peel and use only the cloak. Sear for 2 minutes in boiling water, then rinse in ice water. Pat dry and slice thinly like fettuccine. Slice the zucchini lengthwise using a peeler then lightly simmer in a pan with a thread of olive oil.
Pour the almond milk in the center of the plate, then proceed layering the seaweed, zucchini, shelled clams, cuttlefish noodles, sea urchin pulp and finally the foam obtained with the siphon. Garnish the plate with fried lentils, some left whole and some crumbled to simulate pebbles and beach sand.
by Annalisa Zordan
trabslated by Eleonora Baldwin
Click here for Signature seafood recipes from Guido, Uliassi and La Madonnina del Pescatore