It's no secret that summertime brings an abundance of vegetables. August tables in Italy are laden with a cornucopia of seasonal primizie. These are just some of the most common vegetables available.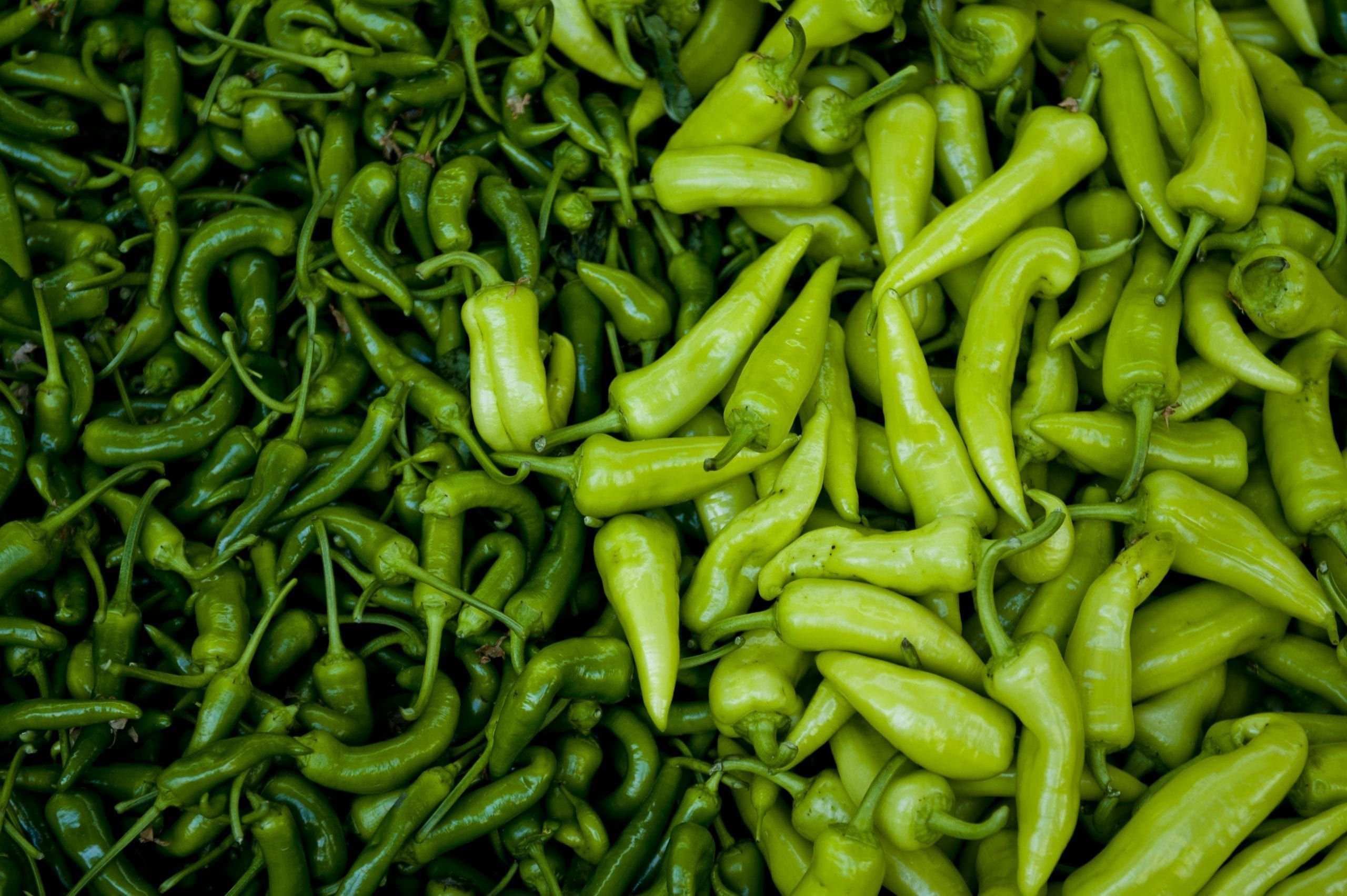 Nightshades
This is the time of year when all the summer fruits and vegetables are at their peak ripeness and flavours explode. Obviously nightshades reign supreme. In August the vegetables in this family are packed with flavour and are ubiquitous in both home kitchen and restaurant menus.
Eggplant has a meaty flavour that lends itself to a large number of very popular Mediterranean dishes, like melanzane alla parmigiana (Eggplant Parmesan) for example. In this classic southern Italian recipe the aubergine slices are fried and then layered with tomato sauce, cubed mozzarella and fresh basil, dusted with grated Parmigiano and then baked in the oven. Pasta alla Norma and classic tangy caponata are only two of the many Sicilian recipes that employ eggplant.
Sweet peppers come in variety of colours, and are related to chillies. At their peak between the end of July and October, they're all essentially the same variety, but have been allowed to ripen differently: green are the sharpest, followed by yellow, orange and then red, which are the sweetest. In southern Italy there is a longer, pointed variety that's locally called peperone corno (horn), which is even sweeter. But the sweetest of all are the small friggitelli, which look like unripened green chilli peppers, but that once roasted with just a drizzle of olive oil, reveal a sweet and smoky flavour.
Tomato varieties run into the four-digit category, and equally vary in size, shape and colour. As summer progresses, new varieties of tomatoes ripen on the vine, this means August is seeing abundance of massive, seedless cuore di bue, ribbed casalini or the small grape-like datterini and other local heirloom varieties. Italians eat tomatoes all summer long both raw and cooked. What is leftover from the abundant harvest is made into passata.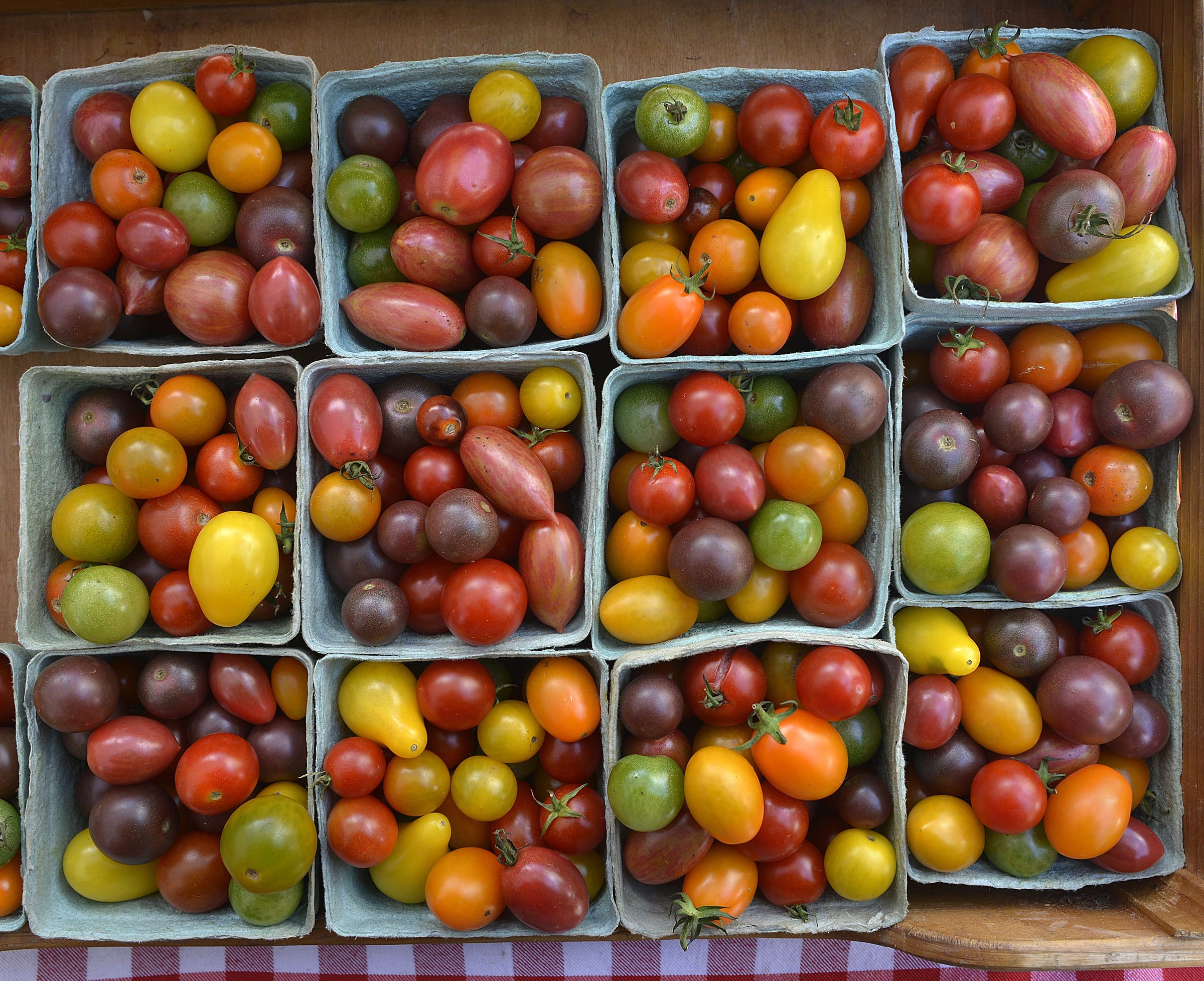 Zucchini
All squash originate in the Americas. However, the varieties of summer squash typically called "zucchini" were developed in northern Italy in the second half of the 19th century, long after the introduction of cucurbits from the Americas happened in the early 1500s. The finest variety is the ribbed romanesche which when young and just-picked come topped with an edible orange flower. Italians stuff courgette blossoms with mozzarella or ricotta and oil-packed anchovies, dip them in light batter and deep fry. Otherwise zucchini can be sautéed in olive oil until just wilted, then stirred through pasta with cheese. Zucchini can also be served marinated "alla scapece", grilled, baked au gratin or spiralised into zoodles.
Cucumber
Belonging to the same family as the melon, zucchini and squash, cucumber is usually more than 90% water. Cukes are indigenous to India, have been cultivated for at least 3,000 years, and probably introduced to other parts of Europe by the Greeks or the Romans. The latter are reported to have used cucumbers to treat bad eyesight, scorpion bites and to scare away mice.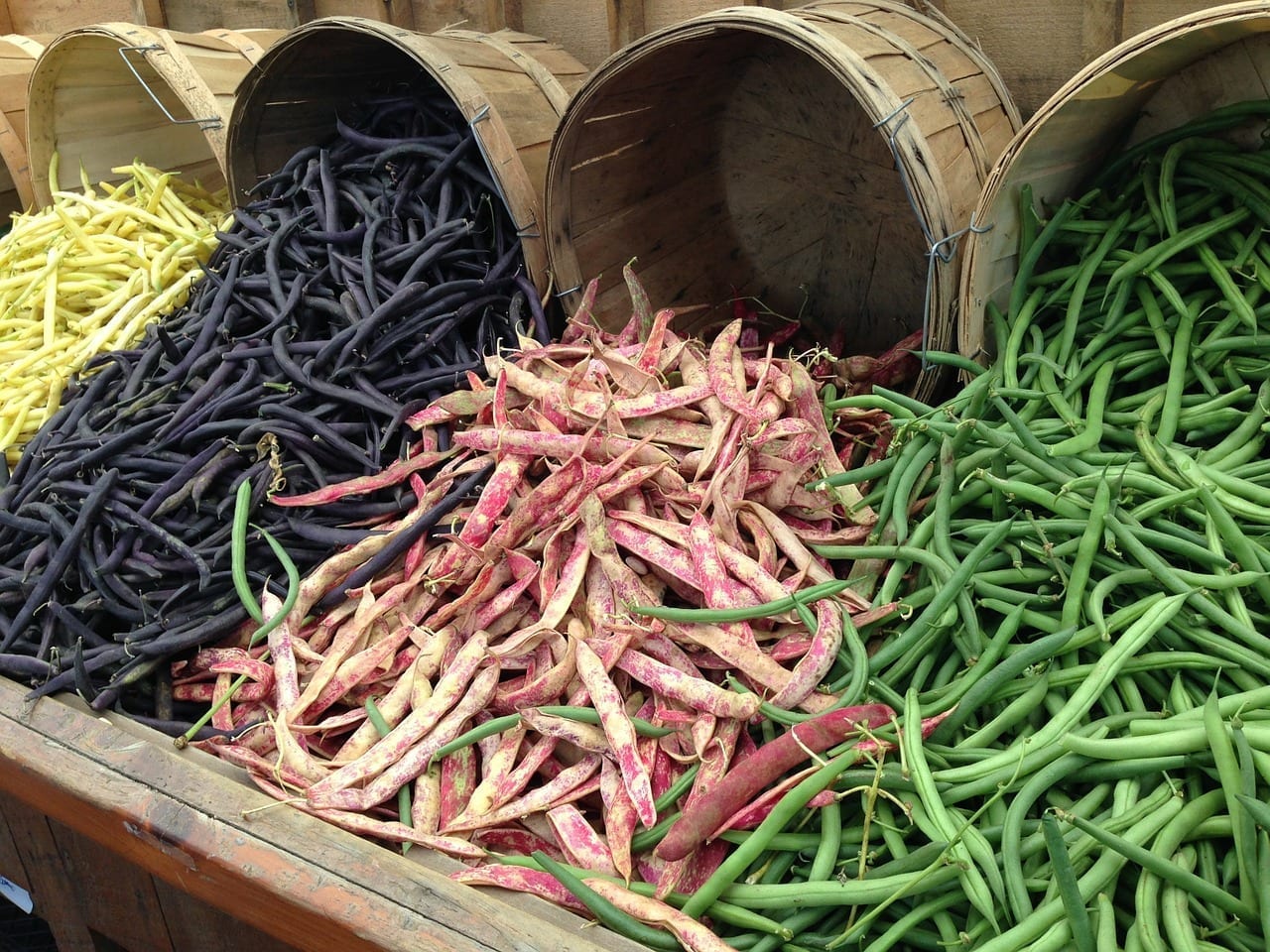 Beans
These are the cheapest, highest rendering legumes found in the Italian kitchen. World-famous and song-inspiring pasta e fagioli is a peasant soup made with leftover bits of pasta and common borlotti beans (a cousin of pinto beans). Ribollita, another Tuscan chunky soup, cannot be complete without cannellini (white beans). Fresh beans start appearing in Italian markets from the end of June and are good all through August.
Basil
The strong, sweet aromatic baggage of basil is one with Mediterranean summer. There are three local types of basil in Italy that are at their best between June and September: the sweet gigante variety with large, curly green leaves; the Ligurian, with small leaves and peppery notes; and the deep purple, with a surprisingly milder flavour. Basil lends itself to many recipes in which it plays a starring role as an actual ingredient. Think pesto, for example. Basil is also torn fresh and dropped onto Caprese salad and pizza Margherita; but it can also be minced into softened butter, or added to homemade mayonnaise.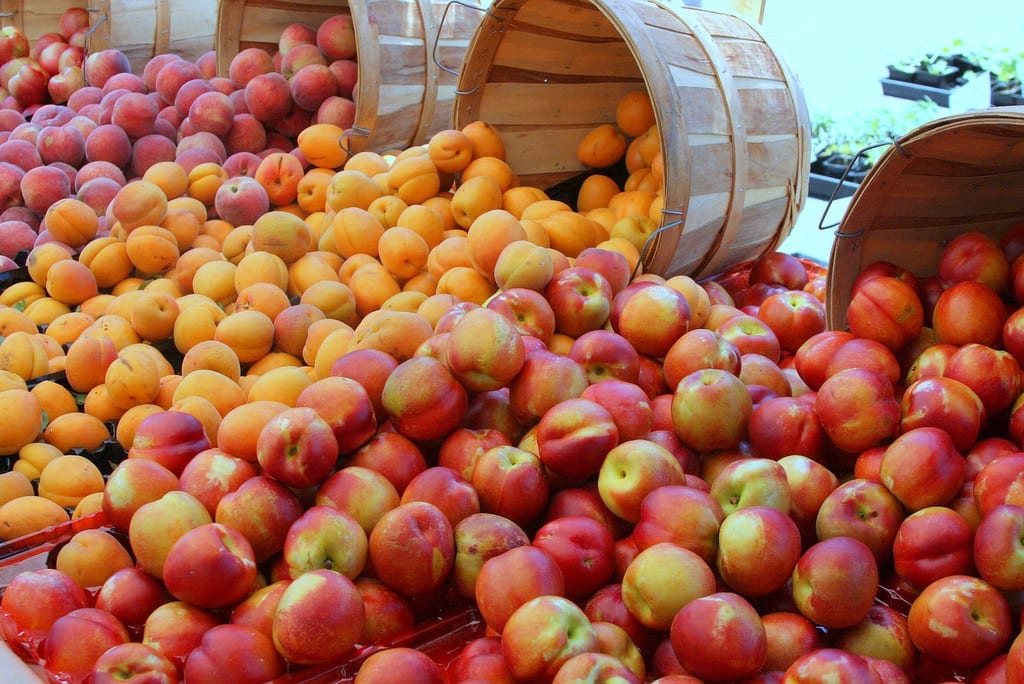 Summer fruits constitute a colourful rainbow in Italian markets. The abundance of fruit varieties in this time of year makes up for a great part of the Italian eating routine. Seasonal summer fruits are furthermore made into fresh, dairy-free and nutritious gelato.
Stone fruit
Peaches, apricots, nectarines and plums are at the top of their game in August. Italian homemakers choose plump, ripe and juicy voluptuous fruits, keep them stored in the refrigerator and add them to salads, sauces, preserves, and slice them into carafes of white chilled wine.
Apricots in Italy are available between late June and August. Small and fragrant, these have a soft, velvety skin ranging from pale yellow to deep orange, tinged with rosy blush. The large kernel pit falls out easily if the flesh is ripe. The nutrients and anti-oxidants found in this fruit remain intact even when dehydrated.
Nectarines are a smooth-skinned variety of peach native to China, similarly flavoured to peaches but with slightly more acidity. The flesh can be light pink, yellow or white and is delicate and sweet.
The sweet, juicy and fragrant peach is one of the most representative fruits of summer in Italy. With skins coated in a velvety down, peaches most commonly have a reddish orange skin and golden flesh. White peaches have a pink-blushed cream skin and pink white flesh. Although the most common are spherical, it's possible to find flat, disc-shaped varieties of white peaches locally called tabacchiere, resembling old-fashioned tobacco snuff boxes. These are also called saturnine.
Plum season in Italy extends from late June peaking in August. Like all stone fruit, plums are related to peaches, nectarines and almonds. This means they are not easily tolerated by people who suffer from nut allergy. The European plum was purportedly discovered approximately 2,000 years ago in the Caspian Sea area. Already in the ancient Roman era there were more than 300 varieties of European plums. Favourite Italian varieties include oblong purple cosce di monaca (nun's thighs) and small round green Regina Claudia.
Berries
Wild blueberries are in bloom and fill summer plates along with other forest floor berries, like blackberries, mulberries, raspberries and the very last strawberries of the season. Locals add berries to gelato, smoothies, salads and breakfast bowls of yogurt, honey and cereal.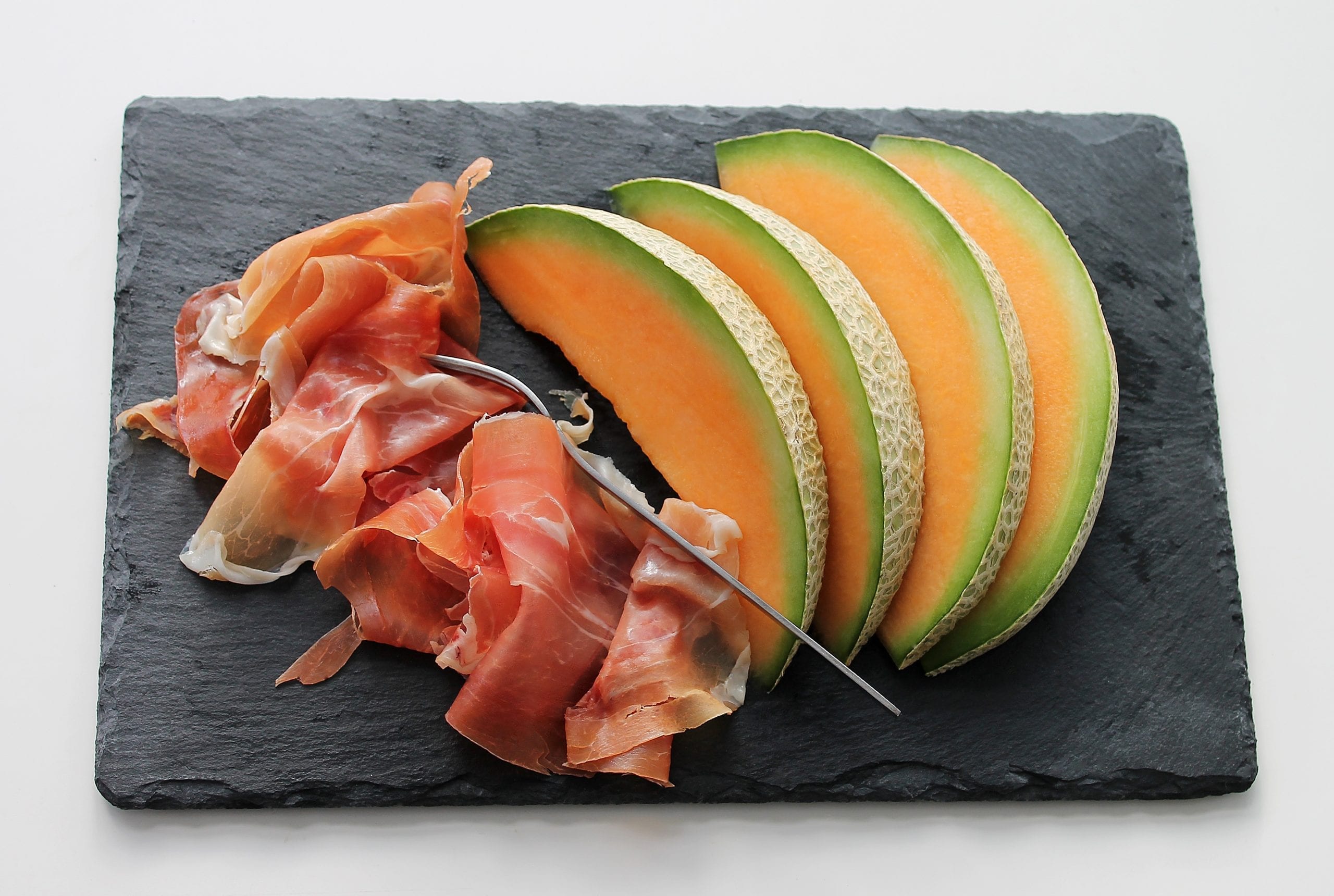 Melon
Cantaloupe melon, honeydew and oblong Canary melons are stars of the Italian summer table. Blanketed with silky slices of prosciutto, or sliced into colourful fruit salads, Italian cooks also cut melons in half, scoop out the seeds and serve the halves filled with ruby port. The pulp can be used for sorbet and boozy cocktails. Additionally, watermelon is another Italian summer staple. The crisp, sweet flesh of watermelon is incredibly juicy and refreshing. Italians enjoy watermelon all summer long, keeping it cold bobbing in fountains and coolers, eaten as a snack or as a sweet, juicy meal ending.
Figs
Incredibly luscious, figs are characterised by a delicate aroma, sweet flavour and unusual texture. Originally from Asia, figs are now grown all across the Mediterranean in hundreds of different varieties, with colours ranging from green to deep purple. The early heat wave has made the sweet Settembrini figs ripen sooner this year, which only means more figs, surely a sign of good news. Prosciutto and figs is a sensational appetizer, especially if folded into warm focaccia…
By Eleonora Baldwin