Massimo Spigaroli: pork butcher and chef from Bassa Parmense
Cooking and cured meats are the two great passions of Massimo Spigaroli. Cooking was handed down to him from his family, a love born and nurtured in the restaurant opened more than 60 years ago by his parents, Al Cavallino Bianco, a few dozen metres from the Antica Corte Pallavicina. Cured meats are in his DNA, thanks to the Bassa Parmense area that is the cradle of culatello of Zibello. Massimo has dedicated his life to this jewel of pork butchery, safeguarding tooth and nail the traditional processing and his creation, the Antica Corte Pallavicina, a thirty-year project that embraces a charming relais, a Michelin-starred restaurant, the cured meat production and the farm. This small kingdom gathered around what was once the 15th-century castle of the Pallavicino marquesses is the location of 'Salumi da Re' (King's Cured Meats), the gathering of pork butchers, breeders and charcuterie producers.
"In the end, good ideas work out no matter what," reflects Massimo Spigaroli, who will host Peppe Guida and the pork butcher in his 'house' for the filming of the Gambero Rosso HD TV series. "'Salumi da Re' is not only a party, but also a moment of confrontation between the pork butchers and the stakeholders in the supply chain: agronomists, breeders, geneticists, meat processing researchers and experts of the SSICA (Experimental Station for the Food Preservation Industry), small shop owners, chefs and consumers. A workshop for everyone. Edition after edition, we learn new things, keep up to date and taste: black pigs, preservatives, closed-loop supply chain, raw materials, food and drink pairing. We hope that 'Salumi da Re' will become a worldwide event  in the future, open to foreign pork producers".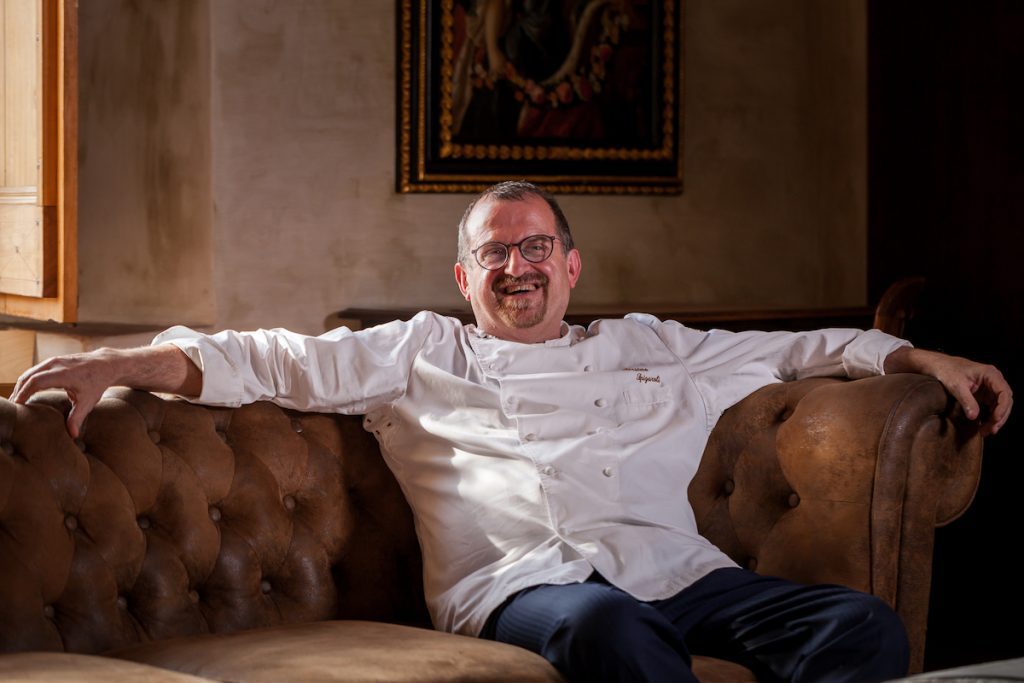 For the second year running, the three-day event dedicated to the best Italian pork butchery, which normally livens up the Antica Corte Pallavicina's farmyard on a spring weekend, will be held online. Even at a time of resumption of in-person activities, it was a choice dictated by prudence, yet safely continuing to promote and enhance the best expressions of pork butchery and food in Italy. After all, 'Salumi da Re', organised since 2014 by Gambero Rosso together with the brothers Massimo and Luciano Spigaroli in Polesine Zibello in the Bassa Parmense area, is a meeting and exchange between pork speciality producers from all over Italy and various sector players, from those who manufacture casings, select the spices and breed the pigs, to those who sell cured meats and bring them to the table. Among its advantages, the contact with consumers, conferences with the most qualified experts in the sector, and pairings with wines and craft beers suggested by beverage specialists. An event with such a festive and convivial character could not take place, not yet. Nonetheless, we want to keep raising the profile of these companies and discuss the Italian charcuterie production latest updates through our communication media and the editorial, paper and digital products that distinguish us: the monthly magazine, the website and the TV channel.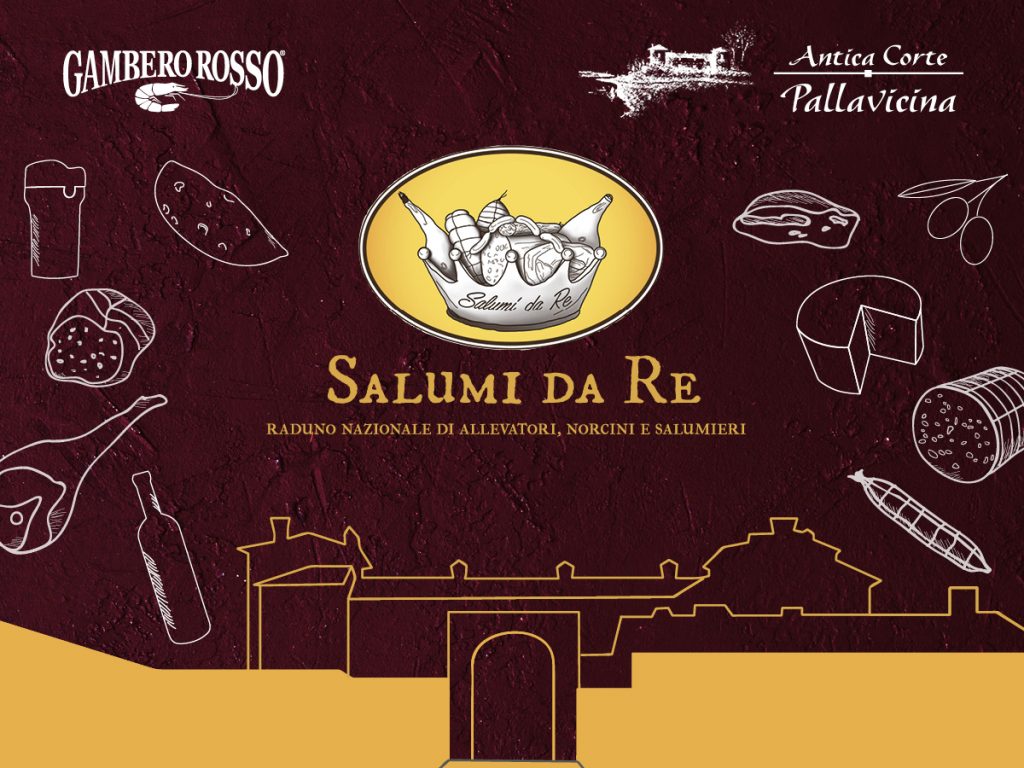 Once again this year, there will be cured meat recipes, which will be broadcast on Gambero Rosso HD (Sky channels 133 and 415) starting in November. This edition will be headed by Peppe Guida, chef and owner of Antica Osteria Nonna Rosa in Vico Equense, in the province of Naples, who will create several flavoursome recipes to make the most of the participating pork butchers' products. The Gambero Rosso website will publish an article on the event in November, in conjunction with the one published in these pages. There are two absolute novelties in this digital edition of the event: the former is the first-hand involvement of the cured meat producers in the television format broadcast on Gambero Rosso HD, where the pork butchers will accompany in each episode the talent chef Peppe Guida, alongside the host Massimo Spigaroli, illustrating the peculiarities of the product chosen as the main recipe ingredient; the latter is 'La Vetrina di Salumi da Re' (Salumi da Re's showcase), a special section dedicated to the companies' flagships of the 2021 edition, available online from November on the Gambero Rosso website gamberorosso.it, looking forward to continuing the discussion in person next year.
Salumi da Re 2021, meetings, discussions, showcases and online presentations
The event dedicated to signature Italian cured meats is about to kick off: this year too, the event will be held online and filmed by Gambero Rosso HD TV on the Sky channel with the presence of chef Peppe Guida.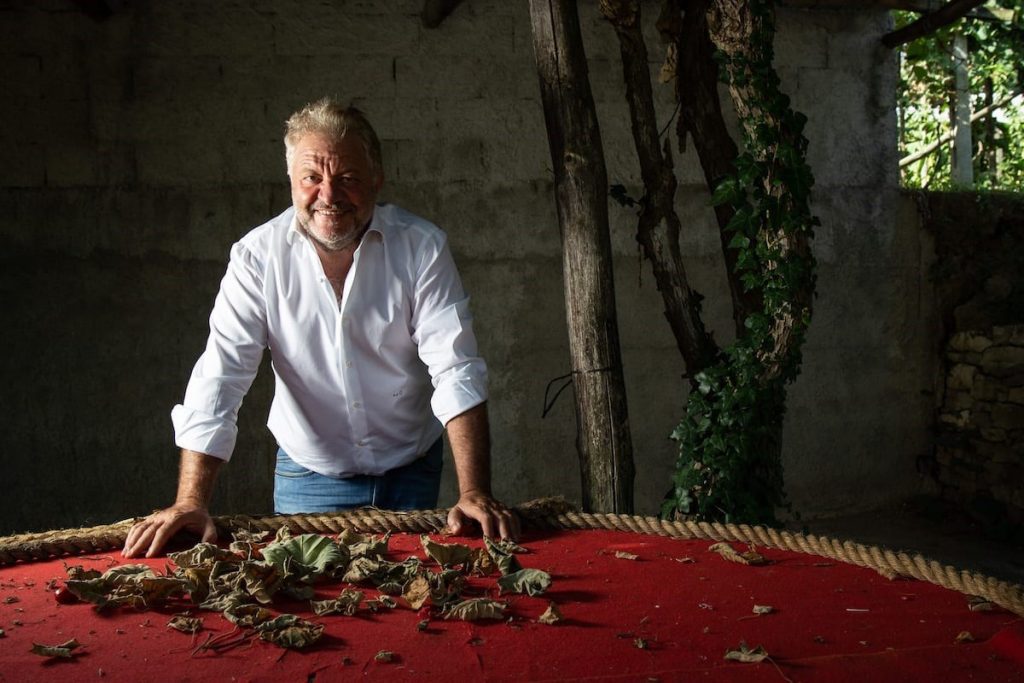 Peppe Guida, the chef with the hobby of charcuterie, at the ribbon-cutting ceremony for the 2019 live edition
What recipes will Peppe Guida prepare? "I always go with my gut, I listen to the product: it's the one that tells me what to do. The quality and the wide choice of cured meats have stimulated my creative flair and suggested ways of using them in preparations that enhance their value". Peppe Guida is well known to the Gambero Rosso audience, host of the television show 'Questa terra è la mia terra' ('This is my land') and author of cookbooks that celebrate the cuisine of Campania and the sea. But his private and professional life also includes cured meats. "I was born and 'bred' in Vico Equense, where everyone bred and processed pork meat. This tradition still exists today: in collaboration with a farmer, the pig is bred with cleanliness and respect, following a proper diet, while the meat is processed together. One of the projects at the country house in Vico is a cellar to age my cheeses and cured meats using pigs from my hills," revealed the chef. Cured meats (pork, but also beef and fish), which have historically been an integral part of traditional recipes. "Think of Neapolitan pasta with lard, carbonara and amatriciana, lardings. I'm thinking of arancino di riso (rice balls) with soppressata (spicy coarse ground salami), peas and onion stock, and of a dish we had on the menu, that is tagliatella with fior di latte fondue and culatello of the Alta Irpinia area, added at the end and melted in the fondue". What's important is to know how to cook them at the right time and in the right way, "at very low temperatures and only for a few seconds".
COMPANIES
Cured meats
Antica Corte Pallavicina
POLESINE ZIBELLO (PR)
STRADA DEL PALAZZO
DUE TORRI, 3 – 0524936539
ANTICACORTEPALLAVICINARELAIS.IT
A small kingdom of taste and beauty inside a fifteenth-century castle in the Bassa Parmense area. This is Massimo and Luciano Spigaroli's company that includes a relais, a Michelin-starred restaurant, Hostaria del Maiale, a closed-loop supply chain of cured meat production and an agroshop. Company's flaghsip is the culatello of Zibello.
Artigianquality
BOLOGNA – VIA T. CREMONA, 29
342 9442623
ARTIGIANQUALITY.COM
A unique and exclusive mortadella production in terms of quality, variety and origin: Artigianquality is the only artisan that makes this beloved cured meat in the city of Bologna. You can choose from a wide range of excellent varieties. Don't miss the classic mortadella, also a Presidio Slow Food product.
Associazione
Produttori Pitina APS
MEDUNO (PN) – VIA ROMA, 1
335 6987484
PITINA-IGP.IT
The association gathers four producers of the most traditional cured meat of the Pordenone valleys: a meatball made from sheep, goat or game meat flavoured with mountain herbs, dipped in corn flour and dried in the smoke from the chimney. It boasts the PGI and the Presidio Slow Food certification.
Avagliano
SABAUDIA (LT)
CORSO VITTORIO EMANUELE II, 26
0773515254 – 3455553998
AVAGLIANOCARNI.IT
Butcher and pork butcher shop in the centre of Sabaudia. Here, the Avagliano family sells its cured meats from closed-loop supply chain and from its own herd of black Circeo pigs, a cross between Cinta Senese and Casertana breed. Try the fatback.
Bardana
OZIERI (SS) – ZONA INDUSTRIALE CHILIVANI
380 3442013
SALUMIBARDANA.COM
Artisan charcuterie of local pork specialities run by Antonio Sale. Among the products, the typical Sardinian seasoned sausage with the classic crown shape stands out, made according to the regional recipe. It is served traditionally with zichi bread, typical of central Sardinia.
Salumi Benvenuti
LUCCA – VIA DELLA SANTISSIMA ANNUNZIATA, 1225C
0583426060/426191|
SALUMIBENVENUTI.COM
The brothers Rocco and Enzo Benvenuti produce typical Tuscan and Italian pork specialities. The flagship line is Salumi del Forziere, a selection of the Lucca-based company's best pork products. Try the guanciale (pork cheek) with black pepper.
La Bottega di San Rossore
PISA – VIA DELLE COLOMBAIE, 1
ANGOLO VIA AURELIA – IKEA AREA
050503744 – 3487915204
RISTOROBOTTEGADELPARCO.IT
Fabio Armani and his staff produce artisan zero food mile cured meats. All within the Park of San Rossore: the fresh meat from small organic farms (in the local and in the Pisa area), and other ingredients for curing and processing. Don't miss the exclusive pine nut mortadella.
Bracevia
SAN GIOVANNI TEATINO (CH)
VIA VITTORIO EMANUELE II, 56
0871221110 – 3272538743
BRACEVIA.IT
An innovative project conceived and implemented by Agnese Volpone and Maurizio Cutropia that makes the most of sheep meat, from mostly local sheep (and from Gregorio Roto's organic farm). The heart of the production are the classic arrosticini (grilled lamb skewers): delectable.
BrisVal
NOVATE MEZZOLA (SO)
VIA NAZIONALE, 340D
3388110278 – 3486807094
BRISVAL.IT
Proudly single-product company from Valchiavenna: bresaola (dried salted beef) made with meat from different cattle breeds. The whole production is characterised by a very high quality and by the absence of preservatives and additives. Top-notch its bresaola made from wagyu bred in Japan.
Dal Massimo Goloso
PREDAIA (TN)
LOCALITÀ COREDO PIAZZA DEI CIGNI, 6 – 0463536129
3494338144 – 3407375185
MACELLERIACORRA.COM
Together with his family, the 'greedy' Massimo Corrà produces traditional Trentino cured meats, creative pork specialities and, for some years now, products made from farm's black pigs. Among the local charcuterie, the mortandela from Val di Non stands out.
Devodier
LESIGNANO DE' BAGNI (PR)
LOCALITÀ MULAZZANO PONTE
VIA PONTICELLA, 4
0521861070 – DEVODIER.COM
One of the reference companies for high quality Parma ham, located on the right bank of the Parma torrent, opposite Langhirano. The local raw ham is offered in different lines and maturations, including Devodier Animal Welfare Parma Ham, made with attention to animal welfare.
Dok Dall'Ava
SAN DANIELE DEL FRIULI (UD)
VIA GEMONA, 29 – 0432957335
DOKDALLAVA.COM
One of the best producers of San Daniele ham. But Dok Dall'Ava is also known for its fine selection of raw ham made from pork legs of ancient rustic breeds. One of the highlights is Nebrodok, a ham made from black Nebrodi pigs, processed and cured in San Daniele.
Galloni
LANGHIRANO (PR)
VIA ROMA, 84 – 0521354211
GALLONIPROSCIUTTO.IT
Since 1960, Galloni is one of the best-known Parma ham companies in Langhirano. For some years now, it has been producing interesting raw ham versions: aged in barrels, with less salt and enriched with spices and natural flavourings. One of its flagships is Parma PDO Selezione Oro aged for 24 months.
Gianferrari
CANOSSA (RE)
LOCALITÀ CIANO D'ENZA
VIA VAL D'ENZA NORD, 145
0522878185 – GIANFERRARI.IT
Pork company in the Terre Matildiche area since 1951, now in its third generation. Gianferrari is famous for its culatta of Canossa, renamed Canossello by our pork butchers, company's flagship obtained from the so-called 'ham pulp', the noblest part of the pork leg.
Larderia Fausto Guadagni
CARRARA – FRAZIONE COLONNATA STRADA COMUNALE, 4
0585768069 – 3356530268
LARDERIAFAUSTOGUADAGNI.COM
Fausto Guadagni is the magician of lard. And not only PGI lard of Colonnata, but also creative versions without certification, the result of the creativity of this pork butcher from Carrara. But the most popular is the classic one, matured in the typical marble basins with spices and herbs for at least six months.
MA! Officina Gastronomica
MADESIMO (SO) – VIA DE GIACOMI, 7
034353025 – 3200754837
MAOFFICINAGASTRONOMICA.COM
Chefs of the restaurant Il Cantinone in Madesimo, Stefano Masanti and Stefano Ciabarri are also producers of typical Valchiavenna cured meats: violino di capra, slinzega and beef brisaola, in different variations according to size and cut. Superlative the brisaola di codone matured for 120 days.
Morgante
ROMANS D'ISONZO (GO)
VIA AQUILEIA, 76 – 0481966511
MORGANTE.IT
One of the best-known companies in San Daniele del Friuli for its PDO raw ham. Morgante's name is also linked to fine cooked hams, processed in the Romans d'Isonzo production centre. Its top product is the bone-in Prague ham, to be cut strictly by hand on the clamp.
Paganoni
CHIURO (SO) – VIA O. CENINI, 19
0342484349
PAGANONI.COM
Paganoni has been producing typical Valtellina cured meats for over 30 years, especially bresaola, its speciality. From PGI bresaola to special breeds (Limousin, Charolais, Blonde d'Aquitaine, Piedmontese, Chianina, Austrian Scottona, Wagyu). Don't miss the company's flagship Primitiva Bio, without preservatives.
Fratelli Pelizziari Prosciutti
TRAVERSETOLO (PR)
VIA PICELLI, 49 – 0521844377
FRATELLIPELIZZIARIPROSCIUTTI.IT
Formerly known as Italgroup Alimentari, the Pelizziari brothers' ham factory proudly remains a single-product company. Only two PDO Parma hams, processed in the same way and both matured for 20-22 months, but in different cellars. Al Naturel is the PDO ham presented this year, aged in the premises in Via Risorgimento.
Re Norcino – Vitali
SAN GINESIO (MC)
CONTRADA GUALDUCCIO, 13/14
0733694407 – RENORCINO.IT
The strong suit of cured meats by Re Norcino is the closed-loop supply chain: the meat comes from the company's own farms on the Fermo hills, while the processing and seasoning take place in San Ginesio, in the high hills of Macerata. One of Vitali family's most representative cured meats is PGI Ciauscolo.
Salumi Martina Franca
MARTINA FRANCA (TA)
VIA VECCHIA CEGLIE, ZONA LN. 5
0804490533 – 3281634715
SALUMIMARTINAFRANCA.IT
Francesco Carriero produces the capocollo of Martina Franca, Itria Valley's most traditional cured meat, oak-smoked with vino cotto in the curing process and Mediterranean herbs. Our pork butcher also proposes the one made from Apulian-Calabrian black pig.
Tanara Giancarlo
LANGHIRANO (PR)
VIA FANTI D'ITALIA, 73
0521852943 – 0521852944
TANARAGIANCARLO.IT
A glorious production of PDO Parma ham since 1954. A continuous search for quality that has led the second generation to raise the bar with Tanara niche products. The Antico Bianco line is made from 300-kg pigs' pork legs locally bred.
Tenuta Serpepe
VITERBO – LOCALITÀ SERPEPE
STRADA DOGANA, 8
340 8116009 – 348 4114738
TENUTASERPEPE.IT
About 494 acres of organic farmland a few kilometres from Lake Bolsena, Domenica Fiorentini's farm grows legumes and breeds Cinta Senese pigs, fed on cereals and legumes from the farm. Their lard is delicious.
Vecchio Varzi
VARZI (PV) – VIA CASTELLETTO, 11
038352340
VECCHIOVARZI.IT
It is the most famous producer of the Varzi PDO salami, Staffora Valley's traditional salami. Vecchio Varzi produces all types of this cured sausage, including Sottocrespone.
Villani Salumi
CASTELNUOVO RANGONE (MO)
VIA E. ZANASI, 24
059534411
VILLANISALUMI.IT
A historic Italian charcuterie on the cutting edge for 135 years. Despite being a spa and having 7 production sites, Villani has remained a family business that produces high quality cured meats linked to the territory. One of its top products is La Santo PGI Bologna mortadella with fresh garlic.
Wine and beer
Bruno Ribadi (beer)
TERRASINI (PA)
CONTRADA PIANO DI TERRASINI
3280733802 – BRUNORIBADI.IT
Created in 2016 by the Biundo family, this brewery produces 6 different beers: white, Ca-ca-o (Stout with cocoa beans and Modica chocolate), India pale ale, Sicilian pale ale, Sicilian pils, Tripel.
Luretta (wine)
GAZZOLA (PC)
CASTELLO DI MOMELIANO
0523971070 – LURETTA.COM
In the Castle of Momeliano, Cantina Luretta produces 15 organic wines among reds, whites and bubbles. For Salumi da Re 2021 it proposed the Pas Dosé 2017 Metodo Classico, made from Pinot Nero and Chardonnay grapes, fermented in steel and aged in bottle on the lees for 50 months.
Theresianer (beer)
NERVESA DELLA BATTAGLIA (TV)
VIA FOSCARINI, 52 – 04228891
THERESIANER.IT
A historic Trieste-based brand since 1766 (part of the Hausbrandt group since 2000), it is linked to the Austrian brewing tradition. Launched last year, its ZEROCINQUANTA top selection includes three unfiltered beers: the blonde lager Guglielmo, the red bock Amleto and the IPA Cordelia.
Cantina Valtidone (wine)
BORGONOVO VAL TIDONE (PC)
VIA MORETTA, 58 – 0523846411
CANTINAVALTIDONE.IT
Cooperative since 1966 in the heart of Val Tidone, in the hills of Piacenza, it processes the grapes of its 220 members and turns them into different types of wines and a dozen brands. The 50 Vendemmie line includes a sparkling Gutturnio Frizzante, made from Barbera and Bonarda grapes vinified as red.
VentiVenti – Il Borghetto (wine)
MEDOLLA (MO)
VIA DELLA SALICETA, 15
STRADA PROVINCIALE, 5
3440330771 – VENTIVENTI.IT
In the wine district north of Modena, this winery is a modern and sustainable company that started production in 2020 (which inspired the name). It produces mainly sparkling wines from organically grown grapes according to Metodo Classico. Try the Lambrusco di Modena Brut Rosé.
Additional sector
Coppini Arte Olearia (olive oil)
SAN SECONDO PARMENSE (PR)
STRADA DAL GRUGNO, 3/4
0521877601
COPPINIARTEOLEARIA.COM
Specialised since 1946 in the production and distribution of EVO oil. The olives are harvested and ground in Abruzzo, Apulia and Sicily. Among the company's most representative products, there are the intense fruity Antico Orcio and the beechwood-smoked Fumè olive oils.
Caseificio Montecoppe (cheese)
COLLECCHIO (PR)
VIA MONTECOPPE (SOTTO), 19/4
0521805942 – MONTECOPPE.IT
Located in the Carrega woods in the Regional Park, this dairy boasts a new production plant completed in 2016 and a focus on sustainability. It produces PDO Parmigiano Reggiano with milk from its own farm, proposed in different maturations. The most popular is 24 months.
 Il Panaro Food (bakery products)
URBINO – FRAZIONE TRASANNI
VIA MAZZACCHERA, 7
0722333098 – ILPANARO.IT
Il Panaro Food was founded by Monia Moretti to keep alive the tradition of the crescia sfogliata of Urbino, territory's gastronomic heritage and flagship product. Her artisan golden crescia is halfway between a crêpe and a sautéed frittata, also available in mini version.